'We Cannot Fully Recover' Without Business Travel, U.S. Travel Says in State of the Industry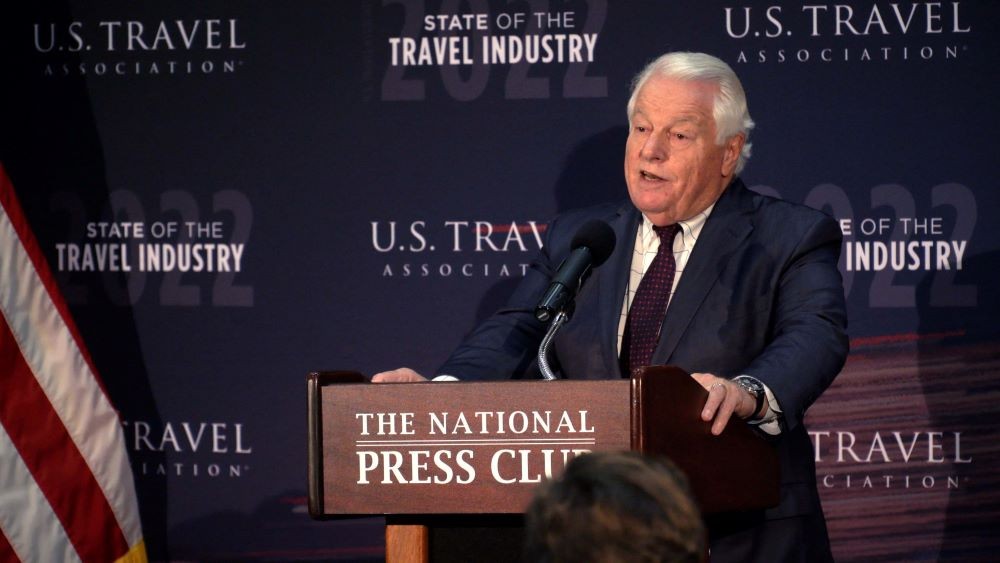 Roger Dow at State of the Travel Industry address. Courtesy of U.S. Travel Association
U.S. Travel Association leaders offered an assessment and vision for the U.S. travel industry at the association's annual State of the Travel Industry address February 2, delivered via webcast from the National Press Club. 
Roger Dow, president and CEO for U.S. Travel, and Tori Emerson Barnes, executive vice president of public affairs and policy for the U.S. tourism industry advocacy group, outlined short-term priorities that Congress and the Biden administration should act on immediately to ensure an even recovery for all sectors of travel. The organization also mapped out a plan that looks beyond the pandemic to return the industry to growth and increase competitiveness in the coming decades. 
Five key areas U.S. Travel highlighted for long-term focus for both the association and travel industry include: 
Strengthening the travel workforce 
Creating a more seamless and secure travel experience 
Shaping the future of travel mobility 
Growing industry sustainability and responsibility 
Incorporating DEI for a more inclusive industry 
"We should not singularly view the pandemic as a setback but as an opportunity to reimagine this industry to be stronger than before," Dow said. 
[Related: Results From the 2022 Meetings Trends Survey]
Recovery of Business Travel Will Be Key 
While Dow acknowledged that leisure numbers are promising, business travel—which includes meetings and conventions—is still lagging. 
"Through December, cumulative spending losses in travel spending totaled $730 billion. More than 7% of all leisure and hospitality jobs remain lost," he said. "Professional meetings and events are still struggling to come back. Business travel makes up a significant portion of the overall travel economy. Without it, we cannot fully recover.
"Today, we are also calling on business leaders to take a real look at the importance of business travel—the opportunities that come from meeting face-to-face," he continued. "The economic imperative to getting deals done, and the value employees place on being able to be together in person. Meetings can—and are—being done safely, and we urge the business community to come back together again."  
Barnes noted that to aid in this recovery, U.S. Travel is also pushing for Congress to stimulate spending in the business travel economy via temporary tax initiatives, including:   
Providing a targeted tax stimulus to restore spending on business travel, live entertainment and in-person events.  
Temporary tax credits and deductions, such as those proposed in the Hospitality and Commerce Jobs Recovery Act, to stimulate spending and quicken the pace of recovery for business travel, conferences, live entertainment, the arts, minor league sports and other in-person events. 
Barnes added that on April 7, which is Global Meetings Industry Day, U.S. Travel will participate in a roundtable with elected officials on Capitol Hill to address some of the challenges the industry is facing. 
[Related: The Future of Sustainable Business Travel in the Meetings Industry]
Partnerships Pave the Way Forward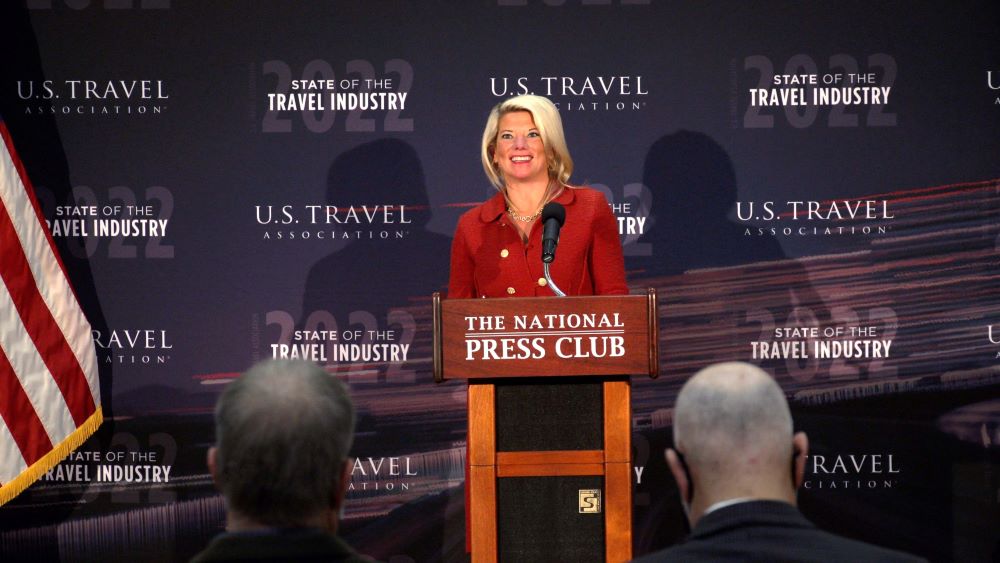 U.S. Travel is also strengthening its relationships with industry-leading coalitions. Meetings Mean Business is now fully integrated with U.S. Travel, and a new partnership has also been forged with Tourism Diversity Matters. 
"This move will strengthen the association's focus and support of the industry on issues related to diversity, equity and inclusion, and provide our members with greater access to Tourism Diversity Matters' subject matter expertise," Barnes said. "This is especially important as we rebuild our workforce. This partnership will help to foster greater diversity across all facets of the industry, including leadership positions." 
For more details on U.S. Travel's key focus areas and plans for recovery, read the full remarks from the State of the Travel Industry address. 
Stay up to date on all the latest issues in the meetings industry—and how to work through them—via our webinars.