5 Outdoor Venues Primed for Groups in San Diego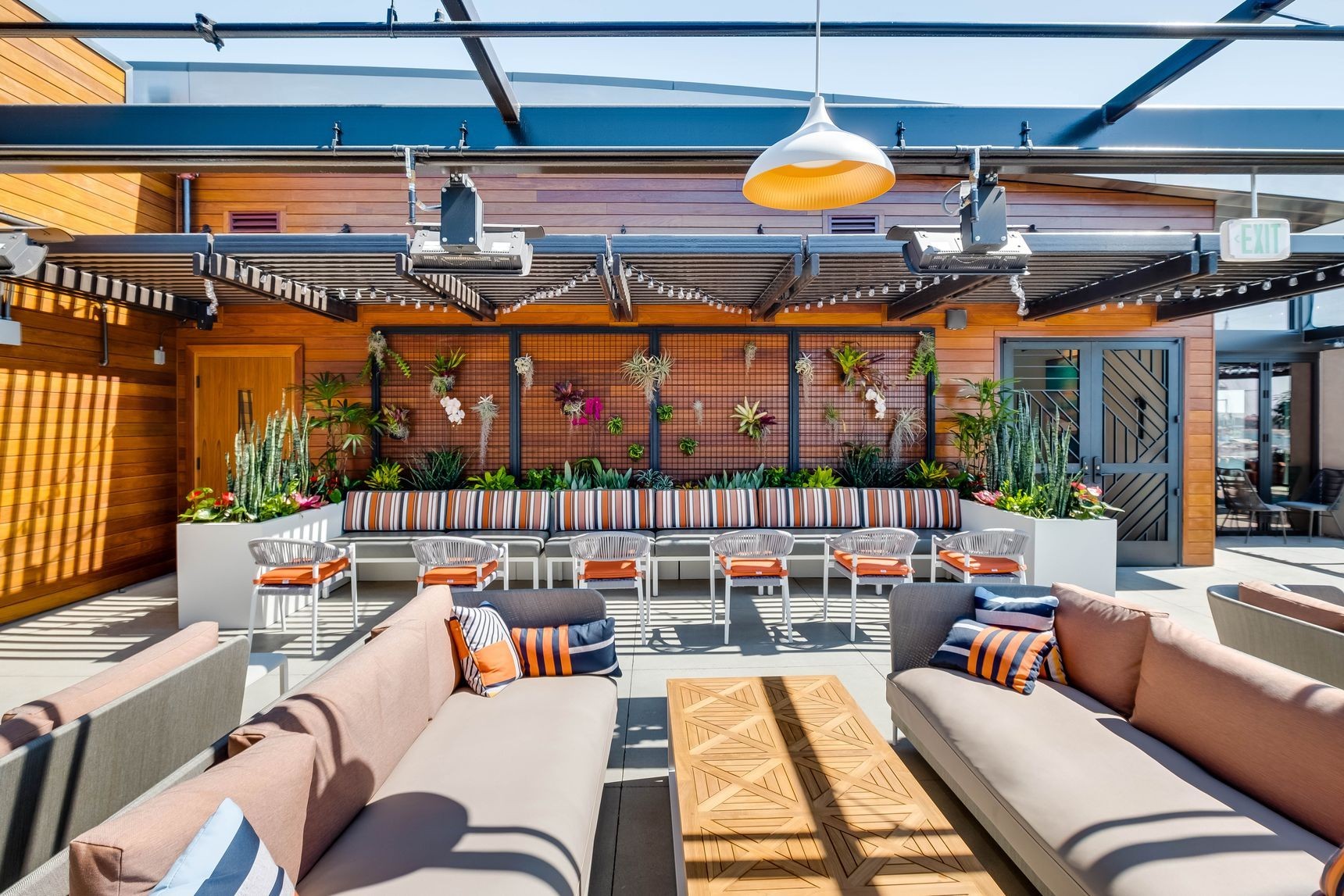 Topsail at Portside Pier. Credit: Portside Pier
Can you beat an average temperature of 72 degrees? This writer doesn't think so, which is why we were quick to suggest a breakdown of some of San Diego's most unique outdoor venues that will get groups outside. This destination's particularly agreeable Southern California weather also lends itself well to keeping attendees comfortable as meeting profs continue to navigate a lingering pandemic. 
"If they're coming from a colder destination, they want to come out and spend as much time as possible outdoors—even more so with COVID," said Kavin Schieferdecker, chief sales officer for the San Diego Tourism Authority. "For health and safety reasons, it's really picked up even more so. We've got so many different options out there for groups where they can host events, whether on property or offsite, outdoors and enjoy what we have here." 
When it comes to outdoor events, San Diego delivers—with everything from a new Hollywood Bowl-style venue to a historic hotel and restaurants on the bay with city and sailboat views.
And Schieferdecker says the time to book is now. 
"We've seen over the last few months a big uptick in events wanting to be in the San Diego area and taking advantage of the outdoors," he said. "One client told me at IMEX that they're going to look to put something on an RFP saying, 'How many outdoor venues can you offer us?' We'll see how much COVID impacts that, groups wanting to spend as much time outdoors. The nice thing about San Diego is we can do it pretty much year round."  
1. Rady Shell at Jacobs Park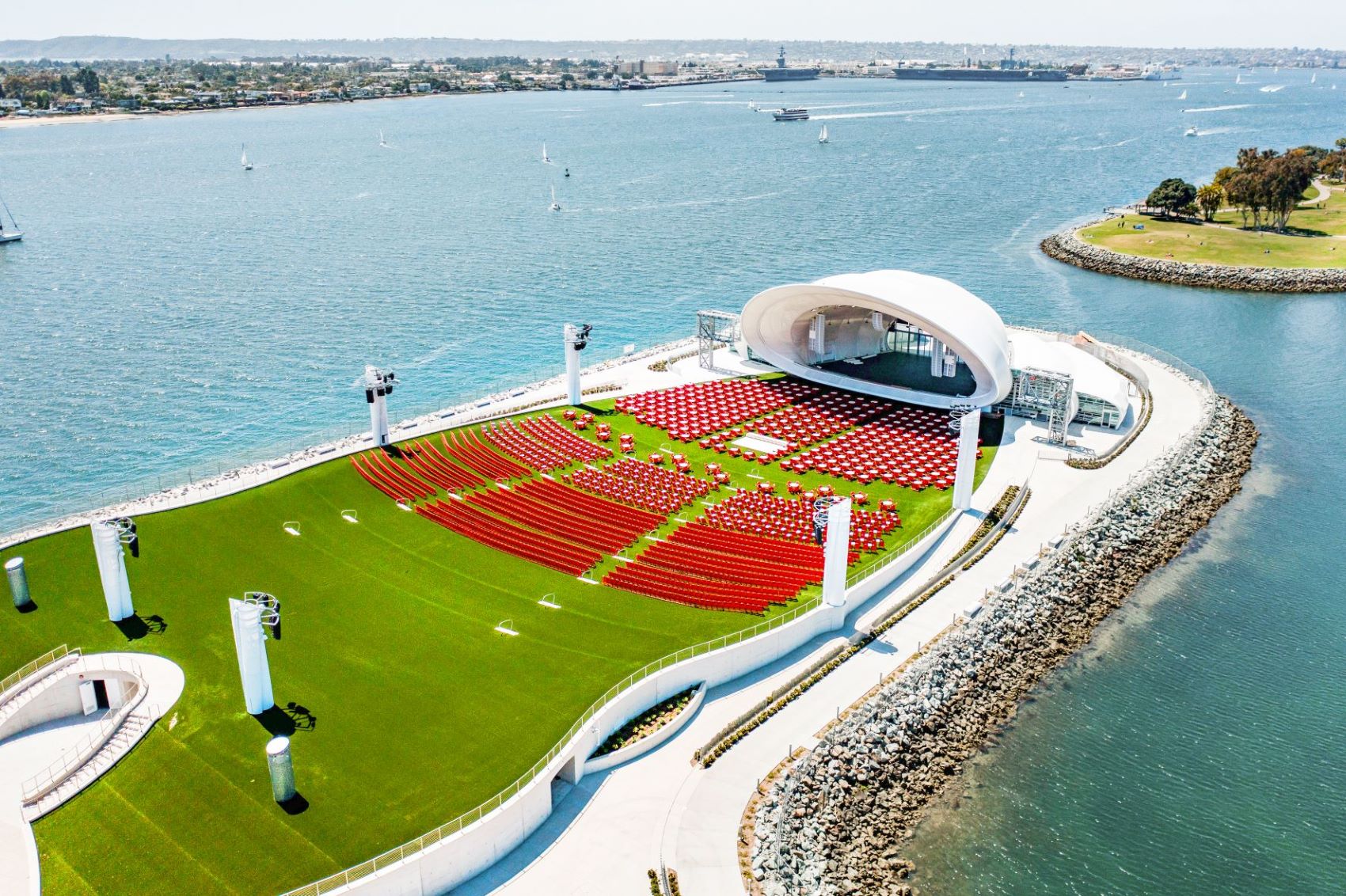 Debuting in August 2021, the Rady Shell at Jacobs Park is a Hollywood Bowl-style venue—built for the San Diego Symphony—with 360-degree views of San Diego's harbor and skyline. Planners can make use of its 13,000-square-foot stage and four acres of park for groups ranging from 50 to 3,000.  
"You'll get some Navy ships floating by and the city skyline is right next to you as well," Schieferdecker said. "That's one of the most beautiful and elegant outdoor venues, and it's really starting to define our skyline." 
2. Hotel del Coronado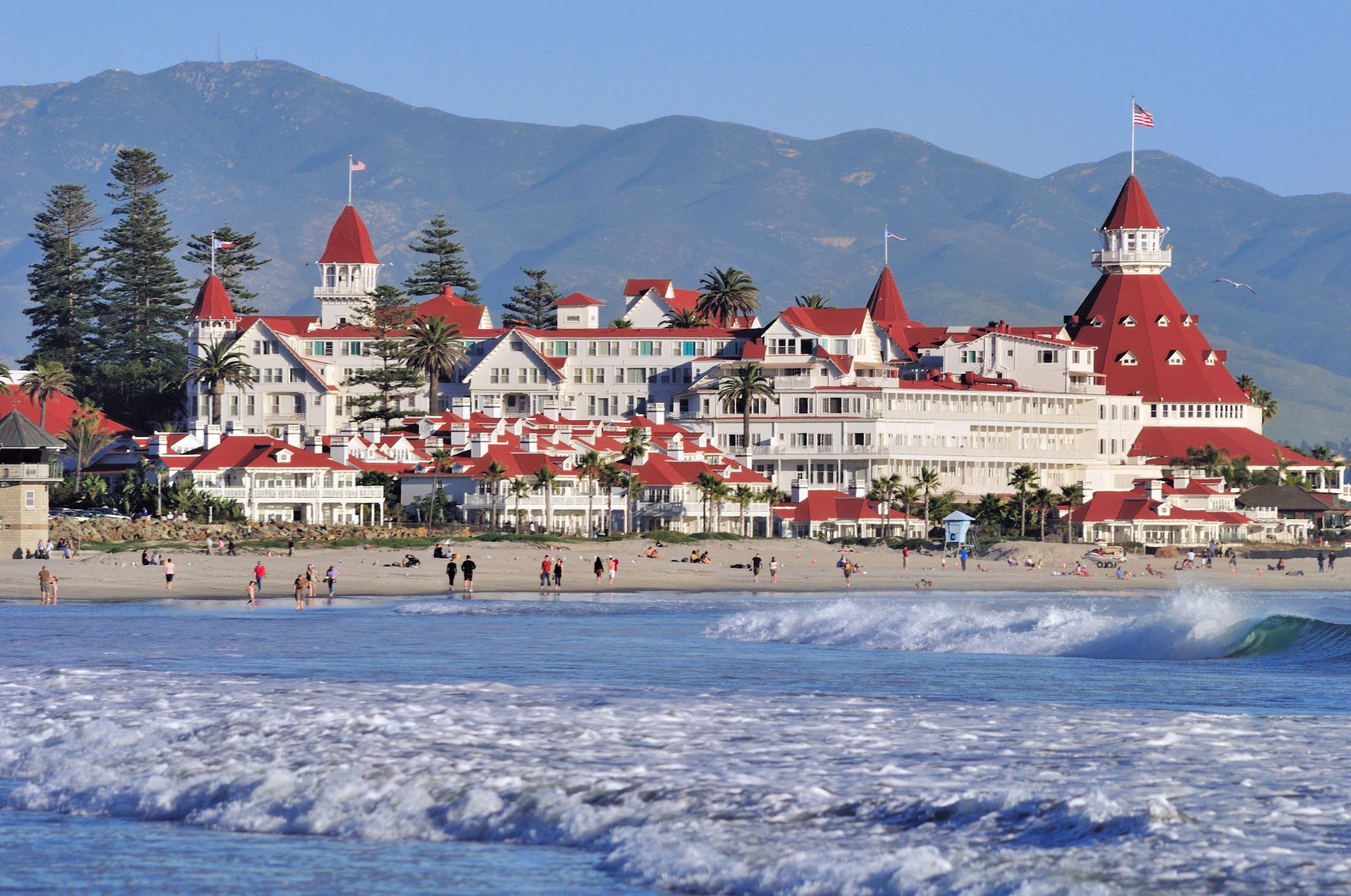 The charming seaside Hotel del Coronado, located just across the San Diego Bay, has been operating for 130 years on Coronado Island. (For those who haven't visited yet, maybe they'd recognize its famous Victorian-style architecture from the Marilyn Monroe classic Some Like It Hot.)  
In 2021, it reached another milestone in its more than $400 million "master plan" renovation: completion of an extensive historic renovation of the hotel's front porch and lobby. Other completed tweaks include an entirely redesigned main entry and drive and refreshed event spaces, including the Windsor Lawn, which overlooks the Pacific Ocean and can accommodate up to 700 guests. 
Beach events are doable as well at The Del, from after-dinner s'mores to firework shows and concerts. And Schieferdecker said the resort is open to groups not based there, which is unique for Southern California.  
[Related: San Diego Ups Its Meetings and Events Profile With Major Developments]
3. Coasterra 
This modern Mexican restaurant is perched on Harbor Island in the San Diego Bay, meaning dramatic views abound, with sailboats gliding by all night. "One of the best views of the city skyline is from Coasterra," Schieferdecker said. The restaurant is operated by the award-winning Cohn Restaurant Group. "They do an amazing job," Schieferdecker added. "They understand meetings and groups really well. They're one of our best partners."  
Coasterra offers a number of event spaces, including the Bayview Ballroom and the Skyline Terrace and Bar, which can accommodate up to 300 guests reception-style.  
4. Portside Pier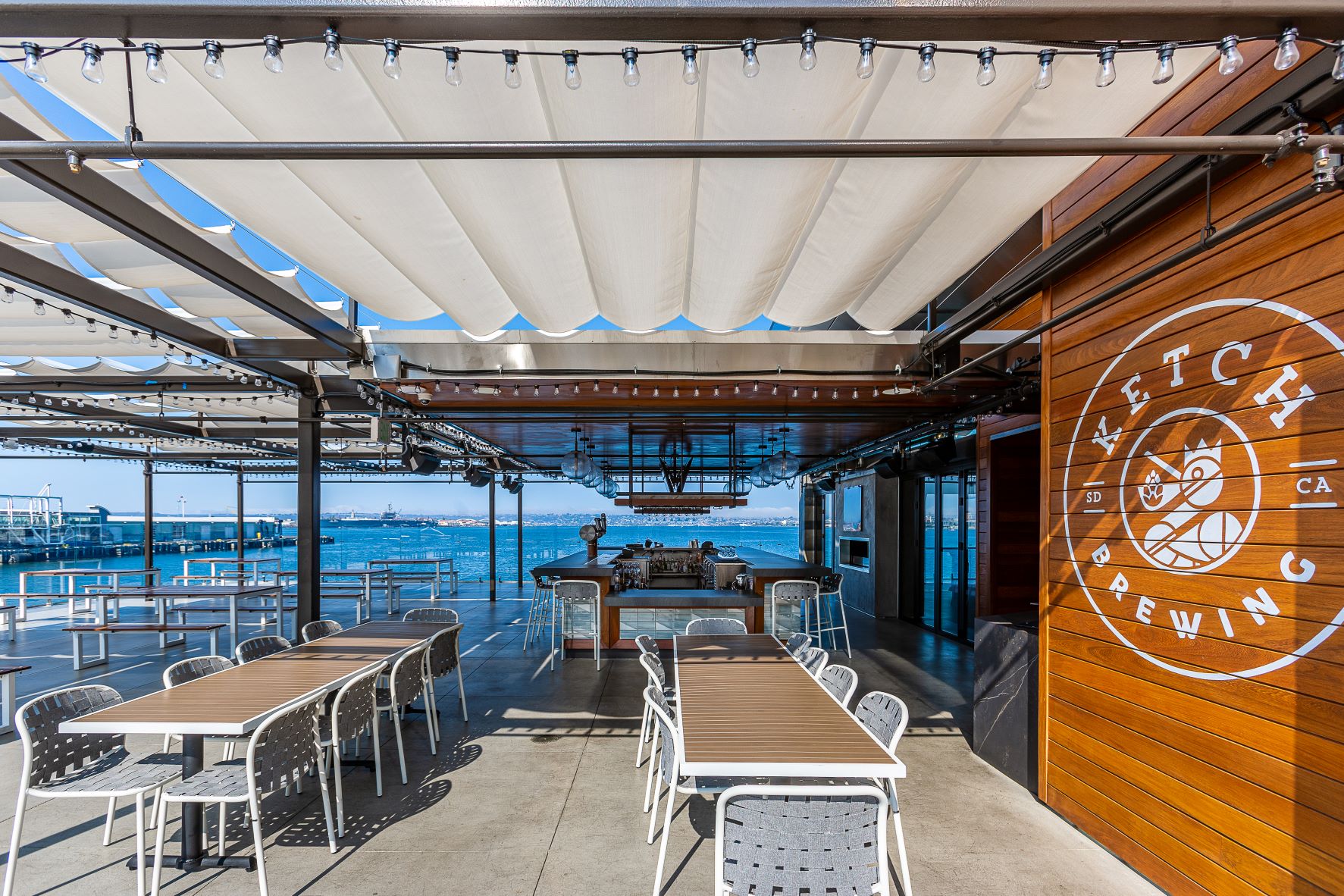 From local hospitality group The Brigantine, Inc., Portside Pier is an over-the-water, two-level dining complex in downtown San Diego that counts itself as part of the city's waterfront redevelopment. It debuted in the summer of 2020. There, planners will find four dining concepts ranging from fresh oysters to Mexican to gelato.  
"We're seeing it being positioned very well for corporate groups," Schieferdecker said.  
Noteworthy spots include Ketch Grill & Taps, which boasts an entirely open-air dining space overlooking the water, and Topsail, offering a terrace with fire pits, seafood-focused small plates and plenty of waterfront views. Planners can book a certain concept for a private event or even offer up a "dine around" for attendees to try multiple concepts. 
5. The Lodge at Torrey Pines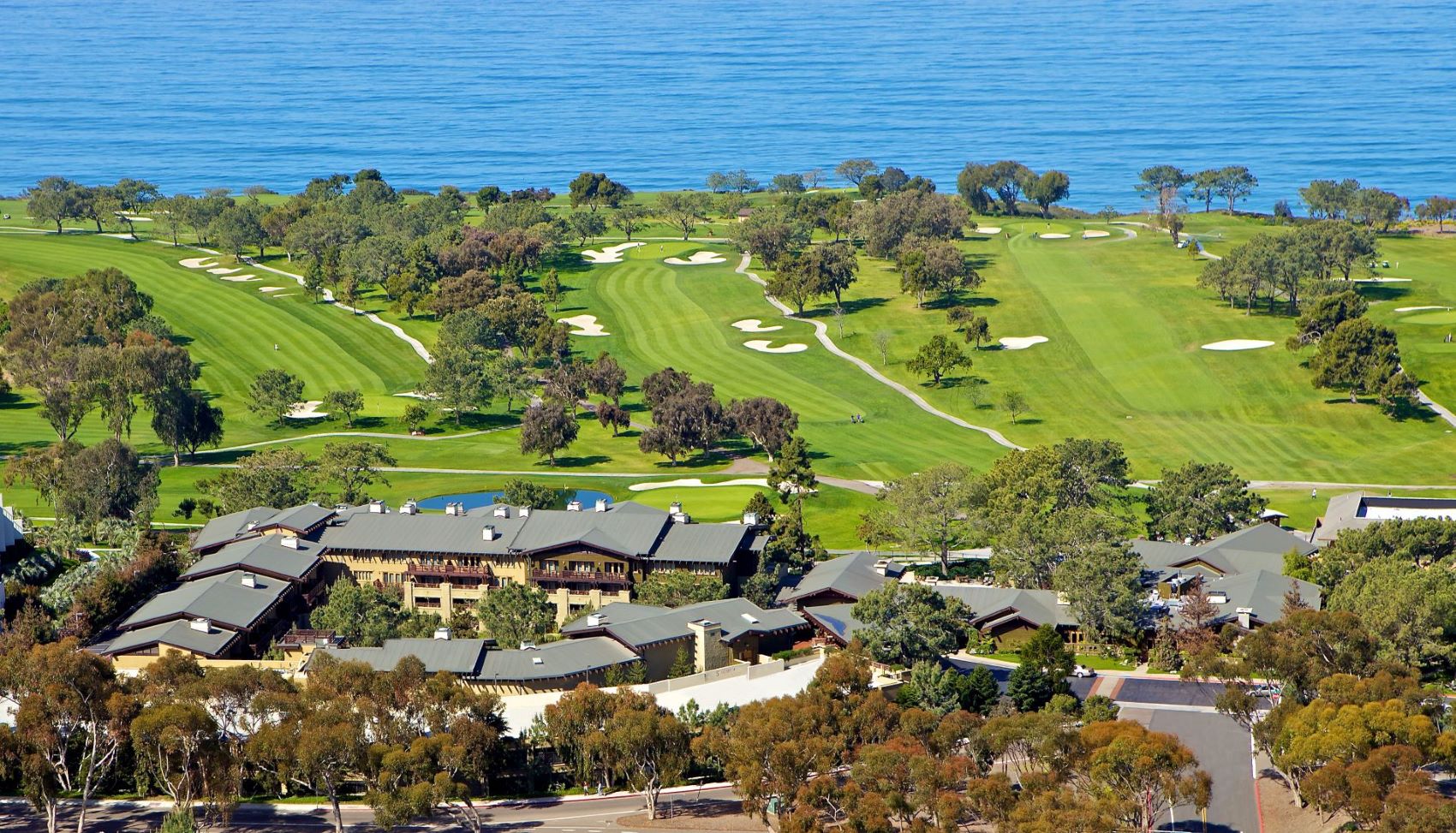 Situated in La Jolla, an incredibly scenic neighborhood with a rugged coastline just 15 to 20 minutes north of downtown San Diego, The Lodge at Torrey Pines is, of course, revered for its world-renowned golf course. This award-winning luxury resort offers more than 13,000 square feet of meeting space.  
"It comes with an amazing backdrop of the Pacific Ocean," Schieferdecker said, "with just a true upscale lodge feel to it." 
A standout space at the property, which is AAA Five Diamond, is the outdoor Arroyo Terrace, offering unparalleled views of the Pacific coastline as well as the 18th green of the U.S. Open South Torrey Pines Golf Course. The Lodge at Torrey Pines also offers 170 rooms, two restaurants and lounges and a full-service spa. 
Connect 
San Diego Tourism Authority | (619) 232-3101  
Read Next: San Diego Shines with New and Improved Meeting Hotels and Venues