Convention Centers and Surrounding Districts Bring Distinct Flavor to Fort Lauderdale and Miami Meetings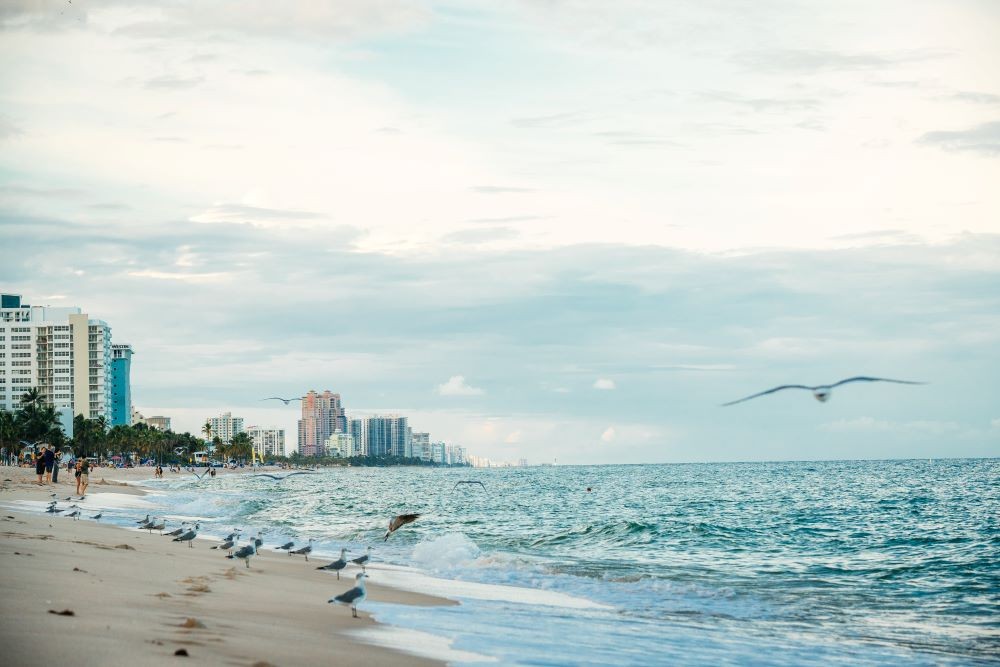 Loads of sun and beautiful beaches are just a few reasons why Fort Lauderdale and Miami—two of southeastern Florida's most popular meetings destinations—remain such a huge draw for groups.  
Even more notable, their top-notch convention districts, which continue to see renovations and additions, as well as myriad surrounding neighborhoods for group outings, give the cities a special and convenient draw. 
Convention Center News in Fort Lauderdale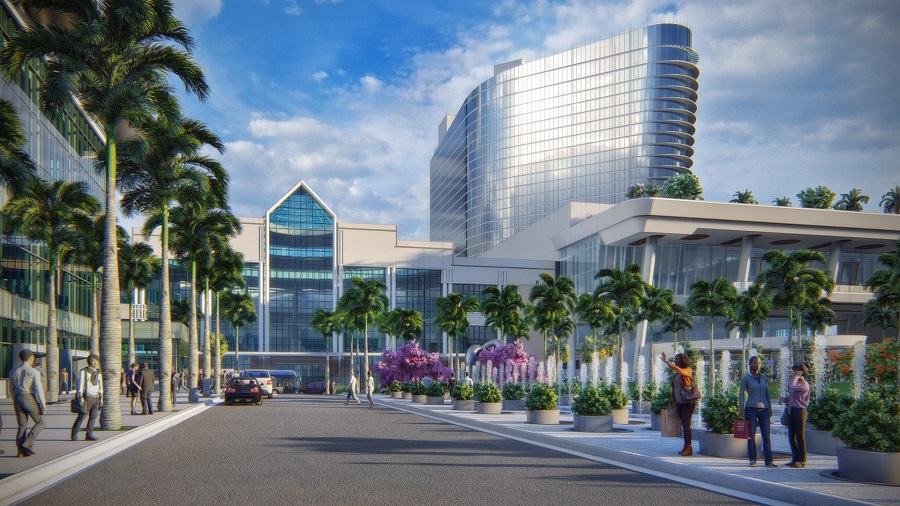 At the end of October, the Greater Fort Lauderdale/Broward County Convention Center hosted its first show after being closed in February 2020 for the first phase of its massive, $1.1 billion renovation project. The 62nd annual Fort Lauderdale International Boat Show returned to the expanded exhibition space October 27-31 just as meetings and conventions started to rebound from the pandemic.  
More good news arrived in December as the convention center secured financing for the final phase of its expansion project, a move that will boost the size of the convention center up to a total of 1.2 million square feet by 2025. The remainder of the expansion includes a 65,000-square-foot waterfront ballroom, an outdoor plaza with restaurants, a concert venue and an interconnected 800-room, 29-story headquarters hotel. 
Stacy Ritter, president and CEO of Visit Lauderdale, said the latest expansion of the center will only make the city more competitive when it comes to drawing meetings.  
"We are on track for meetings in 2022, and 2023 and 2024 are even stronger," she said. "One reason is because the center will offer so much in the way of the year-round indoor and outdoor space meeting planners are looking for. Not too many places can offer what we can. The expansion is key to our continuing evolution as an upscale, cosmopolitan and diverse tourism and meetings destination." 
Nearby Fort Lauderdale Districts and Attractions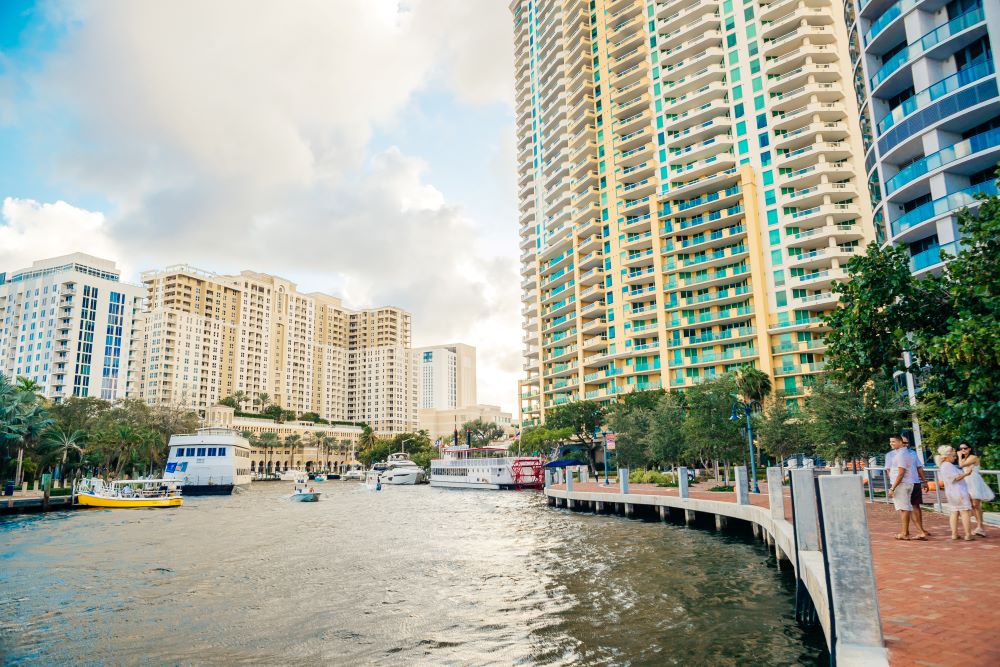 When attendees return to Fort Lauderdale, they will also find hotels with noteworthy restaurants sprinkled throughout the convention area including G Bar & Grill in the Hilton Marina, Bistro 17 in the Renaissance Fort Lauderdale Cruise Port Hotel and other unique venues nearby that offer interesting settings for private events.  
Just six miles from the convention center, the 1930s-era Bonnet House Museum & Gardens is ideal for an outdoor lawn party. Set on 35 acres and located on a barrier island with the Atlantic Ocean on one side and the Intracoastal Waterway on the other, guests have the exclusive use of the garden courtyard, waterfront veranda, hibiscus garden or Bonnet House Beach.  
Also near the convention center, the African-American Research Library and Cultural Center (AARLCC) offers exhibits on African and Caribbean cultures, and its library houses more than 85,000 books, manuscripts and artifacts. The library features a seminar room for up to 65 and a 300-seat state-of-the-art auditorium for groups. 
The convention center area is also a great jumping off point for several areas of Fort Lauderdale that cater to meeting goers—all easily accessible by water taxi. 
 
"The water taxi can take attendees from the convention center to the beach and Birch State Park as well as attendee favorite, the shops and restaurants on Las Olas where we have 50 restaurants alone," said Ritter, who revealed some of her favorites: Java & Jam for lunch, YOLO for dinner (with private space for groups) and Caffe Europa, a restaurant that's been dishing out Italian favorites since 1990. 
"We also have stores like Tommy Bahama and a vast array of local boutiques. Las Olas Boulevard is the best place to buy a bathing suit," she joked.  
Groups can also take advantage of the Las Olas Walking Food Tour or Craft Beer Tour, a fun way to unwind after a day of meetings. There are also galleries, live music venues and museums to enjoy in the Las Olas area.  
Another stop on the water taxi is Historic Stranahan House Museum, just off Las Olas Boulevard on the New River. Built in 1901, it is credited as the oldest surviving structure in Broward County. Today, the beautiful, rustic outdoor venue can accommodate up to 200 for receptions on the museum grounds and River Patio.  
Fort Lauderdale's nickname "Venice of America" is based on the 300 miles of inland waterways that run through Greater Fort Lauderdale, with about 165 of those in the city of Fort Lauderdale itself. It's for that reason groups must get to the water, "even if they don't go in," Ritter said.  
"Visitors cannot come to Fort Lauderdale and not take advantage of the water culture. If you take the Jungle Queen Riverboat, or the Carrie B cruise, the views of the houses on the Intracoastal are just amazing. We say it's fun for people who want to be wealth adjacent," Ritter said. 
For a spectacular view of the ocean on Fort Lauderdale Beach, Ritter recommended Takato restaurant at the Conrad Fort Lauderdale Beach, Burlock Coast at The Ritz-Carlton, Fort Lauderdale, 3030 Ocean Restaurant & Bar at Fort Lauderdale Marriott Harbor Beach Resort & Spa and the new Evelyn's Table at Four Seasons Hotel opening early 2022.  
[Related: Florida's West Coast Chefs Talk Post-Covid F&B, Upcoming Food Trends and More]
Convention Center News in Miami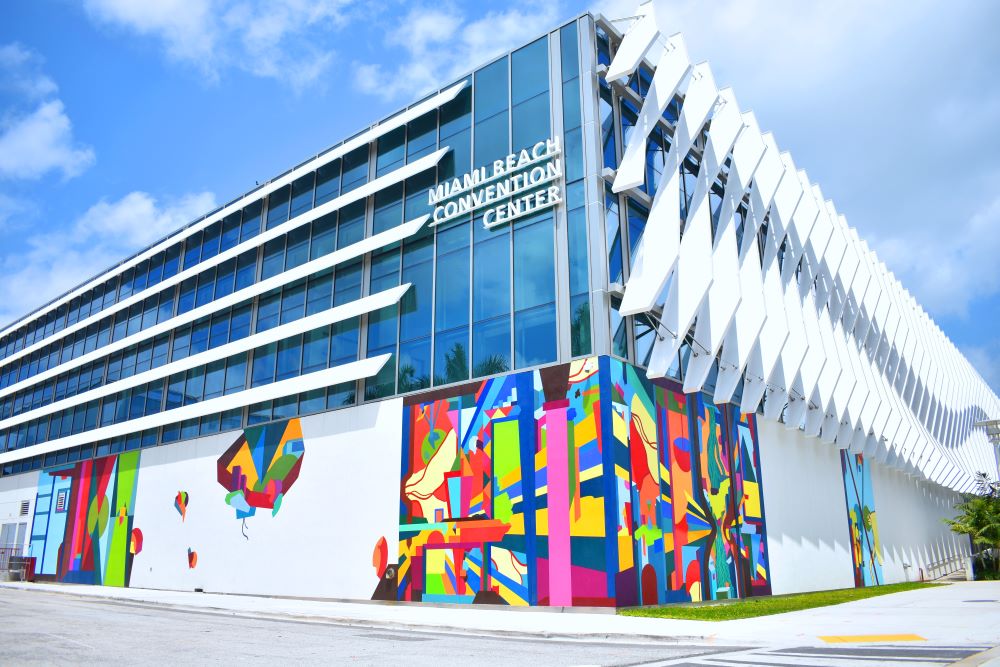 Miami has seen a meetings boon at the Miami Beach Convention Center thanks to completion of its three-year, $620-million renovation that commenced in 2018. Surrounded by more than three acres of green space and other amenities, the center's renovation added a grand ballroom, four junior ballrooms, 84 meeting spaces and four exhibition halls bringing the total space up to a staggering 1.4 million square feet. 
Carol Motley, senior vice president of convention sales and services at Greater Miami Convention & Visitors Bureau (GMCVB) said that for her and her team, having assets like these makes selling Miami even that much more competitive.  
"We're getting a new 800-room Grand Hyatt headquarters hotel (at the convention center) and there are so many attractions in and around the Miami Convention Center campus, including Pride Park and New World Symphony for outdoor concerts under the stars," Motley said.  
Nearby Miami Districts and Attractions 
In nearby in Collins Park, the contemporary Bass Museum of Art opened in 1964 in what was the Miami Beach Public Library and Art Center, a 1930s Art Deco building. Groups can enjoy tours of the extensive collection, as well as utilize several areas in the museum for special events including Cejas Gallery and Lindemann Courtyard.  
One of the liveliest districts in Miami Beach is South Beach, home to more than 800 pastel-colored Art Deco buildings, now synonymous with this iconic destination. Area excursions include culinary and Segway tours, and one that gets high marks is a guided walking tour led by the Miami Design Preservation League, delivering intriguing and historical architectural insights at every turn.  
In the heart of South Beach, Lincoln Road's mile-long pedestrian thoroughfare is chock full of tempting eateries, street entertainment and fascinating people watching. Motley said this spot is particularly popular with many attendees for its proximity to the convention center. "It's an area with so much going on convention attendees gravitate there and often end up bumping into someone from the show." 
One of the newest additions to the Lincoln Road area on Drexal Avenue is the Time Out Market, a dining and cultural experience with a 17,000-square-foot food hall packed with 17 kitchens, three bars and a demo cooking area. Motley urges planners to provide attendees with a (cash infused) Time Out Market Card for attendees to go wild; nosh on a taco at La Santa Taqueria, have a sushi roll at Bubusan or sip a chilled glass of vino at Vinya Oraganic Wine Bar, for example. 
For a place "unlike any place in the United States," said Motley, there's nothing like a visit to Little Havana. West of downtown Miami, Little Havana, which centers around Calle Ocho (SW 8th St.), is filled with Latin-inspired restaurants, cigar shops, art galleries and music venues.  
The hub of Little Havana is Maximo Gόmez Park, better known as Domino Park, where locals sip coffee and play dominos and chess while spectators watch. Inside the park, the Little Havana Paseo de Las Estrellas (Walk of the Stars) features a cross section of Latin American star power that includes artists, musicians and actors.  
Across the street is Azucar Ice Cream Company, known for its eclectic flavors such as caramel flan or platano maduro (sweet plantain). For an authentic Cuban sandwich, visitors have been flocking to Versailles restaurant since 1971 and for a Cuban coffee or fruit smoothie, visitors can stop by Los Pinarenos Fruteria.  
North of downtown Miami and west of Miami Beach, the Wynwood neighborhood was once a collection of decrepit warehouses, but has now been transformed into one of the most lively areas in Miami. Its centerpiece is the popular Wynwood Walls, where attendees can view more than 35 murals by world-renowned artists. Wynwood also offers breathtaking views from rooftop bars and diverse menu offerings at restaurants like Coyo Taco, Zak the Baker and the Asian KYU.  
Pedro Amos, owner of Miami's Best Graffiti Guide, leads groups on tours of the Wynwood area and will even set up corporate team building events encouraging teams to create their best graffiti.  
Motley believes the distinctive neighborhoods beyond the convention area will encourage attendees to come early or stay a few days beyond the conference to indulge in and enjoy all Miami has to offer. 
"It's about the energy and the soulfulness, here. So many of our clients are looking for diversity now. With Little Havana you have the food, with Wynwood you can discover a love of art. These are just some of the ways our groups can get out and be curious." 
More Intriguing Districts to Explore in Fort Lauderdale and Miami 
Have a day or two before or after the meeting? Check out these other distinct districts in Fort Lauderdale and Miami. 
Fort Lauderdale 
Hollywood: Thirty square miles of parks, golf courses, beachfront and the Hollywood Beach Boardwalk make up this city. There's a newly reconstructed path for walkers and bikers and nearby outdoor cafes and juice bars. Visit The Anne Kolb Nature Center, a reserve with mangrove trails and an aquarium to see some exotic and endangered species.  
Lighthouse Point: The Hillsboro Lighthouse is the place to visit or get on the water with a bevy of fishing boats and yachts waiting to be chartered. Here, 18 miles of waterway wind through the point and out to the Atlantic Ocean.  
Pompano Beach: Just north of Fort Lauderdale, Pompano Beach is home to some of the most beautiful beaches. This is the spot for deep sea fishing, diving and snorkeling. For golf, try the Greg Norman Signature Pines Course.  
Lauder-By-The-Sea: This little village is full of retro midcentury style architecture and is recognized as "South Florida's Beach Diving Capital." The 1900 SS Copenhagen steamship shipwreck here is now the most-visited underwater archaeological preserve in Florida and is listed on the National Register of Historic Places. 
Miami 
Coral Gables: Just a few miles southwest of downtown Miami, this area features Mediterranean Revival architecture with plazas, parks and fountains. Take a stroll through the Fairchild Tropical Botanic Garden, an 83-acre oasis of tropical plants and trees near Biscayne Bay. 
Coconut Grove: The lush bayside community of Coconut Grove is known for its banyan trees, palms and live oaks. It's also home to one of Miami's historic Black communities. Along Grand Avenue in the West Grove, you'll find farmers markets, art galleries and historic Black churches. 
Design District: Spanning 18 square blocks just north of Midtown Miami, this shopping and arts district is filled with luxury fashion boutiques like Prada and Balenciaga, edgy art galleries, unique public art and tasty restaurants. Visit The Institute of Contemporary Art, Miami (ICA), where admission is always free. 
Little Haiti: More than 100,000 Haitians have settled in this 3.5 mile stretch just north of downtown Miami. Not to be missed is the Little Haiti Cultural Center with gallery exhibits, live music and Afro-Caribbean dance performances.  
Connect 
Greater Miami Convention & Visitors Bureau 
(305) 539-3000  
Greater Fort Lauderdale Convention & Visitors Bureau 
(954) 765-4466 
Read this next: 18 Showstopping Outdoor Venues in Florida