CSR Activities in Colorado That Make a Lasting Impact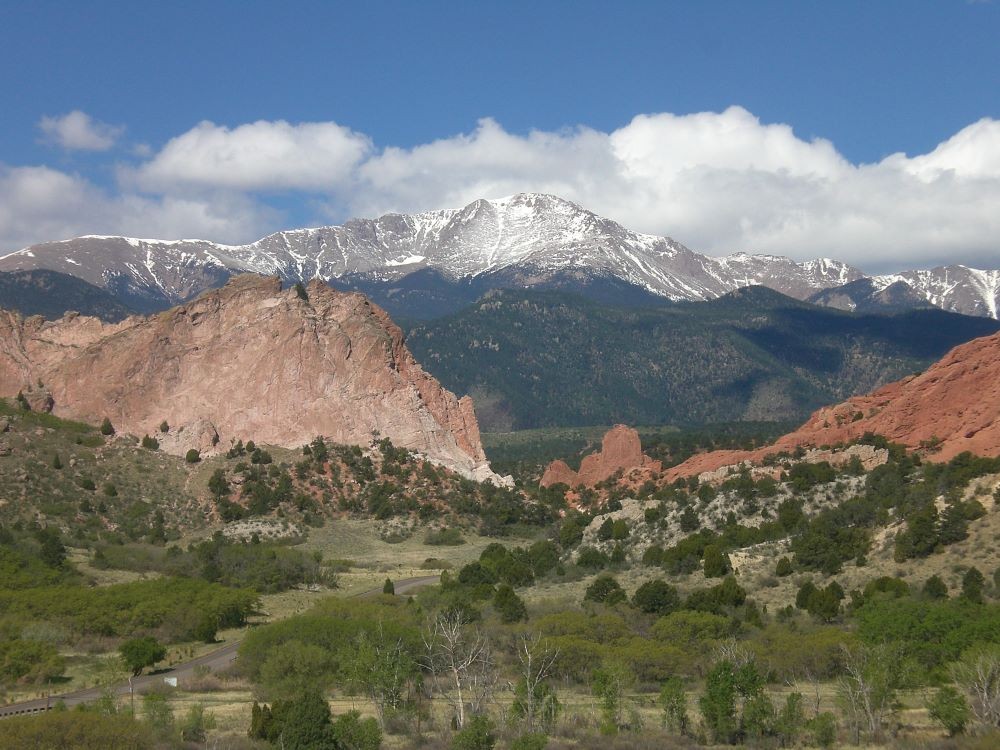 Pikes Peak, Colorado Springs. Credit VisitCOS.com
With the return of in-person meetings also comes the return of corporate social responsibility (CSR) activities. And with business professionals perhaps being more mindful about travel than ever before, the importance of CSR can't be understated. Such activities help bring people together over a common cause and also help make an impact on the community in which they're meeting. This shared sense of purpose and care for others may be magnified as a result of the isolating COVID-19 pandemic that has left its mark in every community around the world. 
"Working with us is an opportunity to bring people into one place at one time and create a sense of belonging together," said Jacob Baker, director of communications and strategic partnerships for Roaring Fork Outdoor Volunteers in Basalt, Colorado. 
All around Colorado, there are unique opportunities for CSR programs, from cleaning and maintaining its beautiful landscapes to feeding people in need. Here, we've rounded up some of the best options for meeting and event groups. 
Aspen-Snowmass Area 
Roaring Fork Outdoor Volunteers has a mission to mobilize residents and visitors to participate in stewardship of the Aspen-Snowmass area's public lands. The organization provides a variety of ways for groups to get outside and help maintain the region's beauty.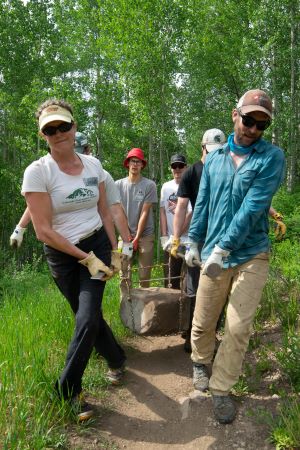 "Our theme for this year is making our shared outdoors into common ground," Baker said. "The whole area is really so beautiful. You gain a very different appreciation when you go out and help maintain a trail. You understand all the different factors that influence the outdoors. And you make a tangible impact on the community." 
According to Baker, there are three main ways groups can get involved: 
Sustainable recreation, which includes trail rebuilding and trail maintenance. 
Healthy landscapes, or landscape restoration. 
Fire adaptation, which includes both pre- and post-fire events (mitigation or restoration). 
"We have groups that will work in all three domains or just one. With any group we customize the project to their needs, abilities and interest," Baker said. "The goal is to transform a trail user into a trail participant. What we are looking to do is make a public land steward of everyone who volunteers with us." 
Because working outdoors allows for natural social distancing, Baker said that operations haven't been affected by the pandemic. Roaring Fork Outdoor Volunteers pairs every six to 10 participants per trained staff member and can accommodate groups of various sizes for volunteering blocks of anywhere from four to eight hours.  
Baker said that groups can schedule volunteer opportunities from roughly April 15-October 15, but that Roaring Fork Outdoor Volunteers staff works year-round and can work with planners in the winter months to schedule and customize their spring, summer or fall outings. 
[Related: Outdoor Teambuilding Ideas for Groups in Colorado]
Denver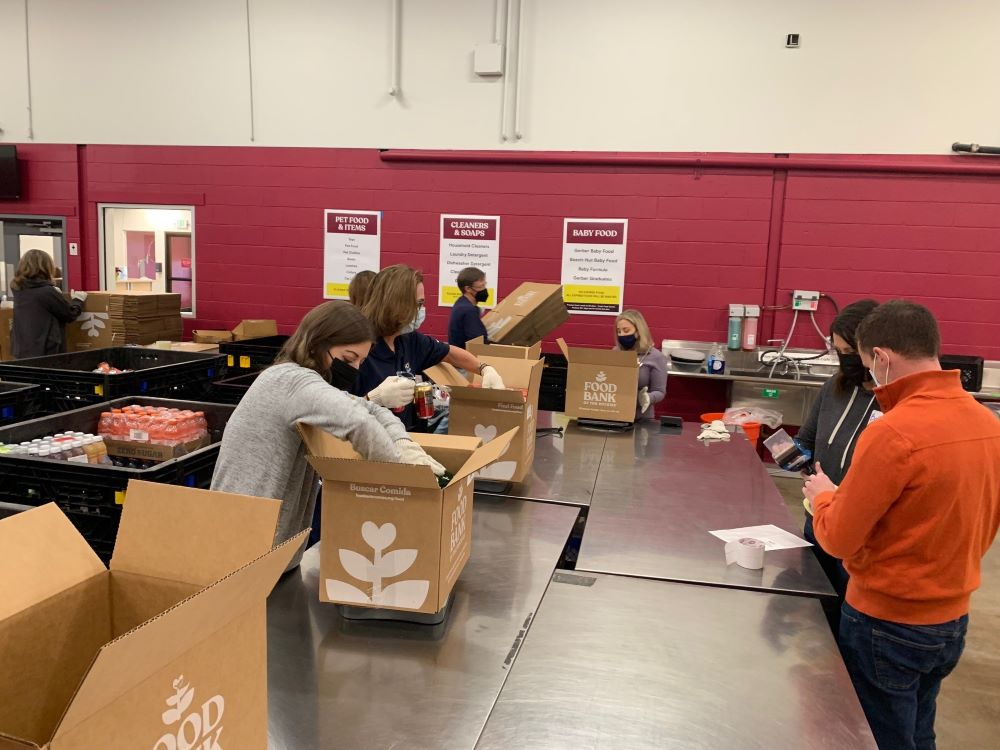 In Colorado's largest city, Food Bank of the Rockies is a popular CSR option. By volunteering with this organization, groups can help provide food and necessities to people in need in the Denver area. 
The Food Bank of the Rockies hosts volunteer shifts at their distribution center, which is located off I-70 just 19 minutes from Denver International Airport.  
"The groups enjoy an efficient, three-hour food packing event that concludes with an impact report on what the group accomplished and a team photograph," explained Mitch Jelniker, corporate relations manager for Food Bank of the Rockies. In addition to food packing events, groups can also participate in the following: 
Distribution: Volunteers help pull and build pallets of food from the inventory to distribute to Food Bank of the Rockies' Hunger Relief Partners (pantries, community organizations, etc). 
Evergreen Boxes: Volunteers assemble food boxes in an assembly line system for the USDA program that helps low-income, older adults. 
Agency Dock: Volunteers work on agency dock assisting Hunger Relief Partners with their incoming food and products. 
Community Kitchen: Volunteers work with chefs to prep and create meals for Kids Cafe.  
Jelniker said that shifts occur Monday through Friday and that the distribution center can take up to 30 people per shift, but that number can flex to 50 with prior planning. Sponsorship opportunities are also available if companies want to maximize their impact. 
A group from United Airlines participated in a group volunteer shift, added Jelniker, and called the Food Bank of the Rockies "one of the best events we have to offer the employees," and added that "our roster is always full to help out there. Knowing that you are going in to work with coworkers while helping our local community is really impactful. It doesn't hurt that we have fun with each other while doing it, listening to great music while getting as much done as we possibly can. Knowing the impact of what we accomplished at the end helps us to see why we are there in the first place truly." 
Colorado Springs 
Through shelter, outreach and housing, The Place in Colorado Springs (the second-largest city in Colorado) helps the city's homeless youth. To aid them in exiting homelessness, The Place aims to provide safe housing, supportive relationships and the opportunity for self-sufficiency and success. 
Corporate groups can help The Place fulfill this mission through volunteer work. There are various opportunities to improve and construct the onsite dorms, including painting, landscaping, deep cleaning in the dorms, construction and more. 
For groups that want to get outdoors and enjoy one of Colorado Springs' most famous outdoor attractions, Pikes Peak, they can partner with Friends of the Peak to aid in the preservation and restoration of the attraction's natural environment. Pikes Peak is the highest summit of the southern front range of the Rocky Mountains and is just 12 miles from downtown Colorado Springs. Planners can organize volunteer outings to maintain, rebuild and sometimes create new trail builds to maintain the safety and positive experience for trail-goers, according to Friends of the Peak. 
[Related: Colorado Springs Has Undergone a Mountain of Changes for Its Meetings Offerings]
Boulder 
At the foothills of the Rocky Mountains in northern Colorado, Boulder offers many CSR opportunities for groups to both give back to the community while learning about the outdoor adventure culture the city is so well known for.  
Colorado Wilderness Corporate and Teams, which is a division of Colorado Wilderness Rides and Guides, is a Boulder-based local outfitter that can work with groups year-round. Kim Farin, vice president of marketing for Boulder CVB, singled out the Build-a-Bike program as a memorable option. 
"Groups build bicycles, right out of the box, and then donate them to some of Boulder's underserved children. You'll use tools and work together to assemble the bike," she explained. "Boulder has been named one of the best biking cities in the U.S. and there are trails galore, including the Boulder Creek Path that runs right through town." 
Biking culture is a big part of Boulder, as are hiking and running on the area's many trails. Groups can also work on trail building and maintenance, vegetation management, forestry projects and seed collection with the City of Boulder's Open Space and Mountain Parks (OSMP) Volunteer Services. 
Connect 
Aspen Chamber Resort Association 
(970) 925-1940  
Boulder CVB 
(303) 442-2911  
Visit Colorado Springs 
(719) 635-7506  
Visit Denver 
(303) 892-1505 
Read this next: Inviting Colorado Restaurants for Post-Meeting Meals