Cedar Rapids Chef Turning Heads in the Heartland With Veggie-Forward Tastes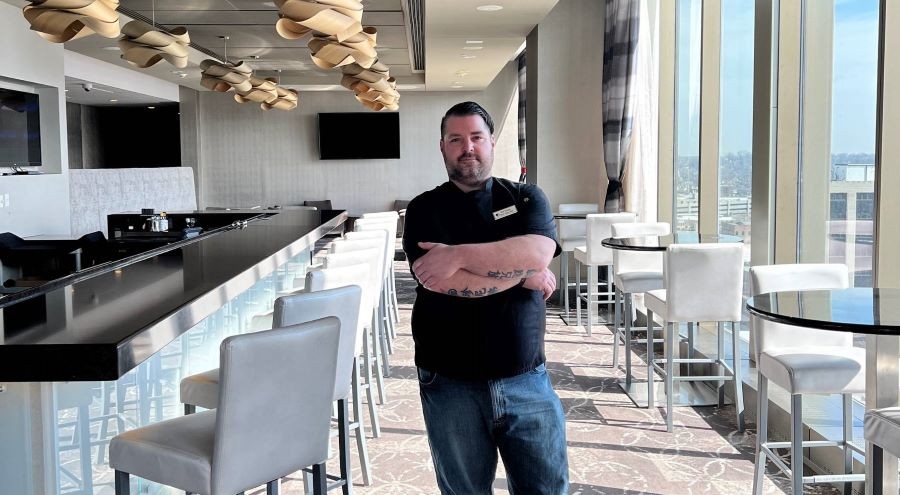 Executive Chef Nicholas F. Schultz, DoubleTree by Hilton Cedar Rapids Convention Complex.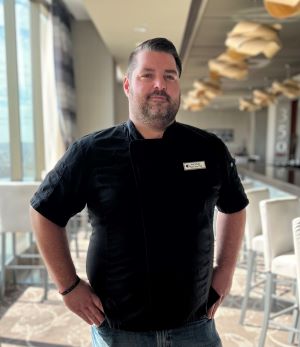 Attendees traveling to America's heartland may expect to enjoy banquet menus heavy on local livestock, and especially in Iowa, which is the top producer of pork in the U.S. by a large margin.
Attendees traveling to Cedar Rapids, Iowa, may be surprised, however, to discover the "vegetable-forward" philosophy championed by Executive Chef Nicholas F. Schultz and the culinary staff at DoubleTree by Hilton Cedar Rapids Convention Complex.
"We offer a vegetable-forward menu with fresh ingredients," Schultz offered. "And as someone who grew up in Iowa and made my bones in a scratch kitchen, the food scene here has really moved forward fast. It's quick to the plate with seasonal, farm-to-table fare.
"We do try to rep Iowa as best we can with the pork products, though," he added.
Being located in a global agriculture hub, the DoubleTree is a frequent host of agriculture industry meetings and conventions—one of the world's largest cereal mills, Quaker Oats, can be seen from the hotel's 350 First restaurant, located atop the building on the 16th floor.
In fact, the hotel and convention complex even leverages its relationship with Quaker Oats via specialty cocktails featuring the flavors of their popular cereals, and even a Monte Cristo sandwich with Crunch Berries infused in the crust.
Chef Schultz, a Waterloo, Iowa, native who has worked in Portland, Oregon; San Diego; Denver; and Japan, also takes advantage of the property's location by using many Iowa-sourced ingredients.
"We have some of the best soil and farmland in the world," he said. "Just as Oregon has volcanic soil, Iowa has that rich organic soil that promotes healthy living.
"Let's say a giant ag group is coming in," he continued. "We may focus on corn or soybeans. We really like to sit down with the client and tailor-make venues. That's part of the fun, and we have the resources to make it happen."
Group Dining Philosophy
Flexibility is the driving force in Schultz's kitchen, whether groups are gathered in 350 First or convening in the complex's more than 82,000 square feet of meeting space.
"The old mantra of the chef is, 'My menu, my way,' but here we're very much a 'yes restaurant' and I'm a 'yes chef,' he offered. "We're a one-stop shop. We do the catering in the convention center, too, and we don't need multiple contracts. The big thing is that from a culinary point of view, there's no task too small or no task too big."  
Tiki Masala Four-Cheese Mac 'n' Cheese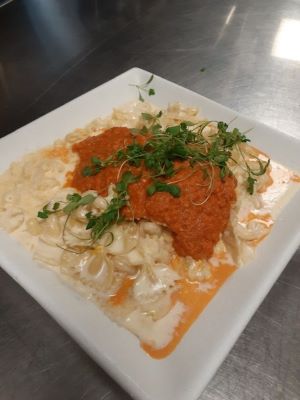 Serves 4-5
Masala Sauce Ingredients:
2 tbsp. plus 1 tsp. vegetable oil
¼ cup blanched whole almonds
1 large onion, finely chopped 
2 garlic cloves, minced
1 tsp. minced fresh ginger
1 1/2 tbsp. garam masala
1 1/2 tsp. chili powder
1/2 tsp. cayenne pepper
1 35-ounce can peeled tomatoes, finely chopped, juices reserved
1 cup heavy cream; pinch of sugar
Masala Sauce Directions:
In a small skillet, heat 1 tsp. of the oil. Add the almonds and cook over moderate heat, stirring constantly, until golden, about 5 minutes. Transfer the almonds to a plate and let cool completely. In a food processor, pulse the almonds until finely ground.
In a large skillet, heat the remaining 2 tbsp. of oil until shimmering. 
Add onion, garlic and ginger and cook over moderate heat, stirring occasionally until tender and golden (8 minutes). 
Add the garam masala, chili powder and cayenne and cook, stirring, for 1 minute. 
Add the tomatoes with their juices and the sugar and season with salt and pepper. Cover partially and cook over moderate heat, stirring occasionally, until the sauce is slightly thickened, about 20 minutes.
Add the cream and ground almonds and cook over low heat, stirring occasionally, until thickened, about 10 minutes.  
Mac 'n' Cheese Ingredients:
16 oz. heavy cream
16 oz. water
1 bay leaf
1 tbsp. black peppercorns
1/2 cup yellow onion, chopped
Pinch of ground nutmeg
3 oz. unsalted butter, cubed
5.5 oz. all-purpose flour
2 lbs. four cheese mix: 1/2 cup each Gruyere, parmesan, fontina, mozzarella—all grated
1 lb. dry macaroni, cooked to al dente in salted water, then shocked; salt and pepper to taste
Directions:
Combine all ingredients except butter, flour, cheese mix and noodles. Bring to simmer. Cover tightly and remove from heat. Let sit 1 hour. 
Make a light roux with the butter and flour. Strain the "milk" and slowly stir it into the roux. Cook until thickened to sauce consistency. 
Stir in the cheese and combine until fully melted, over low heat. 
Taste and season with salt and pepper.
Carefully combine cheese sauce with the noodles  
Serve: 
Bowl up the mac 'n' cheese and then top with the masala sauce! Bon appetit!