JW Marriott San Antonio Hill Country Resort & Spa Hires Culinary Gardener
Hector Rivera Working in the JW Marriott San Antonio Hill Country Resort & Spa Garden
Hector Rivera grew up in a farming family, watching his grandfather tend to 25 acres of land before handing it over to his children. 
Rivera always had an interest in understanding what it was that his grandfather did on the farm for so long. When he was around 18, Rivera began landscaping, growing more interested in horticulture, vegetables and plants before taking classes at Texas Tech University for a plant and soil science degree.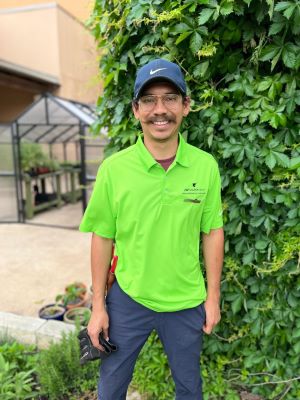 Now, Rivera puts his passion for and knowledge of plants to work as culinary gardener and beekeeper at JW Marriott San Antonio Hill Country Resort & Spa, where he plans and maintains garden beds, tends to the onsite greenhouse and harvests and prepares produce for the resort's dining outlets. 
"With just regular landscaping, they deal with a lot of ornamental plants, very drought tolerant," Rivera said. "But with culinary gardening, you need to know more of the types and varieties that you can grow here in Texas … tomatoes, peppers. Maintaining and taking care of them is a little bit more complex because they need more water, there's pests involved, you can get diseases very easily." 
[Related: F&B Revolution: From Upcycled Food to Eliminating Meat at Meetings]
The resort's 5,000-square-foot organic garden contains tomatoes, squash, beets, radishes and several varieties of lettuce, peach trees, avocado trees, bay leaf trees, fig trees, lavender, basil, rosemary, chives, sage, peppers for hot sauces served at High Velocity, and -numerous other herbs that are used for menu items at 18 Oaks and Cibolo Moon.  
One obstacle Rivera faces as a culinary gardener is avoiding the use of synthetic chemicals on his plants, as most of them would be consumed. He turns toward organic herbicides and organic pesticides to take care of issues like infestations and diseases.  
Rivera waters and tends to the gardens every day, making sure to keep the plants that started as seeds he ordered months before healthy and flourishing. He knows when almost all the seeds will germinate to the point that they are ready to be transferred into the ground. He also predicts how many vegetables he will be able to harvest for the week and tells the kitchen at JW Marriott San Antonio Hill Country Resort & Spa. 
"We also do microgreens here at JW Marriott," Rivera elaborated. "You usually see them on salads and sandwiches. A lot of people like to grow them because they contain a lot of nutrients, and you can grow a lot in a little space."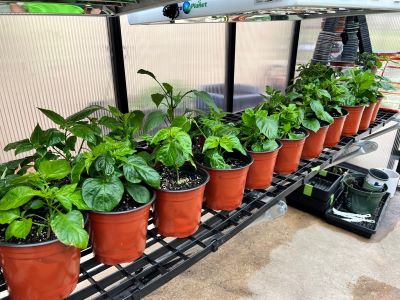 Rivera grows microgreens such as sunflowers, basil and cilantro, many of which are used in the resort's spa. The hotel also uses the vegetables and plants Rivera works with in salsas, honey and cocktails.  
"The beer, cheese displays and amenities for guests utilize the produce and honey grown and harvested on property," said Brian Sundeen, head chef at JW Marriott San Antonio Hill Country Resort & Spa. "We also harvest the microgreens, which we use at our dinner action stations for banquets and meetings…such as Opal Basil for Caprese salads for events. Lastly, our peppers are used to create the salsas for the banquet kitchens. The implementation of freshly grown and harvested produce in our dishes for guests attending a meeting allow for participants to prioritize wellness while traveling." 
[Related: Chicago Hotel Implements Sustainability Initiatives to Help Keep the City Green]
Beekeeping 
In addition to tending to the resort's gardens, Rivera will also soon assume responsibility for JW Marriott San Antonio Hill Country Resort & Spa's 12 beehives, protected in a remote location on the 600-acre property. Rivera's tasks will include harvesting the honey, fending off other insects and generally providing regional bees with the home they need to thrive.  
"It was kind of scary at first," Rivera remembered. "After a while, you get used to it and don't really worry about the bees trying to sting you. And I haven't been stung yet! I'm waiting for my first one."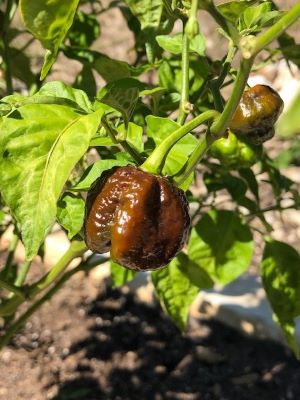 Every day, especially when temperatures are high, Rivera checks on the queen to ensure she is still producing larva and new bees, otherwise known as brood. The resort currently has a partnership with Freetail Brewing Co. in which the brewery will use the resort's honey to create a custom brew, called Hill Country Honey Blonde, for the resort.  
"It was exciting to have Hector come on board," said Nina Shokrian, senior marketing manager at JW Marriott San Antonio Hill Country Resort & Spa. "It's been exciting, for the resort itself, to understand the importance of sustainability. 
[Related: The Future of Sustainable Business Travel in the Meetings Industry]
"We're currently working with the San Antonio Food Bank to re-implement our food donation program," Sundeen added. "We donate banquet food that hasn't gone out to the buffet. Anything that can be re-heated will be donated. The resort also composts food and vegetables from the kitchens as well as coffee grounds to improve the soil for plant regrowth." 
His favorite part about the job, Rivera said, is how excited guests become while walking past the garden, especially when they take the time to ask him questions about problems they have with their own gardens and any advice he can offer.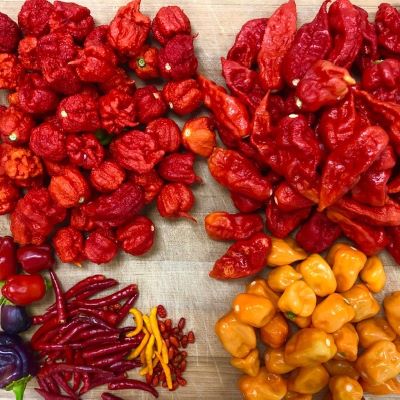 "I'll talk to them for 20-30 minutes, and they enjoy it and enjoy looking around," Rivera said. "I invite them into the garden and show them exactly what I'm growing, and I think that enhances their experience here, too. It makes a memory they can take home to their garden and implement, and hopefully I can help them fix it. That's a really cool aspect of my job, and I love it." 
Others are loving it, too, Shokrian said, as many appreciate how the resort is embracing sustainability. 
"What we're finding is that some companies will be super excited that we have a culinary gardener and want to meet Hector and tour the gardens," Shokrian said. "I think, when they see that the resort's investing in sustainability and having someone like Hector on property, it sets you apart from your competitors. It helps and shows that we're dedicated to doing what we can to be sustainable."  
Listen to this next: Are Net-Zero Carbon Events the Future?