Hilton Orlando: Smart Design for Smarter Meetings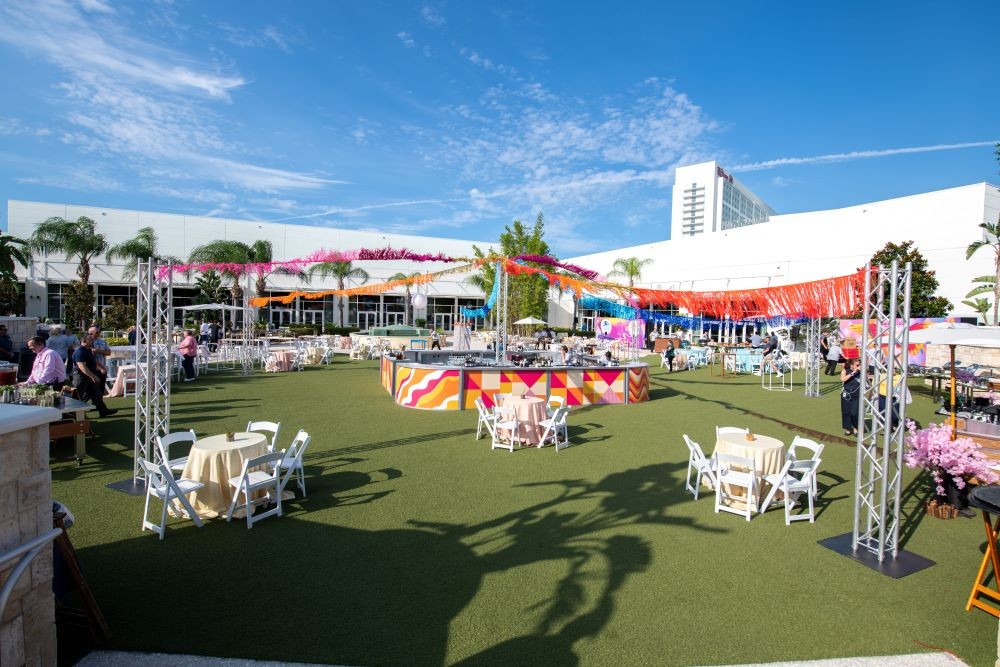 Discover Hilton Orlando, a vibrant and welcoming resort with a dynamic character to complement an exceptional location in the heart of Orlando, all known as the City Beautiful. With a location central to all major theme-parks, Hilton Orlando sits on over 26 acres of lush landscaping and tropical inspirations with International Drive, Orlando's most vibrant and exciting commercial area, right in our own backyard. 
With a seamless blend of leisure offerings and world-class business amenities, Hilton Orlando connects to the South side of the Orlando Orange County Convention Center by a covered walkway, adding more convenience and walkability to your meeting experience. What's more, the hotel offers complimentary transportation to Universal Orlando™.
This 1,424-room Hilton Orlando recently debuted a fresh and contemporary new lobby and lobby bar with innovative touches for a renewed ambiance.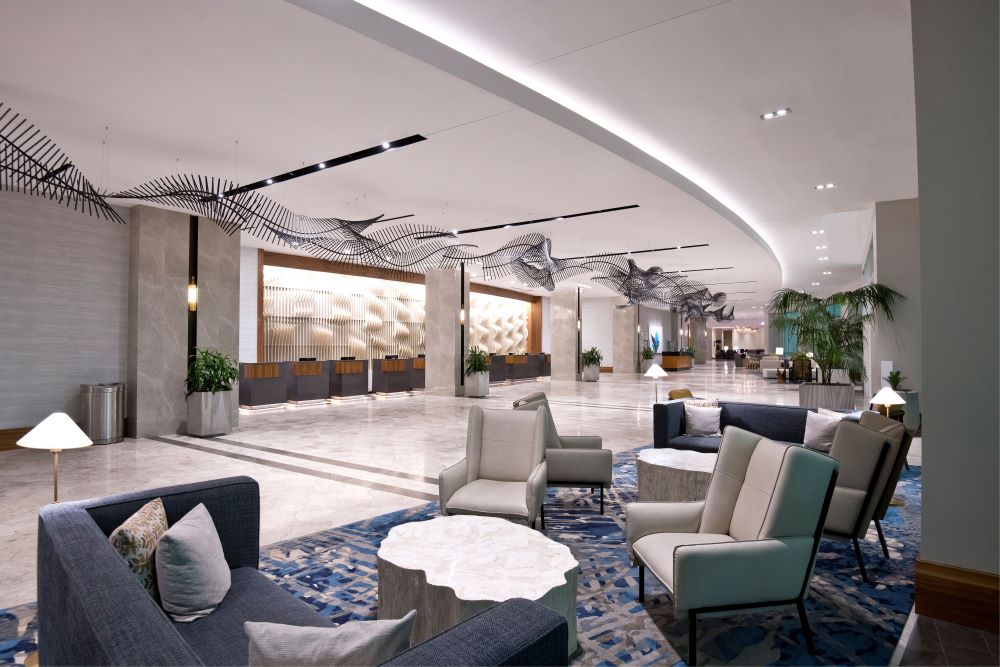 State-of-the-art function space ensures an easy flow between general sessions, catered events and breakouts. Conveniently located on the Lower and Lobby levels, all event and meeting space is easily accessible. Flexible outdoor venues set a seamless backdrop for a memorable event where attendees can enjoy the Florida sunshine by day before events under astonishing starry night skies.
Hilton Orlando presents flexible meeting space that is the answer to every meeting planners wish list. From the 50,000-square-foot Orlando Ballroom to the Orange Ballroom at 30,000 feet, the Florida Ballroom tops out at 15,000 square feet and the Key West and Key Largo Meeting Rooms offer 11,000 square feet total. With 21 Lake Meeting Rooms and nine boardrooms—most rooms feature floor to ceiling windows offering natural sunlight--Hilton Orlando answers the call as the one and only destination for any size group.
Exceptional outdoor space accommodates groups of up to 1,200 with unique amenities such as firepits, fountains, gardens and a circular evergreen turf lawn. 
The Outdoor Sky Terrace accommodates banquet seating for 700 or a reception for up to 1,000; The Grande Lawn seats a banquet of 700 or a reception for up to 1,200 and The Fountain Plaza with 8,200 square feet surrounded by a water fountain wall and cedar benches will delight 700 guests for a cocktail reception or 450 for a sit-down dinner. The Sun Garden, at 4,500 square feet will welcome 350 guests while the Destination Deck accommodates up to 500.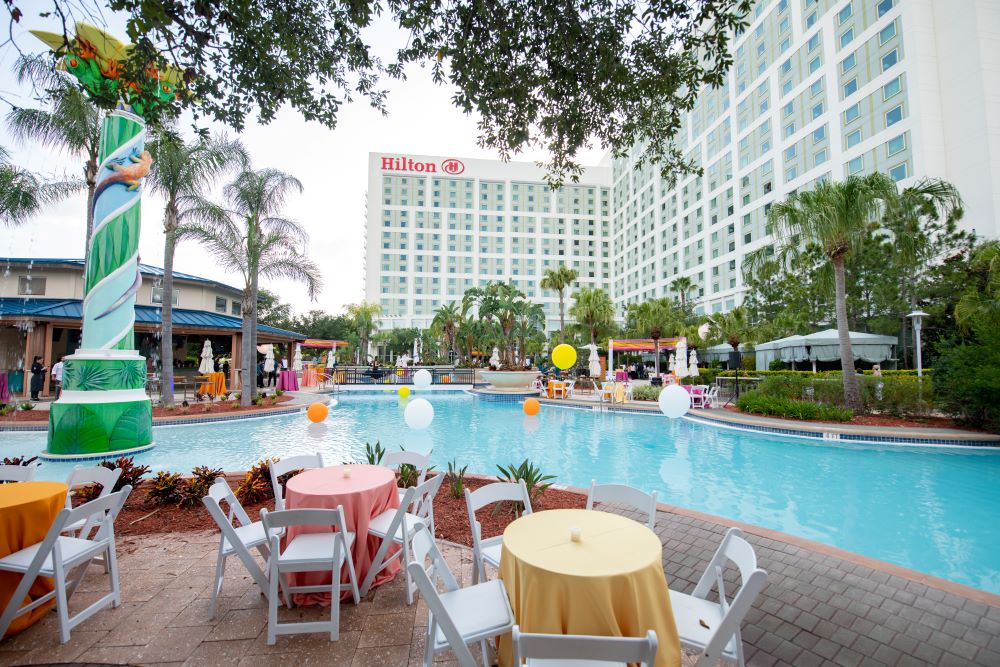 Hilton Orlando offers seven distinct dining options from the sophisticated experience of Spencer's steak house to David's Club Bar & Grill, an upscale sports pub with pool tables, LCD televisions and large, overstuffed chairs to watch sports. A more leisurely experience awaits at Tropics Pool Bar & Grill, located in the heart of the resort's sweeping pool area.
Ever mindful of the importance of wellness at meetings, Hilton Orlando's 24-hour expansive fitness center features Precor, HydroRow and Pelaton equipment. Eforea spa also offers group wellness classes to renew and restore energy to your attendees. 
Soak up luxurious aromas and plushy spa services at Hilton Orlando's eforea spa where you can experience inspired therapies such as the vitamin C facial or seawater crystal body scrub—the finale after meeting activities.
To learn more, visit: www.thehiltonorlando.com
*Sponsored by Visit Orlando