Pittsburgh's Sports Venues Offer Thrilling Offsite Meetings Options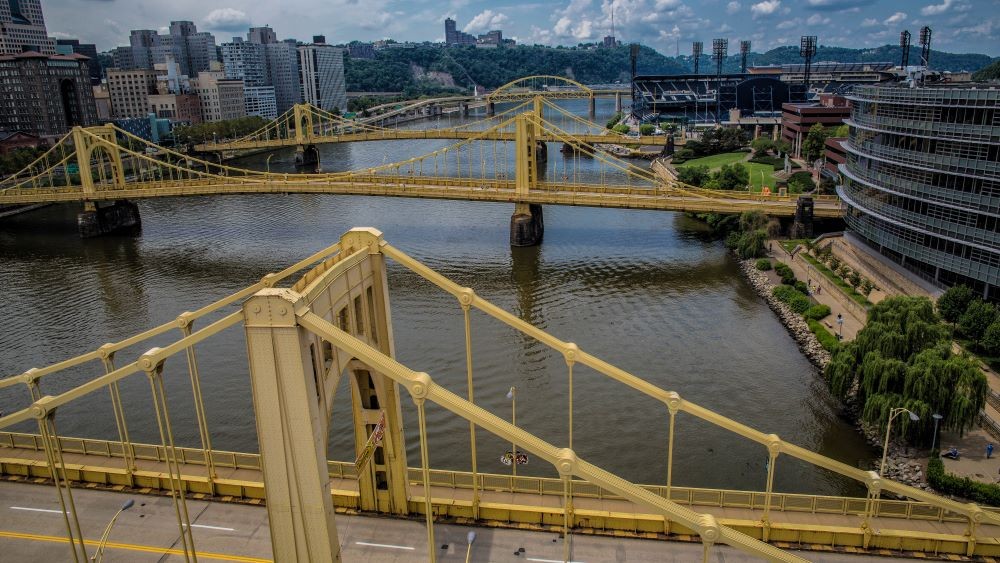 Pittsburgh Sister Bridges. Credit: 7Line.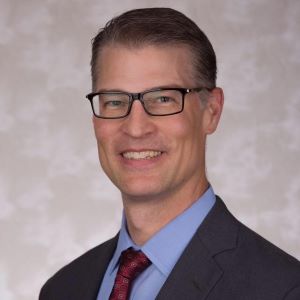 Pittsburgh may still proudly carry the nickname "Steel City," an echo from its days as the global epicenter of steel manufacturing, but it's also a renaissance city that famously came back strong after its heavy industry economic base moved on in the 1970s and '80s.
Now a hub for health care, higher education and tech, Pittsburgh is also rich in cultural institutions—many thanks to bequeathments from steel magnate and industrialist icon Andrew Carnegie. This former center of steel mills, paradoxically, was also an early leader in sustainable design when its David L. Lawrence Convention Center unveiled an expansion in 2003 that at the time made it the largest Gold LEED-rated building in the world.
In short, Pittsburgh is a city of the unexpected, a Steel City sleeper when it comes to being host for meetings and events.
"One of the things that I love about Pittsburgh and why I came back, is that we have such an incredible and rich history," said Andrew Ortale, chief sales officer for VisitPITTSBURGH, who rejoined the bureau after a couple of years in a senior sales position with Visit Orlando. "You've learned about Pittsburgh your entire life, whether it's the French and Indian War or Industrial Revolution. Everyone sort of has this idea of what Pittsburgh is, but when they get here, they experience something so unique and different than what they expected, and they say, 'I didn't know Pittsburgh has so much aside from the great history.'"
[Related: 4 Ways Groups Can Get Outdoors in Pittsburgh]
Through all its changes, Pittsburgh has always been one of America's most loyal sports towns, with its Steelers football, Pirates baseball and Riverhounds soccer drawing fans to riverfront stadiums that are primed for events and easily accessible—via motorcoach, water taxi or even by foot—from major convention district hotels.
"The David L. Lawrence Convention Center is certainly our crowning grace, but it's certainly not our only option," Ortale said. "We also have our stadiums, whether baseball, football or soccer, right here on the water, and each have special event capability. They are not only showcased as outside venues but are convenient to the convention center and offer tremendous views of the waterfront and downtown."
Ortale said one factor meeting and event planners love is the "one-stop shop" ability of booking Acrisure Stadium (home of the Steelers) and PNC Park (home of the Pirates) because they are both operated by the Sports & Exhibition Authority, along with the David L. Lawrence Convention Center.
"We're not always the entity who's signing the end agreement, but we facilitate it so planners aren't trying to coordinate a bunch of people who aren't talking with each other," he added.
Following are some key Pittsburgh venues that are good bets for a sporty Steel City event, along with a major new option at the city's convention center.
[Related: Western Pennsylvania Wows Groups With Deep-Rooted Food Culture]
David L. Lawrence Convention Center Terrace
Pittsburgh's now LEED-Platinum certified convention center is a showpiece of sustainability, offering 1.5 million square feet of space, including 313,000 square feet of exhibit space, 37 loading docks, 53 meeting rooms and a 31,000-square-foot ballroom. 
While those are the basic specs, the facility's recently redesigned Rooftop Terrace that reopened in June is what's really turning heads, and not only to take in its panoramic views of downtown and the city's signature rivers.
The completely refurbished, 35,000-square-foot Terrace can accommodate 50 for a private dinner or more than 1,500 for a reception, with the ability to design multiple custom spaces throughout. Highlights include walkways, rooftop garden spaces and flexible seating pods.
The convention center is also teaming up with Venture Outdoors to relocate its kayak rental concession adjacent to the facility, along with a landing spot for water transportation linking the convention center and other venues.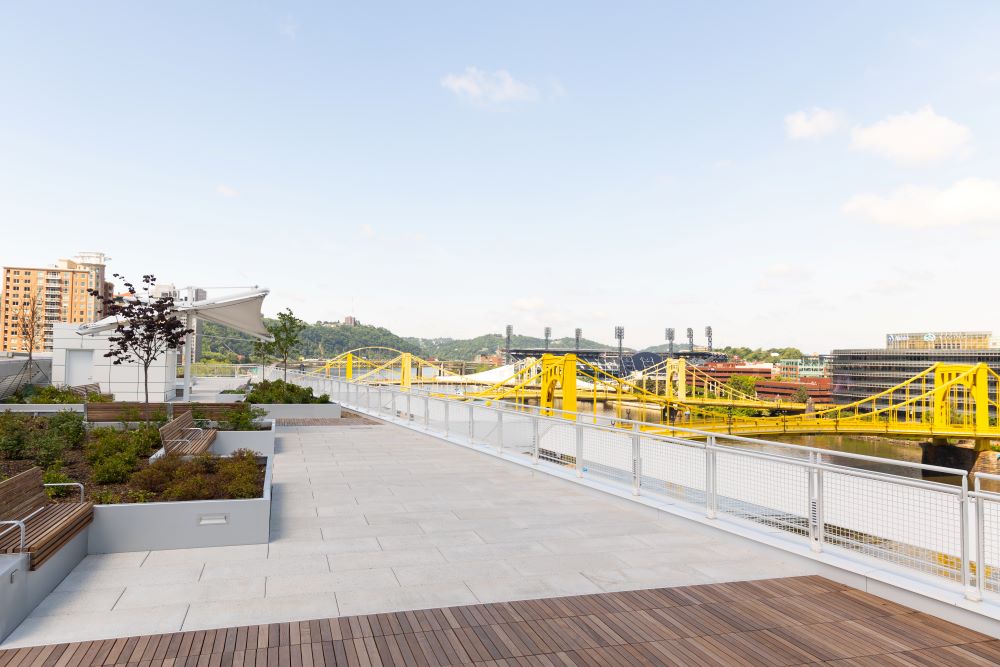 Acrisure Stadium
Formerly Heinz Field, the home turf of the storied Steelers offers seven venues for event rental, and is set to open the event-friendly Steelers Hall of Honor Museum at the beginning of the 2022 football season:
UPMC Club: Offering three-story windows with views of the city skyline and North Shore, and stretching the length of the playing field, this venue can host 800 for a sit-down meal or up to 2,000 for a reception. The Club can also accommodate tradeshows.
PNC Champions Club: Located in the south endzone, this state-of-the-art space boasts a massive glass wall overlooking the field, along with LED lighting, a video board, multiple TV screens and a bar with a fireplace. Another feature is a patio area for attendees to drink in views of the stadium.
West Club: Another space with three-story window walls, the West Club also stretches the length of the field and can accommodate 700 for sit-downs and 2,000 for receptions. This is the spot to take in the sunset.
Press Box Dining Room: Smaller groups (96 in banquet rounds and 150 for receptions) can gather where media outlets work on gameday.
FedEx Great Hall: NFL, and especially Steelers, fans will eat up this venue, which captures some of the greatest moments in Steelers history, including original lockers and bleachers from Three Rivers Stadium and replicas of the team's six Super Bowl trophies. The Great Hall can host 2,500-plus theater-style and 3,500 for a reception.
North Club: Offering skyline views and located in an upper level of the north endzone, this space is ideal for strolling receptions through each section. With the ability to break up the space into segments, the entire room can accommodate 900 in rounds and 2,000 for a reception. 
Ford Fan Zone: Situated below the south scoreboard and overlooking the stadium, the capacity of this large patio space is heavily dependent on event types and configurations, such as incorporating dance floors, stages and displays.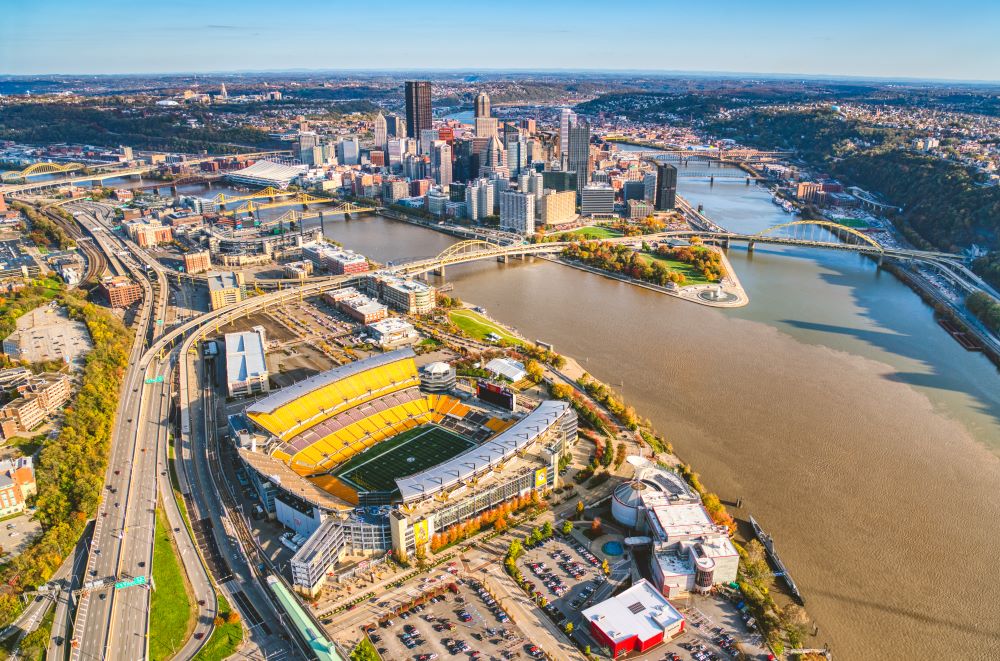 PNC Park
The home of the Pittsburgh Pirates is located within walking distance—a little more than 15 minutes—of the convention center and offers 12 event venues, including the Business Center, which is a board room for up to 75 attendees. 
Some of the larger event venues in the stadium include the following:
Clubhouses: The Pirates' locker rooms can accommodate between 25-100 attendees, configured classroom-style or in banquet rounds.
Rooftop: Holding between 50-300 and overlooking the playing field and North Shore, this venue is often used for casual and cocktail events.
Press Conference Room: Ideal for presentations, workshops, seminars and small tradeshows, PNC Park's media hub can accommodate between 20-200. 
Pittsburgh Baseball Club Level: Comprised of Club 3000, Gunner's Lounge and Keystone Corner, these club-level venues feature memorabilia and bar atmospheres, with Gunner's Lounge overlooking home plate and offering skyline views.
Left Field Lounge: Set in left field and offering a large dining area, full-service bar and views of the field and city, this venue can accommodate between 50-300 guests.
Miller Lite Skull Bar: This outdoor venue boasts panoramic views of the field and city and can host between 50-200.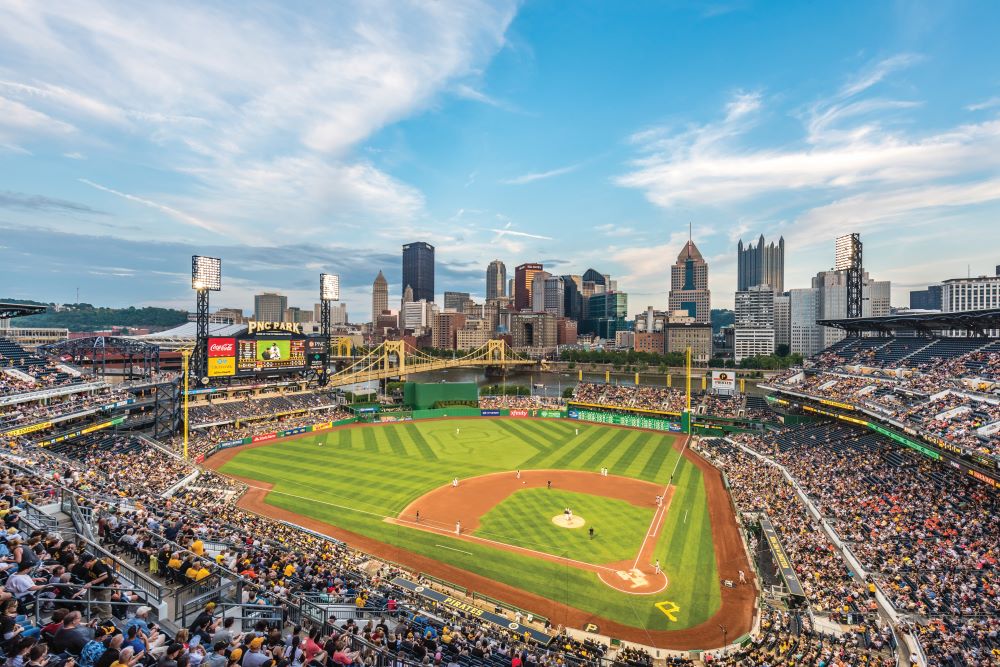 Highmark Stadium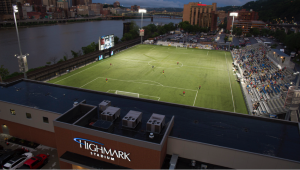 The home pitch of the Riverhounds Soccer Club, Highmark allows event rental of its athletic field along with the grandstands located on the southern end, and expanded athletic field rentals that add locker rooms and the SRO spectator area on the eastern side of the stadium.
Groups can also buy out the entire stadium, which includes an upstairs banquet space, downstairs bistro space and public common areas. 
Connect
(412) 281-7711
Read Next: Western Pennsylvania Wows Groups With Deep-Rooted Food Culture