International Incentive Travel Destination Comeback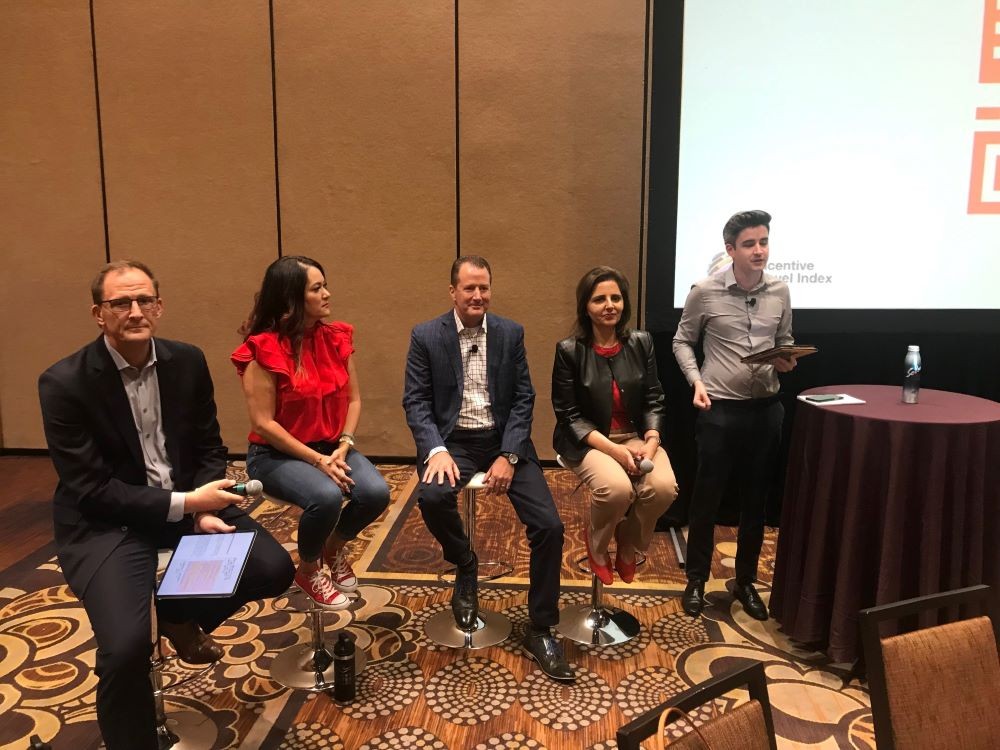 Incentive Travel Index release at IMEX America 2022. From left to right: Craig Dooley, SDI Meetings & Incentives; Jennifer Attersall, Destination Canada Business Events; Craig Caron, 360 Destination Group; and Meenaz Diamond, ACCOR.
More than two-thirds of North American incentive travel program buyers have resumed international incentive travel, with positive growth in the finance and insurance and information and communication technology sectors and North American buyers reporting increased interest in programs to new destinations and the Caribbean, according to the 2022 Incentive Travel Index (ITI), released at IMEX America 2022.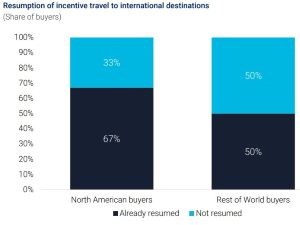 "This year has been all about getting back out there. Companies haven't met in a couple years," said Craig Dooley, president of SDI Meetings & Incentives. "We started the year not so sure, but it's been a fast and furious return. It's been a robust year for my team and others I've talked with. We're looking at contracts in '24 and '25."
The pharma, auto and direct sales sectors are forecasting static or negative growth. While 67% of North American buyers reported the resumption of international travel, only 50% of buyers from the rest of the world are back to traveling internationally.
"In the last six months we've seen just massive, massive increases, where we see the DMC world advancing over 2019 levels, and we don't see that stopping," said Craig Caron, senior vice president of sales for 360 Destination Group. "People are looking for something new. The DMC world as skyrocketed recently. We had events in Texas that were pulling drivers from New Orleans. Now it's all caught up. The world is jetting forward through the end of the year and into '23 and '24."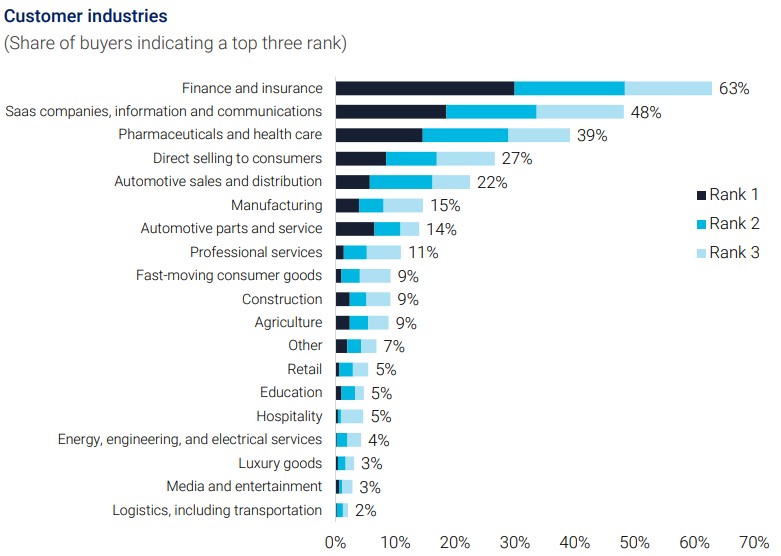 Released at IMEX America 2022, the Incentive Travel Index is a joint initiative of Financial & Insurance Conference Professionals, the Incentive Research Foundation and the Foundation of the Society for Incentive Travel Excellence. The initiative is also under taken in partnership with Oxford Economics.
According to the survey sponsors, 43% of respondents were based in the North America, 34% in Europe, 14% in Asia-Pacific and 9% in Latin America. The survey had 1,417 respondents, with 807 completing the survey. Respondents included 704 buyers across 19 industries, from 74 countries.
Incentive travel programs are seen by respondents as key in an era where workforce recruitment and retention, as well as remote work, are paramount business concerns, with 91% agreeing that with a dispersed workforce, incentive travel will have an even more important role building engagement and company culture.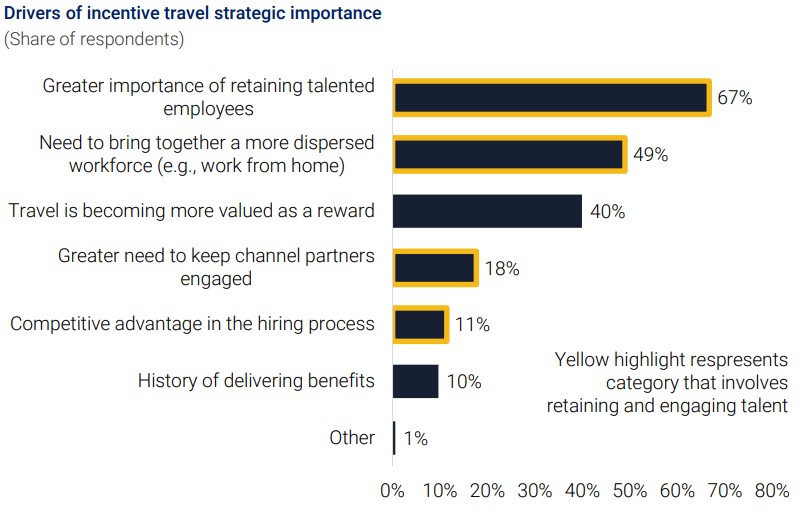 Shifting Incentive Preferences
Reflecting a more-diverse workforce that is qualifying for incentive travel programs wellness and programs that promote relationships have emerged as the top choices of buyers, with the desire to travel to new destinations also key for North American buyers.
Incentive travel program qualifiers are also keen to experience luxury travel as the pandemic subsides.
Overall, what COVID has given us, is that people are prepared to pay for experiences," said Meenaz Diamond, senior vice president of sales worldwide for ACCOR. "Something that's luxury and different, and they're prepared to pay for it. They're flexible as long as they get that type of experience. We're definitely feeling optimistic."
The report also found that CSR and programs that emphasize stability are considered more important by incentive travel industry professionals outside of North America.
Formerly named the Incentive Travel Industry Index, this is the fourth year of the survey, which was fielded globally from May-July 2022 and customized to address five incentive travel roles: corporate end user, third party agency, DMC, destination supplier and DMO sectors. More than 1,400 incentive travel professionals, representing 19 industry verticals and 74 destinations, participated in the survey.
Additional findings from the 2022 Incentive Travel Index are available at www.incentiveindex.com.