How to Harness the History of the Poconos for Your Events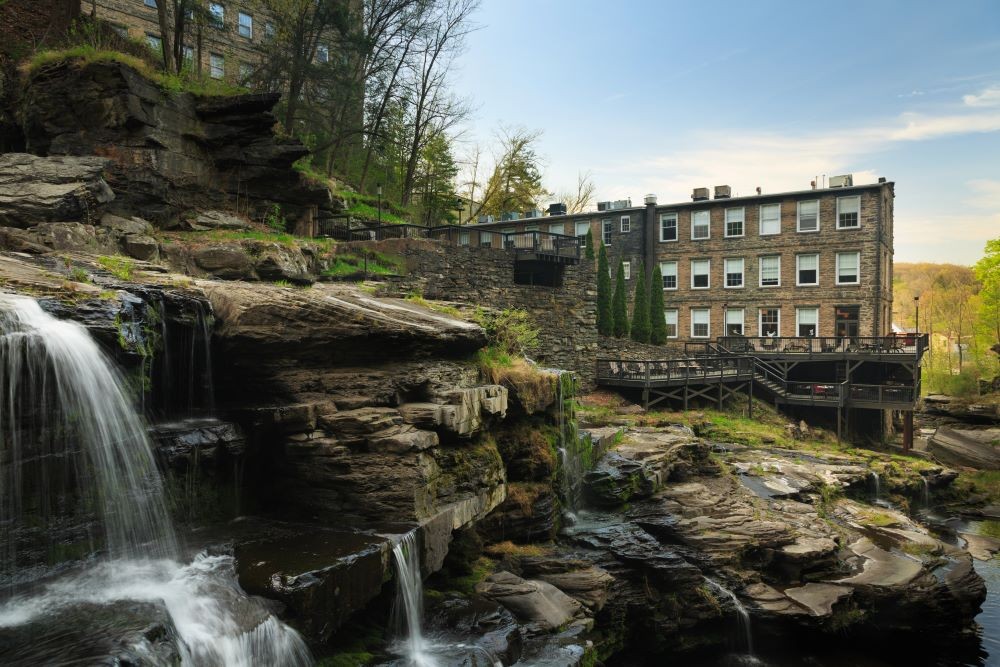 Ledges Hotel. Credit: Ledges Hotel
Spanning 2,400 square miles, the four-county Pocono Mountains region of northeastern Pennsylvania is a quintessential drive-to destination offering a host of modern advantages for planners and attendees. These include interstate highway access from major centers including New York City and Philadelphia, around two hours away, and Boston and Washington, D.C., at around the five-hour mark.  
Comprehensive and diversified, the Poconos' product set incorporates state-of-the-art venues for large-scale conventions and meetings. These include 977-room Kalahari Resorts and Conventions, now offering 205,000 square feet of high-tech space that includes a 38,000-square-foot main ballroom and 400-capacity Executive Conference Center.  
Other contemporary choices include 453-room Camelback Lodge & Aquatopia Indoor Waterpark, offering 20,000 square feet of versatile space. 
Set amid mountains, forests, woodlands and glacially formed lakes and waterways, these and other modern assets go together with deep-seated heritage. 
Visitors first came to the Poconos in the early 1800s. In the post-Civil War era, the Poconos became the nation's second-most popular inland summer resort after Saratoga Springs, New York as waves of vacationing New Yorkers and Philadelphians propelled the development of grand resorts and other lures. This set the foundation for an enduring tourism industry, meetings and events included, while parallel pioneering developments in transportation, mining and manufacturing left the Poconos with industrial-strength imprints. 
From historic resorts to vintage trains, the Poconos invite groups to follow the footsteps of history. 
Poconos Resorts With Storied Pasts 
In the 1980s and 1990s, you could not escape New York-area TV commercials for Mount Airy Lodge in the Poconos. "All you have to bring is your love of everything...Beautiful Mount Airy Lodge!" is forever etched in my brain. With its heart-shaped tubs, headline entertainment and other lures, the lore of America's former honeymoon hideaway, which originated in 1898 as an eight-room inn before a transformation in the 1950s into the Poconos largest resort of the time, is also mythic. Closed in 2001 and later demolished, this landmark site in Paradise Valley today has cemented a winning modern reputation as Mount Airy Casino Resort.  
Opened in 2007 and since expanded and transformed several times, this 284-room AAA Four Diamond resort, full-service group fixture has it all, including 20,000 square feet of multi-functional space and off-agenda options galore. "Experience" is the operative word for groups, with unique venues that include the 1,200-seat Event Center and 2,000-plus capacity Outdoor Concert Pavilion. Culinary catches include Guy Fieri's Mt. Pocono Kitchen and private dining at award-winning Bistecca by Il Mulino, while recreational amenities include the 18-hole championship golf course, luxurious spa and all-season indoor-outdoor pool. 
Other trademark heirlooms include the grand Skytop Lodge in Monroe County. Set on 5,500 acres, this former 1928 estate has 193 guest rooms and offers a versatile mix of spaces such as the modern 10,000-square-foot Skytop Executive Center, Evergreen Ballroom and distinctive conference and executive meeting rooms. The resort's Adventure Center offers corporate recreation and teambuilding activities, including ziplining, paintball and wilderness survival. 
Shawnee, site of the region's first permanent European settlement in 1725, is home to the Shawnee Inn and Golf Resort, featuring private cottages, conference spaces accommodating up to 300 people and its famed private island golf course. 
Established by Irish immigrant and Civil War veteran J.S. O'Connor in the 1890s, his eponymous American Rich Cut Glass Factory in the charming Victorian-era town of Hawley in Wayne County was once among the nation's largest glass cutting operations. Perched on rock ledges by Paupack High Falls, his five-story native bluestone building was transformed into the 20-room Ledges Hotel in 2011. Versatile rentals with great views include the 150-capacity Glass-wine.bar.kitchen, multi-tiered decks overlooking the river gorge, and private Tannery Room.  
[Related: Resorts and Retreats in Pennsylvania's Poconos Region]
Historic Offsites in the Poconos 
Before setting up shop on Wallenpaupack Creek, O'Connor worked for 23 years at the Dorflinger Glass Factory in nearby White Mills. Now the Dorflinger Factory Museum, the venue houses the world's most comprehensive collection of Dorflinger Glass, which graced tables from the White House to European palaces. Home to numerous dealers, Wayne County is also great for antiquing. 
The charming Wayne County town of Honesdale is famed as the birthplace of the American railroad. In 1827, the chief engineer of the Delaware and Hudson Canal Company constructed a gravity railroad to transport coal from Carbondale, Pennsylvania to Honesdale and beyond. Seeking the latest transportation technology, his assistant brought over the Stourbridge Lion steam locomotive from England. Tested on Honesdale's tracks in 1829, it was first steam locomotive to run on commercial tracks in the U.S.  
The original Stourbridge Lion was gifted to the Smithsonian in 1890 after being pilfered for parts. In 1933, the Delaware and Hudson Railroad, using original blueprints, built a full-scale replica of the locomotive, which is displayed at the Wayne County Historical Society in Honesdale.  
Plus: The Story of Jim Thorpe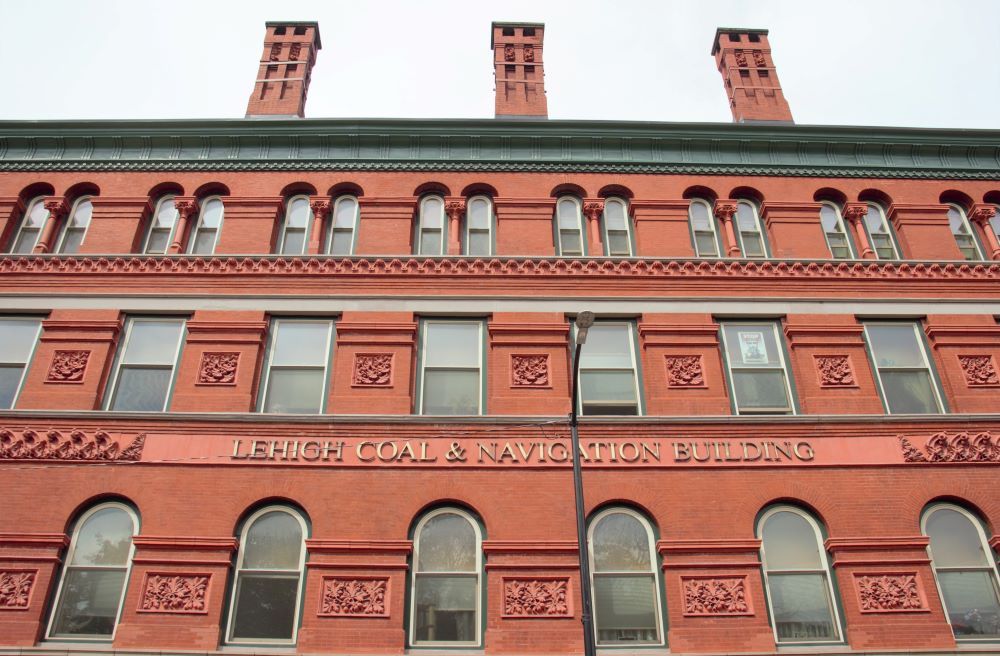 Seat of Carbon County in the southern Poconos, Jim Thorpe offers transporting appointments with American tourism and industrial history. 
Founded in 1818 as Mauch Chunk (Native Lenape for "Bear Place" or "Bear Mountain"), this Anthracite coal mining headquarters produced innovations such as the Switchback Gravity Railroad, which brought coal down to the Lehigh River.  
Converted to a roller coaster ride in the 1870s, the Switchback attracted thousands of day-trippers who came via the Lehigh Valley Railroad. Marketed as the "Switzerland of America" for its mountainous location, Mauch Chunk was America's second-leading tourist destination behind Niagara Falls in its heyday. In 1954, the town was renamed Jim Thorpe as the final resting place of the famed Native American athlete and Olympic gold medalist. 
Visiting this Labor Day, I experienced these living legacies in their present-day glory.  
Like the call of the past, whistle blasts announced the arrival of 1945 steam locomotive 2021 into the national landmark Queen Anne-style Jim Thorpe Station. Back in service after 30 years, the iron horse brought 800 visitors in vintage carriages into town for the day. Groups can book seasonal rides with operator Reading, Blue Mountain & Northern Railroad, including scenic Lehigh Gorge State Park excursions with sibling The Lehigh Gorge Scenic Railway. 
Formerly "Millionaires Row," Broadway is a veritable parade of colorful architectural styles. The 1849 Inn at Jim Thorpe has 65 rooms in three buildings, including a group-ready annex, plus the Broadway Underground event space. 
Other draws on this rising main thoroughfare include the Mauch Chunk Museum & Cultural Center; Stabin Museum; 1881 Mauch Chunk Opera House; and Old Jail Museum, where in 1877 four "Molly Maguires" from the secret Irish miners' society were hanged. Scenes from the 1970 Sean Connery film The Molly Maguires were filmed in town. Farther along is access to the former Switchback, now a popular hiking trail.  
Race Street is lined with charming stone houses. Scenically overlooking downtown, Lehigh Valley Railroad founder Asa Packer's mansion is available for tours. Featuring the Molly Maguires pub, Hotel Switzerland (1830) is the town's oldest commercial building. Mountaintop Penn's Peak hosts concerts and 300-capacity events. 
Derailed by the global economic crisis over a decade ago, plans to revive the iconic mountaintop Flagstaff Ballroom continue to progress. The proposed $14.5 million project reportedly includes a 45-room hotel, 350-seat ballroom, rooftop restaurant, Ferris wheel and aerial gondola service to downtown Jim Thorpe.  
Connect 
Pocono Mountains Visitors Bureau 
(570) 844-2001 
Read this next: Teambuilding Opportunities Abound in Pocono Mountains Region