On the Scene: 24 Hours with Universal Orlando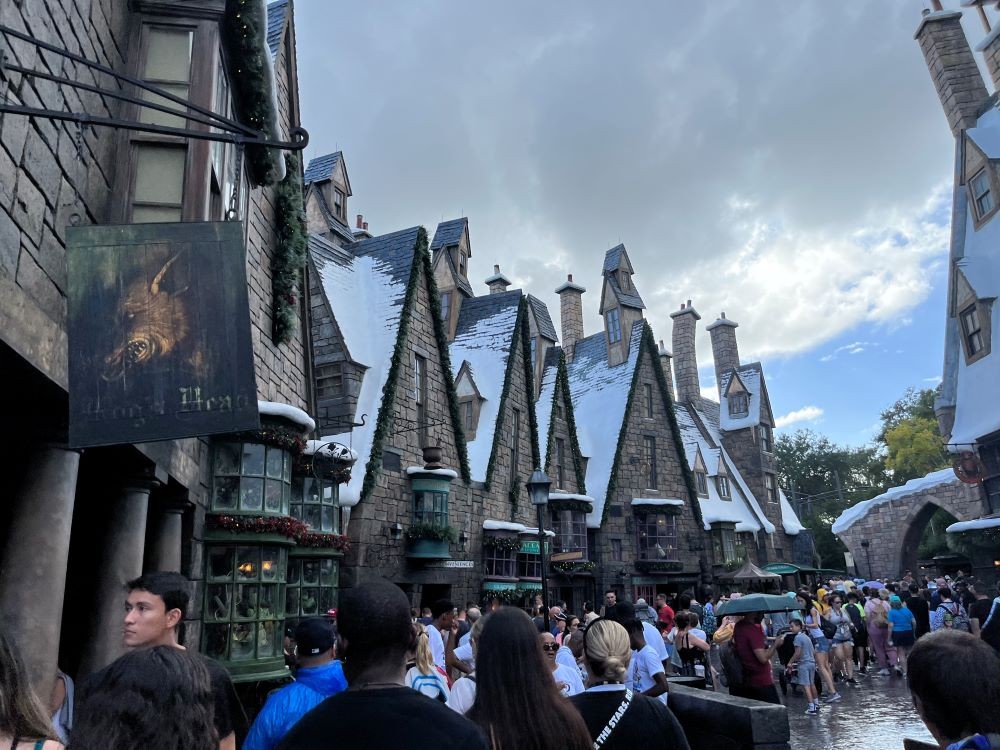 Hogsmeade at Universal Studios Orlando
Just how much can you pack into one day with Universal Orlando? 
Though I only spent just over 24 hours with Universal at Loews Sapphire Falls Resort at Universal Orlando, the team put together an agenda with back-to-back surprises and thrills—and delicious food—for us to better understand the possibilities the resort and theme parks offer meeting and event attendees.  
A Warm Welcome 
I could feel the Florida sunshine through my airplane window as we landed in Orlando. The trees waved their palms as if to say hello while I rode from the airport to Loews Sapphire Falls Resort, and when I arrived, my welcome felt just as warm as the sun.  
Our evening was short and sweet, as the group gathered at Loews Sapphire Falls Resort's Strong Water Tavern. After snacking on the restaurant's signature cheese board, featuring rotating seasonal cheeses, artisanal meats and grilled bread, we dove into vegan breadfruit tostones with sauteed mushrooms and avocado puree. They paired perfectly with Strong Water Tavern's signature Rum Revival cocktail, with its blueberry-basil shrubb and citrus giving me one last sip of summertime.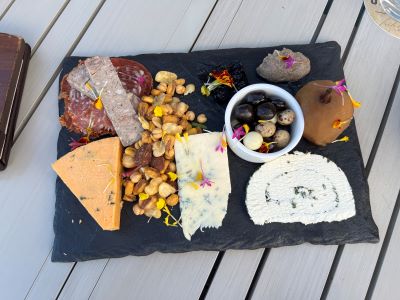 We gathered around the restaurant's outdoor firepit for s'mores and a conversation with Universal Orlando representatives, Vincent LaRuffa, senior vice president of resort sales and marketing, and Eric Marshall, senior vice president of North American destination sales, who both emphasized how Universal Orlando is a complete meetings package. 
"For those of you who've been here over the years, you know how much has been built in the last decade," Marshall said. "There are eight hotels here now, three theme parks and CityWalk. It's been a pretty incredible journey, and I think the product is the first thing that allows us to do so much for groups." 
"It's unlike any other meeting destination on the planet," LaRuffa added, "and I can say that with confidence. You just can't beat Orlando as a meeting destination. It's purpose-built almost for meetings and events, to accommodate guests from all over the world." 
Loews Sapphire Falls Resort was built with meetings and events in mind, with easy access to Loews Royal Pacific Resort at Universal Orlando, yet another premier meetings and events property. The two together offer 2,000 rooms and 247,000 square feet of meeting space.  
From an experience standpoint, LaRuffa and Marshall said the meeting enhancements Universal can organize and deliver are one of the things they're most proud of, as well as one of the reasons Universal Orlando sees so much repeat business. "They have the opportunity to experience new things and see new things each time," Marshall added. 
"If you can imagine a full-scale Transformer introducing a corporation's president and actually being able to speak and articulate specific commentary directed at the audience, it's mind-blowing," LaRuffa said. "Of all the characters we have in the park, I think the Minions get the biggest reaction. Everybody thinks they're really cute—and they are." 
Plus, Universal Orlando offers the added benefit of all experiences being contained around the resort campus, and transportation including water taxis make it easy for attendees to get from place to place if they choose not to walk the resort's CityWalk and pathways.  
[Related: New Theme Park Announcement Doubles Universal Orlando Resort's Size—And Potential for Meetings and Events]
Serving Up Surprises 
I usually take a quick drive to Starbucks every day before work to grab my morning coffee, but my routine with Universal looked a little different.  
The group gathered in one of Loews Royal Pacific Resort's dining and meeting spaces, where a culinary team ready to serve one of the grandest breakfast spreads I have ever seen wished us a good morning. While I could've happily helped myself to the coffee bar in the middle of the room, Savas, a banquet server at Loews Hotels, asked me if I have ever tried Turkish coffee. When I told him I hadn't, he said, "We don't have it here, but give me 10 minutes and I will have something for you."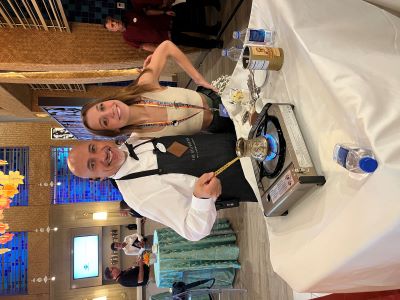 A short while later, Savas had returned with not just Turkish coffee, but an entire roll-out cart with a burner, over which he made the Turkish coffee for me, then invited the other attendees to try it, too. Before breakfast ended, Savas gifted me my own Turkish coffee and cezve to take back home to Chicago. It was just one example of the attention to detail attendees would receive at an event with Loews Hotels. 
After indulging on more than one mixed berry parfait, with Dave Bartek, senior vice president of operations for Loews Hotels at Universal Orlando, and Kathy Cattoor, vice president of resort sales, with Universal Orlando Resort gave a presentation discussing Universal Orlando's eight hotels.  
Over the past eight years, Loews Hotels Universal Orlando added four hotels, increasing the resort's size by 275% and bringing an additional 295,000 square feet of meeting space. 
"Our journey began in 1999 with Loews Portofino Bay Hotel, which was the first of what is now eight hotels," Bartek said. "We have 9,000 rooms, and four categories around the onsite hotel campus. That success, that growth, is driven by our partnership between Loews Hotels and Universal Parks and Resorts. 
"What it does," he continued, "is it takes and melts together the innovative and entertainment expertise of Universal Parks and Resorts along with the strong service culture of Loews Hotels, and that's really and truly the benefit and the success of how we achieved that unprecedented growth." 
The complex was "designed with the meeting planner in mind," Cattoor said, and consists of two individual hotels—Loews Royal Pacific Resort and Loews Sapphire Falls Resort—with meeting space connected via a 75-foot walkway that takes 20 seconds to walk through. If a planner wants to host a meeting at Portofino Bay, away from the meeting complex, Cattoor said the conference services team can make that possible, and the banquet staff over at the complex may be the same staff attendees see at Portofino Bay. 
Next, was a tour of the meeting complex, and the first room we entered had our publication titles projected in color-changing lights on the walls. A surprise Universal actor welcomed us to his "movie set," where we played the role of journalists before two Minions appeared on stage ready for a dance party and photo op.  
Loews Royal Pacific Resort offers 132,000 square feet of meeting and function space, including the 42,000-square-foot Pacifica Ballroom and 36,000-square-foot Oceana Grand Ballroom, as well as 15 meeting rooms and four dedicated meeting planner offices. Two dedicated registration desks make it easy for planners and attendees to keep events compact and contained within one space. 
Our tour took us through the complex's 75-foot walkway, which really did take only 20 seconds to walk through as we crossed from Loews Royal Pacific Resort back over to Loews Sapphire Falls Resort's meeting spaces. Inside one of the hotel's ballrooms, the lights began to flicker, ominous music started to play, and out from behind a massive banner came Optimus Prime and Bumblebee of the Transformers film series.  
Loews Sapphire Falls Resort offers an additional 115,000 square feet of meeting space, conveniently connected to Loews Royal Pacific Resort, including the 41,000-square-foot Grand Caribbean Ballroom and 31,000-square-foot Kingston Hall. Like Loews Royal Pacific Resort, the hotel boasts 16 meeting rooms, three dedicated meeting planner offices and one dedicated registration desk, as well as 10,000 square feet of outdoor meeting space.  
[Related: Amazing Events Happen at Universal Orlando Resort]
A VIP Experience 
Once the group's tour of the Loews meeting complex concluded, we boarded a bus to Universal Orlando's CityWalk to view more offsite meeting venues closer to the parks. Guests can access CityWalk free of charge and without theme park tickets to experience dining and entertainment unique to Universal Orlando.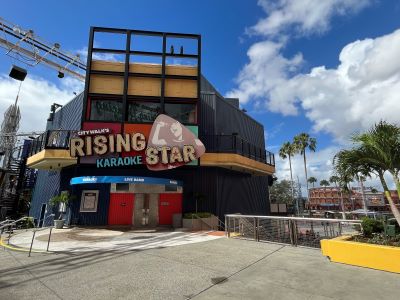 For meetings and events, CityWalk offers opportunities including private dining rooms, full-venue buyouts and the option to combine multiple venues for a "block party" experience. Our group toured Bob Marley-A Tribute to Freedom, CityWalk's Rising Star—where karaoke reaches a new level—and Pat O'Brien's Orlando, an exact replica of the famed New Orleans watering hole "where it's Mardi Gras 365 days of the year" and dueling pianos take center stage.  
On Pat O'Brien's private patio behind the restaurant, we gathered for snacks including homemade guacamole, sushi and cocktails before strolling over to The Toothsome Chocolate Emporium & Savory Feast Kitchen, where we made our way up to the restaurant's second-floor private dining area for a vegan pineapple upside-down milkshake.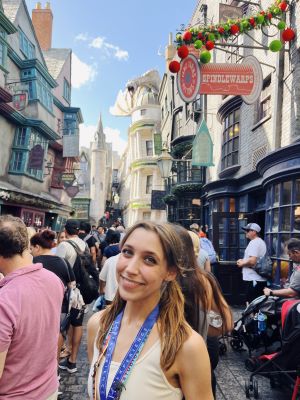 A VIP tour of Universal Studios is an opportunity not everyone gets to take advantage of, so when we were greeted by Paul, our VIP tour guide, and given lanyard passes, it was hard to hide how giddy I felt on the inside. Paul explained how VIP tours are often incentive gifts for smaller groups of meeting attendees, and VIP tours are often organized to award top employees.  
When Paul led us down a hidden, unlabeled brick hallway, I thought we were pausing for a bathroom break, but when I turned the corner, I found myself in Diagon Alley, greeted by a fire-breathing dragon, "wizards" and "muggles" all wandering the Wizarding World of Harry Potter. The themed area of Universal Studios could turn anyone into a fan of the franchise, but if walking "through" a brick wall and seeing hundreds of people dressed in Hogwarts robes isn't enough to turn you, the butterbeer surely will be.  
One Last Stop 
A private water taxi took us to Loews Portofino Bay Hotel. From a distance, I could hear the opera singer's voice rippling with the waves, and when our boat turned the corner, my eyes lit up. It was as though we left tropical island paradise and traveled to Italy.  
A violinist welcomed us with her song once we docked, and at this point, the opera singer's voice was booming off the building walls and throughout the Italian-inspired piazza.  
Loews Portofino Bay Hotel at Universal Orlando—the first of the resort's eight hotels—features 750 guest rooms surrounding the hotel's festive harbor piazza decked with Italian cars and scooters. The exterior of every building is painted to mimic those you would see in Portofino, and as you enter the hotel, the interior walls do the same, with Italian art, phrases and architecture reflected in the decor.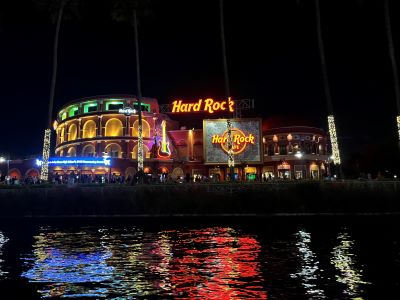 The hotel offers 42,000 square feet of indoor and outdoor meeting space, including the Harbor Piazza and its view of Italian boats and gondolas. Other options include the 15,000-plus-square-foot Tuscan Ballroom, featuring soaring 27-foot ceilings and Tiffany-style chandeliers, or private dining for groups of eight to 70 at Mama Della's Ristorante, where visitors are encouraged to stroll through the restaurant—Mama Della's "house." Each room tells a part of Mama Della's story and gives guests the opportunity to "encounter Italian minstrels" including Mama Della herself and her sister, Zita. 
Our dinner took place just off the hotel lobby in the Piazza Centrale, a replica of a quaint village courtyard. Three elaborately decorated dining tables were set in the middle of the patio with the five-course menu on each of our plates—heritage pork belly, imported burrata cheese, bronzed diver scallop and spiced bison tenderloin, tied together with a bow made of milk chocolate vanilla caramel mousse and rhum raisin gelato.  
During the water taxi ride back to Loews Sapphire Falls, I took in the park and CityWalk lights one last time as they made the water ripple with sparkles and wished my replica Hermione Granger wand could help me travel back in time to relive my Universal Orlando experience all over again.  
What are you waiting for? "Disapparate!" Universal Orlando is calling, and their team will guarantee you and your attendees are ready for a thrilling ride.  
Connect 
Universal Orlando Resort 
(877) 801-9720 
Read this next: Minions, Meetings and Harry Potter: Why You Should Book Your Next Event at Universal Orlando