San Jose's Emerging Cuisine Scene Plates Well for Meeting Groups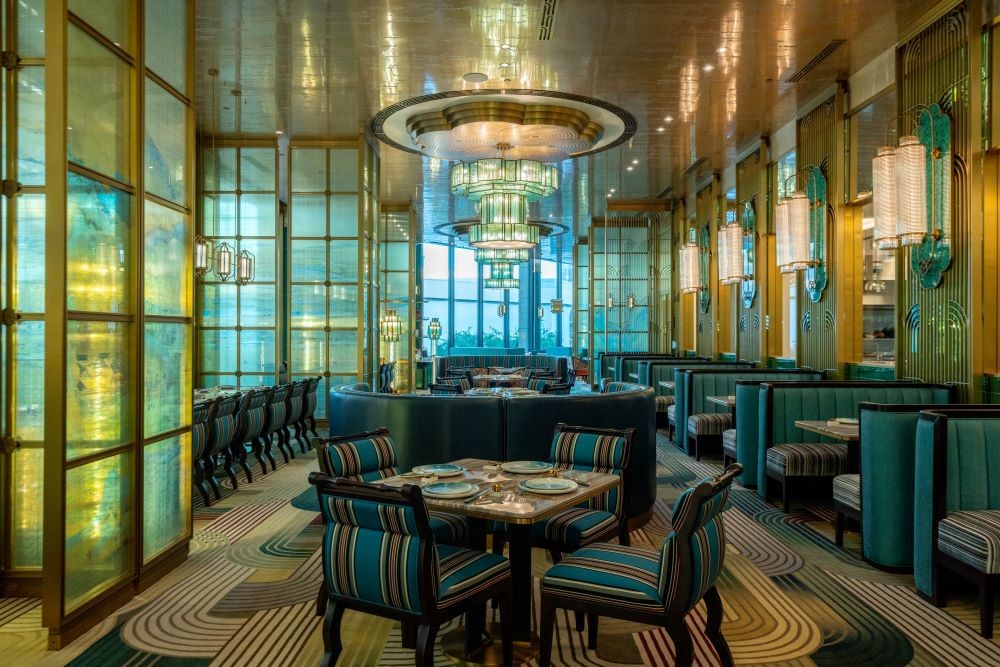 iChina restaurant, San Jose, California. Credit: iChina.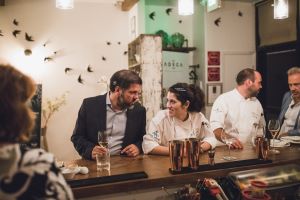 The undisputed tech capital of the world, San Jose and the Silicon Valley may be known more for bytes than bites, but its culinary scene—fueled by the bounty of California's also prodigious agricultural output—is powering up big time.
We checked in with Carlos Carriera, a San Jose restauranteur who owns ADEGA Restaurant—the first Michelin-starred restaurant in San Jose—Petiscos Adega and Pastelaria Adega, to get his take on the San Jose culinary scene as well as what his acclaimed venues offer for groups.
"With so many cultures choosing San Jose as home, one can find a hugely diverse offering of culinary treats and experiences making San Jose a basket of different cuisines," Carriera said, adding that groups often buy out ADEGA for a private experience featuring a multicourse tasting menu served by its Michelin-starred chefs.
The family-operated (Carlos' daughter Jessica is the pastry chef ) Portuguese-style ADEGA, located in the Little Portugal neighborhood about four miles from San Jose McEnery Convention Center, also boasts a unique wine list composed solely of Portuguese wines.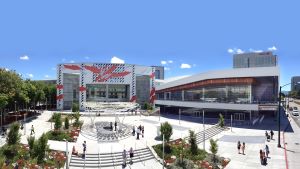 With more than 500 selections ("adega" translates to wine cellar in Portuguese) with some dating back to 1870, the restaurant offers three different wine pairings to accompany its Chef's Tasting Menu.
A block away from the convention center—and thus very popular for group events—sister restaurant Petiscos can accommodate more than 300 covers  in a more casual environment that focuses on Portuguese tapas and other smaller plates to share.
Following are some other group dining standouts that will appeal to a variety of tastes and price levels.
[Related: 3 California Meetings Tech Companies That Thrive in the Golden State]
Located 11 miles from San Jose McEnery Convention Center on the side of Mt. Hamilton, this historic steakhouse—formerly a stop for visitors traveling to Lick Observatory via horse-drawn carriage—overlooks the Santa Clara Valley and features fresh ingredients sourced from its nearby Grandview Farms.
Set in San Jose's Alameda neighborhood a little over two miles from the convention center, LUNA Mexican Kitchen offers authentic Mexican cuisine focused on sustainability and seasonality. LUNA— a Michelin-rated Bib Gourmand establishment—offers both indoor and outdoor patio space, and its second location, in neighboring Campbell, can accommodate larger groups. 
Housed in a historically significant building about 13 miles from the convention center, La Foret is a French restaurant named for its lush forest surroundings and considered one of the city's finest dining establishments. 
Located in the Westfield Valley Fair mall about 4.5 miles from the convention center, iChina boasts a private, interactive virtual reality dining room with projection mapping to accompany each course—fitting for the global epicenter of technology! The restaurant also features art and design inspired by the Song Dynasty as well as custom furniture and dinnerware imported from China.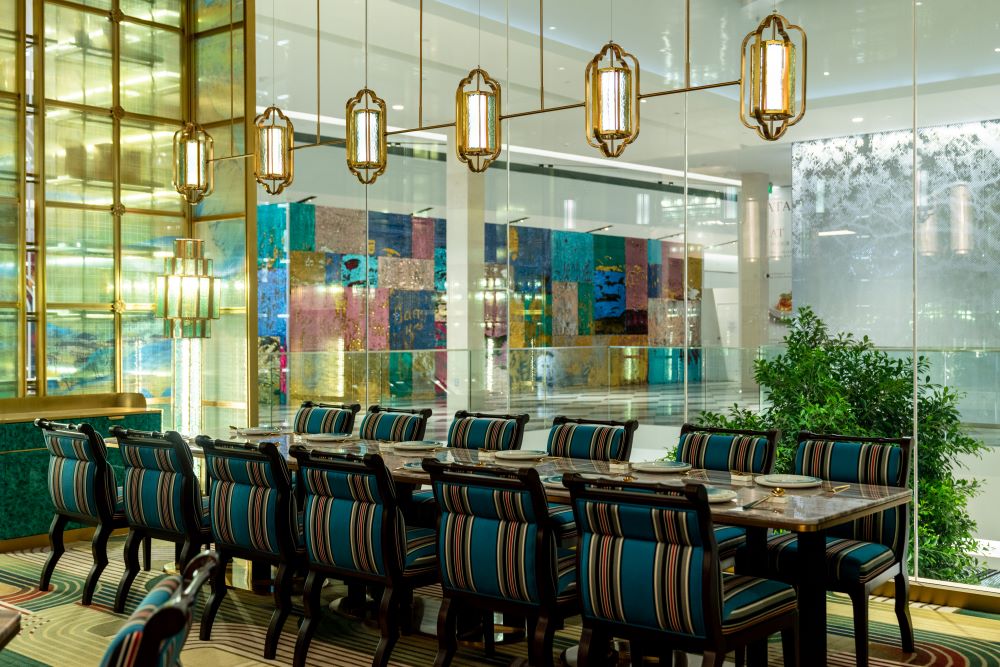 About 4.5 miles from the convention center, this popular and fun Italian grocery/restaurant-hybrid chain offers two restaurants, the indoor La Pizza & La Pasta and the outdoor Terra patio, as well as an interactive wine tasting floor.
The Farmers Union 
https://thefarmersunion.com
Within walking distance of the convention center at about a half-mile, The Farmers Union serves California cuisine from a varied menu that will suit about any taste, and also features 52 craft beers on tap and an impressive cocktail menu.
The casual Mexican Olla Cocina is also within walking distance from the convention center, at a little over a half-mile away, and is known for its house-made tortillas and tamales. Indoor/outdoor seating overlooks popular San Pedro Street.
Another option a little over a half-mile from the convention center, SP2 offers locally sourced, seasonal fare and is a popular option for groups. Handcrafted cocktails and entertainment provided via live music and DJs ups the ambience for a fun group event.
[Related: 8 Unique California Rooftop Venues for Private Events]
San Jose Theater Venues in Play
With a 520,000-square-foot GBAC STAR convention center located in the heart of its downtown, San Jose is primed to host large meetings, but meeting and convention planners should also explore the area surrounding San Jose McEnery Convention Center for a wealth of theaters that are popular venue options in the South First Area (SoFA) District.
Team San Jose, the parent company overseeing DMO Visit San Jose, San Jose McEnery Convention Center and San Jose Theaters, promotes four of these venues as the San Jose Theaters collection. Located across the street from the convention center and within walking distance to a myriad of hotels, restaurants, bars and nightlife options, these historic and architecturally significant facilities are worth a look for meetings and conventions traveling to Northern California's largest city.
Following are highlights and meeting specs for these four San Jose grande dames, which can all be booked separately or together with the convention center, and often offer built-in entertainment options such as Broadway-style shows, musicals, comedy shows and concerts.
This stunning 1,222-seat showpiece, home to Opera San Jose and Symphony Silicon Valley, dates to 1927 and is acclaimed as one of the best-preserved old movie palaces in the U.S. following a $75 million renovation in the early 2000s.
California Theatre includes three traditional meeting rooms and a private courtyard, along with a grand foyer and ornate lobby that are frequently used for presentations, cocktail receptions and weddings. 
Event specs highlights include the following:
687 orchestra seats
435 balcony seats, including 196 grand tier seats and 239 mezzanine seats
130 banquet-style seats in the main lobby and foyer areas
Stage size: 90x40 feet
Stage Proscenium opening: 31'6"x44 feet
State-of-the-art audiovisual technology
Full staging and production capabilities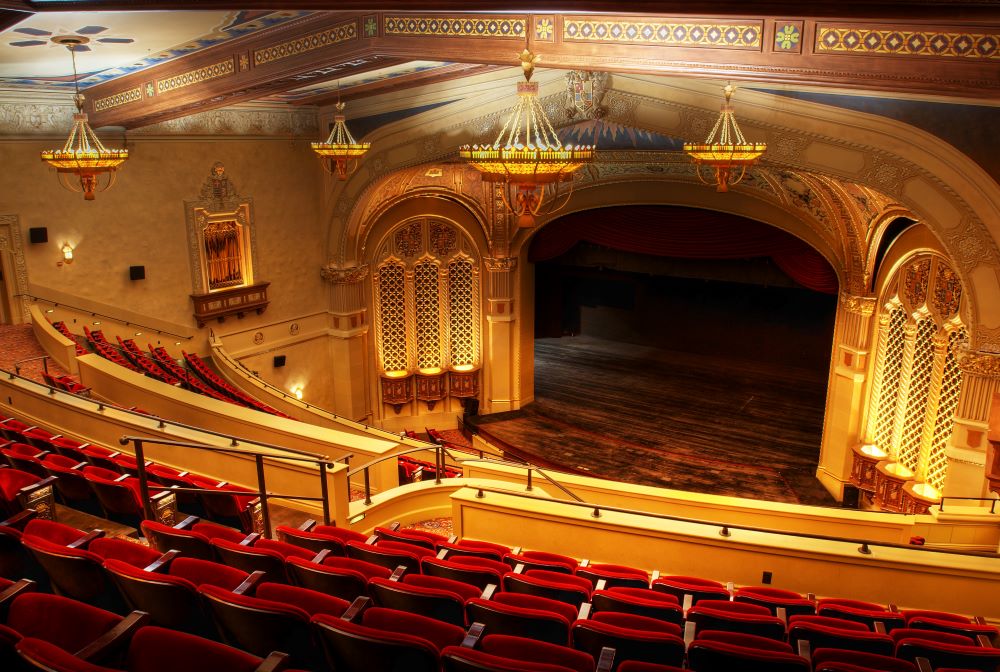 Dating to 1934 and having hosted iconic acts such as Frank Sinatra, Barbra Streisand, The Grateful Dead, The Rolling Stones and Bob Dylan, this Spanish California mission-style venue benefitted from a $15 million renovation in 2015.
The dual-level venue offers a flexible floor plan, built-in sound equipment and large HD video screens that are pressed into service for corporate and special events, in addition to galas, approaching 3,000 attendees or even smaller meetings. The Civic also works in conjunction with the convention center and Parkside Hall to provide additional exhibit and general assembly space.
Event specs highlights include the following:
3,036 maximum reserved seating capacity, with a flexible seating configuration that includes up to 137 ADA-compliant seats
350 banquet-style seats
1,000 classroom-style seats
Full staging and production capabilities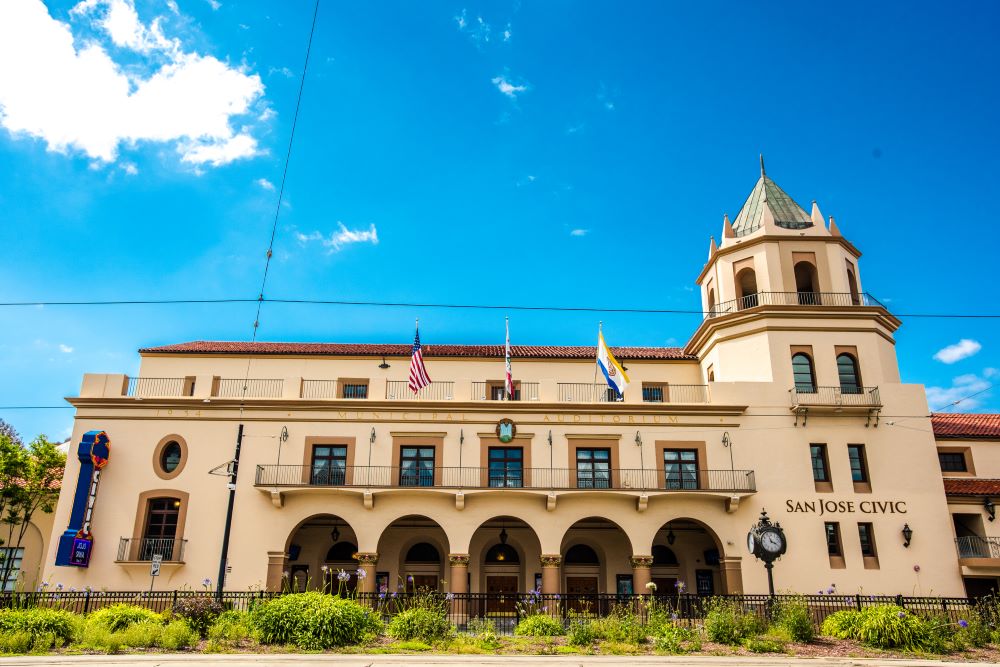 The "new kid on the block," the 2,600-seat Center for the Performing Arts only dates to 1972 but was designed by the Frank Lloyd Wright Foundation and is home to Broadway San Jose. Planners can work with the venue to book performances at their events. Standout options include an exclusive lounge, the elegant, 50-person President's Club and a large patio frequently utilized for cocktail receptions.
Event specs highlights include the following:
Classic plush-red continental-style auditorium seating
2,677 seating capacity, including eight ADA compliant seats
150 reception capacity in the Ridder Lounge
Full staging and production capabilities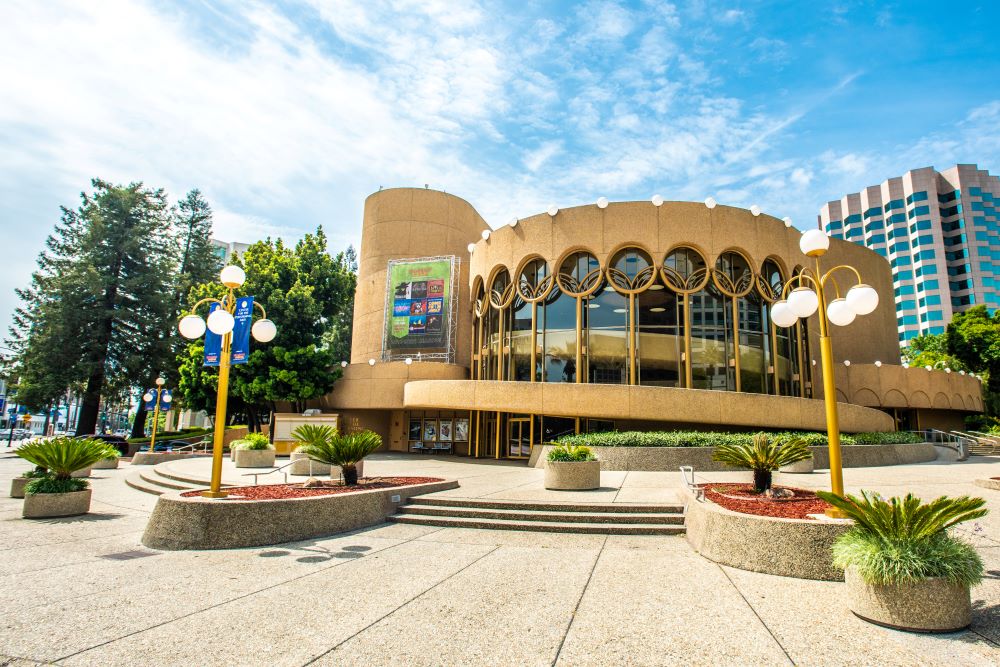 Opened in 1936, this smaller venue can accommodate up to 475 attendees in an intimate atmosphere that includes a renovated courtyard and a fire pit for outdoor events.
Event specs highlights include the following:
475 seating capacity, including up to five ADA compliant seats with two main aisles
Full staging and production capabilities
Home to CMT San Jose
2,896-square-foot outside courtyard patio that can accommodate 379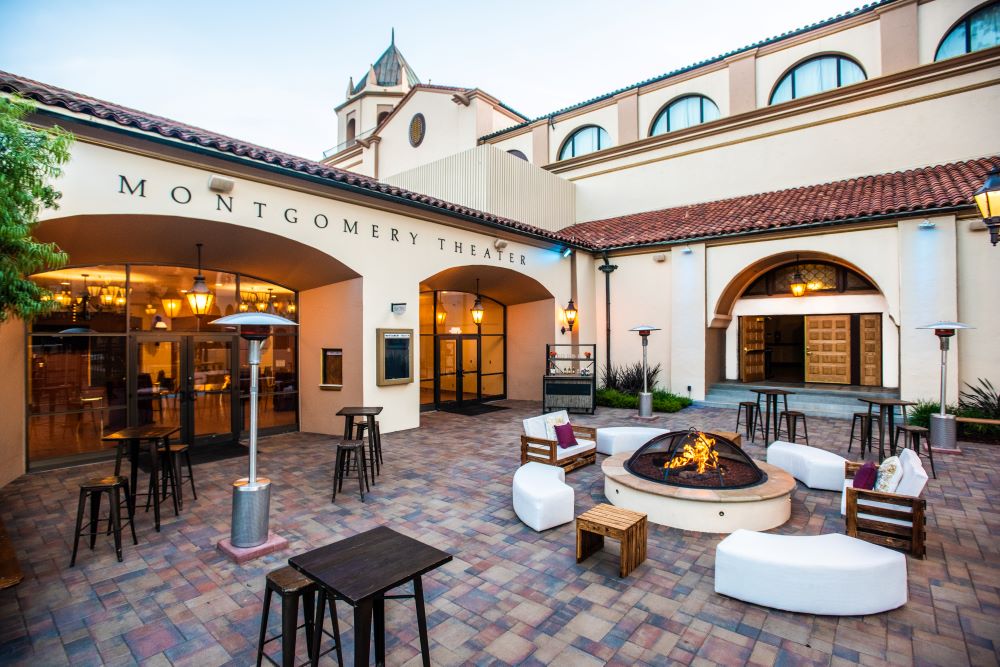 Connect 
Team San Jose/Visit San Jose
(800) SAN-JOSE
San Jose Theaters
(800) SAN-JOSE
More California Coverage: www.meetingstoday.com/california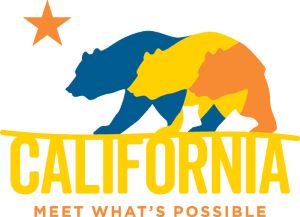 This article was produced in partnership with Visit California