8 Unique California Rooftop Venues for Private Events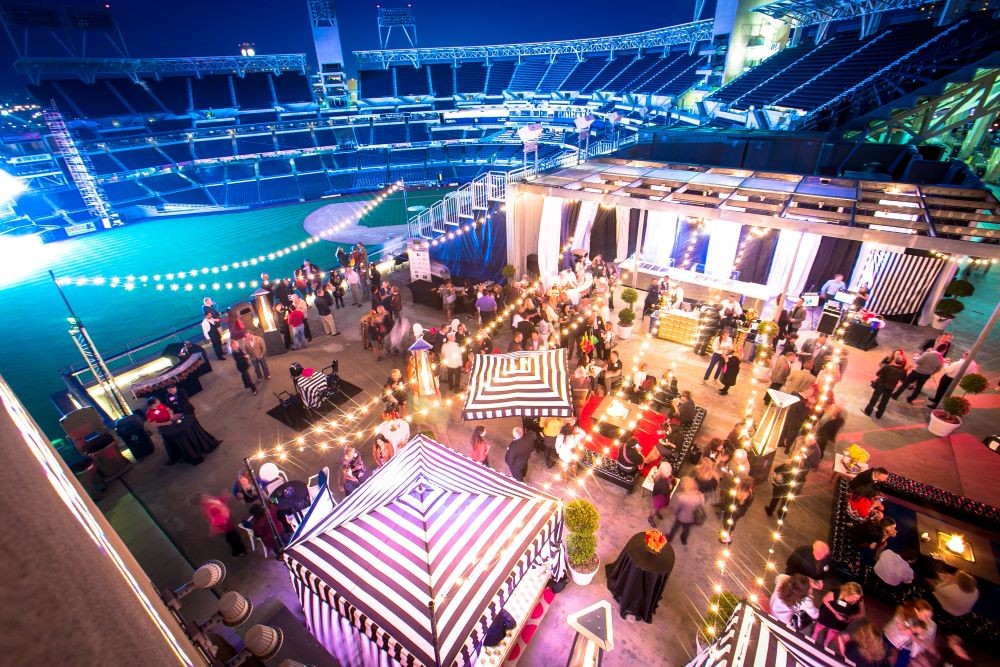 Western Metal Rooftop, Petco Park, San Diego
Outdoor events have always been in vogue in California. With its pleasant, Mediterranean climate in many areas of the state and eye-popping views of mountains, deserts, oceans, cityscapes and more, it's no wonder that when meeting in California, attendees crave time outside.  
The best way to enjoy these views is from a high vantage point, of course, and some of California's most popular meetings destinations have added rooftops to their venue repertoire. Following are eight rooftop venues perfect for private events during your next meeting in California. 
Charmaine's Rooftop Bar & Lounge, Proper Hotel, San Francisco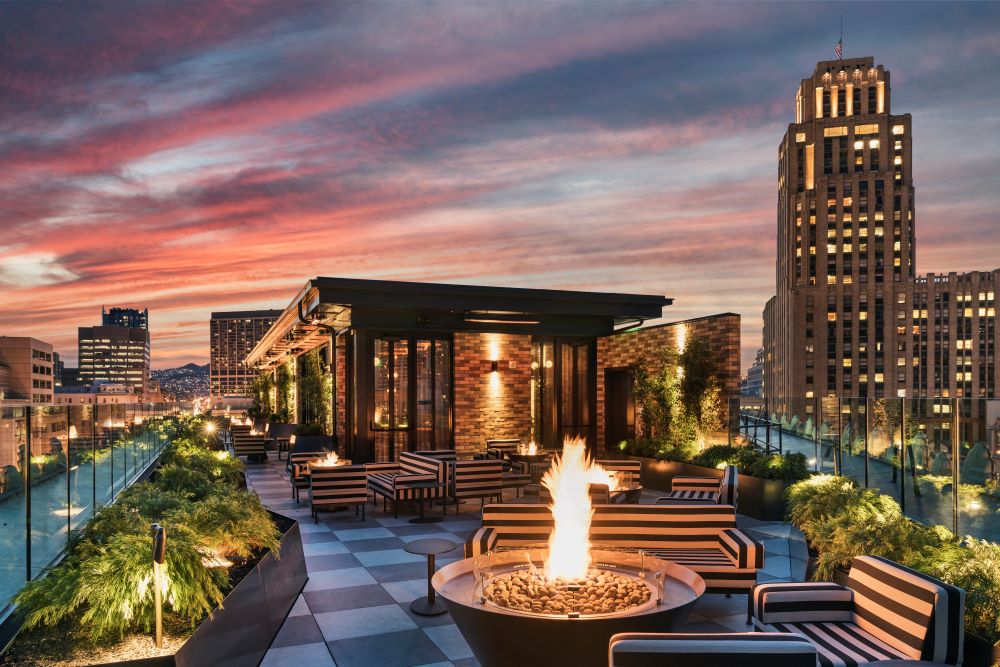 In the heart of San Francisco's Mid-Market District—within walking distance from attractions including the Civic Center, Davies Symphony Hall, War Memorial Opera House, Moscone Convention Center, SoMa, the Theater District and more—sits Proper Hotel, the brand's flagship property in a landmarked Beaux-era flatiron building with 131 guest rooms.  
Atop the property is Charmaine's Rooftop Bar & Lounge, one of the city's few rooftop bars that is popular for private events. Self-described as where "the energetic chic of a European terrace meets 'California cool,'" the indoor-outdoor space can host up to 150. Partial and full buyouts are available, and for cooler-weather days where guests want to flow inside, spaces like the Indoor Fireplace Room beckon, while outdoor firepits are available for those who thrive in crisper air. Executive Chef Jason Fox offers an all-day menu and chic cocktails. 
Rooftop at VIA, Hotel VIA, San Francisco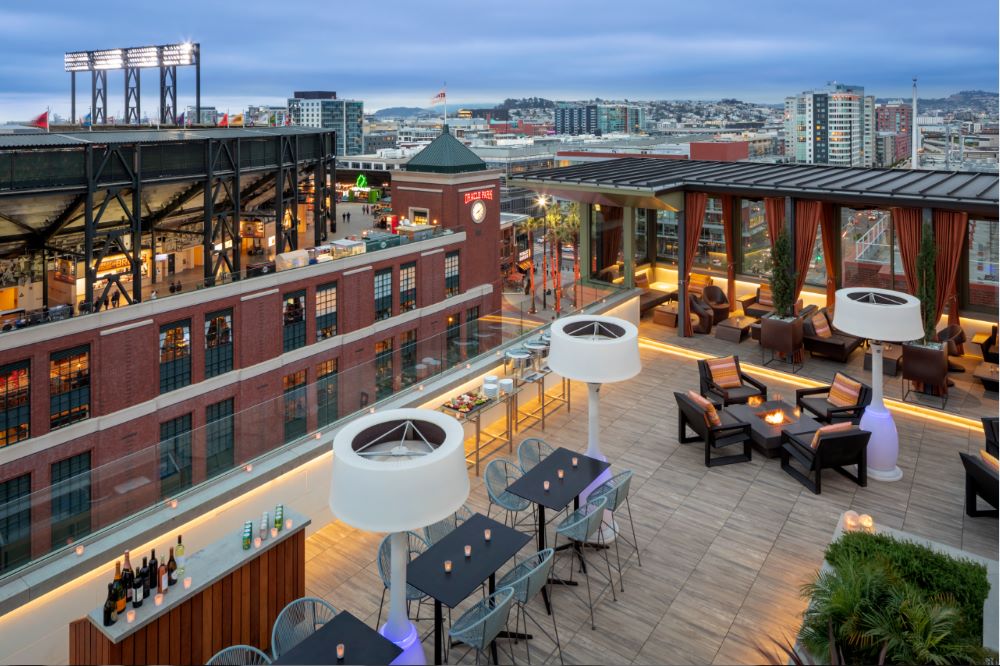 In San Francisco's dynamic South Beach neighborhood across the street from Oracle Park, boutique Hotel VIA's rooftop space, Rooftop at VIA, is no stranger to hosting high-profile events. From venture capitalists celebrating big funding deals and DJs spinning beats to San Francisco Giants events like a Buster Posey personal party, Will Clark's jersey retirement party, the 2012 World Series 10-year reunion and the Wall of Fame induction party for Hunter Pence, Rooftop at VIA can pretty much do it all. 
The 3,000-square-foot space can host up to 225 people and treats guests to sweeping view of San Francisco's skyline, Oracle Park, the Bay and Bay Bridge, the South Beach harbor and more. Amenities include a full-service bar, private cabanas, fire pits, heat lamps and club and view seating. 
Western Metal Rooftop, Petco Park, San Diego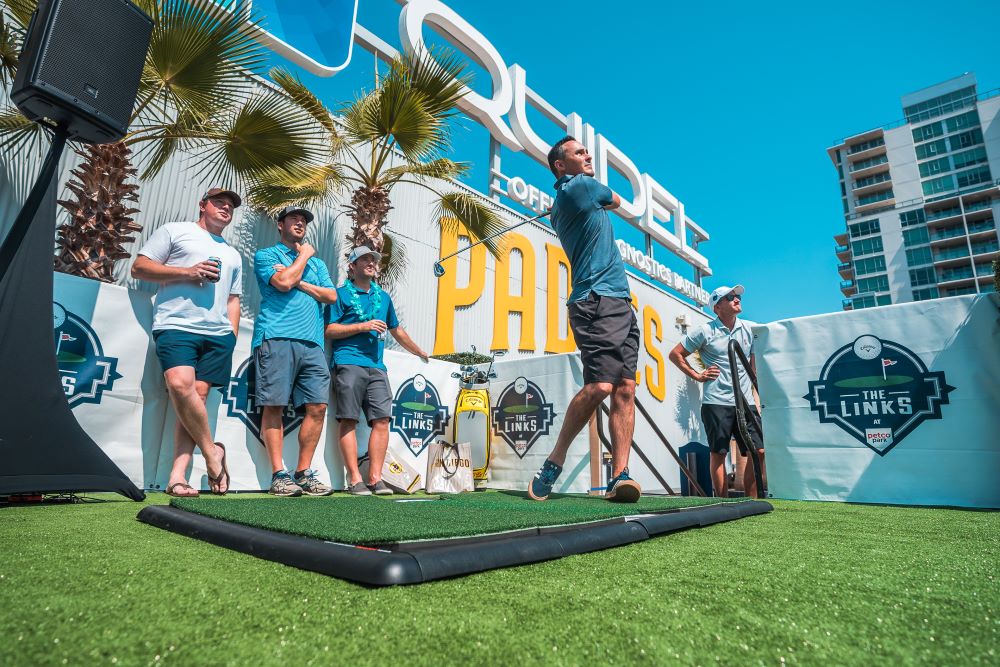 While Petco Park opened in 2004, its Western Metal Rooftop building was built a century earlier. Originally constructed in 1909 as the warehouse for Western Metal Supply Co. and declared a historic landmark by San Diego in 1978, the storied building is now one of the ballpark's most unique features.  
The building received an upgrade when the Padres began construction on Petco Park, and it now has three decks from which fans can watch the games. The rooftop is also accessible by fans and can be used for private events. 
"We have honestly hosted about every type of event you can imagine," said Allie Asuncion, director of Petco Park Events, of the Western Metal Rooftop. "Black tie galas, holiday parties, networking receptions, general sessions, breakout meetings, product launches, tradeshows and game day watch parties." 
The venue can host up to 500 people and the building also includes 12 suites available on an individual game basis, and an event venue on the fifth floor called The Loft that has flexible indoor-outdoor space. 
[Related: Meeting and Event News in California]
Agua Viva, The Conrad, Los Angeles 
Debuting July 2022, The Conrad, Los Angeles is the first of its brand in the Golden State and brings with it to Downtown L.A. 305 rooms, 12,000 square feet of meeting and event space for up to 300 guests— including a 4,800-square-foot ballroom with a connecting terrace—7,000-square-foot spa and multiple creative culinary concepts and cocktail bars. The Frank Gehry-designed property is located in the Grand Avenue Arts Corridor and within The Grand LA building, nearby cultural venues like the Music Center, the Broad Museum and the Museum of Contemporary Art. 
The 10th floor of The Conrad features a 16,000-square-foot rooftop terrace complete with an outdoor private pool deck and Agua Viva, the hotel's open-air rooftop restaurant from Michelin-starred chef and humanitarian Jose Andres. The restaurant's menu straddles hemispheres, combining Latin and Asian flavors in dishes like Txule Burger, coconut ceviche and whole-fried sea bream.  
Groups can buy out Agua Viva and the pool deck for private events. The space has been used for receptions, private dinners and live music from DJs and bands. 
Bar Lis, Thompson Hollywood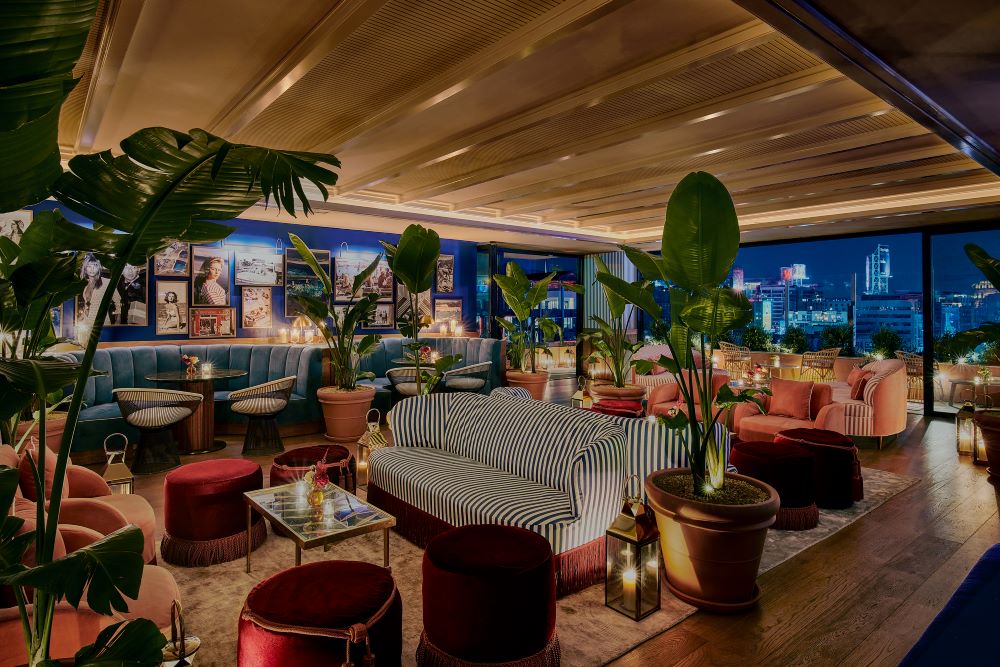 The French Riviera beckoned movie stars in the 1960s with summer spritzes and luxury. Now, in the heart of Hollywood, everyone can get a taste of the famed Cote D'Azur on the rooftop of the Thompson Hollywood Hotel. Smiling down on views of the Hollywood Hills and Downtown L.A. is Bar Lis, the crown jewel of the hotel, which opened in August 2021. The space is operated by Ten Five Hospitality, which also concepted the idea for a French Riviera-inspired space. 
Upon entering, guests will walk down a 60-foot walkway lined by 30 cypress trees, then get greeted by a 10-foot antique water fountain. Gallery-style retro photography and a disco ball complete the 1960s rewind inside. 
The lounge offers flexible options for social dining, group gatherings and private events, and the atrium has a retractable roof. The Women in Film Pre-Oscars party was recently held at Bar Lis, for example. In total, the venue can host up to 400 people. 
[Related: 3 California Meetings Tech Companies That Thrive in the Golden State]
Desert 5 Spot, tommie Hollywood 
Also opened in 2021, tommie Hollywood offers another unique rooftop space near Hollywood's famed Sunset Boulevard. Desert 5 Spot is a 7,000-square-foot rooftop pool and lounge that evokes 1970s Palm Springs and offers sweeping views of Downtown L.A. and the Hollywood Hills. 
Concepted and operated by Ten Five Hospitality, this unique space has attracted events like American Idol Two Decades Celebration party and boohooMAN x Landon Barker Collection Launch. A private entrance to Desert 5 includes vibrant mushroom wallpaper and a Seesburg '67 jukebox. After exiting the elevator, retro furnishing sourced from vintage dealers and thrift shops complement yellow and pink decor, along with cacti and yucca populated throughout the space. Custom-built neon signs, Gibson guitars and more add to the retro desert vibe. 
Live music and DJs spinning the hits of Johnny Cash, Dolly Parton and more are a regular occurrence at Desert 5.  
Sugar High Rooftop Lounge, La Serena Villas, Palm Springs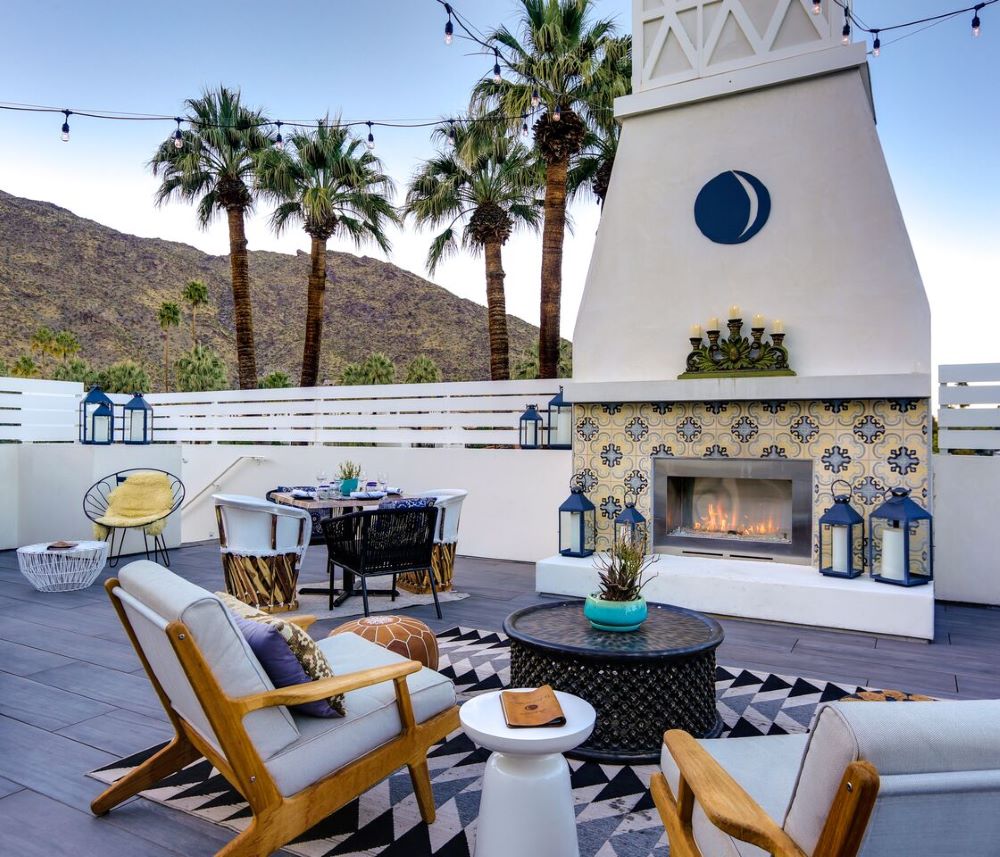 Originally built in 1933, small luxury boutique hotel La Serena Villas in Palm Springs offers guests a dose of history mixed with five-star amenities resulting from its 2016 redevelopment. The property sits on over an acre of meticulously landscaped grounds in downtown Palm Springs within walking distance from famed Palm Canyon Drive, lined with historic buildings, boutique shopping and a plethora of restaurant and bar options. 
Guests don't have to leave La Serena Villas for exceptional food, though. Its onsite restaurant, Azucar, serves up modern cuisine made from fresh, local ingredients. For private events, planners need only look up to Sugar High, the rooftop lounge above the restaurant. Intimate gatherings for up to 65 can use the space for cocktail parties, or up to 46 can enjoy fully hosted dinner events. The space has hosted events such as birthday and anniversary parties, micro wedding ceremonies with 12-46 guests, rehearsal dinners, corporate dinners, retreats, wine tastings, tequila tastings and more. Attendees will also enjoy a stunning backdrop of the nearby San Jacinto mountains. 
Offshore 9, The Waterfront Beach Resort, a Hilton Hotel, Huntington Beach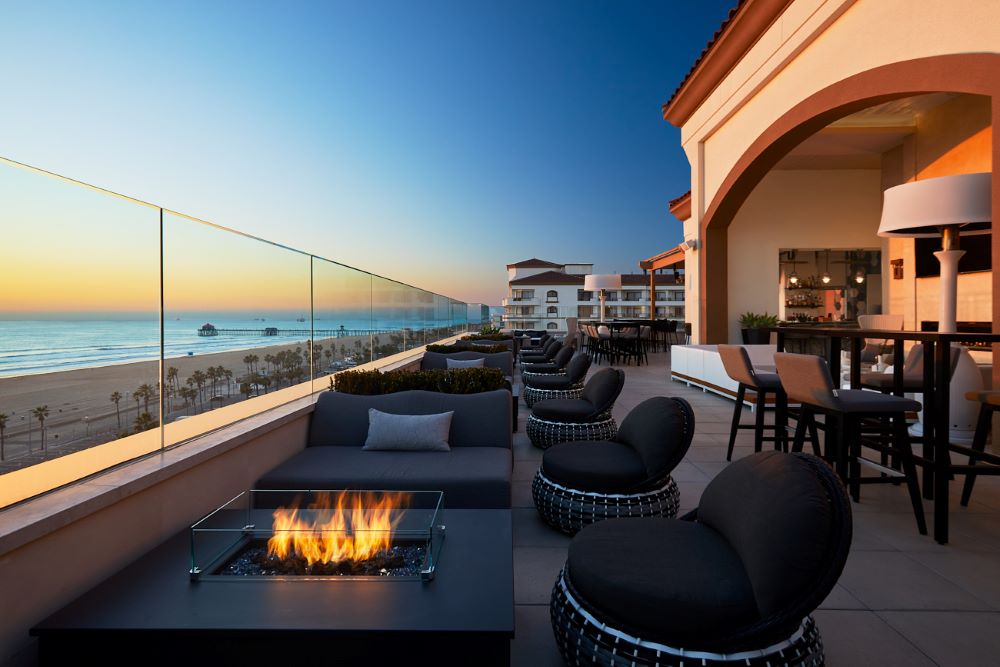 A trip to the beach cities of Orange County simply isn't complete without an event overlooking the ocean, and the rooftop terrace on the ninth floor of The Waterfront Beach Resort in Huntington Beach provides groups with one of the best views in the area. Offshore 9 is the highest coastal rooftop lounge in Orange County and can host groups of up to 135 for stunning views of the Pacific Ocean. 
Light bites, specialty cocktails and a large list of wines and champagne are available at the rooftop. The space has hosted events such as happy hour mixers, networking receptions, paint and wine teambuilding events, yoga classes and more. 
Read this next: 3 California Cities Leading in Sustainability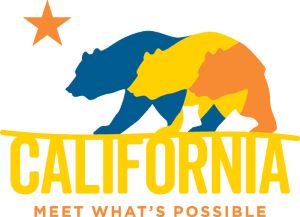 This article was produced in partnership with Visit California