Chef Javier Cuesta's Citrus Salmon Micuit Recipe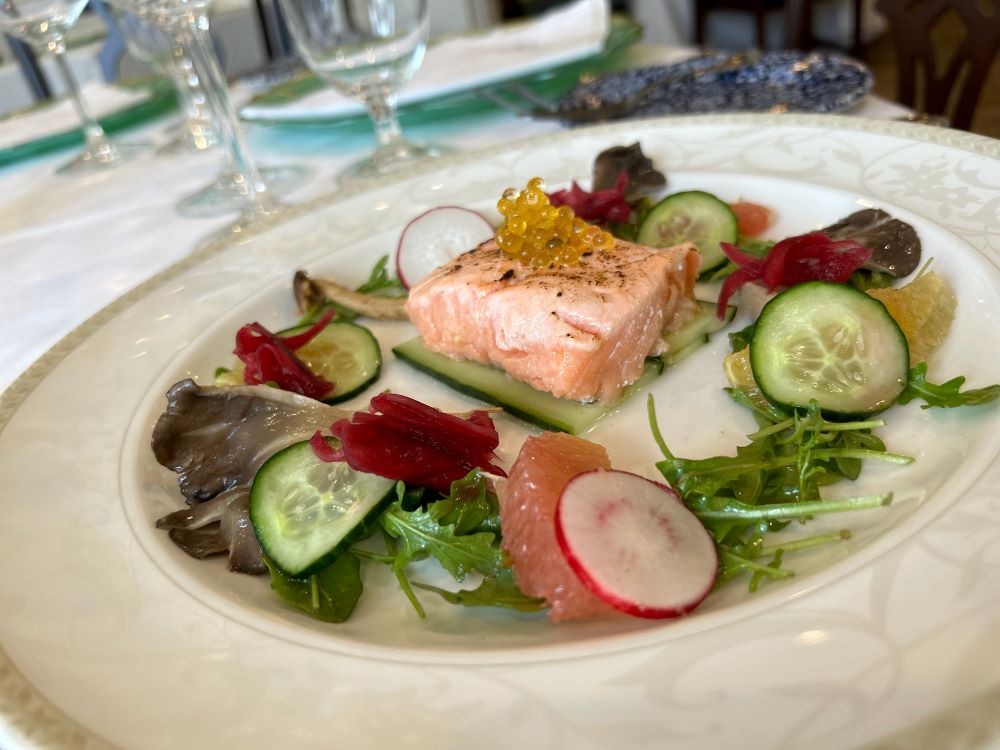 Citrus salmon micuit salad. Credit: Barnsley Resort.
Citrus Salmon Micuit 
Serving size: 4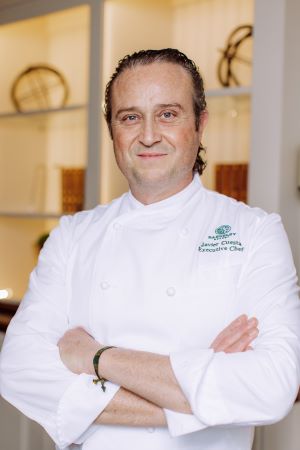 This refreshing and light salad utilizes a classic French sous vide method with a surprisingly Southern tool—a mason jar—as the vessel.
This dish, from Barnsley Resort Executive Chef Javier Cuesta, will be featured on the resort's Rice House menu in the spring and summer. This dish plates beautifully and is ideal for entertaining al fresco, but its preparation begins a few hours ahead, so plan accordingly! 
To sous vide at home, a variety of hand-held devices are available. If not, a quick pan-sear of salmon filets over a medium-hot pan, approximately 5 minutes on each side, may be substituted. Chill the cooked filets for 2-3 hours to substitute in the dish.
[Related: Barnsley Resort Chef Javier Cuesta Informs Southern Cuisine With French Technique]
Ingredients
4 mason jars with lids
1 lb. of Salmon, skin off. Cut the salmon into pieces approximately 3 ½" by 1"
Olive oil (approximately 2 cups)
16 whole peppercorns
Peel of one lemon, cut into 4 2-inch slices
4 sage leaves
Method
Divide salmon pieces between four mason jars. Pour olive oil over salmon pieces to cover.
Add 4 peppercorns, 1 slide of lemon peel, and 1 sage leaf to each jar and cover.
Sous-Vide a 40C (104F) for 60 minutes. (Follow directions from your sous vide device.)
Take the mason jars and place in the fridge for about three hours before serving.
Sumac Jalapeno Dressing Ingredients
½ cup pomegranate molasses
3 Tbsp. red wine vinegar
1 Tbsp. garlic
2 Tbsp. shallot
1 cup grapeseed oil
1 cup EVOO (extra virgin olive oil)
Salt to taste
Method
In a Vitamix or other blender, add all ingredients except oils. Start blending on low and slowly
incorporate oil to emulsify the mixture. Salt to taste and re-blend at end. Strain through a fine mesh strainer. Dressing may be chilled up to three to four days in advance, but may need to be whisked before serving as ingredients may separate.
Check out more Meetings Today Top Chefs recipes: www.MeetingsToday.com/recipes.
Pickling Liquid
¾ cup white distilled vinegar
¾ cup white balsamic vinegar
½ cup granulated sugar
2 tbsp kosher salt
1.5 teaspoon whole black peppercorns
5 whole cloves
2 whole star anise
1 ½ cups water
1 red onion, sliced thinly
4 oz. oyster mushrooms
1 cucumber, sliced thinly
Method
Add first eight ingredients to a pot and bring to a boil. Place the onion, mushrooms and cucumber in a mason jar. Pour the hot liquid over vegetables in a mason jar filled to the top and close with the lid. Allow the jar to come to room temperature, then pickle in the refrigerator for two days.
Salad
1 grapefruit, cut in segments
1 orange, cut in segments
5 oz. arugula
1 cucumber cut in thin slices lengthwise, about 3 inches long
Pickled mushrooms, onion and cucumber
1 heirloom tomato, cut in wedges
Passion fruit caviar (optional)
Method
In a mixing bowl, add the grapefruit and orange segments, arugula and prepared dressing. Toss and arrange on the plate, making a circle.
On the center of the plate, set three slices of fresh cucumber, and place xx pieces of salmon on the top. On top of the salad (not covered by salmon), place the pickle vegetables and top with tomato wedges, using a batwing formation to create a pleasing look to the place.
Top the salmon with passion fruit caviar (optional). (Check a local international supermarket for this ingredient.)
Steps for Slicing & Sous Vide Salmon
Gently run your fingers across the surface of the fish to find a ridge of thin, flexible bones protruding from the flesh. Use a sturdy pair of needle-nose pliers, or if you have them, some sturdy fish tweezers to pull the bones out. Grasp the very tips, then pull them out by pulling along their length to minimize damage to the surrounding flesh. Make sure you also get any bones that are protruding from the cut faces along the sides of the slice.
Using a sharp knife and steady, long strokes, slice through the salmon, making sure to cut through the skin as well.
Divide each of those halves into even 5- to 6-ounce portions. The resulting pieces are closer to square in shape than the long skinny rectangles you'd get by portioning without splitting.
Place the salmon one each Salmon portions inside on a Mason Jar. Add the olive oil, and the
herbs/spices.
Set the temperature on your sous vide cooker according to the chart and allow it to preheat while
the salmon rests.
Remove all the air from the bag using a vacuum sealer or the water displacement method, then add the salmon to the preheated water bath and cook for 45 to 55 minutes for one-inch filets, or 45 minutes to an hour for filets up to two inches thick.
Transfer to paper towels to blot off excess oil, then serve immediately.