Barnsley Resort Chef Javier Cuesta Informs Southern Cuisine With French Technique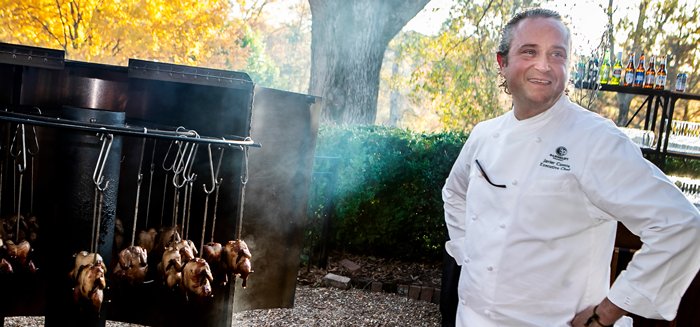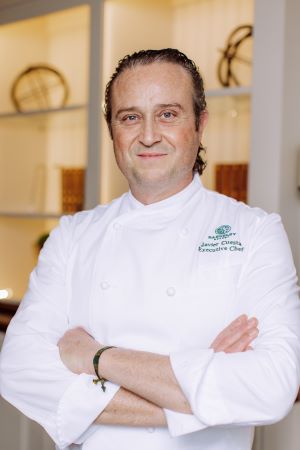 With 3,000 acres available for seatings, Barnsley Resort Executive Chef Javier Cuesta certainly has room to roam, which is apropos for a veteran, French-trained culinary world-traveler.
After joining the Adairsville, Georgia, property 60 miles northwest of Atlanta a little more than a year ago, Cuesta has brought cuisine and culture knowledge gleaned globally to the heart of the South at this luxe 1840s estate. Barnsley offers 140 guest rooms and suites, including the 55-room Inn at Barnsley Resort and 39 cottages set in an English-inspired pedestrian village.
"For me, food is a culture, and to find a culture, look into a culture and understand why people eat the way people do," Cuesta said of how he is informed by his culinary journey.
His traditional French technique, learned in the early '90s at the Ritz Paris, is now employed on the Southern cuisine traditions of Northern Georgia. 
"I do use French technique in my cooking—I'm from the old school," he said. "The French technique is very versatile and useful for a lot of Southern dishes."
For example, Cuesta learned the sous vide technique—a French method that involves vacuum-packing and cooking in boiling water at a precise temperature—and is now applying it to preparing a fried quail entree that often is sourced from guest hunting on the property's 1,800-acre preserve.
"We sous vide them for two hours and after that we fry them," Cuesta shared. 
Prior to supervising all culinary operations at Barnsley Resort, Cuesta served as F&B director of Aimbridge Hospitality in St. Croix, U.S. Virgin Islands, and before that as executive chef at Virginia's The Cavalier Virginia Beach, Autograph Collection. 
[Related: Anaheim Convention Center Chef Sets Tables for Thousands]
Cuesta, who completed his formal culinary training in Paris, where he earned a degree in French gastronomy, has also held positions at top resorts and restaurants in Pennsylvania, St. Lucia, Puerto Rico and Portugal, among other stops. 
Other menu highlights include Spanish jamon (ham), a natural due to Cuesta's Spanish heritage, as well as several dishes prepared via the resort's impressive barbecue facilities, such as caja china (a whole suckling pig prepared Cuban-style) and rotisserie chicken.
Cuesta said he partners with several local purveyors, including Benton Farms Ham, from Madisonville, Tennessee; Thomasville, Georgia's Sweetgrass Dairy; and Space Farm Mushrooms, hailing from Rome, Georgia. 
"We play with them in many different ways," Cuesta offered, bolstering his farm-to-table bona fides.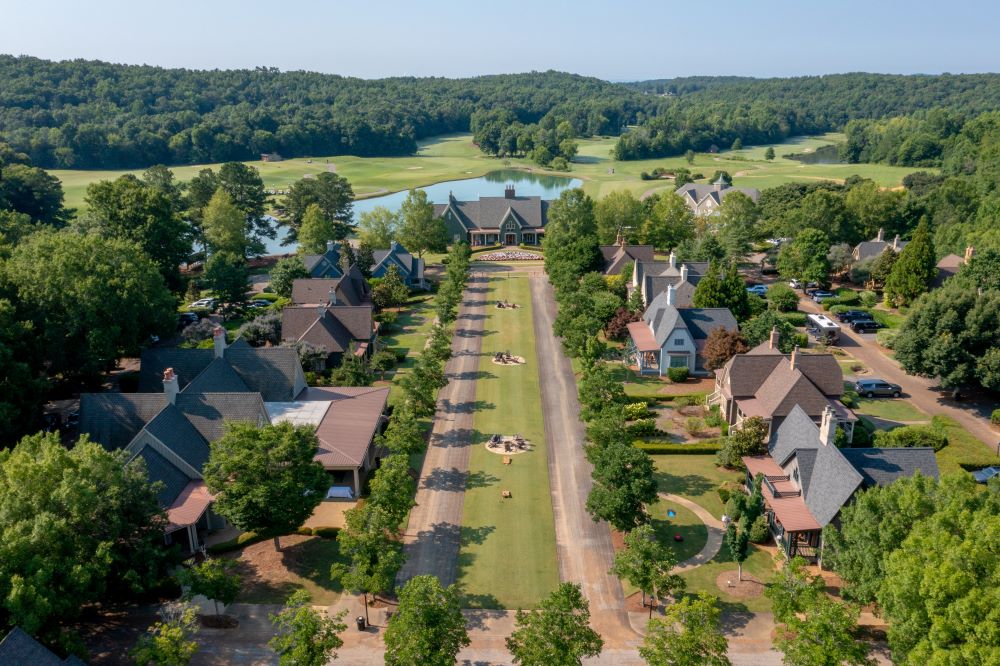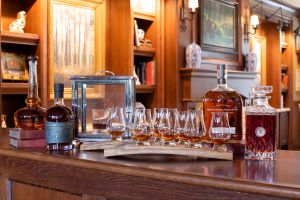 Group Offerings
Barnsley Resort offers three onsite restaurants, Woodlands Grill, Rice House and the Beer Garden, along with 16,000 square feet of indoor and outdoor meeting space and the 5,000-square-foot Savannah Ballroom.
The resort partners with Sea Island Forge, maker of high-end open-fire kettles—demonstrations and outdoor group cooking classes with Cuesta are an option—and employs a pit master to ensure a high standard of barbecuing artistry. The resort also has a portable copper-top pizza oven it uses for gatherings in outdoor locations such as its lawn and bamboo garden.
"Who doesn't love a great pizza?" Cuesta asked, perhaps rhetorically. "We build our own dough, which takes about three days of building because of the fermentation, and then we cook it at 750-800 degrees, so it takes about 2.5 minutes."
[Related: From Cop to Chef, Kieran Fleming Found His Calling in the Kitchen]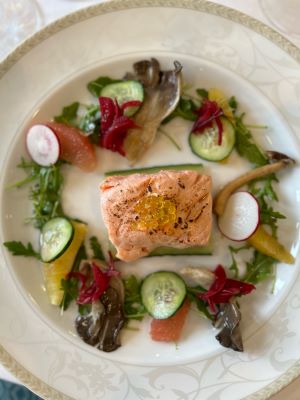 Another popular option is the resort's 5 p.m. bourbon-infusion tasting ritual, held Thursdays, Fridays and Saturdays. The infusion process takes up to 12 hours and uses locally grown pecans, which are used in select menu items after their bourbon duty is fulfilled. Groups can also avail themselves of a private bourbon tasting, including smoke-infused, via the Woodford Reserve brand.
The resort also features an 18-hole, Jim Fazio-designed golf course; horseback riding; a spa and fitness center; a 10-acre lake for fishing and canoeing; axe throwing and archery; and a 28-station sporting clays course, among other options. 
For chef Cuesta's citrus salmon micuit recipe, as well as recipes from previous Meetings Today Top Chefs, visit MeetingsToday.com's Recipe section at www.MeetingsToday.com/recipes.
Learn about more Meetings Today Top Chefs: www.MeetingsToday.com/top-chefs.