Scenic Florida Outdoor Venues for Impressive Events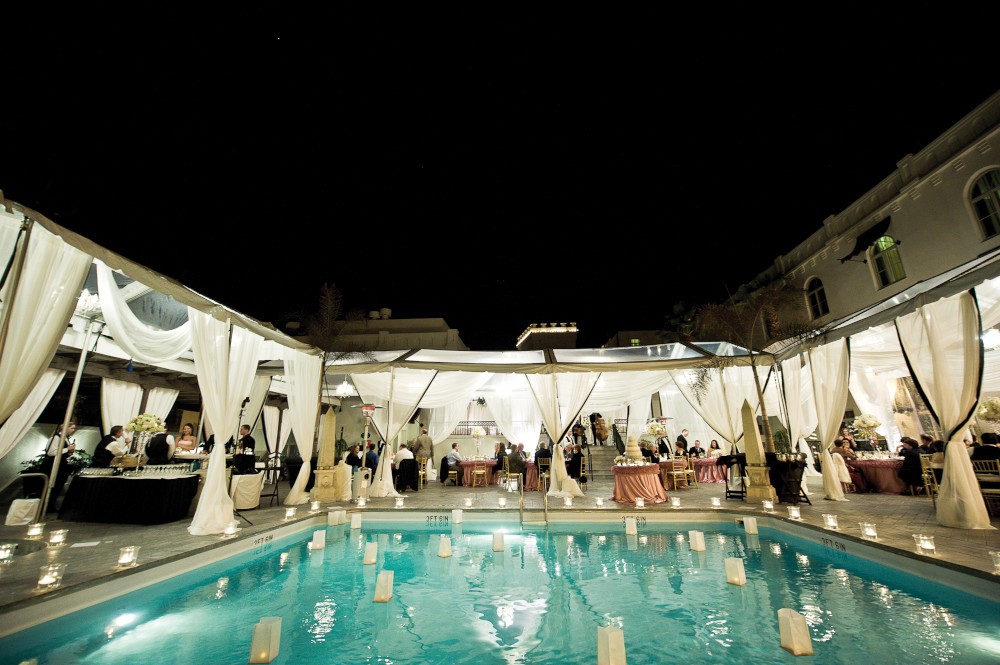 Casa Monica Resort & Spa, St. Augustine
One of Florida's main attractions is its scenery and weather. Pair that with good grub and creative cocktails and you're sure to impress any attendee, from the beaches of Fort Myers to the unique dining venues in Orlando. Following are outdoor venues that are perfect for cocktail parties, group dinners and other events.
Fort Myers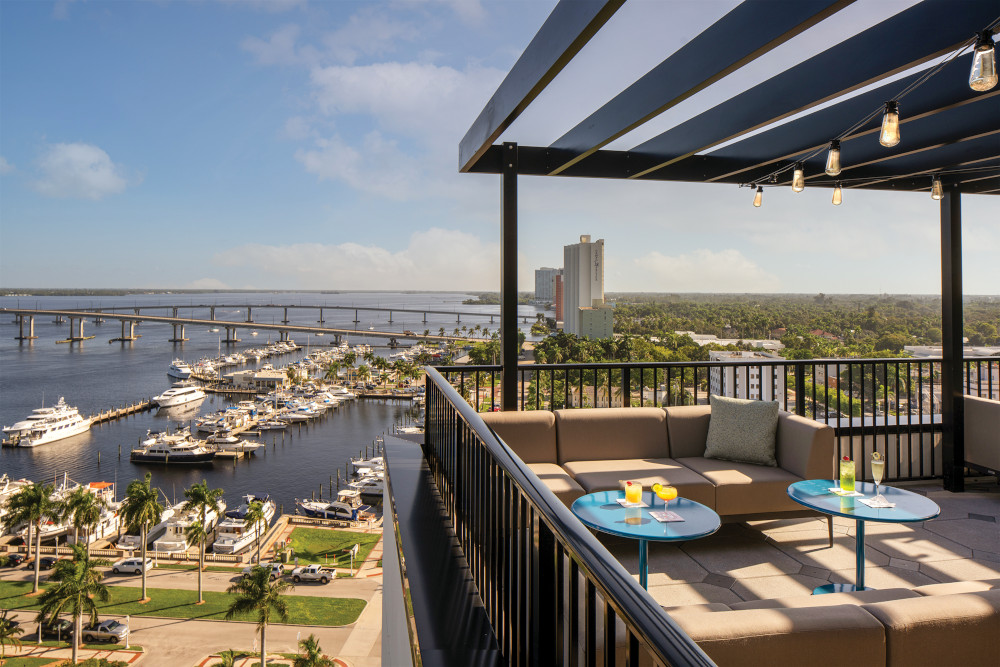 Teri Hansen, founder and president of Priority Marketing, grew up in Fort Myers and was absolutely thrilled when in 2020, the 243-room Luminary Hotel & Co., an Autograph Collection opened. Now, it's her "go-to" spot for clients she wants to win over and impress.
Hansen prefers to use two outdoor areas at this hotel, the first being Beacon Social Drinkery Rooftop Bar, sure to impress with its nearly 360-degree views overlooking the Caloosahatchee River and downtown Fort Myers. Ideal for VIP corporate events, this 1,600-square-foot space can comfortably accommodate up to 120 guests, with seating for 105. 
But beyond the view, the Beacon keeps admirers coming back for its craft cocktails, specialty beers and premium wines accompanied by a vast menu of tantalizing small plate specialties such as, Pan Asian and Latin-inspired tuna tataki, snapper ceviche, spicy chicken "mole" empanadas, lemongrass shrimp sliders and more.
"We open all the doors so we get an indoor-outdoor vibe going," Hansen said, adding that she's used the Beacon for multiple events and since it's under cover, she doesn't need a contingency plan if it ever rains. "And the sunsets are incredible from the 12th floor," she added. 
For a recent medical group's event, Hansen admits that the medical professionals were blown away by the experience.
"I love the hotel so much for events that I even do my own company's parties there," she said, a true testament if there ever was one.
The other outdoor area Hansen likes to use is the fourth-floor outdoor pool area for sit-down dinners and receptions. "Guests are always surprised at the amazing backdrop the hotel offers," she said. The pool area can accommodate up to 175 for a reception. 
Just steps from the hotel on the doorstep of Downtown Fort Myers is the dockside 120-seat Oxbow Bar & Grill. A nautical vibe awaits guests on an outdoor terrace that serves up astonishing panoramic riverfront views on the Caloosahatchee with a side of casual coastal cuisine such as fresh oysters and craft sandwiches. Second-floor event space for 20 to 120 attendees is also available.
Clearwater
North of Fort Myers, Clearwater was the location chosen for the Federal Alliance for Safe Homes, Inc.'s November meeting, and The Wyndham Grand Clearwater Beach welcomed attendees from around the country. 
"Our attendees love Florida, especially in November," said Zoë LaPointe, vice president, communications for the group. "Many of our attendees are not from Florida and they love the beach and pool. They often bring their spouses to enjoy the mild November weather," she added.
The opening night is always a beach-themed soiree, one that features fish tacos.
"The banquet team puts it all together for us and it is amazing," LaPointe said. "The hotel went above and beyond for our group. We could not ask for better food. If we need to adjust or change the menus in any way, there is never a problem, and every year we get excellent feedback on the event."
Another Clearwater devotee is Rebecca McVeigh, senior director, Telecommunications Industry Association (TIA) QuEST Forum/Meetings & Events. 
"There's no doubt we have our highest attendance when we meet in Florida, and it's partly due to the fact that we can stage some great outdoor events," McVeigh said.
"We had an event on the beach at the Sandpearl Resort in Clearwater where we had dining, dancing and a DJ. We set up games on the beach, like corn hole and ring toss, and everyone got a scorecard. We even had a referee! The more games they played, the more tickets they could win to use at the 'Beer and Gear' raffle and final dinner. It was a great event people are still talking about," McVeigh said.
[Related: The Top 10 Reasons to Meet in Florida]
Florida's East Coast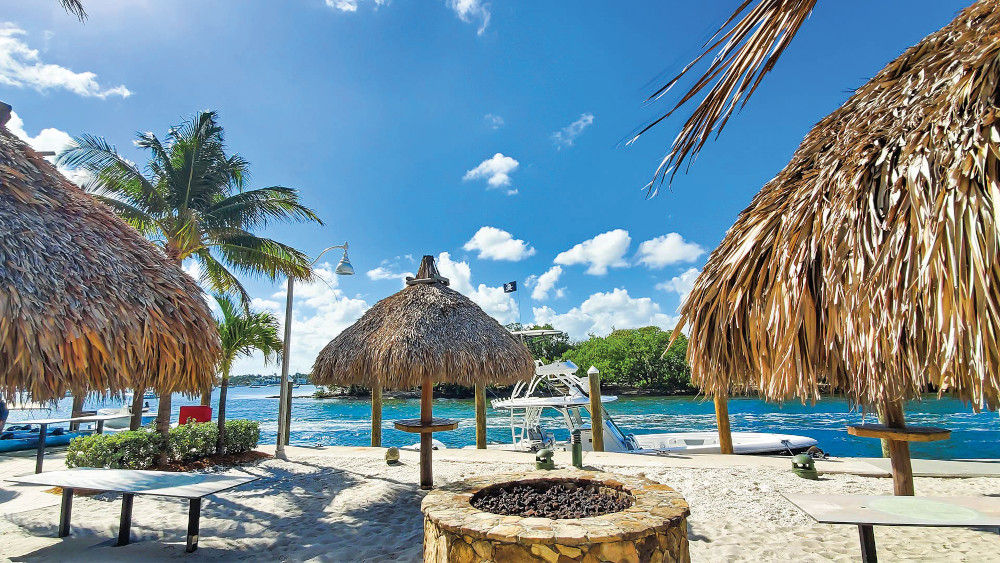 On the east coast of Florida, at Margaritaville Hollywood Beach Resort, one of the most popular spots for events is the "License to Chill" pool deck overlooking the Atlantic Ocean at one of the resort's beachfront restaurants that also treats guests to free entertainment on the beach five days a week. In fact, the hotel spends $1 million a year just on musical talent alone.
Just behind the resort's live-music Bandshell is the Hollywood Beach Boardwalk, an oceanfront promenade that stretches nearly two and a half miles along the Atlantic. It's a haven for hotel guests to delight in the countless eateries, inns and mom-and-pop shops during their boardwalk stroll.
Are your attendees looking for a test of skill? The resort's FlowRider, a wave simulator, is a high energy interactive way to practice those surfing skills. And when the fun is done for the day, the resort's flexible event space features 30,000 square feet of indoor and outdoor space for meetings and events.
Also on the east coast, in St. Augustine, The Casa Monica Resort & Spa Autograph Collection is an historic 1988 gem now owned by the Kessler Collection. Cheryl Schreiner, managing director, HelmsBriscoe, loves using the hotel for meetings and events, especially the outdoor pool area called Sultan's Pavilion. 
"The whole hotel has such a wonderful, Moroccan feel and their pool deck has an elevated area where we have done spectacular outdoor receptions (up to 100) located right in the center of the hotel," she said, adding that billowing curtains surrounding the tent give events add to the ambiance as well. 
Schreiner also likes the Embassy Suites by Hilton St. Augustine Beach Oceanfront Resort, saying it's a great fit for groups at a reasonable price point. A sprawling lawn for events with firepits and a big wraparound porch provides exhilarating ocean views. "And the Hyatt Place St. Augustine Vilano Beach will open soon with a gorgeous rooftop, perfect for a spectacular event," she added.
Hilton Sandestin Beach Golf Resort & Spa in Destin, a city in Florida's Panhandle, has a range of outdoor activities to suit all as part of the resort's Build Your Meeting or Event program. Groups can cozy around a firepit for a toasty bonfire complete with cocktails, snacks and the makings of s'mores, or join in group games such as beach bowling with watermelons and yoga on the beach. For those who want to get the sand off their feet, offsite excursions are also available to explore the area. 
Orlando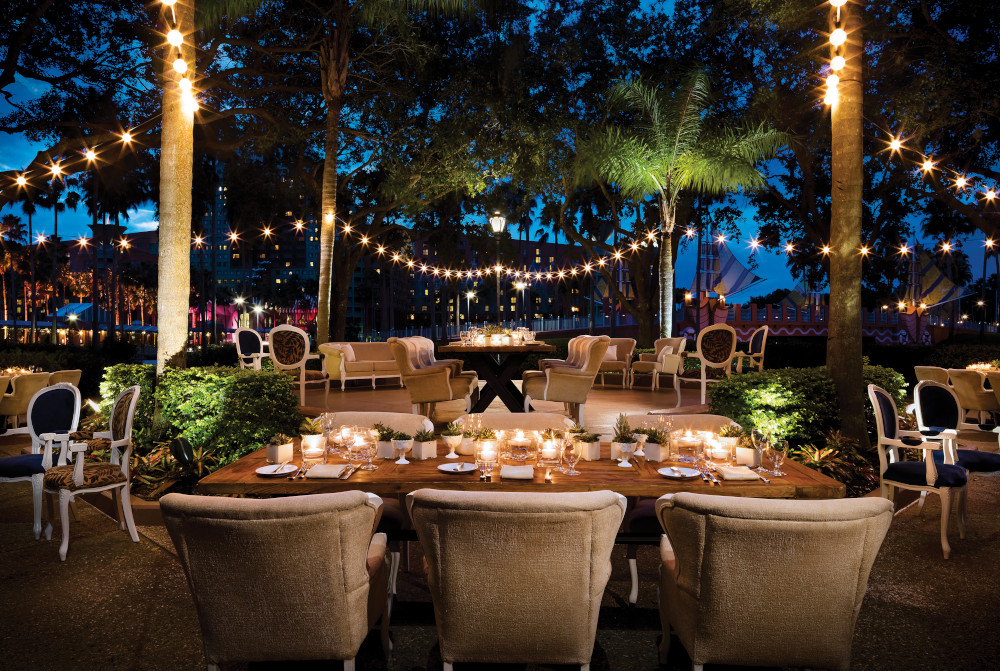 In Orlando, the Walt Disney World Swan and Dolphin, well known for their culinary strengths, hosting its Food & Wine Classic each year, has developed a variety of outdoor spaces to utilize scenic surroundings in creative ways. 
With over 100,000 square feet of outdoor space, the resort can help create unforgettable events, whether it is an executive meeting, teambuilding opportunity, break, reception or dinner, and the hotel has developed remarkable ways to move indoor functions outdoors.
Among the unique options for planners to take advantage of are the resort's pool decks, including the stylish outdoor restaurant, Cabana Bar & Grill with its lush Grotto pool area, private white sand beach and lakeside terraces offering glimpses of the passing Disney boats. The Crescent Terrace can cater groups up to a maximum of 120 while other outdoor hotel events for groups include a Hawaiian Pig Roast, a Louisiana-inspired seafood boil, Old Florida themed party and Food Truck Festival.
[Related: 10 Best Places for Group Golf Outings in Florida]
More Hotels With Outdoor Space
The dual-branded Aloft & Element Hotel Midtown Tampa shares the property's Sal Y Mar Rooftop Bar & Events Venue offering a total of 5,250 square feet of adaptable indoor and outdoor space. It presents an unrivaled poolside experience with 360-degree views of Tampa and St. Petersburg skylines, making it an ideal option for a variety of events that will bring out the selfie sticks. Meeting planners can also utilize the Skydeck Outdoor Terrace for an exceptional, intimate outdoor celebration that can accommodate 20 guests.
At the new Drury Plaza Hotel Orlando| DISNEY SPRINGS® AREA, The City Beautiful Terrace can accommodate up to 107 for a private event with The Lakeside Bar+Grill, the poolside retreat, also available.
Miami's Thesis Hotel Miami in Coral Gables offers the Ivy Terrace, a private slice of heaven on the second floor with artificial grass and exquisite overgrown ivy crawling up exterior pillars. Overlooking the Paseo Courtyard, this secluded venue is classic perfection for an intimate cocktail hour and guests can also host stunning outdoor cocktail parties at the Rooftop Pool Deck and tropical-oasis bar, Mamey on 3rd. 
The Ara Rooftop Pool & Lounge at Sandestin is a luxurious experience with a stylish rooftop lounge where guests will find fine wines, hand-crafted cocktails and delicious bites from award-winning chef Hugh Acheson. Private cabanas for more intimate gatherings are also available with views of the beach and bay. 
The Gabriel South Beach features two glorious pools, one with a glass bottom that overlooks Ocean Drive, South Beach and the Atlantic Ocean and can accommodate up to 45 guests. The property provides more than 6,000 square feet of indoor and outdoor semi-private space, accommodating intimate gatherings with as few as eight guests and larger receptions welcoming up to 150 guests. 
The rooftop lounge at the Kimpton Shorebreak Fort Lauderdale Beach Resort is an exclusive outdoor space ideal for any special event. The rooftop overlooks the Yachting Capital of the World and will knock the proverbial socks off your corporate events when set against the unforgettable backdrop's show-stopping sunset views.
The Serenity Garden with its lush greenery and serenity pool at The Marker Key West Harbor Resort is an intimate spot for memorable gatherings. Book a lantern-lit welcome dinner at the serenity pool, a team-bonding activity in the Serenity Garden and either an outdoor cocktail reception or post-event brunch—or both—on the hotel's wraparound veranda at the Harbor House, a secluded tropical escape of suites tucked away inside the Old Town Resort. 
The Reach Key West Curio Collection by Hilton will never bore your board if you book its intimate boardroom, easily converted for a small meeting or retreat that juts out over the ocean while the waves crash ashore. 
The Ette Hotel in Orlando's LIPA Rooftop on the 6th floor serves Asian haute cuisine by Michelin Star chef Akira Back. This alcohol-free hotel allows guests to bring their own libations while a world-renowned mixologist stirs up curated cocktails at your service.
Read more tips and recommendations for hosting meetings in Florida in the 2023 edition of Meetings Today Florida