The Driskill Grill Tournedos Rossini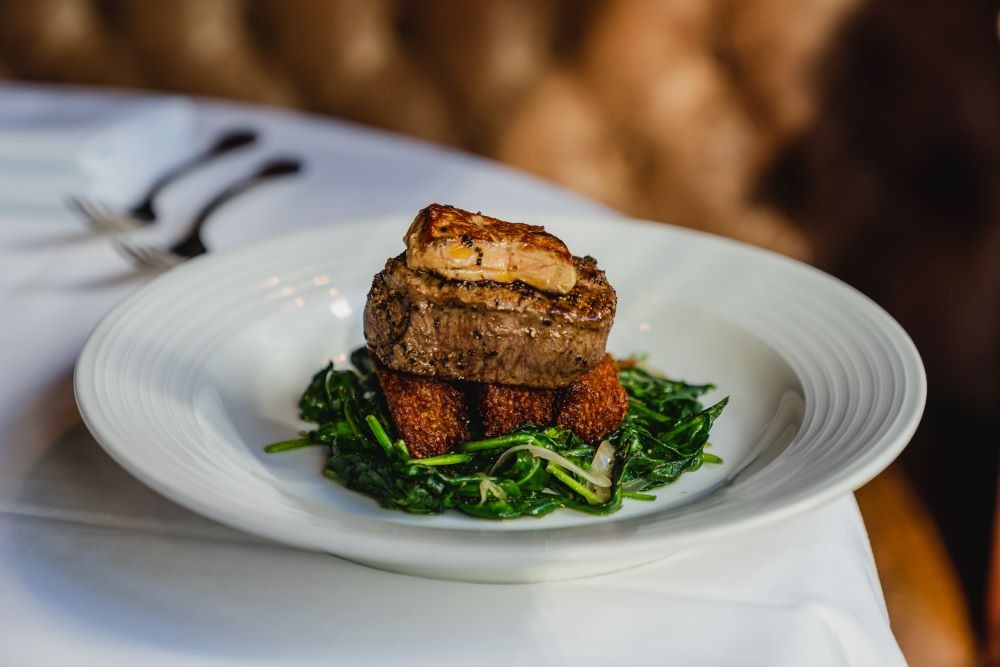 The Driskill Grill Tournedos Rossini. Credit: Jane Yun.
The Driskill Grill Tournedos Rossini
Servings: 6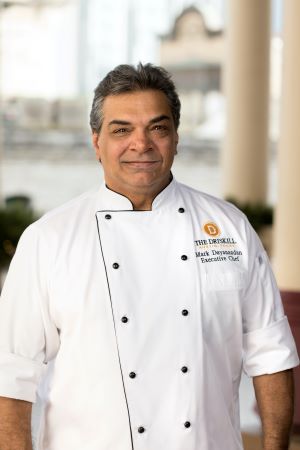 Ingredients
12 pieces duck fat rosti potatoes
6 each 6 oz. filet mignon
6 2 oz. foie gras du canard 
12 oz. truffled Madeira sauce
12 oz. baby spinach 
Ingredients for Duck Fat Rosti
6 Idaho potatoes, peeled
2 oz. AP flour
4 oz. rendered duck fat
Salt and pepper, garlic powder to taste
Instructions
Shred potatoes into ice-cold salted water and soak for 5 minutes.
Squeeze potatoes as dry as you can by hand and in a clean bowl add duck fat.
Add flour and season.
Place in a vacuum seal, bag roll out flat and seal.
Steam at 176 degrees for 4 hours.
Cool overnight.
Remove from bag and cut to portion size. About ½ inch square and 3 inches long.
Reserve till needed.
[Related: How an Old School Chef Is Reinvigorating Austin Icon The Driskill]
Truffled Madeira Sauce
1 each chopped shallot
8 pieces crushed black pepper
4 oz Madeira wine
1 oz. soft butter
12 oz. demi glaze
Instructions
Sweat shallots in butter until translucent.
Add peppercorns and Madeira and reduce by 2/3rds.
Add Demi glaze and reduce to approximately 9 oz.
Taste and adjust seasoning.
Strain and keep warm.
To Complete All Items
Season and sear off filet steak and cook to preferred doneness.
Sauté baby spinach in olive oil till wilted; season with salt and pepper.
Squeeze out excess liquid and keep warm.
Score foie gras and sear both sides, insuring it is warm throughout.
Deep fry rosti potatoes finish with salt and pepper.
To Plate
Place two rosti in the center of each plate.
Top with spinach and then the filet.
Garnish top of filet with foie gras and pour sauce over top of this.