How an Old School Chef Is Reinvigorating Austin Icon The Driskill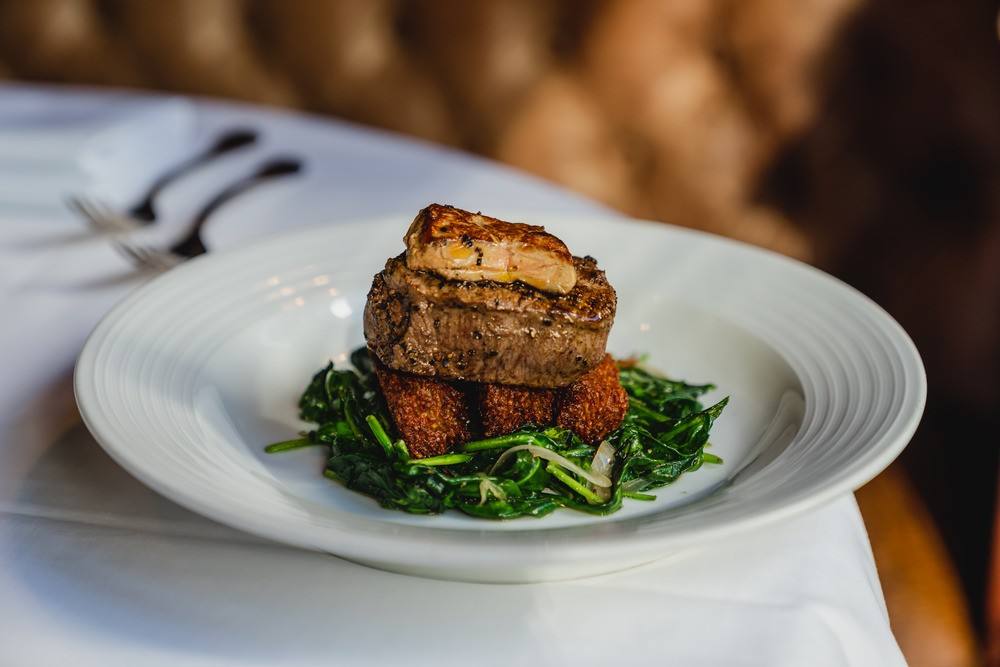 Chef Dayanandan's Tournedos Rossini, Photo Courtesy Jane Yun
Unabashedly old school, Austin's historic The Driskill Hotel has played host to the Texas capital's finest dining since 1886.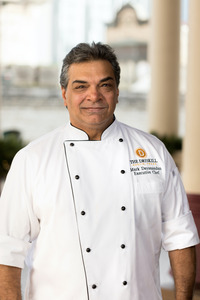 The iconic downtown hotel also recently reopened its renowned The Driskill Grill, attached to The Driskill Bar, with its decidedly masculine, unapologizing Texas motif—think comfy overstuffed leather couches, an ornate, tin-tiled ceiling, cow-hide-upholstered chairs and a longhorn cattle head surveying it all. The Driskill Grill has that same nostalgic feeling as the Bar, just add fine white linen and silverware. 
As authentic Texas goes, it doesn't get much more Lone Star State than this: President Lyndon B. Johnson and Lady Bird even had their first date here. 
It also doesn't get more old school than these time-honored menu favorites: oyster Rockefeller, lobster bisque and steak tartare for starters, with mains such as tournedos Rossini or filet mignon with foie gras, sauteed spinach, duck fat rösti and truffle sauce.
Overseeing all culinary operations at the 189-room hotel, Executive Chef and Food and Beverage Director Mark Dayanandan has worked kitchens from Norway to New Orleans during his 25 years at the top of the hotel F&B management chart and is now charged with the success of The Driskill Grill, which recently reopened following a major renovation of the entire property.
[Related: Barnsley Resort Chef Javier Cuesta Informs Southern Cuisine With French Technique]
"It's one of three outlets we have in the hotel and the last to reopen," Dayanandan said. "The Driskill Grill certainly has a history, as the hotel does, and when we brought it back, we wanted to bring back that old school feel of it. But we have some more up-to-date dishes, too, if you will, and that also works well with the atmosphere."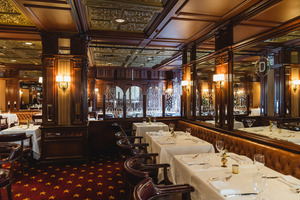 The Driskill also offers the 1886 Cafe & Bakery in addition to a robust meetings and weddings business.
Having started his culinary career at the age of 15 after moving to Canada from London, upscale hotel culinary operations is quite literally in Dayanandan's blood, as his father was an executive chef at a hotel and his brother is also a hotel chef. Dayanandan has risen to the top of his craft, having been a critique for the prestigious Escoffier Society of New York Gala dinners for the past 20 years, and boasts experience in six countries as well as stints with the Omni and Hilton hotel companies.
"When we were younger, we got an opportunity to get a job and we got a job," Dayanandan said of getting his start in the culinary arts. "I got a job as a busboy in a kitchen, and it wasn't the food that got me interested, it was more of the exciting atmosphere in a hotel kitchen that excited me. I've always thought that a hotel was a phenomenal place to learn and train because we do so many different things—breakfast, the employee cafeteria, the dining room…"
Group Offerings
While both The Driskill Grill and Bar promote that air of old school exclusivity, Dayanandan is also mixing it up via his mentorship of two rising stars in his kitchen, Sous/Restaurant Chef Clifford Benavides and Pastry Chef Kristen Groth. 
"We kind of balance off of each other," Dayanandan said of Benavides. "I help him with the classics. My training is as a classical chef and his training plays well with modern dishes, so we have a nice balance. And I have a phenomenally talented young pastry chef, Kristen Growth, who is very gung-ho and creative and loves to play, such as her ox tail beignet on top of the tenderloin."
[Related: Anaheim Convention Center Chef Sets Tables for Thousands]
Because of the hotel's relatively small size and large culinary staff, Dayanandan said it can offer groups refined, highly customized menus that larger, less luxe properties can't, although he has served an event for up to 650 guests on the hotel's second-floor space. The property offers a total of 18,000 square feet of meeting space.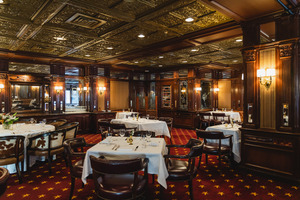 "We have a menu for banquets that we're very proud of, but we're able to flex a lot more and do more custom," Dayanandan said. "Tell me what it is you'd like to do—we can build a menu for you. It gives us an opportunity to play. I have a culinary department that doesn't want to do same-old, same-old, so we'll do the research and make sure we can do the dishes, such as ethnic dishes, as authentic as possible and have fun with it. I've been doing this for more than 40 years, so I like to be creative and always have fun with it."
He added that because the property is such a Texas icon, it of course offers cuisine that is closely associated with the Lone Star State.
"On our banquet menu, we have some specialty items; because we're in Texas, we have a Texas quail stuffed with chorizo en croute," he said, "and we try to use as much local seafood as we can, such as shrimp out of the Gulf. We also have a barbecue buffet, but we try to make it our own by smoking our own brisket. We also have items on the menu that we've had for many, many years." 
For chef Dayanandan's popular Tournedos Rossini recipe, a decadent French steak dish, visit www.MeetingsToday.com/recipes.
Learn about more Meetings Today Top Chefs: www.meetingstoday.com/top-chefs.