Historic Eastern Canada Event Venues That Feel Fit for Royalty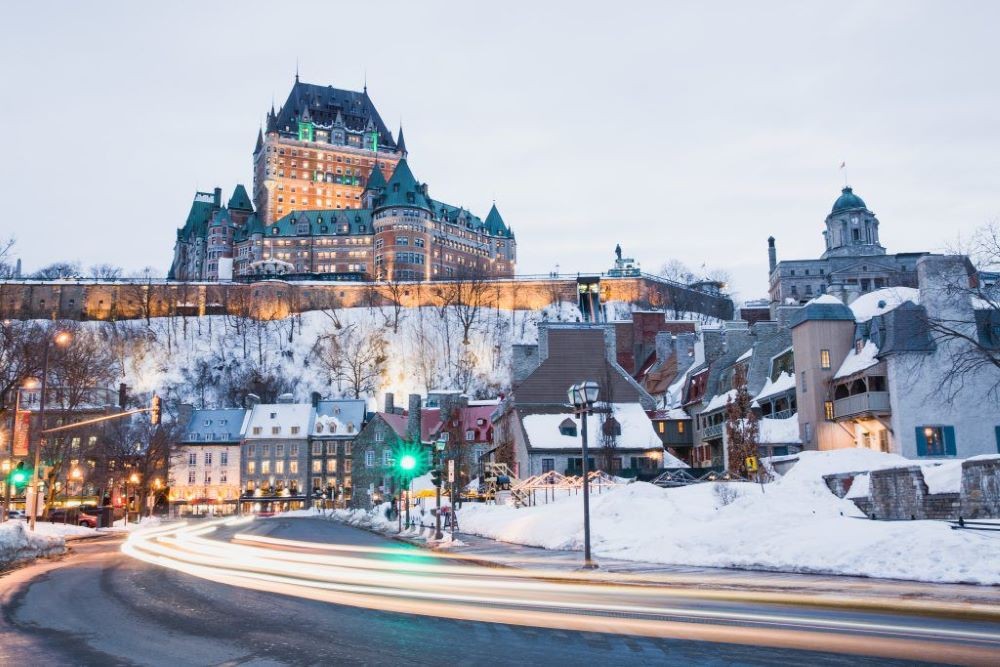 Fairmont Le Château Frontenac
From towering hotels perched on hills high above city streets to quaint and nostalgic properties that take you back in time, Eastern Canada's historic offerings feel fit for royalty.  
Prince Edward Island 
Located on Canada's east coast and spanning 174 miles between its easternmost and westernmost ends is Prince Edward Island (PEI), the country's smallest province surrounded by the Gulf of St. Lawrence and the Northumberland Strait. In 1864, a small group of elected officials gathered in Charlottetown, Prince Edward Island, to meet and discuss the possibility of uniting three Maritime jurisdictions.  
"Representatives also appeared at the conference to raise a broader issue and sew the seed of a concept to establish a larger union and create a country," said Susan Freeman, executive director of Meetings & Conventions Prince Edward Island (MCPEI). "The historic event of 1864 led to the founding of Canada."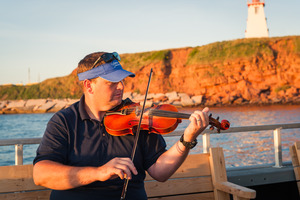 Prince Edward Island has decades of history to explore, leading back to the founding of Canada as a country itself, and for more than a century, people of Indigenous, French, English, Black, Acadian, Irish, Scottish, Lebanese and other cultures have called Prince Edward Island home, making for a melting pot of unique destination stories and experiences to immerse groups in PEI history.  
The Mi'kmaq, recognized as the Indigenous people of Prince Edward Island, know the island as Epekwitk, meaning "something lying on the water," according to MCPEI. To this day, Epekwitk remains home to many Mi'kmaq and is part of Mi'kma'ki, the wider homeland of the Mi'kmaq in Atlantic Canada. Plus, the island's easy access to the Atlantic Ocean provides some of the freshest seafood in the world, from PEI-cultured blue mussels to oysters and fresh lobster, and its aquaculture industry is another way to immerse groups in the destination, its culture and its history. 
"It creates some of the most authentic experiences for conference attendees to take part in, such as The Fiddling Fisherman's experience on his lobster boat in the harbor of Souris, where guests get to enjoy hauling a lobster traps from the ocean floor, picking out their lobster and watching it cook in ocean water while they are being entertained by a lobster fisherman fiddler that has traveled the world," Freeman said. "There are so many experiences just like this for people to enjoy when they host a business event, conference or incentive group on the island." 
Between the first of May to the end of June 2023, MCPEI will welcome more than 5,000 meeting attendees, many of whom are attending national and international conferences on PEI that are seeing record attendance numbers, Freeman said.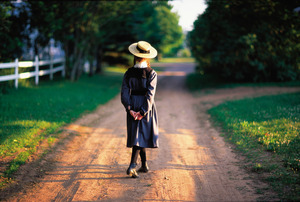 "Some may say we are an emerging destination," Freeman said. "I think the rest of the world is finally starting to realize the value of how Islanders gather island-style!" 
One historical way to experience PEI is by gathering at the Confederation Centre of the Arts, founded in 1964 as Canada's National Memorial to the Fathers of Confederation, the same group who gathered at Province House 100 years prior to discuss and create the country. Covering an entire city block, the Confederation Centre of the Arts stands on what once was the site of the old Charlottetown marketplace and is within walking distance of hotels, shops and restaurants. 
The Centre is a full-service rental facility offering a 1,106-seat theater, a 200-seat cabaret-style theater, two studio theaters, an art gallery, boardroom and Memorial Hall. The facility serves as the home of the Charlottetown Festival, the largest musical theater festival in Atlantic Canada since 1965, and features performances including Anne of Green Gables: The Musical, returning in 2024 for the 150th anniversary of author Lucy Maud Montgomery's birth. 
Also in Charlottetown, situated within the National Historic District, is a unique cluster of restored heritage buildings, The Great George, an award-winning, historic boutique property unlike any other offered in Charlottetown's downtown area. The Great George offers 54 decorated lodgings across 17 restored heritage buildings featuring an eclectic mix of classic and deluxe guest rooms, one-bedroom suites, multi-room townhouses, luxury condos, romantic hideaway suites and more.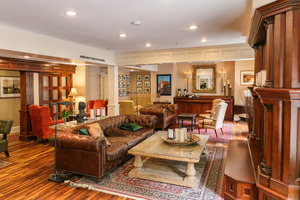 Originally built in 1846, the property was purchased by a merchant named Henry Haszard a few years later and named The London House, where he sold the era's necessities including parasols, corsets, boas, tea caddies, nails and groceries. In 1857, Haszard remodeled the property into a hotel called The Pavilion, which hosted some of the delegates from the 1864 Charlottetown Conference.  
More than 120 years later, the property was restored to its original glory, offering a historic experience in Prince Edward Island for groups to learn about the destination's past while meeting in some of the island's most unique offsite venues. The Confederation Boardroom is the property's largest meeting space and was renovated in 2021, while the Wellington Lobby in the hotel's Wellington House provides a private and quiet location for smaller, more intimate gatherings.  
[Related: Expert Tips for Bringing a U.S. Meeting to Canada]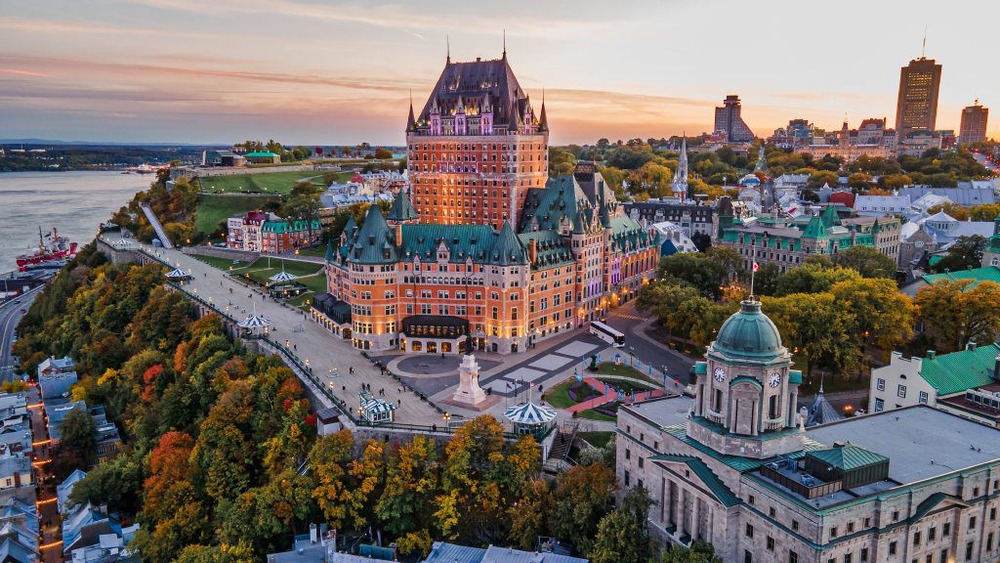 Québec City 
Winding city streets that twist and turn around storefronts and boutique hotels reminiscent of a quaint European town make Québec City a unique destination for meetings and events. The city became a UNESCO World Heritage Site in 1985 and dates back to 1608 when French explorer Samuel de Champlain founded it on its cliff-top location overlooking the St. Lawrence River.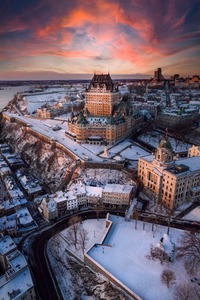 Inside Québec City's fortified walls lies more than four centuries of history to explore—so much that it can be difficult to decide where to start. But perched high on the hill overlooking the heart of historic Old Québec is its crown jewel—a castle, almost—said to be the most photographed hotel in the world.  
Fairmont Le Château Frontenac was built by the Canadian Pacific Railroad Company and first opened its doors in 1893, offering 170 guest rooms, 93 of which had bathrooms and fireplaces considered rare at the time. The hotel became a designated National Historic Site in 1981, and today it welcomes guests to its 18 stories of Châteauesque-style architecture and hundreds of years of stories to tell.  
"We opened our door before Alberta and Saskatchewan became a province," said Catherine Lapierre, senior sales manager of West Coast & Central U.S. corporate and entertainment sales for Fairmont Le Château Frontenac.  
The 610-room hotel is considered a landmark in the walkable city, where guests including Princess Grace of Monaco, Alfred Hitchcock, Paul McCartney and Celine Dion have all stayed. Fairmont Le Château Frontenac is also the site of the World War II conference at which D-Day was planned, and its list of contributions to history continues to grow. 
In 2020, Fairmont Le Château Frontenac, in partnership with Université Laval, created an agreement to make the property carbon neutral. The agreement made Fairmont Le Château Frontenac the first historic hotel in Canada to achieve carbon neutrality through: 
Planting trees to help maintain and improve the carbon capture capacity of Montmorency Forest
Creating a support fund for training and research in forest practices, contributing to the fight against climate change in Montmorency Forest
Creating a $10,000 masters scholarship
Supporting innovating projects that promote the sustainable development of communities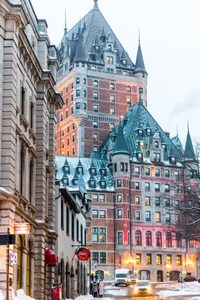 In 2016, Fairmont Le Château Frontenac organized its own program, château boreal, in which the hotel started planting a tree on behalf of each guest who forgoes housekeeping service for their room. By the end of 2020, château boreal had planted more than 5,000 trees in Montmorency Forest, and at the end of 2022, Fairmont Le Château Frontenac eliminated single-use plastics.  
But what makes the more than 400-year-old hotel sitting at the heart of the only fortified city north of Mexico so fascinating isn't its present, but its past and the nostalgic feeling that comes with walking through its hallways lined with mahogany paneling.  
The hotel was extensively renovated in 1993 and again in 2011, and has undergone a number of expansions since initially opening in 1893, including the addition of the Citadel wing six years later, the Mont-Carmel wing in 1908 and the Saint-Louis wing in 1920 and Tour Centrale (central tower) in the 1924.  
Fairmont Le Château Frontenac offers more than 40,000 square feet of meeting space suitable for events of up to 500 people. The 6,183-square-foot Château Ballroom boasts 10 crystal chandeliers representing the 10 provinces of Canada, high ceilings and grand windows on both sides of the room. 
The Place d'Armes Room located on the lobby level measures 1,683 square feet and can host 225 standing or 156 seated, and the 1,130-square-foot Salon Rose showcases the elegance and glamour of Fairmont Le Château Frontenac with its chandeliers, moldings, two decorative fireplaces and views that Winston Churchill, Franklin D. Roosevelt and Lyon Mackenzie King met for the Quebec Conferences in 1943 and 1944.  
[Related: On the Scene: Destination Canada's Legendary Winter Incentive Experience in Quebec City]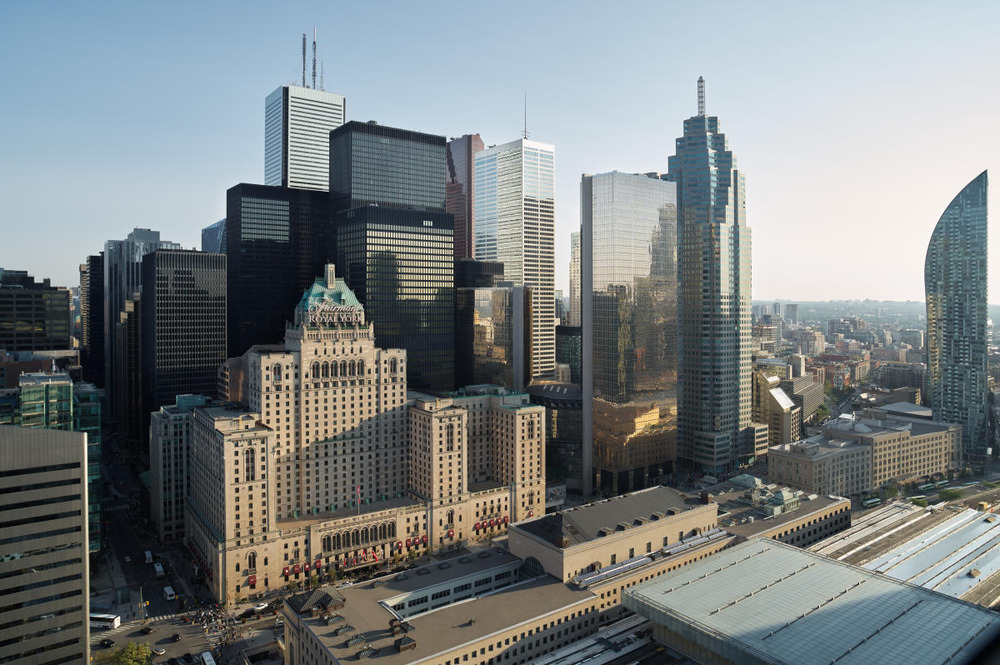 Toronto 
Since opening on June 11, 1929, Fairmont Royal York has remained an iconic and historical hospitality landmark in Toronto —once standing as the tallest building in the British Empire, hosting some of the city's largest events and welcoming guests that have included some of the world's biggest stars in fashion, television, film, business and royalty. Fairmont Royal York is named for the Royal Town of York, founded by John Graves Simcoe in 1793 and incorporated as the City of Toronto in 1834.  
When the hotel officially opened to the public in 1929, it boasted 1,048 guest rooms equipped with radios, private bathrooms and shower facilities, 30,000 electrical outlets and the largest hotel kitchen in Canada, with a bakery capable of producing 15,000 French rolls per day. The hotel's lobby clock has become one of the most well-known places to meet in the city.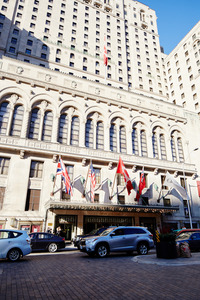 "During the Second World War, military personnel departing by train from Union Station would ask their loved ones to 'meet me at the clock' and would make plans to meet again at the hotel when they returned home," as stated in Fairmont Royal York's 90-year anniversary program. "This phrase has become synonymous with the property ever since."  
Groups can meet at the clock before heading upstairs to The Imperial Room, once a Las Vegas-style supper club room from the 1940s-1980s. The 5,991-square-foot space was once the most popular supper club in Toronto, hosting famous performers, including Tony Bennett, Ray Charles, Eartha Kitt, Tina Turner, Sonny and Cher, Ronnie Hawkins and Jim Carrey. 
In The Imperial Room, chandeliers replicating Louis XVI-style fixtures hang from the ceiling and are larger than the ones in the Hall of Mirrors at the Palace of Versailles. The space features a tiered setting, wood dance floor and permanent stage. Fairmont Royal York's 4,900-square-foot Ballroom—believed to be the most-photographed room in Toronto—exhibits an Italian influence and a painting of Venus on her swan chariot drawn by bulls, originally hand-painted on canvas and attached and sealed to the ceiling.  
Hotel guests exploring the main mezzanine can peruse the hallways for photographs of famous hotel guests and events throughout Fairmont Royal York's history, including portraits of Queen Elizabeth II and Prince Philip, Duke of Edinburgh. The mezzanine also opens to the British Columbia room, featuring eight totem poles carved by Canadian artist Arthur Price, which measures 1,150 square feet and sits 48 for boardroom meetings 90 for banquets or 160 standing.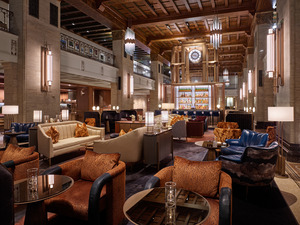 On the hotel's convention floor, groups can gather in the Canadian Room, which was the largest room of its kind in Canada when it opened in 1959 and once the setting of a 1992 gala dinner attended by Charles and Diana, the Prince and Princess of Wales. The 15,000-square-foot space is Fairmont Royal York's largest and has a capacity of 1,670 guests for a reception.  
Fairmont Royal York's 8,396-square-foot Concert Hall served as the venue for the hotel's inaugural ball the day it opened its doors in 1929 and once housed an organ from the renowned workshop of Casavant Frères of Québec, the only one of its kind in Canada, according to the hotel's website. Today, the hall features a soaring coffered ceiling, full stage and balcony with crystal chandeliers and arched windows overlooking the city, transporting guests back to the evening it all started over a century ago. 
[Related: Destination Canada Announces City Additions to Global Destination Sustainability Index]
Notable Guests at Fairmont Le Château Frontenac 
Charles Lindbergh 
Alfred Hitchcock  
Princess Grace Kelly of Monaco 
Queen Elizabeth II 
British Prime Minister Winston Churchill 
Franklin Delano Roosevelt 
Canadian Prime Minister William Lyon Mackenzie King 
Theodore Roosevelt 
Jimmy Carter 
Richard Nixon 
Ronald Reagan 
Sting  
Celine Dion 
Leonardo DiCaprio 
Angelina Jolie
Paul McCartney 
Read this next: 7 Tips for Bringing Meetings Materials to Canada and Mexico