Colorado Convention Center Expansion Highlights: Big and Small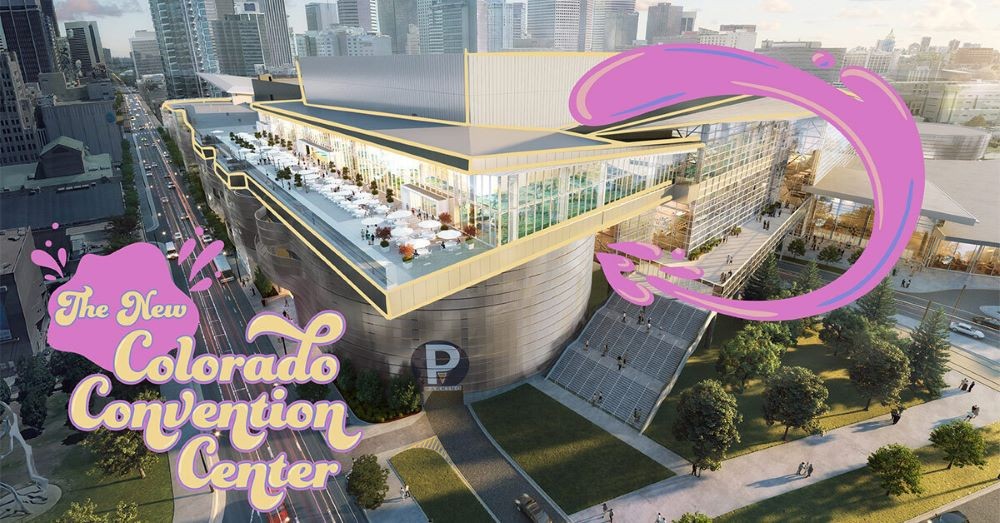 Since its opening in 1990 in the heart of downtown Denver, the Colorado Convention Center has proven to be a huge success, hosting more than 250 events every year. With an expansion set to open in late 2023, this premier event-hosting facility is primed to reach new heights, entering its most anticipated and in-demand era ever.
Sure, that sounds like typical hype. But we promise this is different. It's different because we listened to meeting planners. You told us how much you loved the first expansion in 2004. You loved it for its 2.2 million square feet. For its upgraded meeting space and 5,000-seat theater. You loved it for its own stop on Denver's Light Rail transportation system. You even loved it for its parking garage.
We took that feedback to heart with the center's newest rooftop expansion. We're adding more square feet and better meeting spaces. We're also adding the little things that only a meeting planner might notice, but that everyone will love.
With that said, here are the expansion highlights—both big and small—that you can look forward to at your next meeting in Denver.
Big Thing: Multi-Function Ballroom Space
For those who are inspired by flexible spaces, let us introduce the signature feature of the Colorado Convention Center expansion: the multi-function ballroom space. It's 80,000 square feet, to be exact, and capable of 19 breakouts with an endless number of configurations. In its largest configuration, the column-free ballroom comfortably holds 7,500 attendees for a general session or 4,600 guests for a catered event. We told you it was big.
Little Thing: Best-in-class HVAC System
While the average attendee might be distracted by the size of the multi-function ballroom, a convention veteran is meticulously examining the venue's duct work. That's where they'll find a state-of-the-art HVAC system, installed to improve indoor air quality, conserve energy and decrease the presence of illness-causing germs. Because you can't enjoy the over-the-top ballroom if you're under the weather.
Big Thing: Pre-Function Concourse
A lot of attendees get so caught up in the function that they forget about the pre-function. We know that the real networking is done between sessions, so we built a new wrap-around pre-function concourse featuring 35,000 square feet of comfortable, convenient space. With dramatic views of the Rocky Mountains, the pre-function concourse will be where the magic happens between sessions.
Little Thing: Custom Designed Blue Bear Carpeting
We had to find a way to bring the bright playfulness of the famous Blue Bear inside the convention center, so we went all the way to Poland to design and produce a one-of-a-kind Blue Bear-pattern carpet. You'll see the bold blue throughout the convention center, creating a lively environment no matter where attendees roam. And honestly, it was way easier than trying to fit the 40-foot tall, 10,000-pound art piece through the doors.
Big Thing: Rooftop Terrace
If attendees are able to take their focus off of the carpet, they'll walk through the accordion-style doors to find the best views in Denver. Connected to the new pre-function concourse is the 20,000 square-foot rooftop terrace, where the views of the Denver skyline to the east are only topped by the views of the Rocky Mountains to the north and west. Couple the jaw-dropping views with a full rooftop kitchen that's perfect for VIP tastings, and you have an event venue that makes a story.
Little Thing: Stain-Resistant Patio Flooring
It's entirely possible, even likely, that after experiencing the HVAC system and the custom carpet, the convention attendees will be in a state of euphoria. Unfortunately, that energy comes with consequences. Mainly, spills. But with our stain-resistant patio flooring, you won't have to worry about the effects of all of that extra enthusiasm. No harm, no party foul.
We listened, and we responded. We expanded with meeting planners in mind, bringing the same care to the bathrooms as we did the ballroom. That's why the Colorado Convention Center and Denver have become a beloved destination for conferences, conventions and meetings for businesses and organizations from around the country. Learn more about how the details big and small make a convention in Denver unconventional.
Sponsored by Visit Denver