These Three Under-the-Radar Cities Offer Abundant Group Options in Texas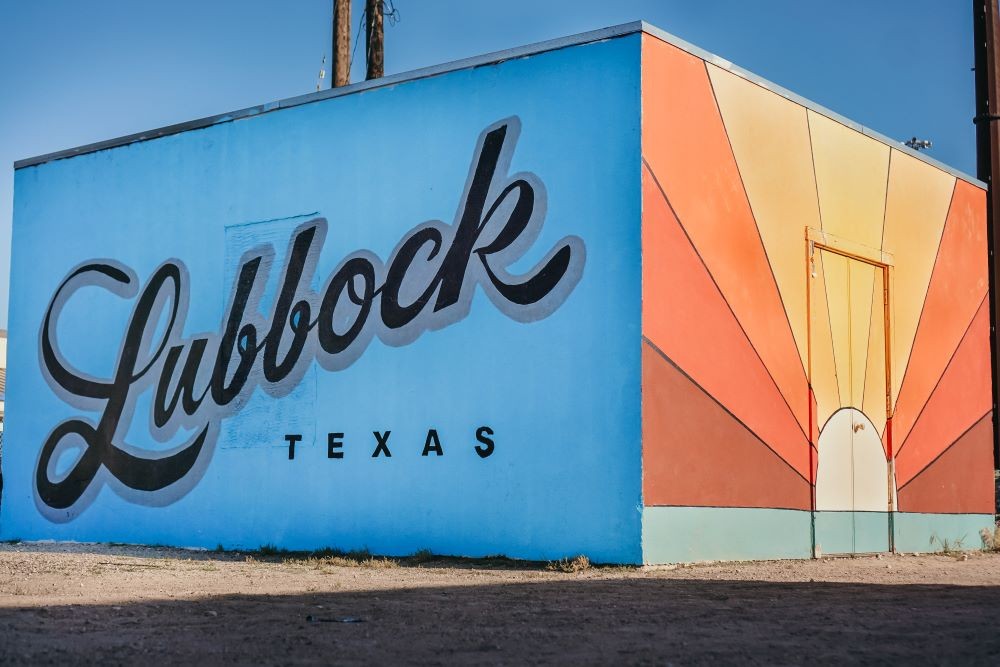 Lubbock mural. Credit: Visit Lubbock
Encompassing seven major regions, Texas has 700,000-plus miles of highway and spans 956 miles at its widest part. Whether crossing Texas west to east from New Mexico to Louisiana or north to south from Oklahoma to Mexico, count on 14 to 16 hours behind the wheel. "There is no simple recipe that can capture all of Texas," states Travel Texas of its current "Let's Texas" advertising campaign. "No two trips are alike—nor should they be. Texas offers the ability to personalize a trip to exactly a traveler's unique preferences." 
Planners and groups can likewise book far and wide. Texas has one of highest concentrations of CVBs in the U.S. and nearly 100 convention centers state-wide. Here are three destinations that represent the diversity of choices that Texas has to offer. 
From Ranching to Rock and Roll, Lubbock Is Tuned for Groups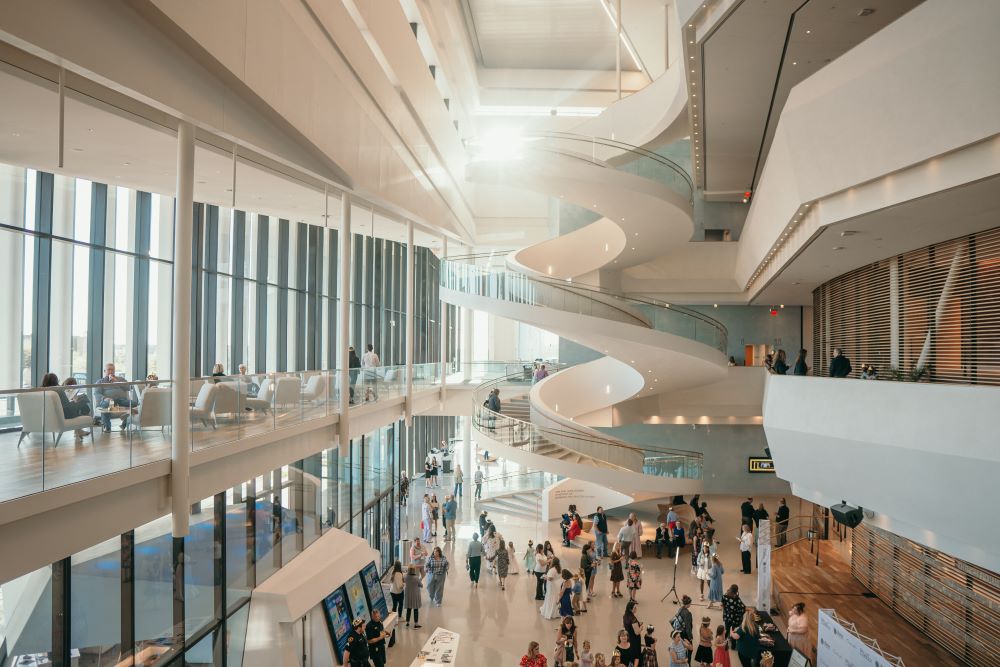 Established in the late 1970s in tribute to local son Buddy Holly, the West Texas Walk of Fame reveals the rich vein of creative talent running through the Lubbock region.  
Located across from the Buddy Holly Center, the Walk's star parade includes Waylon Jennings, from nearby Littlefield; country singer and businessman Jimmy Dean, raised in nearby Plainview; and saxophonist Bobby Keys, born at Lubbock Army Airfield, who toured and recorded with the Rolling Stones and all four Beatles. 
Today, the cultural heartbeat of centrally located and easily accessible "Hub City" pulses stronger than ever.  
The new Buddy Holly Hall of Performing Arts and Sciences is a dynamic stage for live music, Broadway shows and other entertainment. Elegant rentals include the 2,200-seat main stage and lobby, which features a 13-ton spiraling "funnel cloud" staircase commemorating the 1970 tornado that devastated downtown Lubbock. 
The tempo keeps rising as new developments further energize this storied West Texas High Plains frontier town. Downtown revitalization projects include The Valencia Group's Cotton Court Hotel. Group-capable National Ranching Heritage Center is slated to debut its new 10,000-square-foot Ranch Life Learning Center this October. 
"Lubbock's diverse portfolio of meeting and event spaces has established the city as a prime location to host your next group program," said Amy Zientek, director of sales at Visit Lubbock. "From hotel ballrooms to spaces that tell Lubbock's story, like the United Commons Patio at the American Windmill Center, we offer a wide variety of venues along with a plethora of immersive post-meeting activities including wine tastings, cooking classes, art activities and more." 
Speaking of wine, Lubbock is the gateway to the Texas High Plains American Viticultural Area (AVA). Covering some eight million acres, it's the second largest AVA in the state. Most grapes are grown within 30 miles of Lubbock. One notable destination is Llano Estacado, the state's second oldest winery from 1976, offering tours and tastings. 
"With the growth that is taking place across Lubbock, the impact of the tourism industry continues to be substantial," Zientek said. "We expect to see Lubbock tourism reach new heights in the coming years." 
[Related: 6 Storied Texas Music Venues for Special Events]
Art Animates Beaumont  
Adding to a diverse product set of convention and event venues, heritage sites and entertainment districts, the creative and cultural arts have significantly enhanced the group appeal of this accessible and affordable riverside city near the Louisiana border. 
Most visible is the flourishing public art scene. Since inception in 2017, the Downtown Mural project has produced more than a dozen eye-catching works and spawned the annual four-day Mural Festival in March. Described by the Beaumont Enterprise as the city's "colorful new welcome mat," the art extends to 71-plus traffic boxes and the airport. Leading group-capable cultural venues include the Art Museum of Southeast Texas 
This July, the City of Beaumont was officially designated as a Film Friendly Texas Community by the Texas Film Commission. Filming locations presented as part of the multi-step certification process include Riverfront Park, downtown Beaumont and Tyrrell Park. 
One of America's original boomtowns and now the 10th largest city in Texas, Beaumont was founded in 1838 with an economy based on lumber, farming and port industries. In 1901, the oil strike at nearby Spindletop launched the Texas energy industry. Groups can tap into this legacy at Spindletop-Gladys City Boomtown Museum.  
Forming the business-intensive "Golden Triangle" with neighbors Port Arthur and Orange, Beaumont's other group draws include the Ford Park Entertainment Complex, Crockett Street Entertainment District, Beaumont Botanical Gardens Center and Gator Country Adventure Park. 
[Related: 7 Texas Breweries to Tap for Your Next Event]
Conroe Continues to Cultivate Captivating Cachet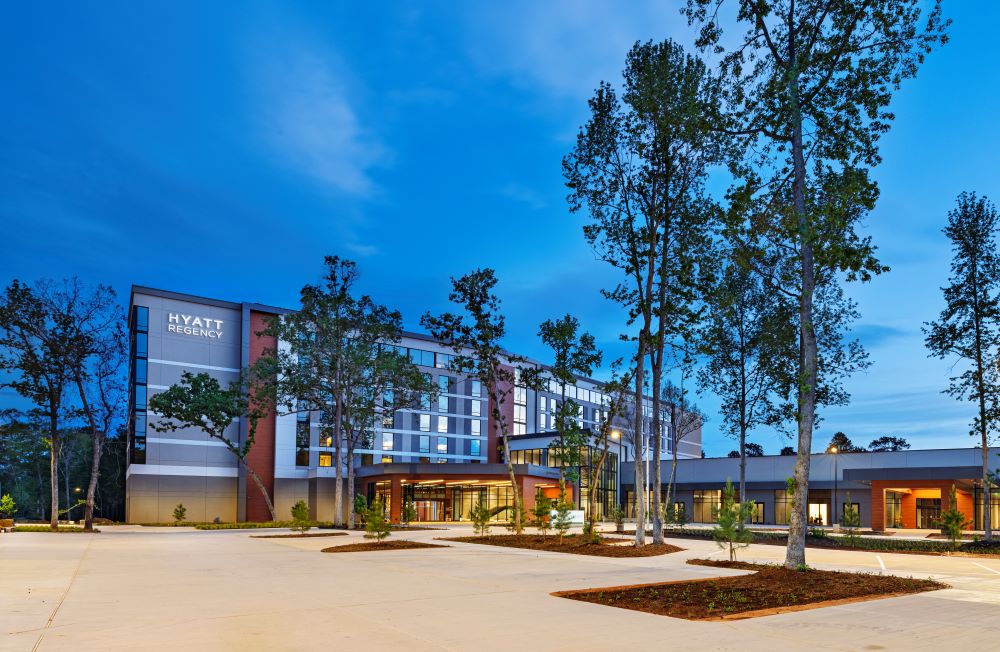 Established in 1881 and incorporated in 1904, Conroe offers a compelling mix of heritage and modern venues north of Houston.  
Built first on lumber and later oil, the city is recapturing its boom town legacy with the ongoing revitalization of the historic downtown area. In line with Conroe's designation as a Music Friendly Community, live music venues are a prominent neighborhood feature. Hot spots include the Red Brick Tavern, which performers have favorably compared to Nashville venues. Inspired by Houston's Majestic Theater, the storied Crighton Theatre (1935) is one of Conroe's oldest heirlooms, along with the 1946 Owen Theater.  
Bordered by 22,000-acre Lake Conroe, Sam Houston National Forest and W. Goodrich Jones State Forest, Conroe abounds in scenery. With 157 miles of natural shoreline, the massive lake is for outdoor recreation opportunities including fishing, boating, swimming, water sports and lakeside dining. 
Conroe's meetings appeal got a major boost in 2020 with the opening of the reimagined Margaritaville Resort Lake Conroe. Quickly becoming a hit with groups, the 335-suite lakeside property offers more than 72,000 square feet of IACC-certified space. 
The market gained yet more strength this year with the May 2023 opening of Hyatt Regency Conroe. 
Located off I-45 just north of The Woodlands and set within the tall pines of Texas Piney Woods, the upscale property offers 250 guest rooms including 13 premium suites with flexible workstations and plenty of natural light. Groups have 30,000 square feet of multi-functional space in eight meeting rooms and two ballrooms, plus two outdoor patios, for programs ranging from 14 to 1,000 people.  
Dining options at the hotel include Conroux, a full-service restaurant with indoor and outdoor seating and a menu that celebrates Texas Gulf cuisine with an homage to Vietnamese flavors. Amenities include an outdoor pool and 24-hour fitness center with technology-enabled cardio and strength training equipment. 
Another versatile large group venue is the sprawling Lonestar Convention & Expo Center and Montgomery County Fairgrounds.  
Billed as the third largest such complex in the Greater Houston area behind Houston's George R. Brown Convention Center and Reliant Park, the convention facility offers 56,000 square feet of indoor space plus 35 acres of open land for concerts, festivals and special events. The Expo Center is a 111,000-square-foot covered arena with permanent seating for 5,000 and additional seating for 2,500 on the arena floor. The fairgrounds offer another 45,000 square feet of exhibit space. 
Unique event venues include the charming 16-room Hill House and Farm. Dating from 1885 and set on 80 acres, this rustic retreat hosts and caters meetings, events and special occasions in transporting buildings such as two 1840s barns; the 150-capacity Reception Barn, originally from Pennsylvania; and 40-capacity Dining Barn from Canada. The Pine Hill Lodge is ideal for 20-person presentations and workshops, while the Garden is for 100-capacity outdoor gatherings.