A Bavarian Bank Reborn and Other Global Hotel Property News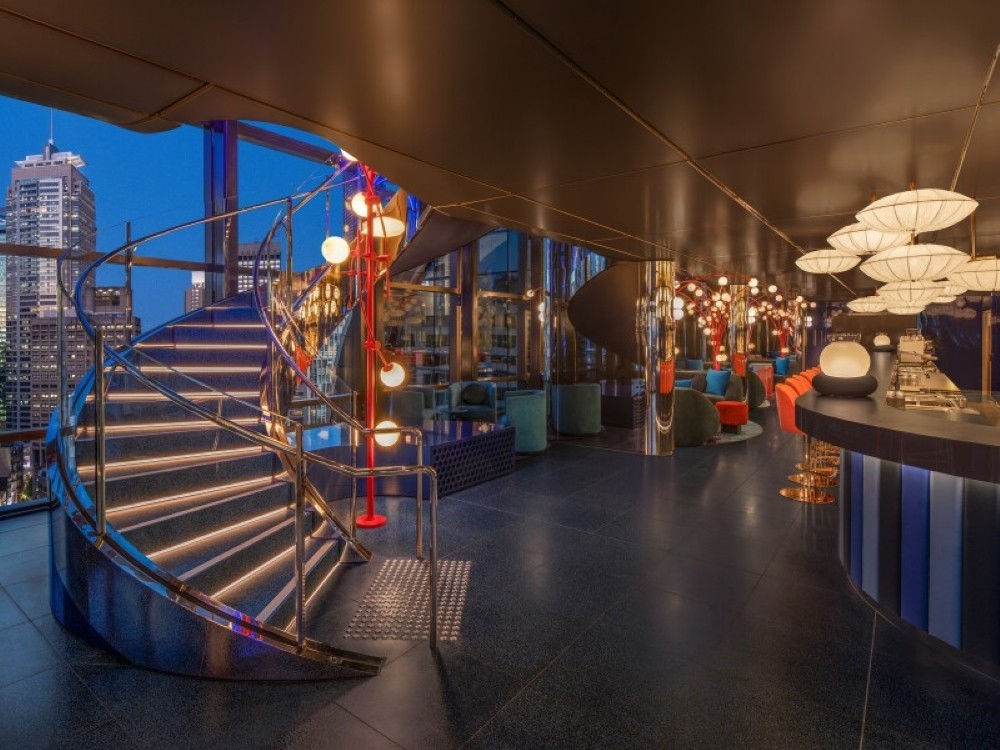 Australia  
Overlooking Darling Harbor in downtown Sydney sits the recently opened W Sydney. The uniquely shaped building was designed by the Australian architectural firm Hassell and boasts 588 guest rooms, including 182 suites. The interior of the space was designed by London-based design company Bowler James Brindley, who drew inspiration from the city of Sydney and its surroundings, as well as the commonly known Australian character of "larrikin," an Australian-English term often used in reference to a rowdy and mischievous-yet-good-hearted person.  
The hotel is located close to Sydney's International Convention Centre and features nearly 14,000 square feet of meeting and event space spread across eight rooms. On the fifth floor of the hotel lies the Great Room, featuring 6,372 square feet of event space and tall windows with views of downtown Sydney. Other amenities include four new dining and bar venues, the AWAY Spa featuring five treatment rooms, the FIT Gym and a nearly 100-foot open-air infinity pool. 
Germany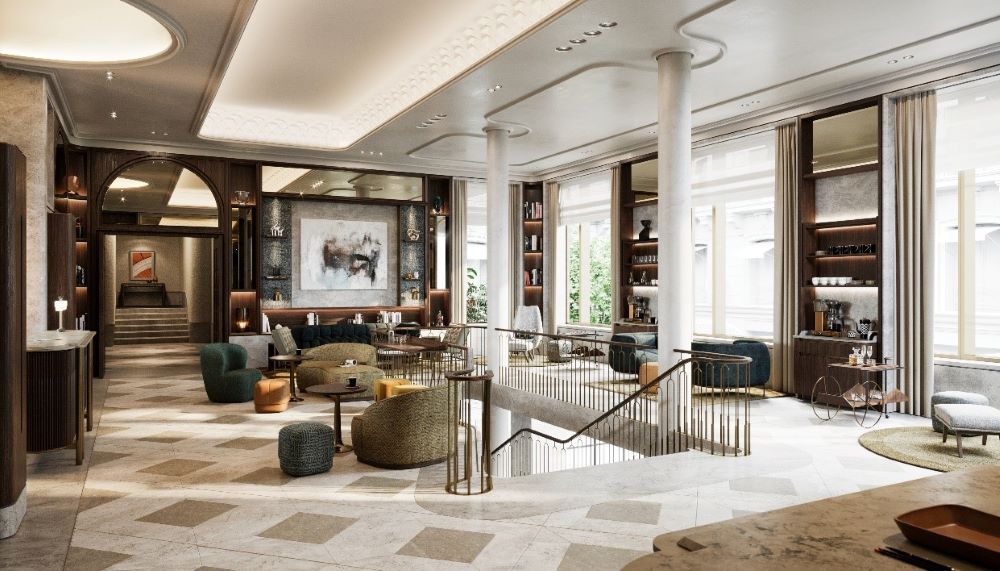 Located in Munich's city center, Rosewood Munich opened its doors as Rosewood Hotels and Resorts' first property in Germany. The hotel took over two buildings that formerly served as the Bavarian State Bank headquarters and a residence called the Palais Neuhaus-Preysing. Rosewood Munich features 73 guest rooms and 59 suites as well as five "houses" that encompass the property's signature suites.  
The restoration and preservation process of the two historic buildings now housing the hotel was led by the Munich-based architectural office Hilmer Sattler Architekten Ahlers along with London-based interior design firm Tara Bernerd & Partners. The hotel's design combines the Baroque and Rococo styles of the original buildings' architecture with new contemporary elements. Many remnants of the old bank building were preserved and maintained, including the staircase, vaulted ceilings and artwork.  
The property also boasts meeting and event spaces, all located in the former Palais Neuhaus Preysing building and designed by Tara Bernerd & Partner. The spaces feature several historically preserved elements. 
Rosewood Munich offers six event spaces total, including a 2,519-square-foot Grand Ballroom, a historic junior ballroom and four flexible breakout rooms. Both ballrooms offer outdoor space. With over 6,450 square feet of indoor meeting space, Rosewood Munich can cater to all types of gatherings, from corporate meetings to intimate social celebrations.  
Italy 
The Taiwan-based chain of Avani Hotels & Resorts recently announced the expansion of their European portfolio with the launch of Avani Rio Novo Venice. The property is located in Dorsoduro and offers views of its bridges and canals as well as access to local and authentic eateries. The hotel features 144 rooms and suites that boast views of Venice and the city's iconic sights.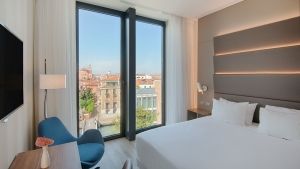 The property also features 8 Millimetri Cicchetti & Wine, a cinema-themed restaurant that can be combined with ground-floor meeting and event spaces to create an extended venue. The hotel's event spaces are named after well-known Italian film directors and can accommodate up to 130 attendees.  
Avani Rio Novo Venice also offers a collection of experiences for guests and attendees in addition to putting them within walking distance of a number of local sights and attractions. Those interested in wellness can begin the day with a morning run around the city led by a local jogger along a designated route. Guests with an affinity for art can take part in creating their own masks under the guidance of one of the city's best mask-makers and others can participate in a Murano glass workshop to experience the craft of creating glass beads.   
Scotland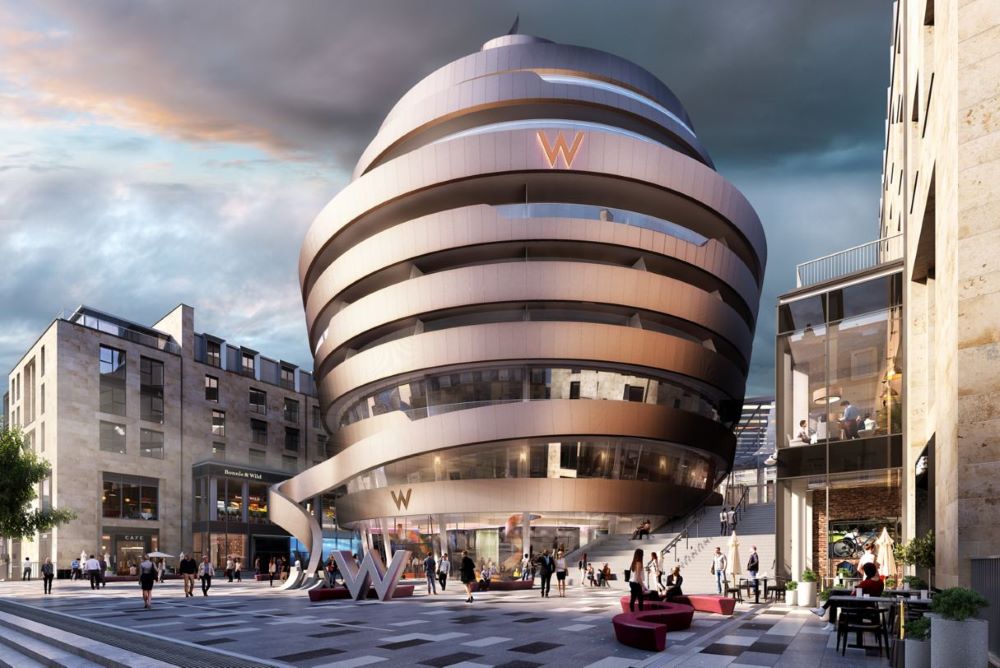 Situated in the heart of St James Quarter in Edinburgh, the W Edinburgh hotel recently opened and marks the W Hotels brand debut in Scotland. The hotel offers 199 rooms and 45 suites, many with outdoor terraces overlooking downtown Edinburgh. Highlights of the property include the W Lounge, SUSHISAMBA restaurant, Joao's Place cocktail bar, chef's table and outdoor terrace, offering 360-degree views of Edinburgh.  
W Edinburgh will provide two levels of modern meeting and event space, including five meeting rooms with over 3,000 square feet of flexible and versatile space, along with WIRED, a 24-hour business center. Other amenities of the property include the AWAY Spa with four treatment rooms and a fitness center with Technogym equipment.