Why You Should Attend

There's much to experience when you join Meetings Today LIVE! in Hawaii – a fully-hosted buyer event for qualified planners at the amazing Hilton Waikoloa Village.

All networking and off-site activities, round-trip coach airfare, ground transportation, hotel accommodations, food & beverages are covered! You'll also receive CEU credit for attending our education session. 

Pre-qualified planners will participate in a minimum of 20 one-on-one appointments to create new business opportunities.

If you have any questions about the event, contact Victoria DeSilvio at Victoria.DeSilvio@meetingstoday.com or 954-707-9821.
Meet Suppliers One-on-One
OFFSITE TOURS & ACTIVITIES

The venue
Kohala Coast, Hawaii | Hilton Waikoloa Village
A special thank you to our host hotel and sponsors.
Speaker
Earn an hour of education credit toward your CMP!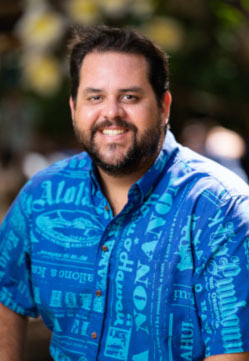 Speaker: Kainoa Daines, senior director of brand for the Hawai'i Visitors & Convention Bureau
Presentation: How to Embrace a Destination's Culture to Create an Enriching Meeting Program
Daines will leave his listeners with the following takeaways: 
 Understand what lies beyond typical function rooms and how to provide a real "wow" experience at your meetings.
 Embrace the cultural elements of the destination and learn how to include them into your event.
 Experience a destination that provides a natural component of historical significance through cultural practices and learn how to communicate that to attendees.
 Learn how delegates can engage with the indigenous culture through Mālama Hawai'i, the HVCB's corporate social responsibility program.
Daines understands the need to find a home for meetings and events, but in order to do so, you first need to get to know your destination—the home for your meeting—to effectively welcome others inside. Daines knows Hawai'i as both his home and a home for meetings and events, his front door is open and he is ready to welcome you to better understand what makes Hawai'i and its culture special. 
 
Read more about Kainoa.
TESTIMONIALS
Meetings Today has proven to bring in highly qualified meeting planners, and in fact last year we booked a group from a planner at their event that resulted in over $1 million in revenue for our resort!  It's clear that Meetings Today's audience of meeting planners is highly qualified and includes the strongest producers. 
-Marriott Waikoloa Resort & Spa, Host Hotel
The format was intimate and allowed for great connections and conversations. I walked away with RFOs and friends for life.
-Norma Charette, Supplier
Great schedule, interesting suppliers with unique solutions, educational offerings were relevant.
-Kathy Schacht, Attendee
I enjoy the SIZE of this event and the mix of business and social
-Dana King, Attendee
Supplier information
Complimentary meals, education and social events.
Interested suppliers should contact John DeCesare at john.decesare@meetingstoday.com or 201.970.1462.
A minimum of 20 one-on-one appointments with planners pre-qualified as having an RFP or sourcing.