The Most Exciting New Developments in Milwaukee Right Now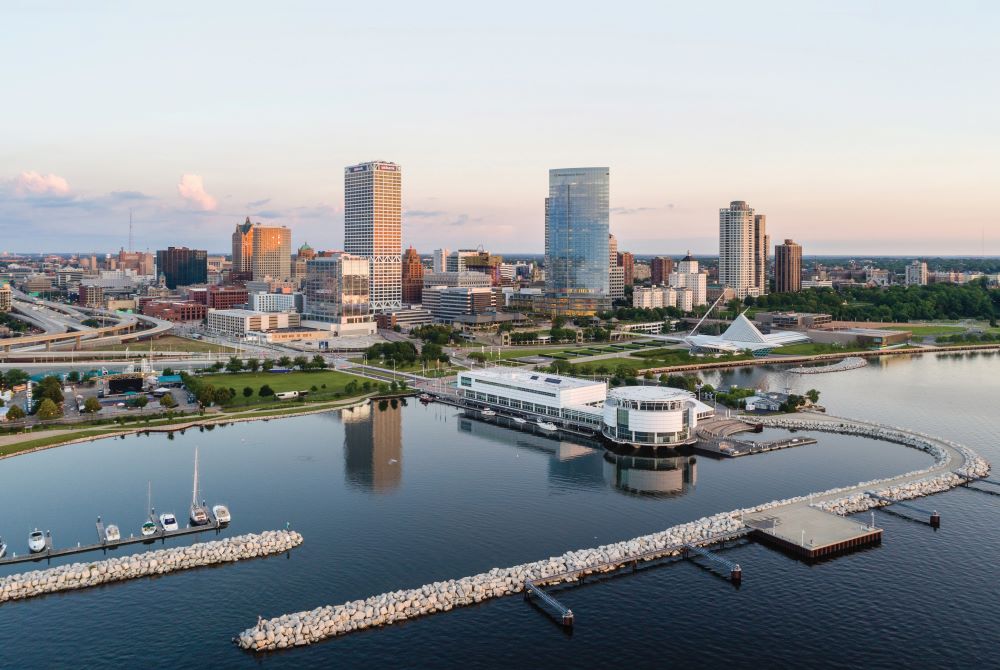 Meetings Today catches up on the latest events and development news in Milwaukee with Leslie Johnson, vice president of sales and services for VISIT Milwaukee. We discuss the highly anticipated Wisconsin Center expansion, what the city's various entertainment districts can offer groups, and new hotel openings on the horizon. 
Listen to the episode, or read the transcript below.
Transcript
Danielle LeBreck: Welcome to the Meetings Today podcast. I'm Danielle LeBreck. Today we will be putting a spotlight on Milwaukee. Milwaukee is the largest city in Wisconsin and is really a thriving meetings and events destination right now that continues to develop its portfolio of venues while offering a great variety of attractions, food and beverage options, and more. Here today to share with us some of the latest news in town is Leslie Johnson, who is the vice president of sales and services at VISIT Milwaukee. Welcome, Leslie. And thank you so much for joining us today.
Leslie Johnson: Thank you so much for having me. It's a pleasure to be here.
Danielle: There are a lot of new and exciting developments happening in Milwaukee right now, including an expansion that's underway at the Wisconsin Center. To start us off, can you tell us a little bit more about what we can look forward to when this expansion is complete?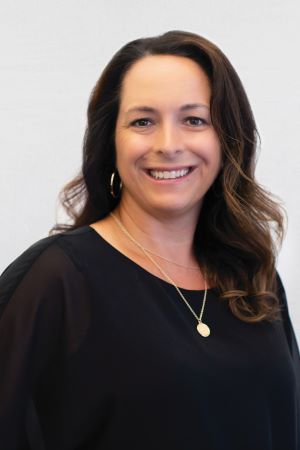 Leslie: Absolutely, yes. We are very excited to have our convention center expanding here in Milwaukee. You know, we already had an amazing convention center campus with three outstanding facilities. But we know that our planners want and deserve so much more than that. So, with this expansion, we'll be able to provide more space for larger and stimulating events, more flexible areas to accommodate events of all scales, more access for loading and unloading, and also more modern facilities to inspire innovation. These are all the things planners will see in this expansion, which will be completed in 2024. Probably the second half of the year is what we're targeting right now. 
It will be nearly doubling in size. Once complete, it will be at 445,000 square feet of total convention space; 300,000 of that will be in our continuous exhibit hall space. We're going to be adding a rooftop ballroom with an outdoor terrace overlooking downtown Milwaukee, which I'm really excited about; adding an additional 24 breakout rooms; 400 indoor parking spots that we know is important when you're visiting us here in Wisconsin in those winter months; as well as six new loading docks to make it easier for the load in and load out for our planners. 
For those planners that did not or could not consider Milwaukee before, this is the time to give the Wisconsin Center District a second look for sure.
Danielle: And I know that Milwaukee has also seen development in terms of its districts and neighborhoods, and especially around areas such as the Deer District, the Pabst Brewery District and Bronzeville. I'm wondering if you could tell us a little bit more about those districts and the venues and after-hours options that they can offer to attendees in town.
Leslie: Oh, absolutely. This is one of the things that I'm so excited about for our city, to see these districts coming to life. First off, I'll talk about the Deer District that many people may have seen during the Bucks championship win. You saw a sea of people outside of the Fiserv Forum, and that's the area that we consider the Deer District. It is one of the hottest new areas in Milwaukee to eat, drink and play. It's built on 30 acres surrounding the Fiserv Forum, and as I mentioned, the home of the 2021 NBA champions, the Milwaukee Bucks.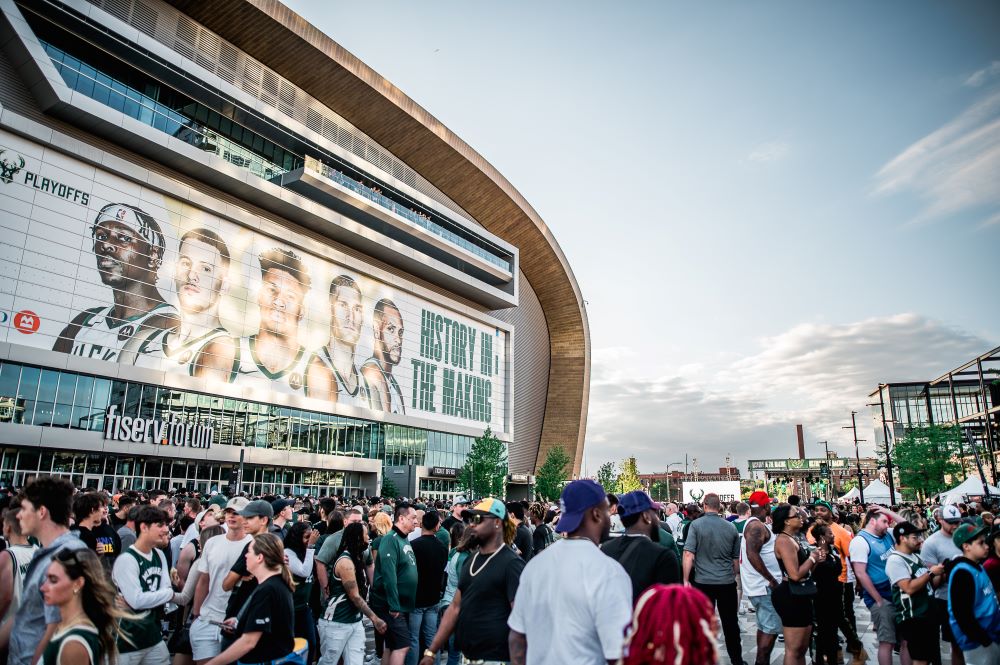 Within the Deer District, it's filled with restaurants, entertainment events, and venues. First, I'll talk about GATHER. This is a new venue located above a local craft brewery called Good City Brewing which has great views of the Fiserv Forum. It also has an outdoor beer garden—beer gardens are really a big thing here in Wisconsin, we love our beer gardens. It's on the district's plaza and it features craft beers as well as a giant television screen so people can gather outdoors, enjoy camaraderie with one another and watch whatever sporting event they're showing on the big screen there.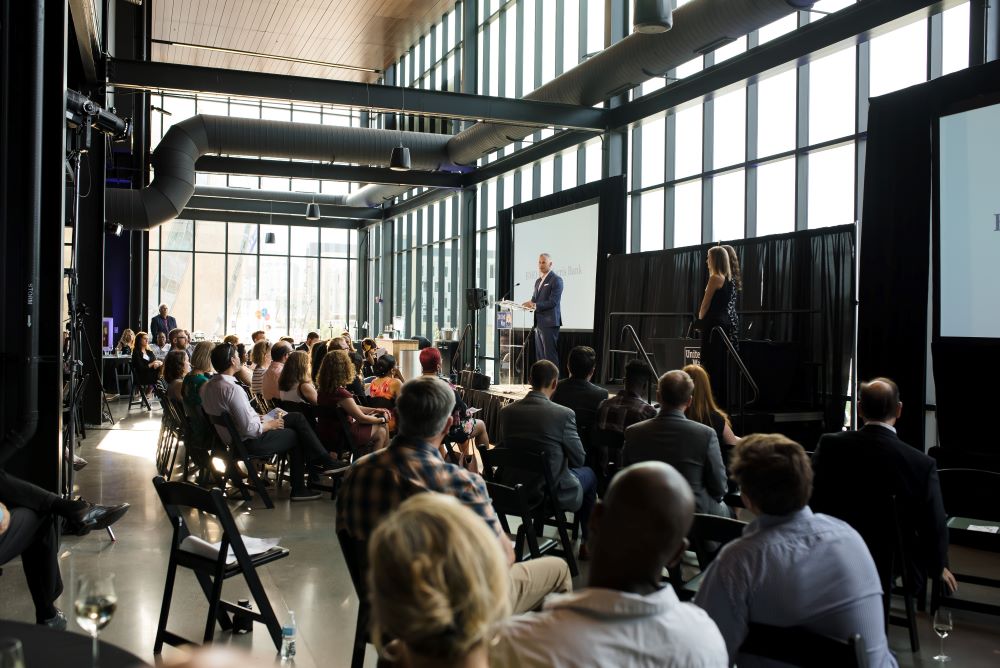 We also have the Mecca Sports Bar and Grill. This has a 42-foot-wide high-definition screen down in the main room of this restaurant. It also hosted Wisconsin's inaugural eSports summit just a few months back so this is also a restaurant that serves as a great venue spot. 
Then again, of course there's the Fiserv Forum. It's home of the Bucks. It's an arena that has hosted everything from concerts to large bands. Just recently we hosted the first and second rounds of the NCAA [basketball] championships. It has hosted comedy shows. Many planners have started to use it to host part of their meetings. 
Then we have the Pabst Brewery District. It's just steps away from Deer District in the 21-acre historic Pabst Brewing Company campus that has been revitalized and rebranded as the Brewery District. It's now home of craft breweries, restaurants, offices, indoor spaces, art incubator and so much more. A couple of the locations to highlight here. The Best Place at the Historic Pabst Brewery offers a fun beer history tour as well as historic indoor and outdoor event spaces. Then we also have the Bottle House 42, which is an approachable modern restaurant plus event spaces connected to the Milwaukee Brewing Company, the rooftop bar, and the venue 42. 
Another unique spot in this neighborhood is Nō Studios, which is the creative hub and venue founded by the Oscar-winning Milwaukee native John Ridley. And what's great about this district it is also has a few lodging options that are all within walking distance of these great venues. We have two hotels there: the Hyatt Place Milwaukee Downtown and also the Brew House Inn and Suites which for anyone that is a beer lover. Your connoisseur would love this because it's located in the renovated former Pabst Brew House.
Next up we have the Bronzeville neighborhood This was most recently named one of The New York Times 52 Places for a Changed World. The Bronzeville neighborhood is right next to downtown Milwaukee and has seen quite a bit of redevelopment and even more to come. First, I want to talk about the America's Black Holocaust Museum. This opened just within the last few months with the mission of racial reconciliation and healing in addition to being a community gathering place. We also have On the Bayou, which was recently featured on "Restaurant: Impossible" for those that love to watch that show. It is a newly renovated dining establishment and has connected event space, which are both available for buyouts which many groups have taken advantage of.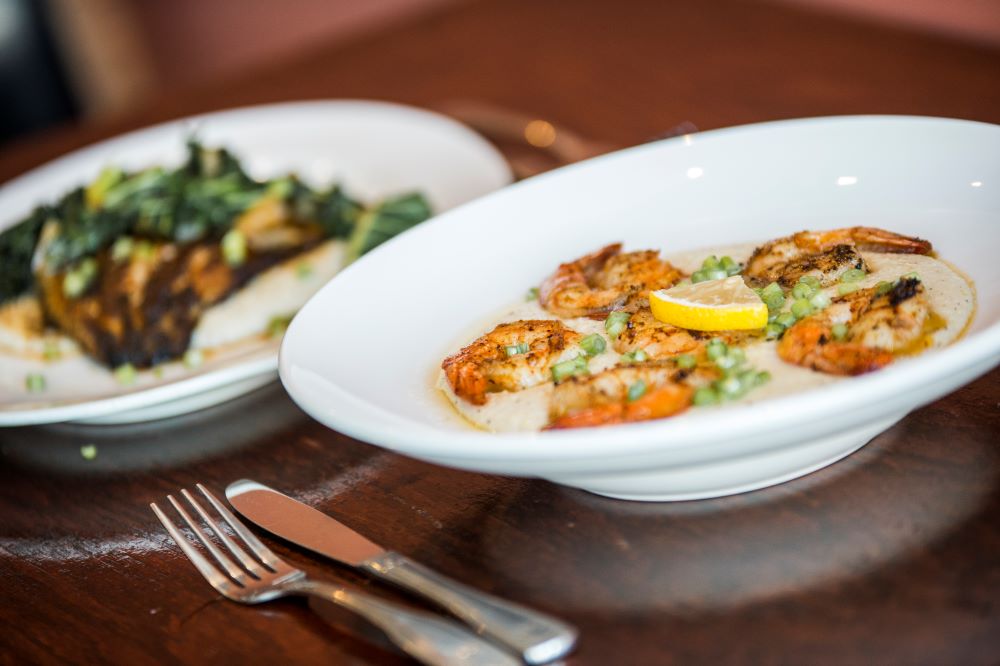 They've also opened the Jewels Caribbean, which is just made an official post-pandemic turn in a perfect spot in Bronzeville for dining with island flavor. In addition, there's an option for restaurant buyouts for events. 
Last, definitely not least, is the Bronzeville Collective. This is home to 25 Black, Brown and queer makers in the City of Milwaukee and beyond. It started as a pilot in the City of Milwaukee, sponsored a pop-up program with four local stores and has now grown to 25 local brands. Almost everything in this space is either handcrafted or designed by Black and Brown creatives, so it's a great place to do a little shopping. 
Last I want to talk a little bit about downtown as we continue to see some new developments here. The lovely restored Grand Warner Theater is now part of the new Bradley Symphony Center. Simultaneously an orchestra concert hall and two-level of venue with floor-to-ceiling windows overlooking Wisconsin Avenue. This space is absolutely stunning. 
We also have the 3rd St. Market Hall that just opened the beginning of this year. It features local food vendors; games such as shuffleboard, bags, and my favorite which is the Topgolf Swing bays. It also has a Selfie Museum in addition to hosting many locals in this space as well as convention goers. It's also going to have a number of private event spaces available in the coming months, which we know are going to be extremely popular with our planners. 
I know that I'm throwing out a lot of locations and sites and there's even more of them. Meeting planners should know that VISIT Milwaukee, of course, has a dedicated team of event professionals to help you navigate through all the options in planning and coordination.
Danielle: Right. I mean, so many amazing offsite venues for different special events, great after-hours options, it really seems like the opportunities are endless there. So that's all really exciting. I know in addition to a lot of this, Milwaukee is also welcoming new and renovated hotels and that's something that meeting planners are always trying to stay on top of and will be excited to hear about. What are some of the notable properties coming online soon in Milwaukee?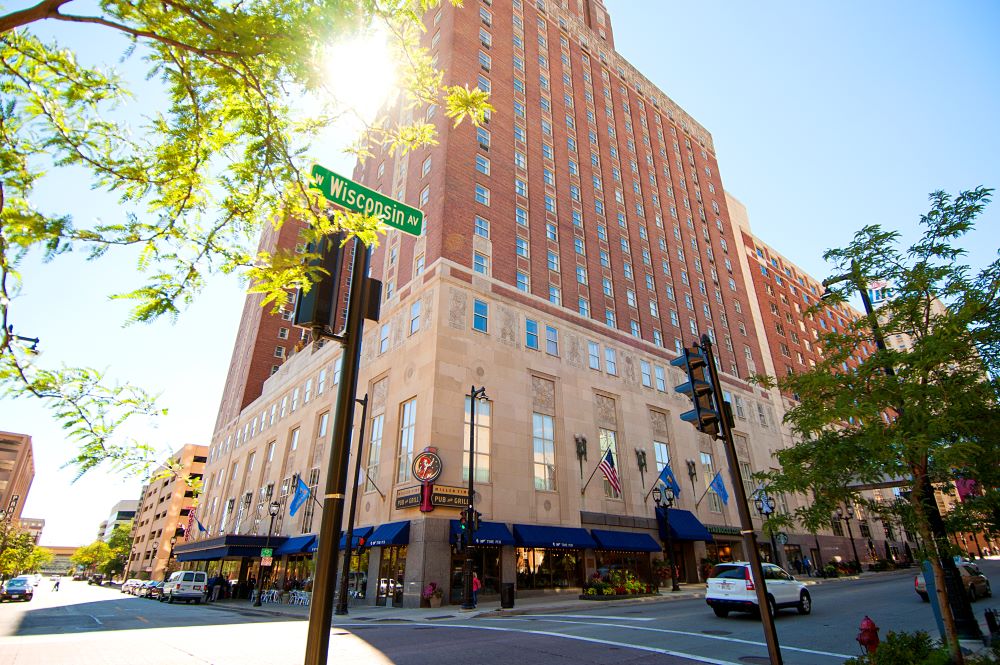 Leslie: We're so excited to see so many of these properties continue to move forward past the pandemic and continuing with openings. Right now we have over 6,200 hotel rooms in the downtown area. And we will be adding to that. Recently we had the Kinn Milwaukee, which is 31-room guesthouse. That's it's in downtown Milwaukee. They just had their soft opening, and we'll be looking forward to welcoming guests this summer. 
Next up would be the Trade Milwaukee, which is going to be located right next to the Fiserv Forum. This will be a 205-room hotel that we'll be looking to open in 2023. It's on track too, it's pressing nicely. Then we will have a Marriott Tribute Portfolio hotel. This will be 102-room historic Third Ward hotel opening in 2023 as well. Then we're going to have a Tempo Milwaukee downtown, which is going to be 155-room downtown hotel opening in 2024, which will be close to the expanded convention center. Then we have the Harbor Yards Hotel, which will be 150-room Harbor District hotel opening. We don't have a definite date [for opening] but looking for the next few years. And then we have the Icon Hotel Milwaukee Northside, which will be an 82-room Northside hotel opening in the next few years as well, we don't have a date there yet. 
So we're always excited to see the hotels are opening. And it's great to have some of the Marriott brand, a Portfolio brand, an Autograph Collection, some nice new product coming into the market.
Danielle: Yeah, that's great. As your team at VISIT Milwaukee looks ahead to the next year, what are some groups coming to a town that you're excited to welcome and how are they going to use some of these venues?
Leslie: We were excited to have a very active summer this year and a strong beginning to 2023. Coming up here in July of 2022, we'll be hosting the Cru National Staff training. This is a family friendly conference, so they're bringing all of their families here, they'll be hitting a lot of the museums, of course, enjoying the lakefront and all of the different venues and sporting activities that we have available on the water here, and will stay in and many of our downtown and as well as our airport and suburban hotels. With the majority of their events taking place with the convention center, they are very excited to utilize and enjoy a lot of the amenities of the city.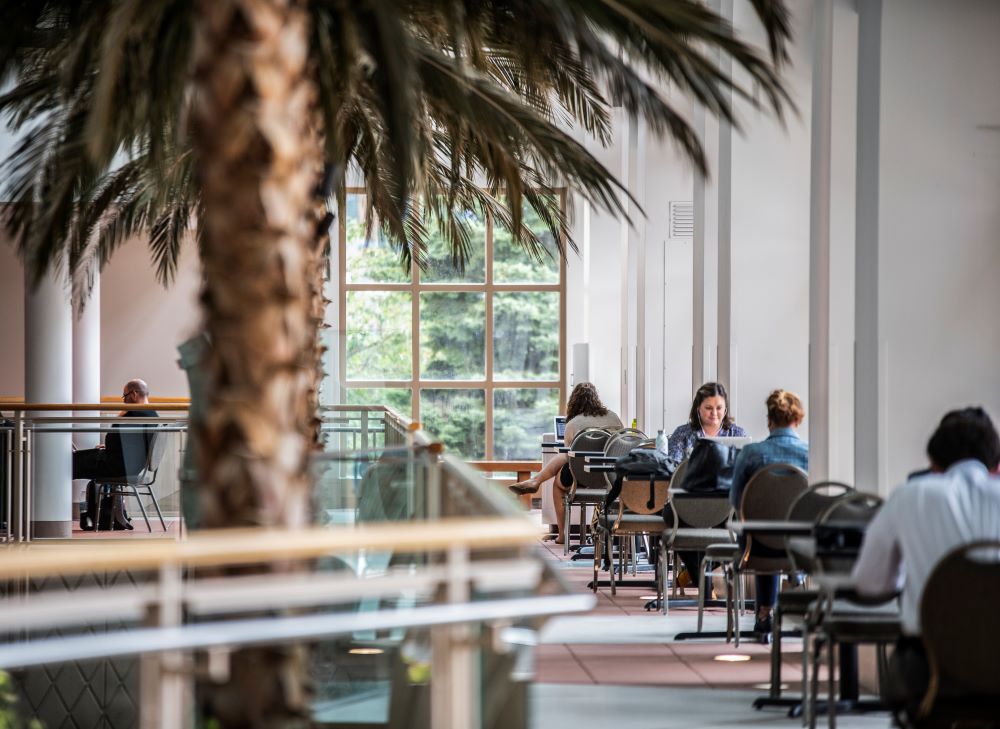 We also will be having the 2022 NASCAR Cup series. This one's going to take place up at Road America. So many individuals that love their NASCAR will be flying in, coming into Milwaukee and heading up to Road America, which isn't far from downtown. And then we also will be hosting the One Water Summer Summit conference. So being that we're the "fresh coast," we're really excited to be welcoming this conference. So there'll be over at the Global Water Center here in downtown Milwaukee as part of their conference. 
And one of my favorite events that we have an opportunity to volunteer and be a part of is the USA Triathlon. That'll be taking place this August. They utilize our Lake Shore State Park, they utilize our Art Museum, the lawns available, they're right on the on the lake, of course they enjoy being downtown Milwaukee, in our hotels and in our restaurants and bars—after the race, of course—enjoying those amenities. It's a great event, watching them run and swim right there on our lakefront. 
In 2023, we just secured the Alpha Kappa Alpha Central Region regional conference. They've been here before they had such a great time and definitely wanted to come back and experience the "real Milwaukee," which is the theme they're going with this year. They'll be focusing a lot on the different neighborhoods throughout Milwaukee, Bronzeville, which I spoke about earlier, will definitely be a big part of their program. 
We will be also hosting the National Square Dance competition. They're excited about coming to Milwaukee. Again, they love the atmosphere, the friendliness, the walkability, the ease of our city, for their attendees. They'll be at the Wisconsin Center District in our newly expanded space. And they of course will be utilizing a lot of our downtown hotels here. But then as I mentioned earlier, we hosted NCAA, first and second round championships, and we'll be hosting the 2025 Division 1 men's basketball championship again in 2025 at the Fiserv Forum and the Deer District and we are just so excited to have them back. We're also working with a couple of industry events, hosting a few industry events in the near future, too. So we have we have a lot going on in addition to our annuals that we always have here in this city. 
Northwestern Mutual being located right here in Milwaukee, we have the pleasure of hosting their annual meeting every year, which brings in thousands and thousands of individuals that unfortunately haven't been able to be here for the last few years. So there just been a great attendance this year and bringing everyone back into the city.
Danielle: Definitely. All very exciting. And it's it seems like you have a lot of repeat groups, and there's a lot of reasons why they love Milwaukee. To end our conversation today, aside from everything we've discussed today, I think it'd be fun to hear your personal perspective about what you think makes Milwaukee unique and why you believe it's such a special destination for a meeting or event. 
Leslie: Sure, absolutely. It's part of our branding and it's part of our brand name because it's true, you know, Milwaukee really is a place where "Unique Unites." What I love about our city is we pride ourselves on being a place that welcomes all people. No matter who you are, where you're from, or what you celebrate, you know, Milwaukee has something for you. And you probably heard that, as I listed a lot of the venues and the businesses in the city neighborhoods. You can really see that there's things for families to do. There's things for business executives to enjoy while they're here, girls gatherings, sporting events, bringing people together. We have great teams, we have the Brewers, we have the Bucks. There's great reasons to come up to Milwaukee and enjoy some great sporting events. 
I really encourage organizers to have the attendees experience our one-of-a-kind of spirit for themselves by bringing their meetings here to Milwaukee because one thing we always hear from a lot of our planners or attendees is there's so incredibly surprised by the city. They love the experience they have here and they oftentimes are excited about coming back as to enjoy it with their families or as a leisure guest. 
Danielle: That's a great note to end things on. So many exciting things happening in Milwaukee. I'm looking forward to seeing it all play out over the next couple of years. That wraps our discussion today. Thank you so much again, Leslie, for sharing all of the latest events news with us in Milwaukee.
Leslie: Oh, absolutely. And thank you for giving us the opportunity. It was a pleasure speaking with you.
Danielle: You as well. And thank you all for listening to this episode of the Meetings Today podcast. You can find even more information about meetings and events in Milwaukee by visiting meetingstoday.com or connecting with the folks that VISIT Milwaukee at www.visitmilwaukee.org/meet.  And don't miss another episode of the Meetings Today podcast by subscribing on Apple Podcasts, Spotify, or wherever you listen to your favorite podcasts. Until next time, thanks!
Read this next: 5 Outdoor Venues in Milwaukee That Show Off the City's Personality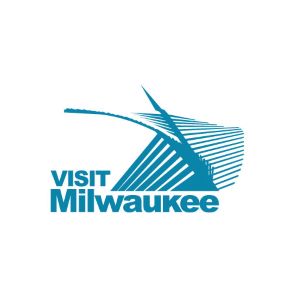 *This podcast is produced in collaboration with VISIT Milwaukee