Exciting New Meetings Developments in Greater Palm Springs, With Carolina Viazcan
From a new hockey arena to expanded airlift and its ever-present roster of top spas and golf resorts, Greater Palm Springs has emerged from the pandemic reinvigorated to win meetings and conventions business.
Meetings Today's Tyler Davidson talked with Carolina Viazcan, vice president of sales for Visit Greater Palm Springs, to discover what's new up and down the Coachella Valley, and how groups themselves can turn a meeting there into an opportunity to reconnect and reenergize.
[Related: Discover the Massive Meetings Property Renovations in Greater Palm Springs]
Transcript:
Tyler Davidson: Hello, this is Tyler Davidson. I'm vice president and chief content director for Meetings Today. Thank you for joining us for this Meetings Today Podcast. We're here with Carolina Viazcan...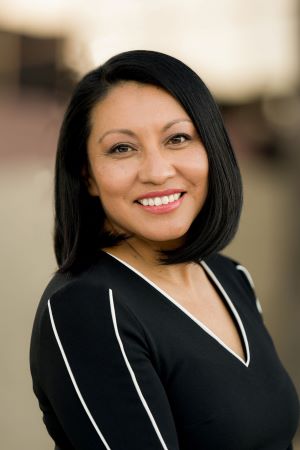 Carolina Viazcan: …Viazcan, yes. Thank you so much, Tyler. I know that's a mouthful but thank you. You did quite well.
Tyler: Thank you. I appreciate that. And I will get this right! She is vice president of sales for Visit Greater Palm Springs. So, thanks for joining us today.
Carolina: Oh, it's my pleasure. Thank you for having me.
Tyler: And why don't you tell people—when they see the name Visit Greater Palm Springs, they might just think about that iconic destination of Palm Springs. But you guys actually represent a number of communities in the Coachella Valley, right?
Carolina: Absolutely. Visit Greater Palm Springs really encompasses nine different little towns in our destination, anywhere from Palm Springs all the way to Coachella, which I know that everyone recognizes that name with our music festivals.
But we represent different cities, from Desert Hot Springs—they're known for their spas—to Palm Springs, with all their history and ties to Hollywood; Rancho Mirage with our presidents and our [unintelligible]. And then, of course, Indian Wells in between Palm Desert, as well, and La Quinta with one of our legendary resorts in that area. 
Fun fact is Indio is where Coachella takes place. So, it is known as the City of Festivals.
Tyler: And that is really something, how big that festival has become. People probably didn't know the term Coachella if they weren't there, until that came along. And now that almost rivals anything else in the whole valley now, right?
Carolina: Absolutely. We are so lucky that we have three weekends in April to celebrate music, two of those being Coachella and one of them being country music for Stagecoach. So, it has definitely put us on the map.
Tyler: And I know you're relatively new to the bureau—you've been there I think about five months—but you have an extensive history in the valley in the hospitality industry.
Carolina: I am one of the lucky ones that grew up in the destination since I was five years old. And I have dived into hospitality for 20 years, 15 years with Marriott and five years outside of that with independent hotels. But my most recent job was director of sales and marketing for Renaissance Esmeralda in Indian Wells.
So, I have seen this valley grow. I have seen the demand change. I have seen all the new product and there's so many new things coming on board.
Tyler: And before we kind of get to some of the other things we're going to talk about, are there any new things people should be aware of coming along?
Carolina: Absolutely. Just to give you a small recap of what is coming up next—and there's some really great things. 
One of the big game-changers is going to be our hockey league—actually the Acrisure Arena that is going to be coming on board. It will be the Coachella Valley Firebirds, and it is part of the American Hockey League. And it will be a team for the Seattle Kraken that will be playing starting this December. 
So, we kick that off this December season; they have already started to sell tickets. I drive by that arena every day and it looks fabulous. It's coming on-board, the parking lot is starting to be paved. So, it will open up in the middle of December, as I mentioned. 
Not only will it bring hockey to our destination, but it will also bring lots of entertainment. There are 7.1 million people that we target around our destination. So, with that said, there'll be lots of entertainment, from music to hockey on ice to a community ice hockey rink as well. And I think what I love most about this organization is that they're giving back and really connecting to the overall community in the destination.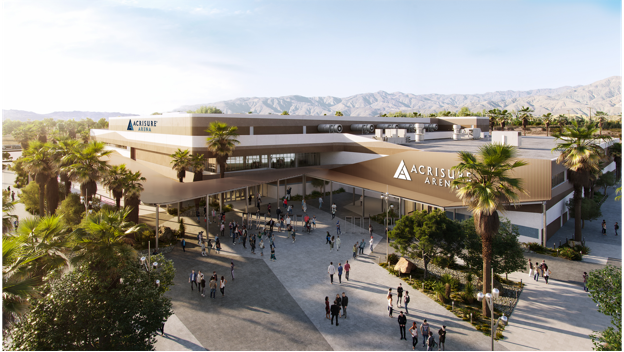 Tyler: Wow. Yeah, so that's huge news. I'm looking forward to that.
Carolina: Absolutely. I was just going to share...another big favorite piece of mine is the Agua Caliente Cultural Plaza that's going to be opening up in 2023 and that will be about 48,000 square feet. It will include a museum, it will include meeting space, and one of the key items for this is it will have a 40,000-square-foot luxury spa. And I think we're going to get a lot of press around that with the tranquil garden areas and outdoor mineral pool as well. And that is what really we're known for, the springs in this destination. 
And then, lastly, this December we get to open the Palm Springs Surf Club. And that's going to be a wonderful attraction, also bringing a lot of opportunity for outdoor venue spaces for groups. They will have pool areas, a wave pool, cabanas restaurant, it will also include a gym membership. And it is a state-of-the-art surf pool that will be accessible for any kind of level, from a beginner to a pro level as well. So, this is really a great opportunity for those groups that are looking for offsite venues in our local community as well.
Tyler: And I know we wanted to talk about wellness today because I know Palm Springs really has a history of being a place—especially for people from Southern California, and in the old days of Hollywood—they would seek out the Palm Springs area to go and relax and recharge, and still on to this day. It's a destination that's very much in line with modern wellness attractions, right?
Carolina: Yes, absolutely, Tyler. So, one of the great things for us, we were very lucky to weather the pandemic because of our destination.
Yeah, Greater Palm Springs really is an oasis. It is the green desert there, it's lush, there's lots of palm trees, very inviting and welcoming from just even the drive in, the moment you pass the windmills and see the mountains and you see the palm trees, you already start to feel relaxed. And for a lot of our meeting guests that fly in, they're coming in and they land at the Palm Springs airport. It's an open-air airport. 
So, you get to see the beautiful mountains and the palm trees and start to enjoy that sunshine. So, you are already starting to recharge with vitamin D. Our guests start to feel relaxed and stress-free with the view. And the great piece about that is we have a lot of open spaces. 
So, when you think about wellness meetings, our destination is very conducive to that. The agenda or the itinerary at some of the meetings can include hikes, can include bike riding. Joshua Tree is not too far from us; that is another great opportunity for them to get out there and explore. But more importantly, we have a lot of wellness programs taking place at many of the different properties because we have been hearing our planners say yoga is important and being able to do wellness programs on property.
And that also includes eating well and healthy in addition to hikes and exploring, and just reconnecting and taking that moment for yourself. And if you're not really physical, that's okay; we've got lots of pools and lots of sunshine where people can just enjoy, relax, read a book, and it's taking care of themselves as well.
Tyler: Yeah, and if you're a little more active, or maybe it's not quite on topic, but I mean, the golf options there are legion right? I mean, it's amazing.
Carolina: We're probably the number-one capital for golf courses. So yes, lots of golf courses, in the destination from many different levels, from PGA courses to community courses that are for fun play as well. So, there's lots to do for everyone.
Tyler: You said that a lot of planners are really prioritizing integrating wellness into their programs these days, is that what you're hearing—they're inquiring with you about what's on offer there?
Carolina: Yes, what is there to do? What is there to see? And how can they give their attendees—who may be the first time attending a meeting since the pandemic—allow them to recharge a little bit. Not everyone feels so comfortable with travel, but those that do, they want to give them the opportunity to take a moment and take care of their well-being more than ever. That has been an important piece for our meetings.
Tyler: Yeah, yeah. That nice desert environment there—nice, dry heat and underneath the palm trees. I mean, it's a beautiful setting for that.
Carolina: And my favorite part, when you talk about palm trees, is the Indian canyons and Palm Springs, there's [unintelligible] and waterfalls, and all kinds of just really fun where you can just go spend a day and relax.
Tyler: Excellent. So, what are some other things that people can do while they're there with the group? I know when I was out there—well, it's probably a little while ago now—but I went out to the BMW Performance Driving School, out by La Quinta—one of my favorite places to stay, too—but what other activities are people inquiring about and leveraging?
Carolina: Exactly. If you like that adrenaline rush the BMW Driving School gives you, you can spend a full day or half a day, make it a competition. So that's also a really great opportunity for teambuilding as well, and to be able to enjoy the different kinds of vehicles that they have. We have done it as a teambuilding activity, and it is always such fun and joy—very exhilarating. 
Rock climbing is also a fun piece at Joshua Tree. So, if you really want an adrenaline rush, you can go rock climbing, as well. As I mentioned, we have over 100—I'm sorry, over 365, hikes. So, literally you can do one hike per day. And there are simple ones that are very flat and easy. And then there is some that we have, for example, the ladder canyon that you actually have to use a ladder to climb up. 
So, there's all kinds of different levels to experience, but spas are another big piece for our destination that is very popular to be able to enjoy. Obviously, we have—from the hot minerals, as I mentioned earlier and Desert Hot Springs, to a lot of the different hotels and resorts that offer special treatments—to be able to rejuvenate and recharge as well. Destress.
Tyler: Oh, great I'm looking forward...it's really one of my favorite destinations. Having formerly lived in the Bay Area I used to get down there quite a bit. Anything else you want to leave our listeners with today?
Carolina: The last piece, I just want to remind everyone how easy it is to get to Palm Springs. What I love about our location is we're an easy drive from the L.A. area, San Diego, Phoenix—we really just sit right in the middle within great distance of those destinations. But flying into Palm Springs has gotten easier. That is one of the big pluses. 
Since the pandemic we have partnered with Southwest, so we have Southwest and it's performing really well for us, in addition to many other partners. But pre-pandemic—I'm going to share some fun numbers with you—pre-pandemic we were 13 routes; we're sitting on over 20 routes now for 13 carriers and it is centrally located to many of the hotels in the destination. So, no more than about a 30-minute drive from the furthest property. So, very easy to get in and out of our destination.
Tyler: Oh, great. Well, thank you for joining us today. I really appreciate you giving us the update on what's going on in the valley down there.
Carolina: Oh, my pleasure. It's been fun. Thank you for having me, Tyler.
Tyler: Thank you. And that was Carolina Viazcan with Visit Greater Palm Springs. Thanks for joining us today. And thank you for joining us for this Meetings Today Podcast. 
I'm Tyler Davidson, vice president and chief content director for Meetings Today. If you liked this podcast today, head on over to MeetingsToday.com and check out our podcast section with lots of other podcasts with industry thought leaders. 
Wherever you're at today. Thanks for joining us and go out and make it a great rest of the day.
Read this next: Glamour, Celebrity and Movies Shine at the Palm Springs Film Festival
*This podcast was produced in collaboration with Visit Greater Palm Springs.