Activism, Disability Culture and Advocating for a More Accessible World
Season 4, Episode 11
Featured guest: Maayan Ziv, Founder and CEO, AccessNow
How accessible is our world? Maayan Ziv, Founder and CEO of AccessNow, shares her perspective on living with muscular dystrophy, working together to create a more accessible world, and what people should know about disability culture.
Listen:
Podcast sponsored by Visit Seattle.

Listen to more Dare to Interrupt podcasts: www.MeetingsToday.com/Dare-to-Interrupt.
Meet our guest: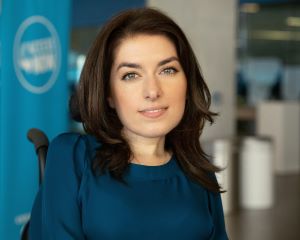 Maayan is an accomplished entrepreneur and a passionate disability activist. She is the founder and CEO of AccessNow, an award-winning tech company that has revolutionized the way people share and access information about accessibility worldwide.
Under Maayan's leadership, AccessNow has become a powerful force for change, driving a shift in global thinking about the importance of accessibility across all industries, from accessible technologies to infrastructure, public policy, media and more.
Maayan is a globally recognized thought leader and advocate for disability rights, with a powerful voice that has earned her numerous accolades, including MIT Tech Review's Top 35 Innovators (2022), Canada's Top 40 under 40 (2021) and WXN's Top 100 Most Powerful Women in Canada (2018). She has also served as a journalist for CBC and advised the government of Canada on accessibility strategy.
Currently, Maayan sits on the tourism advisory committee for Israel and the economic development committee for the city of Toronto. As a seasoned and highly sought-after speaker, Maayan has graced stages around the world, captivating audiences with her inspiring and informative talks. She has also hosted numerous television and radio programs, showcasing her expertise on accessibility and disability issues.
Maayan's personal experience living with muscular dystrophy has given her a unique perspective on life, resilience, creativity and innovation, which she brings to every aspect of her work. Her unwavering commitment to accessibility and inclusivity has made her a true force for change and an inspiration to all who know her.
Maayan's social media links:
LinkedIn
Instagram: @maayanziv_
Facebook
X: @maayanziv
Website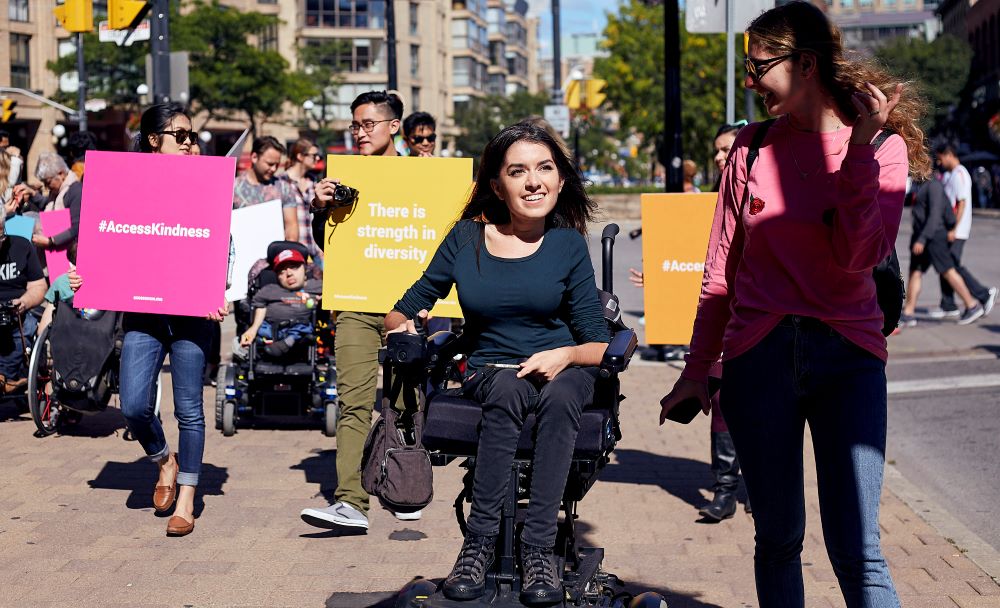 More about our host: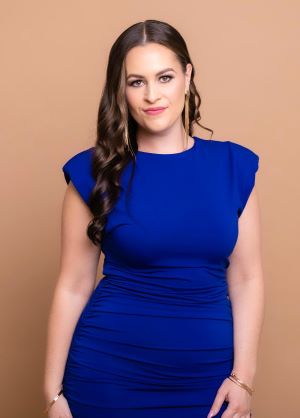 Courtney believes that transforming past experiences into impactful conversations through raw, authentic storytelling challenges the status quo, connects people from all walks of life and results in great change for the world.
Courtney is the youngest member to have ever been elected to Meeting Professionals International's (MPI) International Board of Directors
She is the recipient of Smart Meetings' Entrepreneur Award, MeetingsNet's Changemaker Award, the Association for Women in Events (AWE) Disruptor Award, the MPI Chairman's Award and MPI RISE Award.
Named Collaborate and Connect Magazine's 40 under 40 and a Meetings Today Trendsetter.
Recognized as one of the event industry's most impactful change-makers.
Serves on the Events Industry Sexual Harassment Task Force, AWE's Board of Directors, MPI's Women's Advisory Board, is a Meetings Mean Business Ambassador and is the co-founder of the award-winning movement, #MeetingsToo.
Named as a 2020 Meetings Trendsetter by Meetings Today.
Connect with Courtney:
Transcript:
Editors note: The following transcription was facilitated by AI program Otter.ai and proofed by our editors. Although it is very accurate, there inevitably will be some mistakes, so please consider that when reading. Thank you.
Courtney Stanley  
This podcast is brought to you by Visit Seattle. Hello everybody. This is Courtney Stanley and welcome to another exciting episode of Dare to Interrupt, the only podcast made by women for women in the world of events, hospitality, tourism and beyond. We hope you feel empowered to see you engage in these honest unfiltered conversations with leaders who are considered to be the most influential, inspiring and innovative women in business today. Throughout their careers, these leaders have dared to interrupt conversations, their own comfort zones and sometimes even societal norms to hustle toward their greatest levels of success.
I am thrilled to introduce you to today's guest here with us we have Maayan Ziv, a passionate disability activist and the founder and CEO of AccessNow, an award-winning tech company that has revolutionized the way people share and access information about accessibility worldwide. Maayan is globally recognized as an advocate for disability rights with a powerful voice that has earned her numerous accolades, including MIT tech review's Top 35 innovators, Canada's Top 40 under 40 and WXN's top 100 Most Powerful Women in Canada. She has also served as a journalist for CBC and advised the government of Canada on accessibility strategy.
Currently, Maayan sits on the tourism Advisory Committee for Israel and the Economic Development Committee for the City of Toronto. Maayan's personal experience living with muscular dystrophy has given her a unique perspective on life, resilience, creativity and innovation, which she brings to every aspect of her work. Her unwavering commitment to accessibility and inclusivity has made her a true force for change and an inspiration to all who know her. Maayan, it is great to have you here with us today. How are you doing?
Maayan Ziv  
I'm good. I'm good. I'm really excited to be here.
Courtney Stanley  
I am, too. Do you have any fun plans this weekend?
Maayan Ziv  
Honestly, no. I'm just looking forward to taking a little bit of rest this weekend. It's been a busy one for me. So, I'm looking forward to taking it easy.
Courtney Stanley  
I feel you. We're here in November, so we're Q4, which is always busy, especially, you know, everybody's trying to do business and use all their dollars in their budget before the end of the year. So, I think we are definitely sitting in the same place right now. What is the most exciting or joyful thing that's happening in your life right now?
Maayan Ziv  
You know, it's kind of like a bittersweet thing. I've had some challenges recently with air travel where my wheelchair was damaged in flight. And it grew into this kind of social movement online where people were contributing and sharing stories. And yesterday, we heard a commitment from the national airline here in Canada. And it is really exciting, because I feel like we're finally making progress on something that really matters to me and many people. So I'm taking that as a win. And I'm celebrating in that. 
Courtney Stanley  
Yeah. Wow. If I can ask, what was the commitment that the airline made?
Maayan Ziv  
So, the airline--it's Air Canada--and they made a statement in Ottawa where they basically committed to some increased accelerated measures, like the storage and protection of mobility devices on aircrafts, better training for their staff. You know, they have, like, 10,000 staff that they promised annually will have to go through better accessibility training, and also some of the softer skills associated with engaging with people. You know, they talked about pre boarding.
So, there's a whole bunch of stuff in there. And I'm just excited, because it's kind of the first moment of any accountability where any airline that, you know, has been in the press a lot recently, unfortunately, because people have had really bad stories, is finally actually stepping up and saying, "Okay, we've heard you and we're going to do something about it." So, time will tell if it actually manifests the way that we hope it will, but I'm feeling good. I'm feeling good about this moment.
Courtney Stanley  
You know, I think it is bittersweet, you know, the experience that you had to go through and the experience that I'm sure of many other people have also had to go through over the years. You know, without those experiences, there wouldn't be an opportunity to voice the need for change, but at the same time, of course that comes with the experience itself, which I'm sure was very stressful and also just feeling like you weren't taking care of every guest should have been. I would love to hear more about the work that AccessNow does.
So, when did you start the company? What is the primary focus? And how long have you been doing this type of work? And I hear you when you're talking about the different types of accessibility and just feeling like it's a space where you can be yourself and be fit into that space the way you want to fit into that space.
So, AccessNow, when people are leaving these reviews about their experiences, it goes far beyond just any sort of physical parameters or anything. So, you talked a little bit about gender neutral washrooms, restrooms, that kind of thing. Can you give us an idea of the spectrum of reviews that are left and what people really sharing in terms of how they define their own accessibility?
Maayan Ziv  
Yeah, it's so fascinating to me, because, you know, even when I started the company, I had my own limited understanding of accessibility. And it was really based on my own personal experience. For me, accessibility was ramps and elevators and wheelchair access. And although yes, that is part of it, throughout the years, we've heard from thousands of people who've said, you know, to me, accessibility is lowered counters, or, you know, the ability to speak to someone in sign language.
There's so many different ways that accessibility manifests for people. But for us, it's really you know, about establishing a sense of belonging. And what we do is invite people, whether they use the tags in the app that are specifically outlining accessibility features that people have asked us to share. So, you know, our tag system allows people to quickly identify, you know, "Oh, I noticed that there was a change table in this washroom or I noticed that there was an automatic door," so people can share those types of insights. But they can also share their very personal experiences and reviews.
So, we'll hear stories of people who had amazing experiences at restaurants or venues that they never knew were accessible. And so, there's that celebratory experience on the app, a lot of people just showcasing positive moments. But there are also moments where people identify barriers that still exist for them. And that's equally as important. Because if we don't have open conversations about where people do experience barriers, it's very difficult to solve for that.
Or, you're setting people up for failure. And that's a way worse experience. When someone thinks it's accessible, they show up, they spend their time, their money to maybe arrive at your destination, and then they're met with barriers. It's worse to have not let someone know than to have been open and honest about where you are in the journey. And recognize that, yes, the world is not perfect. And there's still a lot of work that we can do to remove accessibility barriers for people. But it starts with just sharing information.
Courtney Stanley  
Yeah. And I have to say, one of the conversations that I have heard more frequently, today, within the conference industry, the events industry, the meetings industry, is the importance of belonging. We've had conversations about diversity, equity and inclusion, and people are now adding a B to that DEIB to include the word belonging, and there has been more conversation about accessibility than I've heard in the past. And I'll say, you know, I really hadn't heard many conversations about accessibility at all in the past.
So, this is the first time in my own professional journey that I've heard people starting to have these conversations around the way that we meet, the way that we connect, when we host these conferences and events. From your perspective, I'm sure have attended countless events, countless conferences. What has your experience been, maybe, even within the past six months or so, in terms of accessibility, and how well the events industry is doing in that lane?
Maayan Ziv  
So, I mean, I think you're totally right, that there is an increased awareness of accessibility in the industry, like people are talking about it, or aware that they should be talking about it, or it's not this invisible thing. And in the past, that was my experience, I was always the person who had to kind of raise their hand and say, "What about?" And you know, it's not that every person is an activist or even an ally.
But every person can contribute to ensuring an accessible experience in so many different ways, whether it's comps marketing materials, the images you use. Do they represent the diversity of people that you're hoping to invite, or people that you might not have considered would be attending your events, and just by signaling to them, that you've considered their needs or their perspectives, you're more likely to invite people in.
And so, there's so many ways. You know, the language we use the, the structure of the events, the flexibility to take a break or visit a space, it's quiet. But I'd say that the biggest disconnect for me is that we also have to understand why we're doing this and the best way to really manifest experiences that truly actually achieve that sense of inclusion and belonging. It's not really enough to say like, "Oh, there's a quiet room," unless you really have the awareness and the engagement directly with the audience that you have established that room for, let's say, you're going to have that disconnect.
So, I always encourage people whether they're building events or have an ability to create a committee or engage consultants, include people with disabilities in the planning process. That's the best way to ensure you're actually flagging the things that need to be flagged and creating authentic dialogues that lead to hopefully much more established senses of accessibility that can help people feel included, because the worst thing is when people say, "Oh, we really care about it," and then you show up excited and expecting that and it kind of falls flat because they really haven't thought it through.
So, I think I'm really excited to see the progress where people are aware, but equally as important is kind of the education, understanding what that means and how you can engage authentically. And also, being kind to yourself. I think people are really afraid to do things because they don't want to get anything wrong. So, I always like to remind people that accessibility is a journey. It's not a destination, even at AccessNow, where we are considered experts, we're constantly learning about better ways to support people.
And that's the beauty of accessibility. It's an organic, ongoing evolution. People will consistently find better ways. As technology evolves, we'll find better ways. And that's a good thing. It doesn't have to be perfect or nothing. But the process of iteration helps us get better.
Courtney Stanley  
Well said, well said, and I know you and I, we connected because we had attended the same industry conference about a month or so ago. And we connected through a mutual friend who had seen you speak at this particular show. And I know you and I had spoken, you know, previously about an experience that you went through at that show, and being a presenter and a speaker at the conference. Would you mind just reiterating that story with the audience so they can also understand and emphasize what happened at that particular show?
Maayan Ziv  
Yeah. And I mean, again, like whenever I share examples, or talk about things that could get better, the process is not about shaming someone into feeling embarrassed or uncomfortable, although a little bit of discomfort is usually good. Because it just helps people grow and learn that they can do better.
So, in this given experience, I'm a wheelchair user, and I was invited to come and speak on the topic of accessibility in the travel industry. And I was really excited to do so, got on the flight, you know, got to my destination, did all the work I needed to using AccessNow to figure out if everything was going to be accessible. And when I showed up, the room that I was supposed to speak in did have a stage, but the stage didn't have a ramp. And so, we kind of move things around. And we, you know, last minute figured out a way for me to speak at the front, on the ground. But it just kind of is one of those signals where it kind of makes makes me feel like it wasn't really considered--like, I was, but not to the full extent.
So, you know, especially given the amount of attention on the discussions in advance, I'd really hoped that all of the pieces, were there so that when I show up, I feel excited, and welcome to show up and not scramble last minute find a solution, but it's just an opportunity to learn, you know.
And I also think, you know, we had a discussion about it really openly in the room with people who are attending. And what I really like to pose people to think about is, who do we assume? Is the authority when they're speaking? Or who, what does the speaker look like, when you invite them to a conference and whether the organizers, you know, had the best of intentions. The staff who were responsible for setting up that stage, it didn't dawn on them that one of the speakers could be in a wheelchair.
We have these, like, inherent kind of bias that we carry around that we don't even know about, you know; who should be where and who should be on stage. I mean, look at the Met Gala. Look at the Oscars. There's stairs everywhere. We just don't assume that someone with a wheelchair would, I don't know, go up the stairs, get an Oscar or, you know, go to the Met Gala. And those moments--kind of people internalize that. So, I think it's just really about breaking down, first and foremost, those mental barriers that people have those assumptions they carry, and then working towards redesigning the experiences on the events that we create for people.
Courtney Stanley  
Do you find especially because you, I mean, this is your work? This is your business. You mentioned even prior to our conversation today that this is really your life's purpose, and you know how rewarding it is to do such meaningful work every day? How do you handle constantly being the person that is the voice that's advocating, and it's for yourself, too. It's for everybody else, but it's also for yourself.
And I would imagine that, frankly, that would be emotionally taxing. How do you handle that? Like, in the moment, I'm sure you handled it very much with grace and very professionally and, you know, you help to guide next steps if any guidance was needed. But on an emotional level, I mean, how do you handle always being the person that is kind of on the front line, amplifying?
Maayan Ziv  
I mean, okay, so few things. You're right there. There's a toll that it takes and most people with disabilities experienced the world with this kind of added level of, I'd call it like navigation anxiety, or the need to constantly advocate just to show up. That was my experience that led up to me deciding I'm going to launch access now. Because I was tired of that. I was tired of constantly picking up the phone and educating and advocating and still not being met with information.
And so, the whole point of AccessNow is to unify a community that could work towards solving this problem together, as opposed to every person out on the road in the street literally getting stuck, you know, trying to negotiate with a business owner, "Hey, can we get in from here? What can we do?" And, also, for business owners to start to engage authentically with the customer base that often is very much neglected. You know, we make it over 26% of the population, we've got buying power, why are we ignoring what is ultimately a customer service issue? So, there's all of that, but I'd say that's the advocacy part. It's not like I woke up and was like, "I'm gonna take on the world." I live in a world that really was not designed with my needs in mind.
So, if I want to show up, or do anything, or go to a concert, or travel or meet someone for coffee, chances are there are going to be barriers that come up for me. And if I still want to have those experiences, over the course of my life, I've had to learn how to navigate those moments of adversity and still not let them defeat me. Because otherwise, I would just stay home and never do anything. So, I would say that not every person with a disability chooses to be an activist or an advocate, but every person who experiences a barrier, and this is a universal thing, even if you don't have a disability, any person who feels isolated or feels like a minority of some form, you know, these are the choices we have to make.
And I'd also say that they become assets. You know, my experience of navigating barriers and advocating for myself. And now for others, it's allowed me to become more resilient, so that when I show up, and there is a problem, I have had, you know, years of moments that have contributed to how I handle it. And yeah, some days are better than others. There are still days where I break down, and I'm just like, "This is exhausting. And I just want to live my life. I don't want to do this anymore."
But I am so passionate about reaching this kind of beautiful day where we don't have to advocate where all of a sudden things just flow and are easy. And, you know, we feel welcome and have that privilege to show up without questioning whether or not it's going to be a struggle.
So, yeah, I mean, ups and downs, but usually those down days, you know, I take a breath. I order sushi or something. And then, you know, I just pull myself together. And, you know, the next day is usually a little bit better.
Courtney Stanley  
Is anybody ever unreceptive, when you have a need that's not being met? And you advocate for yourself? 
Maayan Ziv  
Oh, yeah. Oh, yeah. I'll say that's kind of the discourse in society is shifting. I mean, and there's actually some really interesting connections between civil rights and disability rights and the history and the connecting kind of movements that have fueled the disability rights movements. And I'd say even if you look at this moment in time, in the pandemic, with the BLM, that also I think elevated people's consciousness about things that weren't being discussed the way that they should be and the seriousness associated and the whole conversation about diversity and inclusion changed with one community, and it has helped, I think--any way in my opinion, the disability community also show up.
Because we are the largest minority group in the world. Every person can join the disability community at any time. You can be Black, you can be gay, you can be a woman, you can be anyone--doesn't matter. You could live anywhere in the world; you can join for a minute you can join for a lifetime. You can be born with a disability, acquire one at some point in your life. You know, you sprained your ankle, you're part of our community, whether you like it or not. And so, people don't always think about it that way.
They still think of it as like this other thing that is not touching their lives. And I have personally definitely faced, you know, people who are not receptive to what I'd say [is] constructive feedback or criticism, or they get really defensive, they get angry, because you're pointing out things that aren't working or need to be done better. And, again, I always try to remind people, like, if you have a customer, and they show up and their needs aren't met, is it appropriate to respond and say, "This isn't my problem, go somewhere else." You wouldn't do that to anyone else. And yet, people with disabilities are literally turned away from businesses because they aren't accessible.
So, there's still a lot of work to be done, and I really encourage people to look at the benefits and the upside, because the conversation is changing. And if you're not part of it, and you're not educating yourself, and you're not incorporating proper accessibility practices into your business, or your event, or whatever, you're gonna get left behind.
Courtney Stanley  
What is one thing that you wish people knew about disability?
Maayan Ziv  
I think that people look at disability as like a deficit. And they think of it as like this negative thing that makes someone less than in some way, or that they're suffering or that they're struggling. And although yes, disability can come with hardship, I love my disability, it is part of my identity. And there's a whole culture associated with disability that is beautiful, and dynamic, and creative, and innovative and resilient. And there are amazing people with disabilities doing phenomenal things.
And we're not celebrating disability or talking about it that way. In mainstream, it's changing. I mean, we are starting to see some examples of that--you know, ad campaigns that authentically represent people with disabilities, or films that are hiring and casting disabled talent. It's changing, but I think people are still very afraid of what they don't know. And I think the more that we can demystify what disability really is, and what life with a disability is...I always turn to social media, because I think that the creators on any social media platform of your choice are doing such a good job at kind of highlighting real life, the good things, the tricky things, the funny things.
There are so many amazing people out there who are helping to kind of break down those barriers and normalize things that many people live with, on their own or quietly, and also people who are afraid to join because they think it's, you know, going to somehow look bad on them. And so, they stay isolated. But there are many people who I think are realizing that this shift is happening, and I'm just excited to kind of keep kind of growing into that space.
Courtney Stanley  
I have to say, I feel like I personally have learned a lot even in this conversation. Honestly, it makes complete sense. And it seems like something that I would recognize that there is an entire culture that is you know, connected to the disability community. But I've never considered that ever in my life. There have been so many other things in this conversation, too, that I just feel like have really educated me, that have opened my eyes, and I'm sure for the listeners that are tuning in, they would have that same sentiment.
I think that there's so much beauty in having conversations that creates that type of awareness. And you know, even better than that, more effectively than that, that lead to some kind of change. And I think knowing that most of our listeners who tune in are leaders and there are people who are responsible for cultivating some type of environment, whether that's at an office or whether that's creating a conference or event, it makes me grateful to be able to have this time with you and to be able to share this time with you, with people who really are in the driver's seat of creating change for those environments.
So, with that, I would love to just ask you one final question. And I'd love to have you just leave the audience with any final words that you want to share, whether it's a call to action, whether it's something that they should think about or consider more carefully in the days to come, or a piece of advice. But I do want to give you some space to close this conversation, the way that you would like to.
Maayan Ziv  
Thank you, Courtney, it's been a pleasure speaking with you and I really appreciate the thoughtfulness of the conversation. If I could leave people with maybe a piece of advice, it would kind of just be to not shy away from asking questions, and to be comfortable with the unknown. Be comfortable with vulnerability, because there's a lot of beauty in that.
And it's from those moments, whether on a personal level of you're just kind of starting to ask yourself, "What have I been hiding from in my own identity? Or what have I been avoiding or not asking about within my company or the work that I do?" And usually those questions, you know, if you engage people who are different than you, you'll start that journey of learning. And I think disability has done a really good job at kind of engaging and inviting people to be part of those kinds of conversations.
So yeah, that's what I would leave people with. 
Courtney Stanley  
Well, I want to thank you so much, Maayan, for sharing your stories, your advice, all of your wisdom with us today. And, of course, audience, I want to thank you all for listening.
And please share what you learned from this episode with us on any social media platform by following @MeetingsToday and @CourtneyonStage, and be sure to never miss an episode by subscribing to Dare to Interrupt on Apple podcasts, Spotify, Stitcher, Google podcasts and more.
Be unapologetically yourself, stay tenacious and keep daring to interrupt my friends. Until next time.