9 Great Cocktail Venues for Groups to Network and Unwind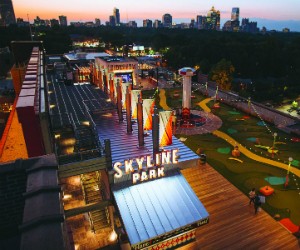 Unique, booze-infused venues, including traditional bars, speakeasies and distilleries, await groups that would like to toast over delicious handcrafted cocktails after a meeting.
Across the country, group-friendly destinations feature standout bar settings with inviting decor, ranging from rustic to industrial, and menus starring world-class wines, microbrews and exquisite specialty mixed drinks.
The Penrose, New York City
www.penrosebar.com
A meeting's topic may resonate better when discussed over creative drinks in a fun bar, including The Penrose in New York City's Upper East Side.
"A bar is a casual setting that allows coworkers to get out of their comfort zone and mingle with people who they may not ordinarily talk with," said Mayra Velasco, events coordinator at The Penrose.
The Penrose, named after a railroad station in Cork, Ireland, and situated near New York's new Q train, is laid out railroad-style with three main areas: the front bar and the Station and Spencer rooms.
Buyouts for up to 300 people are also available and allow access to amenities including a DJ, audiovisual equipment and special food requests.
"The Penrose has a really cool downtown vibe, very inviting to all ages and walks of life," Velasco said. "The decor is very cozy, rustic and warm."
Pete Vasconcellos, the bar director here, enjoys creating signature cocktails for groups. Favorite spirits and theme colors are among the considerations when he concocts a special drink.
The Penrose also offers interactive cocktail classes for groups of eight to 10 people, during which they'll learn about the foundations of classic cocktails and how to manage an in-home bar.
Nine Mile Station, Atlanta
www.9milestation.com
At Atlanta's Nine Mile Station, an elevated beer garden on the roof of Ponce City Market, the engagement factor for groups that would like to mingle and network is exponentially increased, according to Chris Eldridge, the venue's director of sales and events.
"Hospitality is most often a major priority at a bar that relies on repeat business and word of mouth to sustain itself," he said. "Nine Mile Station lives and breathes hospitality, and having a corporate event here is inviting to guests and can boost attendance."
The venue, which is available for buyouts, offers mixed indoor and outdoor spaces with views of Atlanta's iconic Midtown, Buckhead and downtown skylines.
"With Nine Mile facing north and west, you get the most beautiful sunsets," Eldridge said.
He added that the rooftop patio, with its custom-built picnic tables and Adirondack chairs around four fire pits, prompts creative thinking and discussions.
Randy Hayden, Nine Mile's beverage director, is available to instruct groups on "Making A Perfect Manhattan" and other classes, and interested groups might also take advantage of Skyline Park, the roof's vintage amusement park with miniature golf. 
Bitter & Twisted Cocktail Parlour, Phoenix
www.bitterandtwistedaz.com
Bitter & Twisted Cocktail Parlour, housed inside the former Arizona Prohibition Headquarters at the historic Luhrs Building in downtown Phoenix, is both a stylish eatery and hip drinking space serving innovative bar bites and cocktails.
"A bar setting is always a great approach to corporate social events because it encourages teams to relax around each other in a way they might not feel inclined to in a more formal atmosphere," said Dan Scheuring, the venue's general manager.
The venue accommodates both semi-private and full buyout options, and at press time a new multimedia-equipped private dining room was scheduled to open this month.
"The decor inside can best be described as creative adaptive reuse of Phoenix's historic first high-rise," Scheuring said. "Guests have described our decor as surreal and funky while still fitting within a bygone era of Phoenix glamour."
Add-ons during events include mixology lessons, vintage arcade rentals, foosball table rentals, multimedia presentations and specialty cocktails.
"For private functions, we offer both the full cocktail menu, which showcases over 60 cocktails, and a specialized event menu where the client can change the names of the drinks to suit the event theme," Scheuring said.
He added that in the past the venue has created specialty cocktails for clients who wanted something out of the ordinary and not featured on the menus.
Tattersall Distilling, Minneapolis
www.tattersalldistilling.com
Distilleries complete with bars for tastings and events are making a splash across the country, including in Minneapolis, where Tattersall Distilling offers groups an experience that's both educational and entertaining.
"We offer tours of our facility, highlighting how the spirits are made," said Jon Kreidler, Tattersall's co-founder and chief officer. "We can also offer classes on making cocktails, or we can simply provide your group with incredible drinks."
Private events are accommodated here on Mondays and Tuesdays in the cocktail room, which holds up to 120 people, and an additional 75 people can use the patio during summertime.
Among the popular drinks poured here are the Southside Cocktail, made with gin, lime juice, mint simple syrup and habanero bitters, and Kreidler recommends the more adventurous folks in the group try either the Bad Hunter or the 18th & Central.
"Both are made with our award-winning aquavit and some very unusual ingredients, including carrot juice, ginger and dill in the Bad Hunter, and coconut, lime and a pineapple shrub in the 18th & Central," he said. "Everything served in our cocktail room is made in-house, from the spirits to the juices, shrubs, syrups, bitters, tonics, etc. We use strictly all-natural ingredients and never fake colors or flavors."
4 Saints, Palm Springs
www.4saintspalmsprings.com
Kimpton The Rowan, the hottest new hotel in Palm Springs, is also home to one of the destination's coolest places to imbibe fine beverages: 4 Saints, an outdoor patio bar and restaurant revolving around the global cuisine of Chef Stephen Wambach.
Perched on the tallest rooftop in Palm Springs, the venue, available for private group events, boasts sweeping views of the San Jacinto Mountains and Coachella Valley. Its large four-sided bar with marble countertop and rustic and brass liquor shelving energizes the space.
The beverage program centers on an open mixology hub with an eclectic mix of signature cocktails inspired by the nature and folklore of the desert, plus craft beers, tap beverages and a wine selection of well-known and hidden-gem California varietals.
One of its signature cocktails is Highway 111, a house old-fashioned featuring bourbon infused with Coachella Valley dates, demerara and chocolate mole bitters.
Teddy & the Bully Bar, Washington, D.C.
www.teddyandthebullybar.com
President Theodore Roosevelt is the focal point at Teddy & the Bully Bar, a popular D.C. restaurant and bar that serves a locally sourced menu that includes buffalo, venison and other robust dishes that Roosevelt, who was an avid outdoorsman, would appreciate, as well as craft cocktails such as punch bowls that are perfect for groups to share.
"Teddy & the Bully Bar is a standout space to hold your next event due to the versatility of the space and ability to customize your event from the food and drinks to the decor," said Emma Anzelone, the venue's marketing coordinator.
Groups of various sizes may reserve spaces in the Bull Moose and Rushmore bar areas, in private dining rooms, or book the entire venue.
"The decor features unique historical details and nods to the era of Teddy Roosevelt, which will make your private event something attendees will anticipate attending and talk about afterward," Anzelone said.
The Bully Bar features a sommelier-curated wine list, microbrews and both modern and classic cocktails made fresh daily. Signature cocktails include Obama's Honey Cider as well as the Rio Roosevelt, made with Leblon Cachaca, Cedilla Acai Liqueur, blueberry shrub and sweet lime foam.
"Should groups want something different for their event all they have to do is ask," Anzelone said.
"Our staff can work with a meeting planner to develop specialty cocktails for the group," Hanley added. "And we can also work to create a mixology class where groups can have a hands-on experience learning about different ingredients, liquors and recipes."
Seven Grand, Los Angeles
www.sevengrandbars.com/la
At Seven Grand, a bar considered largely responsible for the rebirth of great cocktails in Los Angeles, over 800 premium whiskeys are beautifully displayed in vintage glass cases.
"The bar has a look and feel of a classic hunting lodge, with comfortable booth seating," said Millie Bonilla, event sales manager at Seven Grand.
Customized events for groups of up to 200 people are accommodated, and, Bonilla added, the venue offers live music, pool tables and private whiskey tastings for any size of party.
"Seven Grand is home to the ever-popular Whiskey Society, a unique membership program providing guests the opportunity to further explore the spirit via education and experimentation with comprehensive tastings featuring master distillers, international brand ambassadors and notable members of the liquor industry," she said.
In addition to housing one of the largest collections of whiskey from around the world, Seven Grand also offers unique craft cocktails, punches made for groups to share and an assorted selection of house-made sodas, including ginger beer.
Watts & Ward, Raleigh, N.C.
www.wattsandward.com
Watts & Ward, a craft cocktail speakeasy in the heart of downtown Raleigh, is a handsome venue that's well suited for corporate functions because it offers an intimate atmosphere in a large 6,000-square-foot space.
Niall Hanley, owner of Hibernian Hospitality, explained that the venue is broken into three rooms, all with distinct styles: The first section reflects the mid-1950s, the second area is a throwback to the industrial era, and the study reflects the late 1800s through early 1900s with displays of vintage books and trinkets, including an old cash register that helps give the room its charm.
"Because of these unique spaces, the planner doesn't have to worry about putting a lot of time or money into styling or decorating," he said. "Our space is comfortable, inviting and has detailed architectural features that create the perfect ready-made backdrop for an event."
In addition to its indoor spaces, which feature fireplaces, bookshelves, leather couches, exposed brick and a bar brought in from an old church in Philadelphia, there is also an outdoor area with picnic tables that groups may use either alone or in conjunction with indoor space. Watts & Ward also accommodates buyouts.
"Our staff can work with a meeting planner to develop specialty cocktails for the group," Hanley added. "And we can also work to create a mixology class where groups can have a hands-on experience learning about different ingredients, liquors and recipes."
Drumbar, Chicago
www.drumbar.com
Drumbar, a speakeasy-style, cocktail-focused bar perched atop Raffaello Hotel, offers a welcoming environment and fantastic views of downtown Chicago.
According to Joseph Natale, vice president of food and beverage operations for Menin Hospitality, which owns Drumbar, the bar works with planners to create customized semi-private and private events for up to 200 people.
"The moody yet energetic bar boasts an intimate indoor lounge area where guests can enjoy an unparalleled selection of earnestly sought-after whiskeys, scotches, bourbons and cognacs," he said.
Spaces include the Great Room, which accommodates up to 50 people and features large tufted leather sofas and direct views of the John Hancock Building, a 10-person VIP section called the Nook, with a lounge table, couch and lake and city views, and an outdoor terrace for up to 75 people with two fireplaces, lounge-style seating and panoramic city and lake views.
"Drumbar offers a rotating specialty cocktail menu that highlights some of the season's favorite ingredients," Natale added.
The drink lineup here includes a Cucumber Margarita and the gin-based Beet Box Cooler.