Mandatory Evacuations Ordered for Hurricane Florence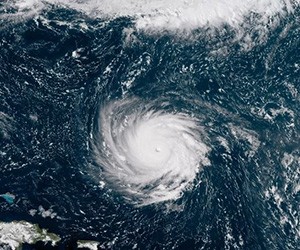 Mandatory evacuation orders have been issued in Southeast U.S. states expected to be hit by Hurricane Florence, which strengthened to Category 4 status and had sustained winds up to 130 mph at press time.
Governors in South Carolina, North Carolina and Virginia declared states of emergency as of September 10, and the about 1 million people had been ordered to evacuate the entire South Carolina coast starting on Tuesday, September 11, according to a report from ABC News.
Residents of the Outer Banks of North Carolina were ordered to evacuate Monday, September 10.
On Tuesday, September 11, Washington, D.C. Mayor Muriel Bowser declared a state of emergency, effective immediately. The declaration of public emergency will stay in effect for 15 days.
Maryland Governor Larry Hogan also declared a state of emergency.
Hurricane Florence is expected to make landfall on Thursday, September 13, bringing rainfall that may reach two feet in some areas, resulting in catastrophic flooding.
Additional information and storm-tracking models are available via the National Hurricane Center of the National Oceanic and Atmospheric Administration (NOAA).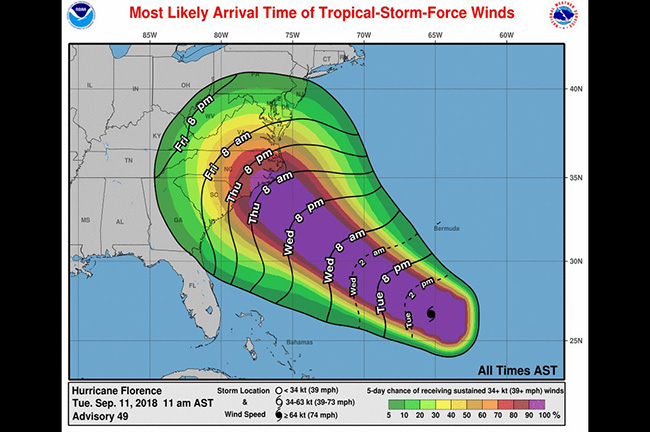 Screenshot captured on September 11, 2018, at 12:30 p.m. Central time via NOAA. Click here for the latest updates.
Hurricane Advice for Planners From Industry Attorney Tyra Hilliard
Meetings industry attorney Tyra Hilliard advises meeting planners who may have events in areas affected by Hurricane Florence to reach out to the facilities they've contracted with to gauge whether their meeting can still be held, and what liability they may or may not face in the case of cancellation.
[Related Content:
In the event Hurricane Florence does cause damage in the Southeast U.S., Hilliard noted that a sticky legal situation may be created by the use of meeting spaces or convention hotels as emergency relief areas.
"When we use clauses in contracts like conflicting groups, you want to be sympathetic, but that's a whole lot of strangers there when you're bringing in your C-level attendees," she said, adding that many attendees may choose not to travel, even by car, to areas they think have been affected.
"First contact the venue or whoever you're contracting with to see where they stand," Hilliard advised. "In cases like this, venues are usually pretty generous about letting people get out of contracts for force majeure, and then depending on what happens there, planners should then contact their lawyer. And their insurance provider is just as important to get in contact with ... because they may have to use their event cancellation insurance."
Editor's Note: The final section of this article, including comments from Tyra Hilliard, was originally published in August 2017 and repurposed for this article in September 2018 as a service to our readers ahead of Hurricane Florence.
[From the Archives: Masters of Disaster - Planners Share Their Hurricane Stories]