EIC Report: Meetings Industry a $1 Trillion Business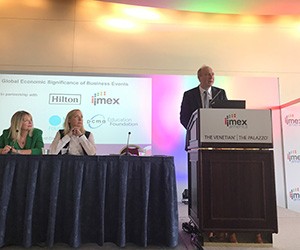 The global meetings and conventions industry is a $1.03 trillion business annually, according to the preliminary results of a survey conducted by Oxford Economics for the Events Industry Council (EIC). The full report will be released November 9, 2018.
"There was over $1 trillion in direct spending on business events with 1.4 billion participants across 180 countries," said Aaron Allen, with economic forecasting company Oxford Economics, about the Global Economic Significance of Business Events study commissioned by the EIC.
Oxford Economics examined 2017 statistics for the report.
To provide a reference point, Allen said that spending on global business events industry far exceeded the spending on consumer electronics.
"It's a very robust spending profile on average," Allen said.
The study defined a business meeting event as a gathering of four or more participants in a four-hour window in a contracted venue. EIC held a press briefing at IMEX America in Las Vegas to reveal the initial results.
Following are highlights of the preliminary findings of the EIC-commissioned study:
Number of participants: Meetings involved more than $1.4 billion participants across more than 180 countries.
Direct spending (business sales): Business events generated more than $1.03 trillion of direct spending, representing spending to plan and produce business events, business events-related travel and other direct spending, such as spending by exhibitors.
Average spending per participant: On average, $711 was spent per business events participant.
Top countries: The top 50 countries accounted for $0.99 trillion of business events direct spending, representing 96 percent of the global total.
Following is a breakdown of business event direct spending and number of attendees, by region:
North America: $381 billion, with 329.7 million participants
Asia: $290.9 billion, with 453.4 million participants
Western Europe: $266 billion, with 406 million participants
Latin America and the Caribbean: $33 billion, with 91.2 million participants
Africa: $23.4 billion, with 80.6 million participants
Central and Eastern Europe: $23.4 billion, with 62.6 million participants
Middle East: $12.6 billion, with 26.1 million participants
Full results are scheduled to be released by the EIC in November 9, 2018, and will include statistics about the number of jobs associated with the global business events industry in the top 50 countries.