Venues With All the Necessities for Stellar Executive Retreats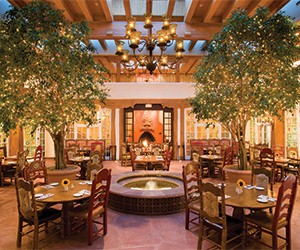 As a global sales organization representing more than 300 leading independent and luxury branded hotels, resorts and destination management companies around the world, Eden Prairie, Minnesota-based Teneo Hospitality Group takes pride in selecting the "right" venue for executive retreats, board meetings and high-performance incentive trips.
"Required elements include a thought-provoking environment, spectacular culinary offerings, convenience and flawless service, producing a unique and memorable overall experience," said Teneo's CEO, Darrell Tamosuinas. "Executives critically evaluate and rank those experiences when deciding on venues, hosts and planners, down to the smallest details.
"Our experience shows that particularly during robust economic times, their needs and amenities become cumulative and additive," he added. "That is, each successive meeting must top the one before it, following the maxim of 'more, better and never less.' The wow factor has to be there every time."  
In today's experience-driven meetings culture, "wow" takes many forms, from overt to subtle. Right for the times and right on the money for smaller, more exclusive and more sensitive meetings, the following venues wow on every occasion.
Urban Enclaves Shine for Executive Retreats
Once the world's eighth-largest hotel, Boston Park Plaza is an enduring titan of the American hospitality scene. Reenergized following a $100 million lobby-to-roof makeover, this 1,060-room Back Bay landmark sports serious group muscle, offering 55,000-plus square feet of space in 36 meeting rooms for up to 1,130 delegates.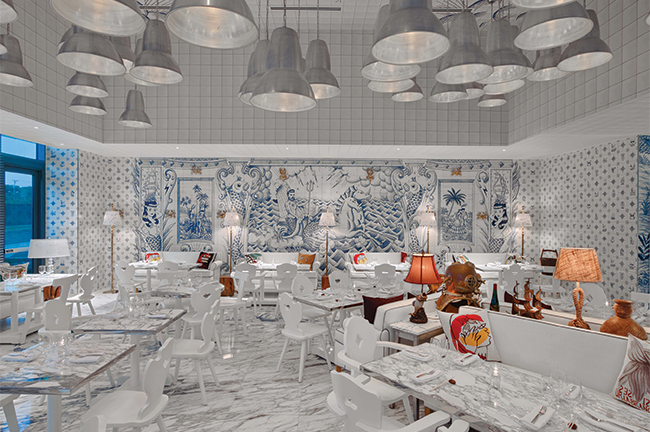 Bazaar Mar by Jose Andres, SLS Brickell, Miami
It is the third-largest hotel in Boston, but it also nimbly hosts small meetings. Along with historic mezzanine-level spaces such as the 60-capacity Clarendon Room, featuring a working fireplace, the hotel has gone cutting-edge with the new Avenue 34 event venue. With its own entrance, this street-level studio/loft, featuring exposed steel beams, industrial finishes and natural light, offers 7,000 square feet of highly configurable space for general sessions, board meetings, catered events and more.
Purpose-designed for high-level meetings, the new Cypress Executive Lounge at ARIA Las Vegas is another self-contained venue with a 30-person conference room and movable furniture, a self-serve pantry, three private suites and a library-style study.  
Brickell, Miami's booming financial district, sizzles with business meetings, social networking and nighttime action. Hot hotels include the group-ready, 124-room SLS Brickell and the 84-suite SLS LUX Brickell.
Flexibly geared for high-level meetings of up to 450 attendees, the former offers 58,000 square feet of indoor and outdoor space. Hot draws include the seafood-driven Bazaar Mar from Spanish celebrity chef Jose Andres, featuring eye-popping design from Phillipe Starck.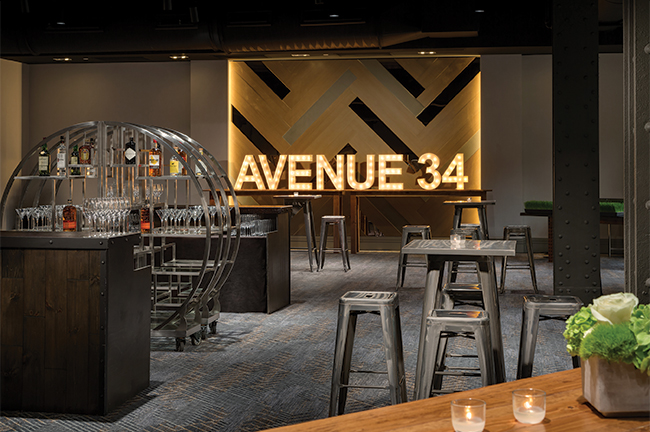 Avenue 34, Boston Park Plaza | Boston Park Plaza
Gastronomy is the group calling card at the nearby, just-opened SLS LUX, where sushi and robata temple Katsuya, from legendary L.A. chef and sbe partner Katsuya Uechi, offers private dining and buyouts.
Chicago retreats include Cindy's, the restaurant and private dining room crowning the storied Chicago Athletic Association Hotel. Accommodating 10 to 150 guests, this rooftop gem features a fireplace and sweeping panoramas from its open-air terrace.
Holding a corner with innkeeping origins back to 1607, Santa Fe, N.M.'s 180-room La Fonda on the Plaza, from 1922, is a major repeat choice for corporate groups.
"We base meeting room rental on a sleeping room block and F&B minimum," said Ed Pulsifer, director of sales at the property. "Meeting space is complimentary with a 100-room block per night."
Completing a sweeping three-phase upgrade in 2016, La Fonda features a storied art collection and is the only hotel on Santa Fe's famed central plaza.
"Venues such as The Santa Fe Room, from 1929, are perfect for corporate retreats," Pulsifer said.
Offering 21,000 square feet of space, full and partial buyouts are available.
CEOs and other VIPs can book the 15 guest rooms on the privately accessed Terrace at La Fonda.
Subpar Security Won't Fly for Executive Retreats
Privacy reigns supreme for high-level meetings.
"Guests must have total confidence in the venue," Teneo's Tamosuinas said. "That means technological anonymity and absolute security, and zero concern with issues."
Master guardians include Alan Stenberg, co-maitre de maison of Glenmere Mansion, an 18-room Relais & Chateaux retreat in New York's lower Hudson Valley, complete with a helicopter pad. Routinely hosting Fortune 500 buyouts, it's a well-shielded domain.
"Property exclusives, free of other guests or outsiders, offer complete peace of mind," Stenberg said, adding, "we have the most paper shredders of any hotel in the Northeast."  
Another mission-critical sanctuary is the Inn at Bowman's Hill in bucolic Bucks County, Pa. Owner Michael Amery, a former medical device industry executive, offers a AAA Four Diamond haven for leisure and business.
Set on five acres, his English country escape has eight guest rooms, including four apartment-size suites in the main house. Amery's high-tech, wood-paneled boardroom is straight out of James Bond.  
For St. Louis groups, private railcar excursions from fabled Union Station are a VIP ticket for rolling retreats. These curated, catered experiences take up to 75 attendees out in executive railcars around metropolitan St. Louis, plus regional charters to and from Chicago and Kansas City.
Opened in 1894, the National Historic Landmark Union Station is a grand platform for events large and small, with the magnificent Grand Hall headlining 100,000 square feet of programmable space. 
PageBreak
On the Scene: Perfectly Presidio -- San Francisco's Birthplace Ranks High for Important Gatherings
In 1776, as the revolution swept Boston, Spain claimed San Francisco's peninsular tip as the northernmost outpost of its colonial empire. Their fortified base, El Presidio Real de San Francisco, or the Presidio was destined to become an American treasure.
Taking over the garrison in 1821, Mexico established nearby Yerba Buena—the future San Francisco. After serving as a U.S. Army base from 1847 to 1994, the site was transferred to the National Park Service and the Presidio Trust.
Following 219 years of military service, a new public era began—meetings and events included.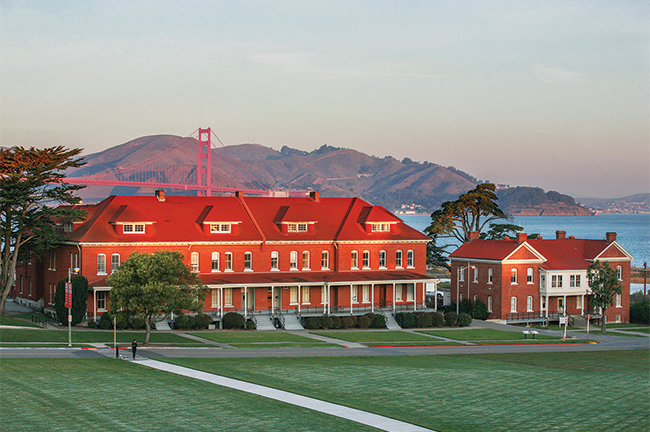 The Lodge at the Presidio, San Francisco | Credit: Kentyn Reynolds
In 2012, Pershing Hall, originally housing bachelor officers, was revived as the boutique Inn at the Presidio. Ideally equipped for executive meetings and board retreats, the 22-room Georgian Revival main house includes 17 suites with fireplaces. Captains of industry also have access to the nearby four-room Funston House, formerly an officer's home.  
Opened in June 2018, the 42-room Lodge at the Presidio updates the historic Montgomery Street Barracks, one of the red-brick buildings lining the former parade grounds. It's San Francisco's closest hotel to the Golden Gate Bridge, with most rooms, my spacious corner suite included, offering views of the iconic span.
The expansive lobby, common areas, dining room and outdoor firepit are effortlessly inviting. Military memorabilia and soldier portraits give the building soul, along with the welcoming staff. Made to measure for executive tastes and sensibilities, it's understated hospitality at its finest.
There's no meeting space, but the Lodge at the Presidio fortifies small group bookings at its high-demand sibling.
"Since opening, the Inn at the Presidio has maintained 94 percent year-round occupancy," said Bradley Hansen, hotel manager at the inn. "The lodge's room inventory gives us enhanced sales and hosting flexibility."
Other historic rentals include the Presidio Officers' Club, now the park's museum and cultural center, and Golden Gate Club, once the enlisted men's service club.
Groups also can utilize the Walt Disney Family Museum and San Francisco Film Centre.
The Presidio's multiple F&B outlets include three restaurants from two-time James Beard Award-winning Bay Area chef Traci Des Jardins, who also provides event catering. Wide-ranging culinary offerings include outdoor festivals and food trucks.  
For outdoor connections, the richly forested Presidio has an extensive hiking and biking trail network. The Ecology Trail starts behind the Inn at the Presidio and leads to Inspiration Point, where the panoramic views speak for the Presidio's historical preeminence—and commanding spot for meetings.