Life Balance: Kalahari Resorts—When Event Attendees Want to Bring Their Family Along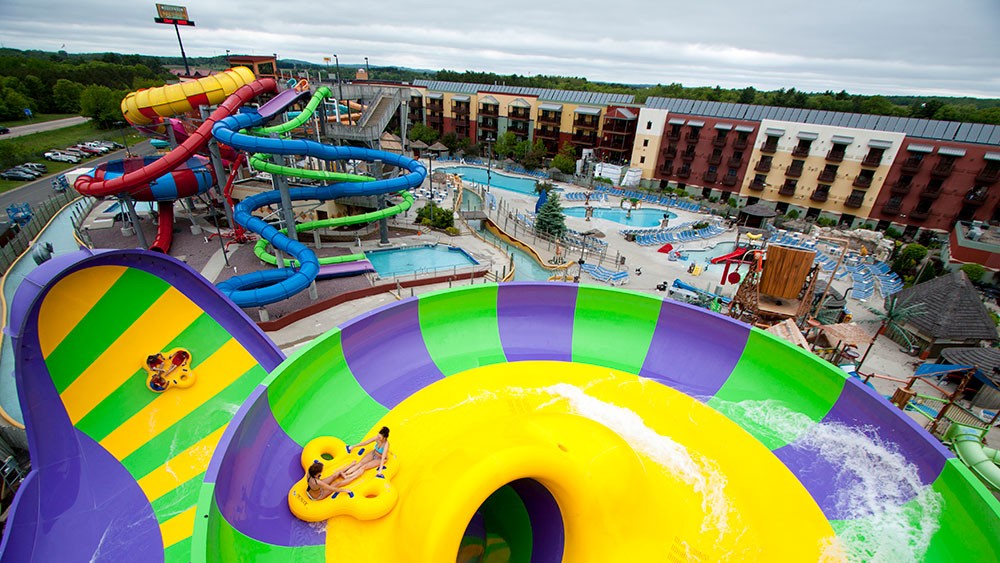 Kalahari Resorts & Conventions properties are destinations you should consider for your next event if you're looking to increase attendance.
Home to some of the world's largest indoor waterparks, Kalahari properties offer a two-for-one special for meeting planners and attendees—state-of-the-art facilities and vacation-style activities for the entire family.
With the well-known waterparks as well as spas, indoor theme parks and award-winning golf courses, Kalahari dubs itself "the unconventional convention center."
The company currently operates resorts in Wisconsin Dells, Wisconsin, Sandusky, Ohio, and the Pocono Mountains, Pennsylvania, and plans to open a location in Round Rock, Texas, in 2020.
I took part in a hard hat tour of the expanding convention center at Kalahari's original location in Wisconsin Dells (more on that below), where I also had chance to experience the resort's family-friendly meetings hospitality firsthand.
Everything Under One Roof
Kalahari highly encourages attendees to bring family members for meetings.
Considering all resort guests have access to the waterparks, which are set to a balmy 84 degrees every day of the year, it makes sense that planners see an average increase in attendance at meetings.
According to Tifani Jones, corporate sales director for Kalahari Resorts & Conventions, the average attendance increase is 20 percent for annual meetings held at its roster of waterpark resorts versus those held at more traditional venues.
"People get excited and they want to attend, because they can do double-duty by also servicing a vacation for the family," Jones said.
[Related Content: 4 Innovative Museums That Cater to Groups With Families in Tow]
Jones noted Kalahari has online tools available for meeting professionals to use in promotion of the event and to get the word out that it's a good idea to bring the family along.
"Embracing the family-friendly aspect of it, if it fits what your groups needs are, can really be a benefit to the event planner because you're going to find that attendance can be lifted by leveraging that brand," she said.
All locations offer a variety of family-centered recreation and entertainment options, as well as food and drink venues for attendees and their guests to enjoy.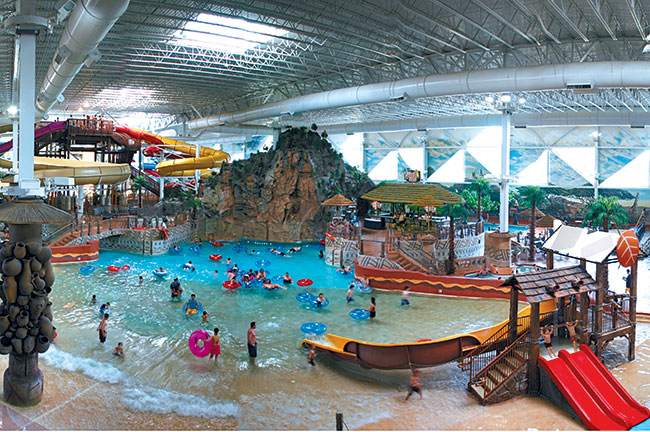 Kalahari Resorts Dells Indoor Waterpark, Wisconsin Dells
The Wisconsin Dells resort is home to:
Trappers Turn 27-hole golf club.
The Arena (virtual gaming experience).
Various retail shops.
An AMC Desert Star 15 Theater
Factor in the nearby Ho-Chunk Casino, and there's room for everyone to do as they please.
"One of the things that I find fascinating is that it's not just parents bringing along the family," Jones said. "In some cases, it's grandparents who are attending a meeting, and they'll bring along the grandkids so that they can enjoy [the resort].
"In some cases, it's all three generations coming," she added.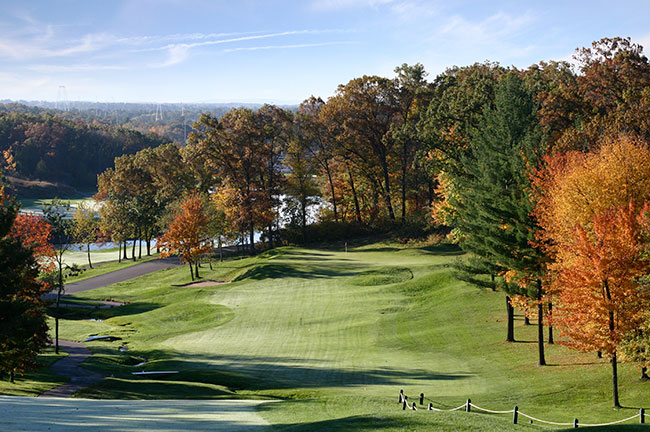 Trappers Turn Golf Club at Kalahari Resorts Dells, Wisconsin Dells
Effects of Expansion
Long known as family waterpark resorts, Kalahari properties are becoming increasingly popular meetings destinations, too. The resorts' programs keep children entertained, while parents can attend to work (and play later).
Jones said that adequate space is in high demand for planners looking to book a meeting at Kalahari properties and sees the trend continuing throughout 2019.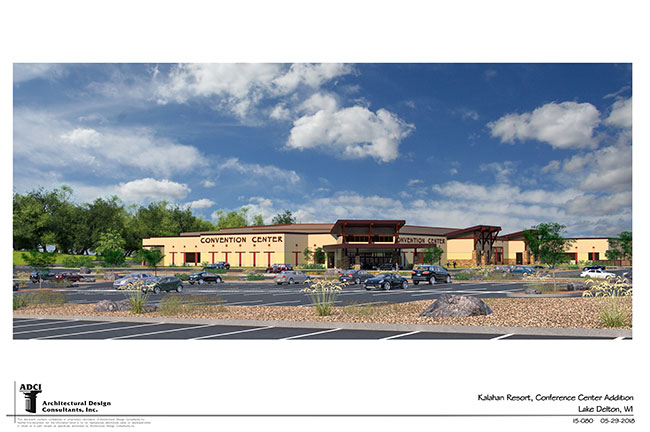 Kalahari Resorts Dells Convention Center Expansion Rendering, Wisconsin Dells
The company is meeting the demand with expansions and a new property.
[Meetings Today Podcast: Kalahari Resorts Reveals Sneak Peek of Dells Expansion]
Projects at the Wisconsin Dells and Pocono Mountains locations will more than double the size of both convention centers, while a new Kalahari property is set to open in Round Rock in 2020 with a 200,000-square-foot convention center.
The expanded Wisconsin Dells convention center is scheduled to open in fall 2019.
Upon completion, new additions will include:
112,000 square feet of additional space (for a total of 212,000 square feet).
10 new meeting rooms (for a total of 45).
New 52,000-sqaure-foot main ballroom (for a total of three ballrooms).
Enhanced load-in and load-out capabilities.
Substantial registration and client office areas.
Sun-drenched prefunction spaces, recharge lounges and outdoor patios.
Marc Cohen, executive director for the Wisconsin EMS Association, attended the recent hard hat tour of the space and was excited about the construction underway. He explained below how the expanded convention center will enable his organization to host its annual meeting in fall 2019 for around 1,500 attendees outside of Milwaukee for the first time in 30 years.
With Cohen's attendees already looking forward to the Wisconsin EMS Association meeting in fall 2019, he's optimistic it will be a good turnout.
The Wisconsin Dells location has 756 guest units, many of which are large suites comfortable enough for a multi-day getaway that can accommodate both work and downtime.
Big Enough for Big Moments
Wisconsin Dells is a popular vacation destination in the Midwest.
Some might speculate that the costs of hosting an event at a destination like Kalahari outweigh the benefits, but Cohen believes otherwise.
[Listen below: Cohen shares his opinion on cost versus payoff for booking the annual Wisconsin EMS Association event at Kalahari Resorts Dells versus other venues]
Hospitality also plays an important role in the entire experience.
Friendly staff are a must for both meeting planners and their guests, and the Wisconsin Dells location showcased its warm, excellent service during the hard hat tour, which also highlighted the wide range of in-house catering options. Pair those traits with Kalahari's eye-catching aesthetic of African-themed artwork and decor found in all locations, and planners have all the ingredients needed to pull off a successful event.
Between growing meeting spaces, expansive properties near major cities and airports, and never-ending family fun, resorts like Kalahari may have made meeting planning and balancing family life a lot easier.
Behind the Scenes Photos
Following are some behind the scenes photos from Meetings Today's recent hard hat tour of the Kalahari Resorts Dells' convention center expansion.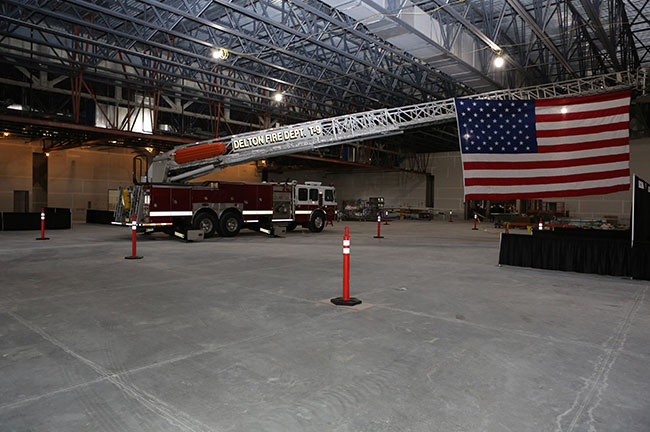 A Fire Truck Parked Inside the New Kalahari Resorts Dells Convention Space (for Scale), Credit: Adrian Thompson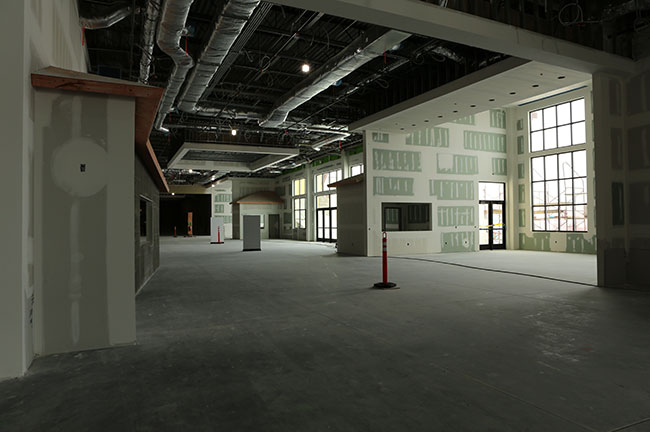 Hard Hats on Display at the Kalahari Resorts Dells Construction Site, Credit: Adrian Thompson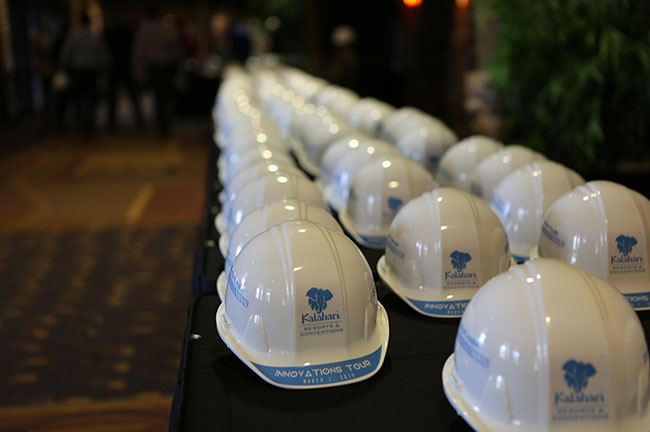 Hard Hats on Display at the Kalahari Resorts Dells Construction Site, Credit: Adrian Thompson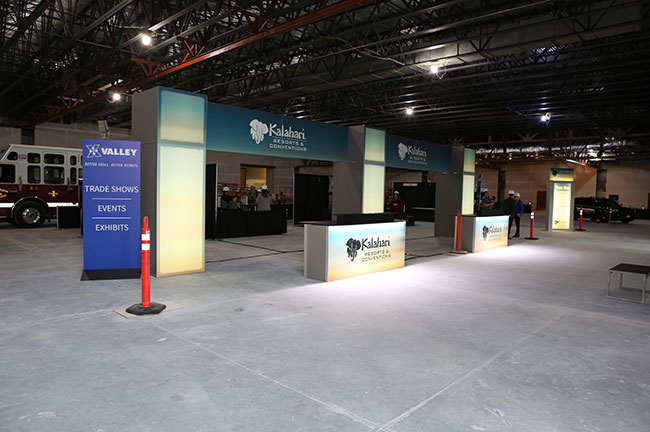 Mock Event Registration Area at the Kalahari Resorts Dells Convention Center Expansion Site, Credit: Adrian Thompson
[Read This Next: Experts Weigh in With Tips for Family-Friendly Meetings]