4 Family-Friendly Midwest Resorts That Have Unveiled Major Improvements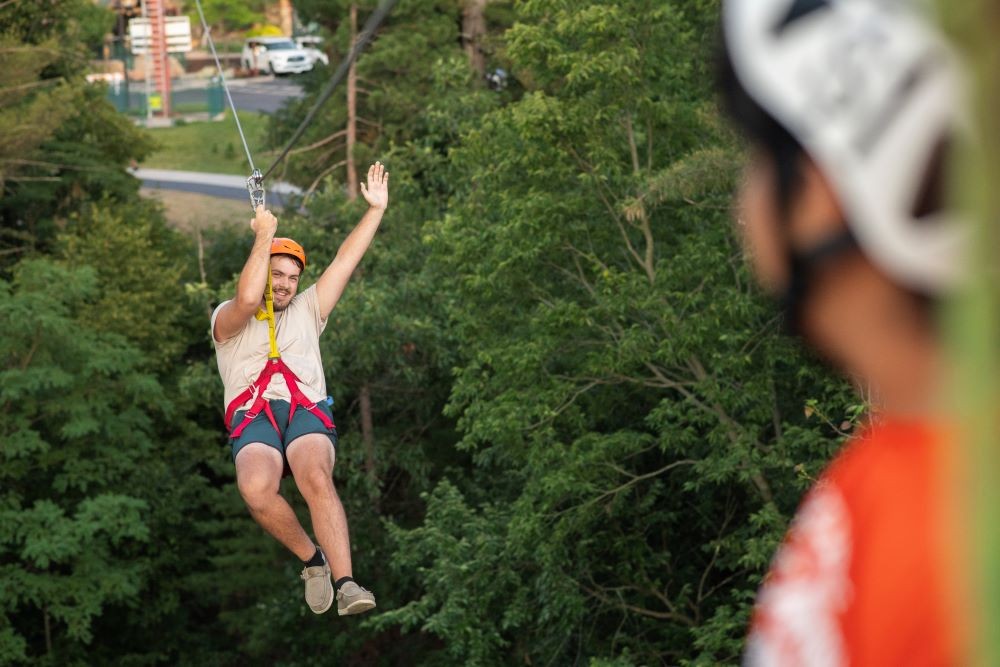 Wilderness Resort, Wisconsin Dells, Wisconsin. Credit: Wilderness Resort.
With business travel nearly back to pre-pandemic levels and family schedules returning to normal, mom or dad may be on the road for meetings more frequently. 
As traveling to conferences often presents a familial logistics challenge, parents or guardians can opt to take the kids on the road with them if a meeting is held at a family-friendly resort that offers lots of activity options for children and adults alike.
The Midwest is literally swimming with family-friendly resorts that are also meetings-friendly. Here's what's going on at four of the region's premier family-friendly properties.
[Related: 6 Tips for Planning Family-Friendly Meetings]
Kalahari Resorts & Conventions, Wisconsin Dells, Wisconsin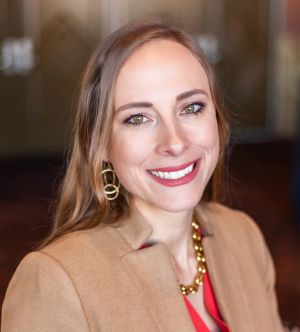 Big things are happening, and have happened, at Kalahari Resorts & Conventions' flagship Wisconsin Dells property, which offers more than 200,000 square feet of meeting space.
The family-owned, African-themed brand has commenced a project adding 237 guest rooms to its Dells property and is on track for a summer 2024 opening of the primarily double-queen rooms. The new accommodations will feature design elements that are suitable for transient, family guests but also offer the modern amenities expected by meetings groups.
"It's going to be comparable to a downtown hotel property but also support those additional kids that may tag along to a meeting," said Kyra Popp, corporate director of sales for Kalahari Resorts & Conventions, of the $50 million project. "Post-Covid, people are working from home now, so we're seeing that it's more acceptable for meetings to attract families and kids, and that's just a really good fit for our brand in general.
"We're also seeing, with the increase in corporations having a remote workforce, there's that need to bring people together more frequently," she continued. "Quarterly meetings that weren't a thing before are now a thing. There's really a need to get people aligned and on-strategy, and idea sharing and brainstorming really has to occur in an in-person setting."
In a further benefit for meetings guests, the rooms addition will be connected to the main resort via skywalk, a boon during winter months or periods of inclement weather.
[Related: 4 Tips to Plan Better Family-Friendly Meetings and Boost Attendance]
Aside from the guest room addition, Kalahari's Dells resort is also gearing up for a major property-wide renovation, but details have yet to be released.
"Our whole entire resort is getting a renovation," Popp said. "It's going to be a completely new resort—we have a lot of surprises in the pipeline in '24 and '25. The Dells is the mothership, so there's a lot of pride that goes into our property here."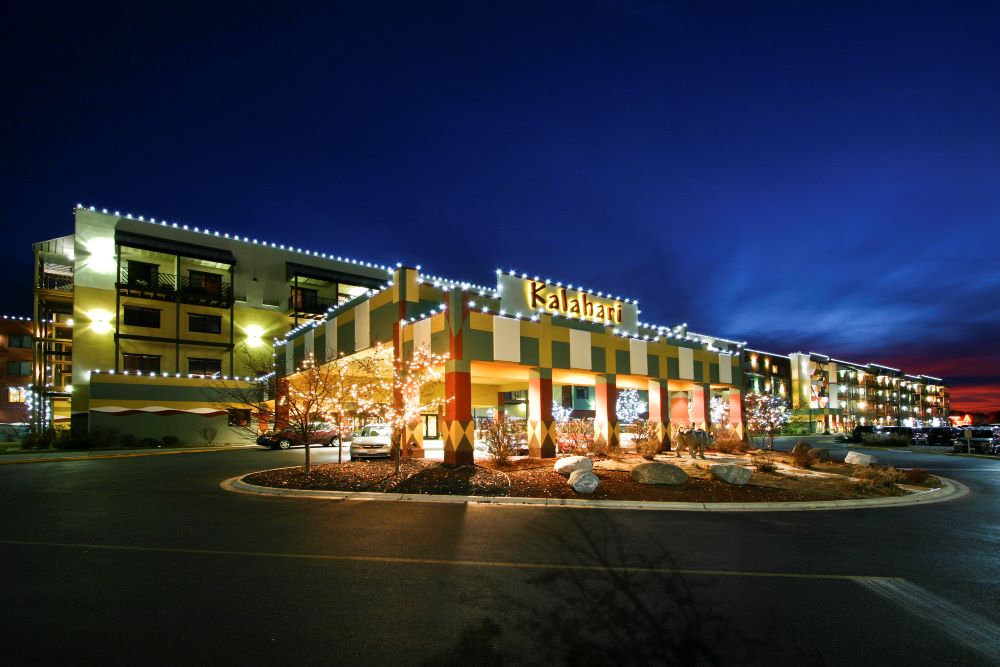 Wilderness Resort, Wisconsin Dells, Wisconsin
Another Wisconsin Dells waterpark standout, Wilderness Resort, has also been implementing some major changes, including eight new treehouse accommodations options that provide a great fit for small meetings and executive retreats.
The eight 4,000-square-foot, three-level Wilderness Tree House Cabins each feature five bedrooms, including two primary bedrooms with private bathrooms, six total bathrooms, a living room, a fully furnished kitchen and an entertainment room, along with an attached treehouse unit with additional sleeping and lounging spaces.
"The Tree House Cabins are in the process of opening, with two open now and the remaining opening throughout fall," said Shannon Timmerman, director of sales at the resort. "They have beautiful views, and in the middle common area is a putting green, so I have a feeling our golf groups are really going to enjoy that. They'll also have a big common area where they can cook out together."
Timmerman said groups of up to 40 could buy out all eight of the cabins, each of which has a lower level with couch seating and an island table with a TV above it, making it a good meeting space. The main floors offer a kitchen with a grill outside of the door, and there are bedrooms on all three floors.
The resort can accommodate up to 600 at its Glacier Conference Center, which is attached via skywalk to the Glacier Canyon Lodge and located at the end of the property, giving it more of a sequestered feel free from disruptions by transient guests enjoying the facilities with family in tow.
"Many groups come in on a Thursday, bring their families in on a Friday, and then extend their stay through the weekend," she said, adding that the resort offers options such as a ropes course, golf, zipline and indoor and outdoor go-cart tracks that are popular for teambuilding and other activities.
"Many groups will tie in a teambuilding component event on the ropes course, ziplining and golf," she said. "You might have a three-day conference with two days of meetings and one day of golf. And for those who do not golf, we have the Sundara Spa right onsite."
[Related: Is Meetings Business Recovering Faster at Family-Friendly Resorts?]
Set on more than 600 wooded acres, Wilderness Hotel & Golf Resort offers 446 guest rooms, along with 40 villas, 76 Frontier Condominiums and 35 cabins. Additional accommodations include the 108 two- and three-bedroom condos at Wilderness on the Lake and 460 upscale condo units at Glacier Canyon Lodge.
The resort completed renovations that included new paint, carpet, flooring, countertops, furniture, artwork and televisions to all of its 446-room Wilderness Hotel guest rooms in late 2022. The property is also adding two 4,000-square-foot Sundara Cabins in 2024.
"Everything has been completely renovated in the last year," Timmerman said, "and there were also some waterpark renovations, including an adults-only swim-up bar and a new restaurant."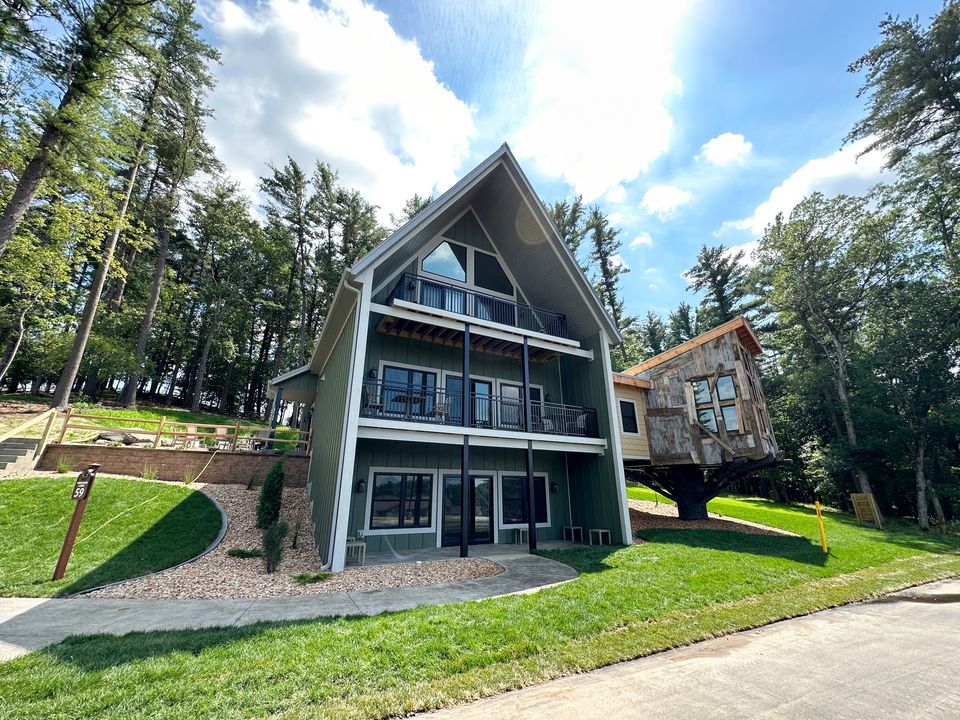 Grand Traverse Resort and Spa, Acme, Michigan
Northern Michigan's Grand Traverse Resort and Spa recently announced the completion of a $10.5 million renovation of its original six-story hotel that increased the room count from 239 to 242, including two new junior suites.
The project also updated all of its guest rooms, bathrooms, corridors, elevators and public restrooms, in addition to improvements to its four hospitality suites.
Big upgrades were also made to the resort's private Beach Club, which is enjoying its first summer of operation since 2019.
Boasting views of East Grand Traverse Bay, the Beach Club includes:
An outdoor pool
Hot tub
Poolside food and drinks at Fin's Sandbar
A private beach area with chairs and umbrellas
Live music
S'mores roasting
Water sports rentals from Blue Sky Rentals
The largest conference and convention center in Northern Michigan, with 600 guest rooms and more than 86,500 square feet of meeting space, the 900-acre property owned by the Grand Traverse Band of Ottawa & Chippewa Indians also features golf on three championship courses and the award-winning Spa Grand Traverse.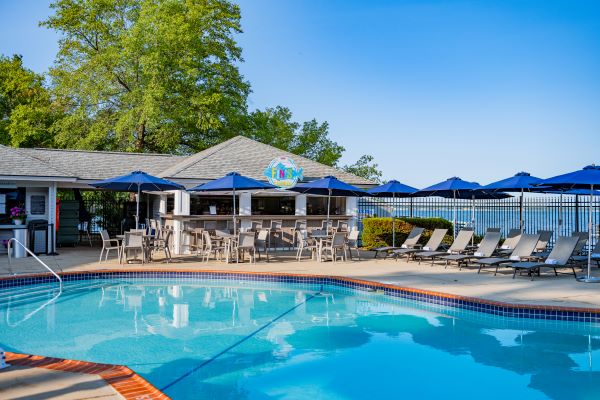 Lied Lodge, Nebraska City, Nebraska
Owned and operated by Arbor Day Foundation's Arbor Day Farm, located about 45 miles from Omaha, Nebraska, the 140-room Lied Lodge sits on 260 acres of scenic, heavily wooded land—the organization's mission is to nurture and celebrate trees, after all—that also includes Tree Adventure, the Apple House Market and Arbor Lodge State Historical Park.
Offering more than 14,000 square feet of meeting and banquet space and a staff of conference planning managers to serve groups, recent happenings here include two new gathering and exploration areas.
Woodland Grove, located just north of Lied Lodge, offers a 120-foot-in-diameter raised wooden deck shaped like an apple blossom and made from sustainable black locust wood. Surrounding a lower inner circle of paved stone, the deck can accommodate up to 250 guests and features a new bathroom and shelter complex.
The Grove is part of Arbor Day Farm's Nature Connection Project that began in 2022 and added a 2.4-mile, ADA-accessible Conservation Trail illuminated path that traverses a hazelnut orchard and offers two fire pits.
A favorite activity option for kids and adults alike at Arbor Day Farm is the Tree Adventure, which features more than 800 feet of netted walkways and bridges that connect 11 tree houses in its Treetop Village.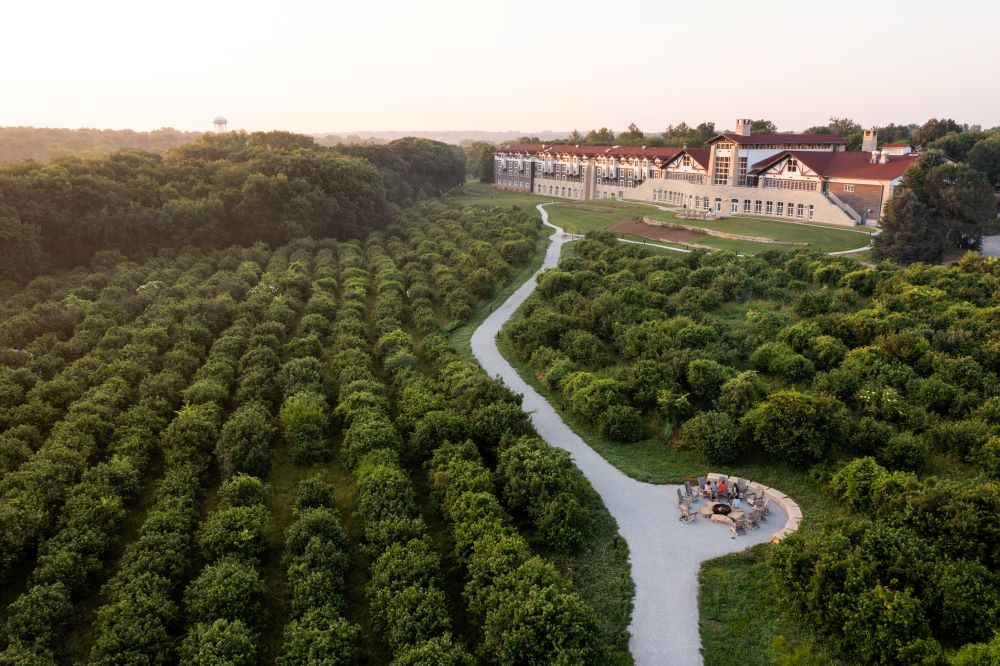 Read this next: Experts Weigh In With Tips for Family-Friendly Meetings