6 Tips for Planning Family-Friendly Meetings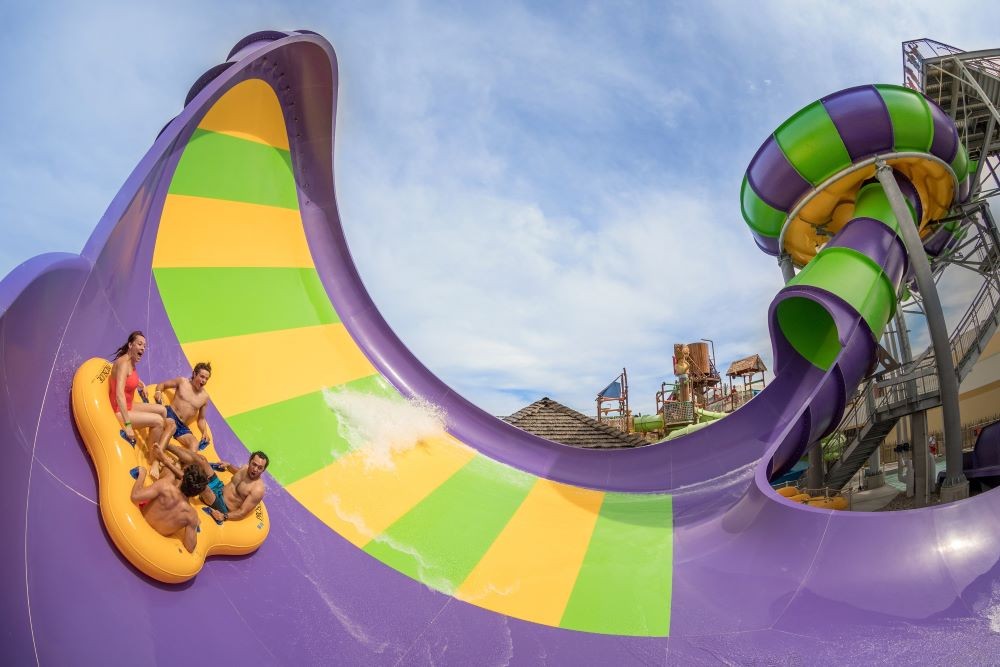 Kalahari Resorts & Conventions
Shifting back into pre-pandemic routines, hobbies and schedules hasn't necessarily been easy for anyone, but for parents, readjusting to what life was like before their kids were cooped up in their bedrooms on their phones day after day, means not just returning to their pre-pandemic lives, but helping their children navigate finding their new normal as well.
For many families, this could mean overlapping and conflicting schedules, which has made bring-your-kids-to-work day a common occasion for a handful of part- and full-time parents. An analysis of a January U.S. Census Bureau poll found 6% of parents of children ages 5-11 were not working because they had to care for their children, according to Pew Charitable Trusts. 
It's not always easy to find a sitter to help either, and when it comes to attending meetings and events, sitters are often needed multiple days in a row while parents travel for work and business. Sometimes, it becomes necessary for attendees to take their children with them.  
"Now more than ever, we are seeing an emerging trend with professional conferences giving their attendees the opportunity to bring their families along for the stay," said Kearstin Puricelli, assistant director of sales at Kalahari Resorts & Conventions. 
If planning a family-friendly event is in your future, Puricelli and other meeting professionals shared their best tips and tricks for creating an event fit for people of all ages.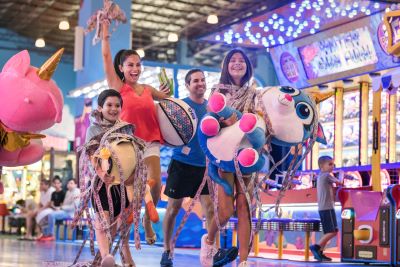 Set and Manage Expectations Early   
When Stewart Mann, CEO and founder of Wild Rooster Events, knows he has a family-friendly meeting to plan, the conversations he has with planners, venues and clients are longer and more frequent "because there are so many boxes that need to be checked off."
Not only does Mann have to consider the corporate side of event planning, but entertaining kids as well, many of which are 15 or younger. Oftentimes, Mann said he conceptualizes freely and on-the-fly during these conversations, providing the client every idea he can think of before finalizing their plans.
"The next step is going back to the venue and making sure everything the client wants, we can pull off," Mann said. "There's a fine line you have to walk to make sure everything works. All events are very detail-oriented and logistics heavy, but it's a whole other beast whenever it comes to involving that wide of an age range."
Once he discusses everything the client wants with the venue and the client's initial expectations are set, Mann makes sure to communicate the plan to all parties and avoid any drastic changes to the event while planning and preparing. This ensures every event meets expectations without too much unpredictable trouble.
[Related: 4 Tips to Plan Better Family-Friendly Meetings and Boost Attendance]
Triple Check Venue Capacity
In planning family-friendly events, there is one thing Christine Tempesta, president of KiddieCorp, never forgets to do: Ask facilities for enough space. She starts by determining her population, asking herself, "Who do you, the planner, want to serve?"
Family-friendly meetings and events require space for more than lectures, presentations and receptions, but also for childcare, activities and other entertainment. 
"At least 75-100 square feet per child," Tempesta said. "You want to have at least 2-3 spaces for age separation…It depends on how many children total you are expecting."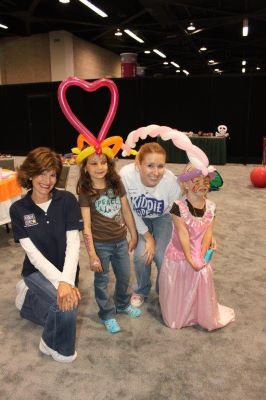 Keep Communication Consistent and Clear
Not only is it important to remember to stay in consistent contact with those on your event-planning team, but with your attendees as well—especially parents. When it comes to family-friendly events, Mann takes "an entirely different approach" to marketing, promoting and communicating throughout the event.
"In my experience, if you don't hook the children, you don't hook the parents," Mann said.
On the marketing side, Mann said deciding to attend an event, for parents, is an easy choice to make, as many travel for business, conferences, seminars and more. Getting children excited, interested and intrigued is a different story.
"Unless it's something cool enough to where the kids are like, 'Oh, my gosh! I want to go to that,' the family won't come," Mann said. "Parents know their children are happy, and it's not going to be an uphill battle the whole time they're there trying to keep them happy."
Both Puricelli and Tempesta emphasized the importance of communication from the parents' perspective, sharing details regarding what will be offered for their children, specifically childcare services, as early as possible. 
"Information and communication are the key milestones for creating an environment where families feel welcome and cared for as they travel to a new place," Puricelli said. "Adding in personalization fields within registration is also helpful to really know your attendees and recognize them in ways that are meaningful to them."
Tempesta agrees that making a personal connection with attendees is important in developing genuine relationships and increasing overall event attendance.
"Communicate to attendees as often and as personally as you can," she added. "The best-attended family programs are talked about from the beginning and make it easy for attendees to access information and register their kids."
Sometimes, she said, it could be helpful to build a database of parents with all contact information in one place, making it easier to reach parents in case of an emergency.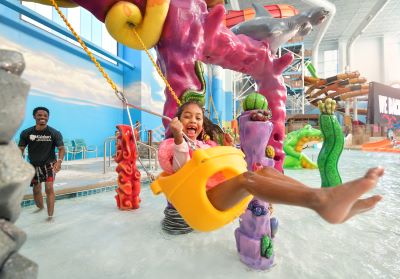 Provide a Variety of Fun Options
One of Puricelli's "keys to success" for planning any family-friendly event, she said, is to ensure the host venue has enough activities for a multi-generational audience.
"Families come in all shapes and sizes, and in some cases we are seeing older generations as a part of the group," she said. "Whether that be in the form of a grandparent or an aunt or uncle who is there to enjoy the festivities but also to help watch over the younger children in the family, everyone has the desire to enjoy experiences."
Kalahari Resorts & Conventions offers activities and amenities such as America's largest indoor waterparks, escape rooms, theme parks, ziplining, spas, live music venues and bars for the grown-ups. 
"Children are relatively easy to please, but their attention spans are so short—so much shorter than an adult's," Mann said. "You can't have a group [of kids] doing the same thing for 90 or 120 minutes. You've got to think with a children's attention span. Whether it's rotation-style games, carnivals, face painting or a movie night, there are rotating blocks of things that people can do."
Entertainment can be expensive, Tempesta said, but there are ways to keep children and families engaged that won't eat away at your budget, and having fun entertainment one night instead of every night will make for the perfect event highlight.
"You shouldn't need all the bells and whistles," she said. "Children enjoy seeing each other and seeing the staff they invariably bond with. It's such a bonus for kids to have young adults who are there just for them. They don't get that kind of time and dedication from most adults."
[Related: Is Meetings Business Recovering Faster at Family-Friendly Resorts?]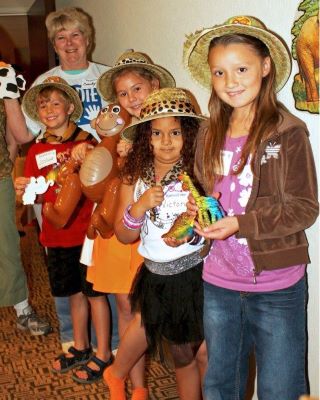 Encourage Social Interaction
When it comes to getting families together, Mann sees it "as a necessity."
"I think it's brilliant. I wish people would do it more often," he said. "My background is in psychology. Because we have such a strong emotional attachment to our family members and such a strong bond, when we are bonding as a family with another family, that connection is so much stronger."
Puricelli said socializing and mingling events are becoming increasingly more common, especially in family-friendly meetings, and the most popular way to plan them is either at the beginning or end of the event.
Mann noted that free-flow family events, in which there is an activity "all day, every day," gives families an opportunity to interact throughout the day, while structured events are easier to schedule at night and in coordination with your marketing team to promote the event as much as possible.
"Music and food continue to be the top two ways to bring people together to create an atmosphere that is welcoming and memorable," Puricelli added. "If you are working with a venue that already has the live music offering onsite, often this can be a low-cost way to provide that for the attendees without the worry of finding and booking talent. If the upcoming entertainment isn't already posted to the public through an online resource, often your planning contact for the venue will be able to get the inside scoop on who is playing."
One thing to note, Puricelli added, is to make sure to accommodate to the children, too, and make sure they feel included and aren't intimidated by attending social events.
"If they are included in any of the banquet functions within meeting space, check with your catering manager on meal options that are special to them so they feel important and included," Puricelli suggested. "For example, at Kalahari, we have the ability to set up children's buffets, and not just in the form of serving kid-friendly food, but the height of our buffets is scaled down for kids specifically."
Ensure to leave space for quality family time in the schedule.
The final, but perhaps most important, piece of advice all three family-friendly meetings professionals gave was to leave room for family time in the event itinerary and schedule. Both Puricelli and Tempesta said this could be as easy as ending early the last day of your event or scheduling a free evening for families.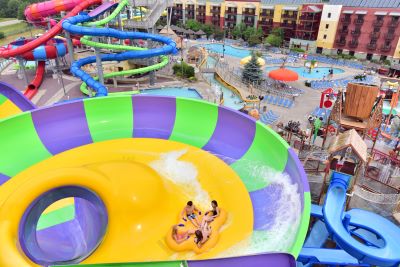 "Providing a good balance of options and structure but also allowing individuals to pick and choose what is most interesting to them tends to be successful and well-received," Puricelli said. "Also keeping in mind that down time will be important for most, so allowing for some flex in scheduling takes the pressure and stress off the organized fun."
When most parents' lives put children first and work second, creating a space where parents can incorporate both into one environment takes the pressure off the adults and makes children excited to spend time with their parents.
"Family is everything to a lot of people," he added. "It's all about bonding and having that experience, being rooted in family again. It feels natural."
Mann said planners should promote the absence of technology-related distractions at family-friendly events, so children set down their phones and tablets to attend activities with their families and make meaningful memories. 
"It's really important, as a planner, to think outside of the box and get creative in how you're engaging these families," Mann added. "I get people telling me all the time, 'This is the coolest thing we've ever done as a family, ever!'"
Read this next: Experts Weigh In With Tips for Family-Friendly Meetings