Marriott CRN's Bold 48-Hour Film Challenge Breaks the Mold to Showcase Meeting Facilities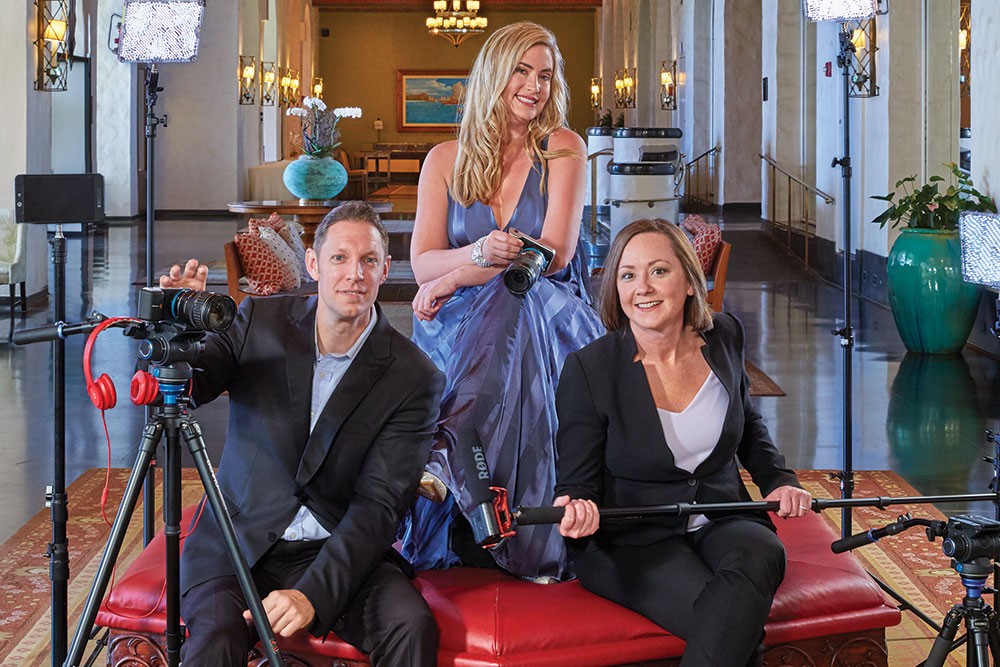 Marriott's Convention & Resort Network (CRN) ventured decidedly out of the box with its recent 48-Hour Film Challenge, which pitted four teams of independent filmmakers against each other to produce short films on an extremely tight deadline.
The competition also showed off the flexibility of the meeting space at Vancouver, British Columbia's the DOUGLAS, Autograph Collection hotel and the convention facilities it shares with the attached JW Marriott Parq Vancouver.
While one might not immediately make the connection between filmmaking and hotel marketing, the action-packed proceedings may deserve an Oscar for sheer boldness.
The marketing hook focused on three key concepts:
The independent film theme that the DOUGLAS and the Autograph Collection brand promotes.
The status of Vancouver as the third-largest film shooting location in North America in terms of direct economic spend.
The creativity and flexibility of the CRN in transforming traditional conference facilities into dynamic settings for meetings.
The undertaking was the brain child of Amy Popper, senior marketing manager for Marriott's Convention & Resort Network, and independent filmmaker Jason Dallas, the head of production for 3000 Mile Productions. Dallas has worked on reality TV shows such as Hell's Kitchen, The Amazing Race and Take the Money and Run, among other projects.
[Related Content: 5 Meeting Planner Takeaways From the 48-Hour Film Challenge]
The duo was joined by Jeff Krapf, a broadcaster who serves as the face of the CRN's Made Here. A Marriott CRN Travel Show, as the host of the "movie within the movies" of sorts, as CRN filmed its own reality show of the competition.
Hosting the Challenge was Amy Ballard, director of sales and marketing for the DOUGLAS.
Why Meetings and Marketing Are Like Filmmaking
"This is something that we're thrilled to be doing, to really show meeting planners what can be done that's different," Popper said before the event kicked off. "We really want to challenge and disrupt what's out there from the meeting planner's perspective and show them how 'crazy' we can get to create what they need for their meeting."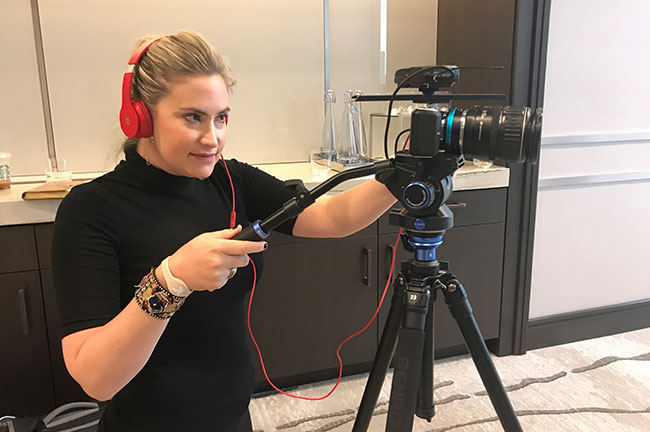 Amy Popper, Senior Marketing Manger, Marriott's Convention & Resort Network, Credit: Tyler Davidson
Popper said the key marketing objective was to demonstrate how CRN properties can break away from traditional settings that planners and attendees are used to—and perhaps bored of.
"For meeting planners, they're going to see what it looks like to work with our hotels," Popper said. "They're going to get to see the unique spaces at this hotel that they can actually ask for at any CRN hotel that they may not think of as traditional meeting spaces. They're going to get to see some of our breakout spaces transformed—we have an art gallery, we have an office being built here—breakout spaces that can be transformed into anything. And then they're going to get to see movie magic being made, just like we can do for your meetings.
"It's creating inspiring spaces and moments for the magic to happen," she summed up.
[Also From Marriott: 6 Tips for Working With a Convention Services Team]
The four films can be viewed at the CRN's Meetings Buzz website.
Rules of Marriott CRN's 48-Hour Film Challenge
Three of the teams hailed from Vancouver and one flew up from Los Angeles.
All arrived on-site without a single piece of equipment and were tasked with managing a small budget to hire actors and rent gear and editing equipment supplied by Marriott via Vancouver production equipment company Fusion Cine.
The rules of the March 15-17, 2019, competition were simple:
Each team was comprised of a writer, producer, director, director of photography and editor.
The teams were assigned shooting locations randomly, using traditional meeting rooms that were transformed into an office, art gallery and boardroom. One team was given the DOUGLAS' top suite, The Den, as their location and the others could combine their designated meeting spaces locations with the use of three other luxury suites.
Each film had to include three elements: the use of maple syrup—a nod to Canada—as a prop in the film, the use of the phrase, "This is great space," and the mention of the name Amy Ballard, director of sales and marketing for the DOUGLAS.
The teams had 48 hours to cast, write, shoot and edit their films.
The finished movies were judged by a three-person panel: David Shepheard, film commissioner for Vancouver; Marnie Orr, film commissioner for British Columbia; and Todd Gilchrist, a Los Angeles-based film critic and entertainment journalist who has worked for Variety and The Hollywood Reporter. The films were celebrated at a final-night awards ceremony.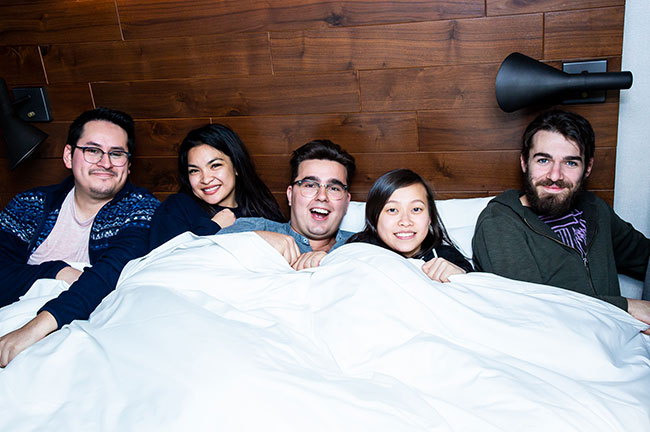 Marriott's CRN 48-Hour Film Challenge Contestants
The team behind the winning film, the comedy Nut Job, received a package of gear that included a camera, lens and tripod, an audio recording package and a lighting kit, as well as the distribution of their short film on the DOUGLAS' in-room channel.
The film was also distributed across CRN-owned channels.
In addition, individual team members received recognition in the following categories:
Best Actor, who won an actor headshot package.
Best Producer, who won a two-night stay at Marriott's dual-branded L.A. Live properties.
Best Director, who won a gift certificate to Fusion Cine.
Best Cinematographer, who won a virtual reality 360 mini cam.
Best Editor, who won two "Tickets to Paradise" (a stay at JW Marriott Marco Island).
Best Writer, who won a two-night stay at the DOUGLAS, an Autograph Collection Hotel.
Marriott's CRN to Release Its Reality Program in Fall 2019
Marriott's CRN is planning to release its reality TV-style film about the making of the 48-Hour Film Challenge in September 2019.
The production process involved with Jason Dallas' crew shooting the 48-Hour Film Challenge for the CRN reality show drew parallels to the competing film crews' efforts.
"It challenges us as filmmakers to get what we need with the resources that we have," Dallas said, noting that his crew had to work in a pressure-filled, time-sensitive environment that the competitors also battled through. "It's almost like we're doing our own 48-Hour Film Challenge as well, it's just that our subject matter is the hotel."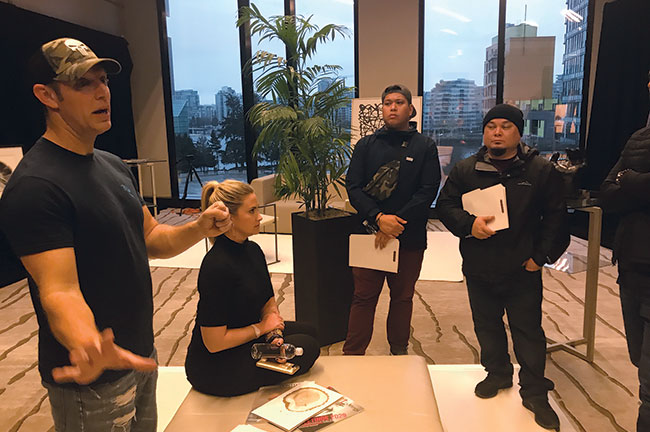 Marriott's CRN 48-Hour Film Challenge Reality Show Film Crew, Credit: Tyler Davidson
The 48-Hour Film Challenge joins a number of other ambitious CRN programs:
Mastermind by Marriott: Meeting planners are teamed with Marriott mentors both face-to-face and via a digital platform to form a peer-to-peer creative community to foster collaboration and improve the design of their meetings.
:60 Smarter: A series of short video episodes designed to inspire fresh concepts geared toward the creative execution of meetings.
Made Here. A Marriott CRN Show. A Marriott CRN Travel Show that allows planners to experience CRN properties and destinations in a travelogue format and hosted by Jeff Krapf.
Watch All of the CRN's 48-Hour Film Challenge Entries
Nut Job
Why Us?
Meandering Lines
Ajoute`
More details on each film are available on Marriott's Meetings Buzz website.

That's a Wrap!: Meetings Today Chief Content Director Tyler Davidson Snaps a 3D Photo With the Marriott Team
Listen to Related Episodes of the Meetings Today Podcast: