4 Midwestern Resorts That Can Easily Host Family-Friendly Meetings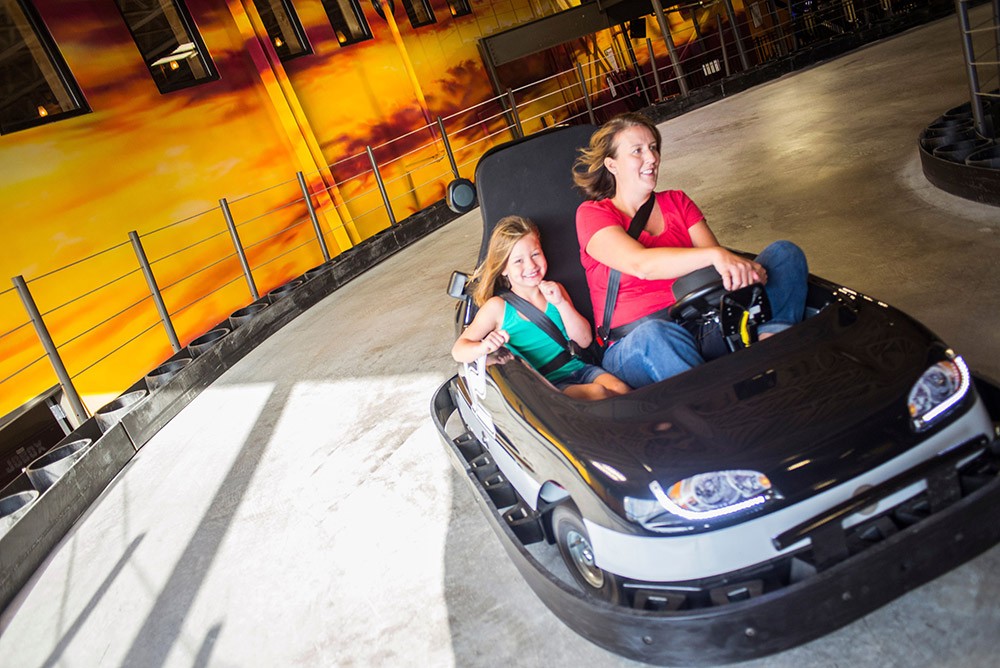 Certain resorts are more equipped to host entire families at events than others. Resorts that have the following amenities are more likely to be primed to host your family-friendly event:
Onsite childcare services or supervised kid activities
Attractions like waterparks, play areas and go-karts
Diverse dining options for a variety of diets
Large number of guest rooms to accommodate families
Of course, these resorts must have the flexible meeting spaces you need for your event as well, like conference rooms, ballrooms and prefunction space.
With the Midwest being such a hotspot for family-friendly meetings, we've done the hard work for you and rounded up some of the best resorts to host your next family-friendly meeting at.
Located on 600 acres in the Wisconsin Dells, the Wilderness Resort is the largest waterpark resort in America, making it a fitting option for families. It has over 1,000 lodging options and a 56,000-square-foot conference center that can host up to 1,200 attendees.
In addition to its large conference center, the resort has plenty of individual conference and breakout rooms and flexible space for trade shows. When meetings are over, the resort offers:
Four indoor waterparks
Four outdoor waterparks
Indoor and outdoor mini golf, plus a championship golf course
Onsite restaurants
Ziplining and a ropes course
The Wilderness also has a family-friendly location in Tennessee, Wilderness at the Smokies.
In September 2019, Kalahari Resorts & Conventions in Wisconsin Dells will open an additional 112,000 square feet of function space on its property, for a total of 212,000 square feet.
Ten meeting rooms, a new ballroom and additional prefunction and lounge areas will be added in the Wisconsin Dells resort expansion.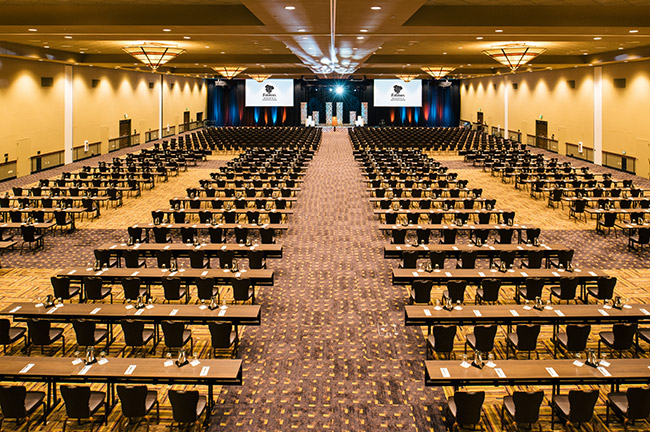 Kalahari Resorts & Conventions Meeting Space, Credit: Kalahari Resorts
The Kalahari is already a centerpiece of Wisconsin Dells tourism, bringing families to the resort for vacation because of its impressive indoor waterpark, golf club, spa, adventure park and theater, among other family-friendly amenities.
The Wisconsin Dells is centrally located in the Midwest, a few hours' drive from major metro areas like Minneapolis and St. Paul in Minnesota, Milwaukee and Chicago. But Kalahari Resorts & Conventions can host family-friendly meetings across the country, thanks to locations in:
Sandusky, Ohio
Pocono Mountains, Pennsylvania
Round Rock, Texas (opening in 2020)
Nestled on 260 acres of land on Arbor Day Farm in Nebraska City, Lied Lodge and Conference Center gives attendees a secluded, natural setting while providing 14,000 square feet of flexible meeting space, including a recently renovated conference center.
The property's environmental commitments to sustainable meetings will leave planners and attendees with do-good feelings after the meeting, and its family atmosphere seals the deal.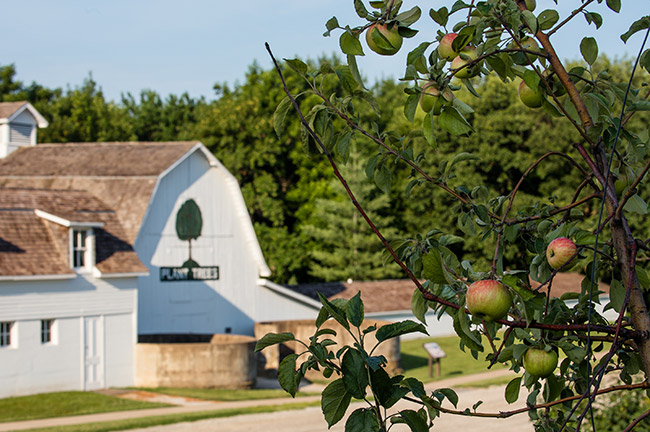 Barns at Lied Lodge and Conference Center, Credit: Lied Lodge
For active families, attractions include:
The Arbor Farm Tree Adventure, where participants can hike on forest trails, learn how to plant a tree and climb a 50-foot treehouse.
Picnic or make a trip to the playground at the Arbor Lodge Mansion on the lodge grounds.
A trip on the Discovery Ride, which gives guests a front-row seat to nature into the backwoods of Arbor Day Farm.
S'mores and bonfires on the grounds.
The lodge can even arrange Commemorative Tree Plantings to commemorate a special event, family member or occasion.
Phillips also added that Nebraska City's attractions are close by the lodge, for families that want to experience the area, like museums, shopping, golf, restaurants and a new aquatic center just one block east of the facility.
Fully renovated in 2017 and minutes away from Minneapolis-St. Paul International Airport and Mall of America, Great Wolf Lodge in Bloomington is an ideal location for meetings.
Great Wolf Lodge has flexible conference rooms, a boardroom and theater.
In addition to its meeting amenities, it has the following bells and whistles for kids:
Indoor waterpark
Ropes course
Climbing wall
MagiQuest
Bowling alley
Beyond the Midwest, Great Wolf Lodge has 17 locations across the U.S., so if you're meeting anywhere from Anaheim, California, to the Pocono Mountains, you'll have an option.
[Read This Next: 4 Tips to Plan Better Family-Friendly Meetings and Boost Attendance]