Groups Meeting in Texas: Your Roadmap to the State's Best Barbecue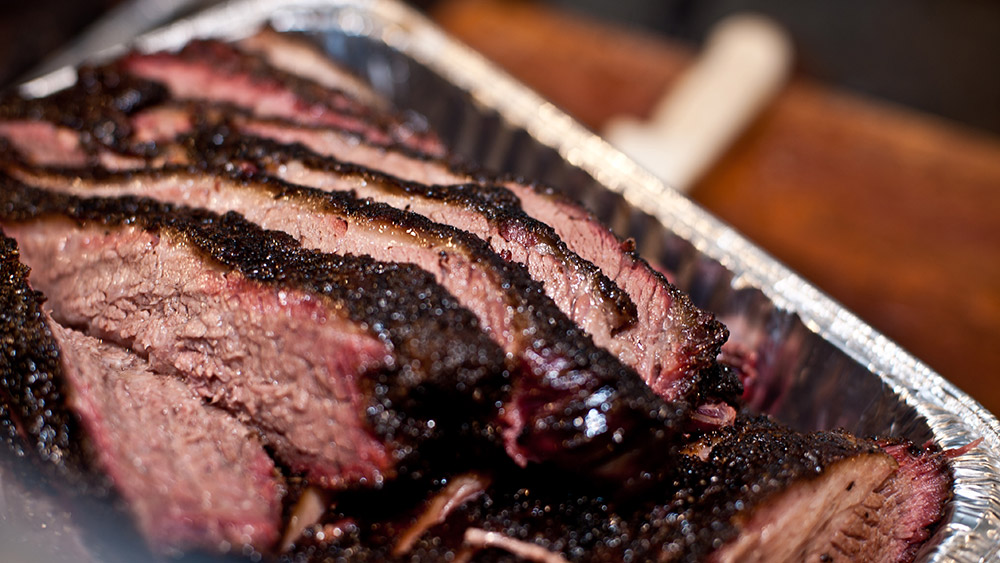 Commercialized Texas barbecue originated in post-Civil War meat markets and butchers' shops across the state, where enterprising vendors, many from the Old World, started smoking the fresh meat they couldn't sell.
Sparking a lasting tradition, the customer lines soon began forming.
Over time, salt- and pepper-rubbed beef brisket, smoked long and hot, became a staple of Texas cuisine and lore. In the eternal debate with the Carolinas, Memphis and Kansas City over which style reigns supreme, Texas claims not only North American, but global and even extra-planetary dominance.
Texas Monthly, for one, once extolled Austin's perennially top-ranked Franklin Barbecue as "our hands-down pick for best barbecue in the state (i.e., the world)." The magazine also glorified the restaurant as "serving the best barbecue in the known universe."
Savvy to the science, Texas pitmasters excel at everything from traditional brisket and South Texas barbacoa, the granddaddy of the canon, to innovative Tex-Mex, Asian, chocolate and other flavor fusions.
My research found that many top operators are married couples and families, affirming that Texas barbecue is truly a love affair.
From old school champs to inventive upstarts, meeting planners should make these barbecue dine-ins and catering services must-eats during their next event in Texas.
Central Texas
Hill Country is the spiritual home of Texas barbecue, settled by Czech and German immigrants in the 1800s. Lockhart, some 35 miles south of Austin, is the state-designated Barbecue Capital. As such, the area is home to superior barbecue joints like Franklin Barbecue.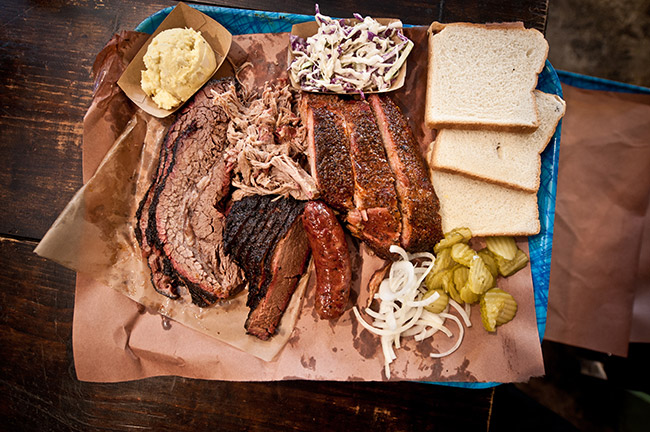 Barbecue Spread With Sides, Franklin Barbecue, Credit: Eric Ellis
It's no hyperbole to call Franklin Barbecue the supernova of the barbecue universe. Since launching as a food truck in 2009, Aaron Franklin's temple has attracted praise along with barbecue pilgrims. Honored as James Beard's Best Chef: Southwest in 2015, the first for a pitmaster, Franklin and wife Stacey draw long lines daily to their Austin smokehouse.
Franklin's reach also includes partnering with Tyson Cole, another local James Beard champ for his contemporary Japanese restaurant Uchi Austin, to create Loro. At this event-capable "Asian smokehouse and bar," the pair twists tradition with dishes like smoked beef brisket flavored with Thai herbs and oak-smoked salmon in cucumber-yuzu broth.
In September 2019, Franklin Barbecue hosted  You Grill, Girl.
Organized by the Austin chapter of Les Dames d'Escoffier, this inaugural women-focused grilling event features women from Franklin's team and local stars such as Julia Poplawksy, co-founder of the Central Texas Meat Collective.
Whether your group pulls up a few chairs and waits in line at Franklin's food truck, or rents out space at Loro, this is smoked barbecue brisket pitstop you can't miss when meeting in Austin.
Honorable Mentions
Franklin's Barbecue is only the beginning of Austin's offerings.
Stubbs Bar-B-Q, whose founder earned the restaurant fame for his homemade barbecue sauces, rubs and marinades, offers a mix of indoor and outdoor spaces for small to large-scale events, plus catering and unique programs such as Gospel Brunch on Sundays.
Serving inventive barbecue and scratch-made sides from a vintage trailer in East Austin, Micklethwait Craft Meats specializes in catered buffets.
"Have brisket, will travel" is the catering promise from family-run Black's BBQ. Renowned for its smoked turkey, tender beef ribs and fatty-good brisket, Black's has four Hill Country locations in Austin, Lockhart, New Braunfels and San Marcos. 
In the state's Barbecue Capital, Lockhart, storied Kreuz Market custom caters onsite events throughout Central Texas.
Groups can also follow the post oak and mesquite smoke to other Hill Country shrines include The Salt Lick in Driftwood, offering flexible event spaces and catering. 
North Texas
In 2010, Dallas-based couple Justin and Diane Fourton left their corporate jobs to pursue their passion for barbecue. In 2013, their mesquite-fired dream, Pecan Lodge, got Texas Monthly's attention as one of the world's top four barbecue joints. This year it received "Best Barbecue" honors in D Magazine's 2019 Reader's and Editor's Choice awards.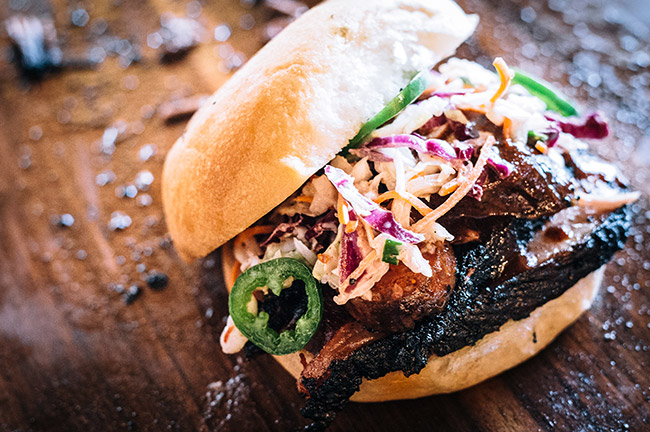 Pitmaster Sandwich at Pecan Lodge
Named for Justin's grandfather's ranch in Abilene, Pecan Lodge pays homage to the couple's West Texas roots.
Menu highlights include:
the caveman-size beef ribs;
Pitmaster Sandwich;
the Hot Mess, mixing South Texas barbacoa with sea salt-crusted sweet potato;
and Aunt Polly's Banana Pudding.  
Located in the city's historic Deep Ellum cultural and entertainment district, their 150-seat hotspot features an outdoor patio with live entertainment and is available for buyouts outside of operating hours.
Planners can also work with Pecan Lodge to cater for events throughout the Metroplex region.
Honorable Mentions
Hosting events at its two Fort Worth locations plus catering services, Heim BBQ celebrates its 10th anniversary this year and is a reliable option for groups meeting in the area.
For those who want to pair barbecue with a good beer, planners can rent space at Cowtown Brewing Co., located minutes from Sundance Square.
The watering hole pairs craft beer and with succulent smoked meats. Spaces include the 5,000-square-foot taproom and expansive outdoor deck.
Carlton Provisions BBQ is among the food vendors at Plano's dynamic new event-capable Legacy Food Hall. They smoke over wood-fired pits and have unique side dishes like brisket-stuffed jalapenos & 17-hour beans are made in house.
Carlton Provisions also provides extensive catering services, from 25 to 2,000 people.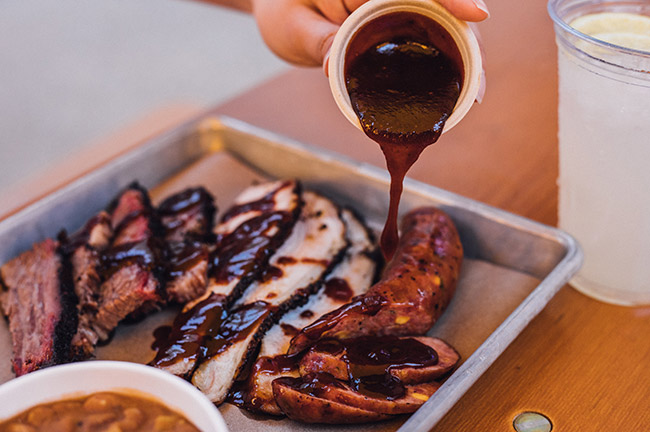 Carlton Provisions BBQ at Plano's Legacy Food Hall, Credit: Visit Plano
Dating to 1978, Hutchins BBQ offers dining and catering services at its Frisco and McKinney locations. The Dallas Observer praised Hutchins' "perfectly smoked brisket, juicy jalapeno sausage and 'Texas Twinkies,' a beautiful meat and jalapeno concoction wrapped in bacon" at its 2019 Iron Fork awards.
Houston
Top Pick: Feges BBQ
One of Houston's hottest barbecue stories currently is Feges BBQ from husband-wife team Daniel Feges and Erin Smith.
Feges is a Purple Heart-decorated Iraq War veteran who taught himself how to barbecue while recovering from combat injuries.
Native Houstonian Smith cooked at NYC's Michelin-rated Per Se and Babbo before returning home for local opportunities including the JW Marriott Downtown. Launched in 2018, their restaurant is located in Houston's multi-use Greenway Plaza development and caters events.
Honorable Mentions
Named James Beard's 2017 Best Chef: Southwest, Hugo Oretaga has been a star of the Houston culinary scene since arriving here from Mexico City in the 1980s. At Hugo's, the menu includes authentic Mexican barbecue dishes such as marinated lamb roasted in agave leaves. Housed in a circa-1925 building in Montrose, the festive restaurant hosts private dining and events.
Blood Bros. BBQ is an exceptional option for dining and catered events.
Bonding over smoked meats while growing up in the Houston suburb of Alief, brothers Robin and Jerry Wong and pitmaster friend Quy Hoang marry traditional barbecue with influences from Houston's culinary melting pot. That means brisket, ribs, sausage and turkey married with spices ranging from Morocco and the Mediterranean to Vietnam and Korea.  
Pioneering Bites Worth the Trek
Top Pick: The State Line, El Paso
Founded in 1975, Austin-based The County Line has five Texas locations including The State Line in El Paso. Named for its location on the Texas- New Mexico border, this festive Spanish-style venue serves slow-smoked barbecue including the "All You Can Stand" platter. The southern establishment can host groups in-house and provide catering to your El Paso event.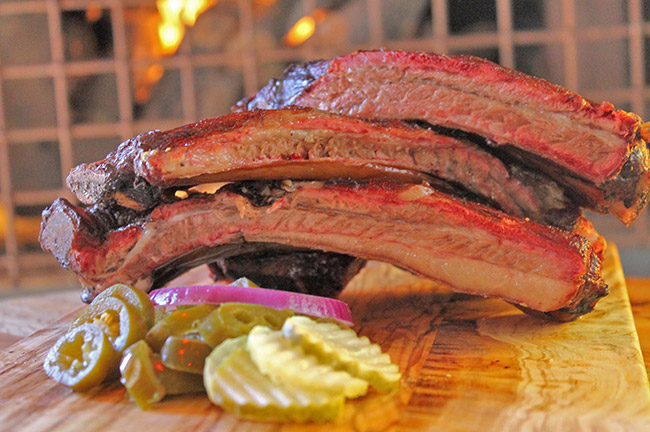 Beef Ribs at The State Line
If you leave The State Line and dream of Texas barbecue at home, you can satisfy the cravings with the restaurant's "Air Ribs" service, which ships around the country.
Honorable Mentions
Another frontier champion, from 1955, is Vera's Backyard Bar-B-Que in Brownsville.
For adventurous groups, this South Texas legend serves barbacoa the true old-fashioned way, mesquite-smoking whole cow heads in a six-foot-deep pit. Chopped cow cheek, tongue and the rest are separated and served.
Road-tripping rewards to Magnolia include a twist on traditional barbecue dishes like smoked alligator at Reveille Barbecue Co.
The menu rotates each week, promising new dishes each time your groups visits.
For the ultimate Texas barbecue pilgrimage, join the pre-dawn line on Saturday mornings at Snow's BBQ in small-town Lexington, about 50 miles west of Austin. The only time to get succulent smoked meats directly is from 8 a.m. until sell out.
The genius behind the goods is James Beard-nominated leading lady of Texas pitmasters, Norma Frances "Tootsie" Tomanetz. Inducted into the Barbecue Hall of Fame in 2018, the 84-year old great-grandmother of ten hits the pits at 2 a.m. ahead of the Saturday rush.
Read more: Get the inside scoop on all-things Texas in our Texas Destination Supplement!