3 Fun Group Golf Formats That Speed Up Play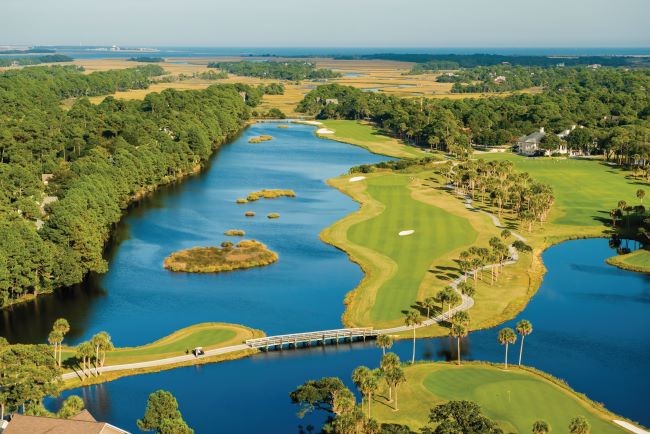 Planning a golf activity during a meeting can present a variety of challenges for planners.
These "sand traps" and shifting trends can include
How to mix and match players with varying levels of golf skill.
How to keep the activity interesting for players of all ability levels.
How to make sure attendees who don't want to golf at all are entertained.
How to shave time off the event to ensure it doesn't chew up the whole day.
To solve these and other problems, group golf program experts recommend incorporating user-friendly formats that will ensure everyone leaves the course satisfied after a day on the fairway. Beginning from a "shotgun start," in which all foursomes tee off at a different hole simultaneously, is always the best practice.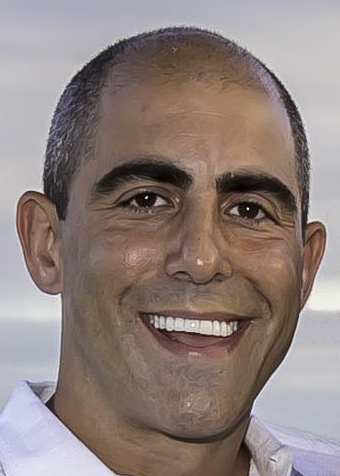 Meetings Today tapped the knowledge of Ron Slucker, founder and president of IMPACT365, a Chicago-based special events company that specializes in group golf programs, to detail the best formats for a golf tournament.
"I've personally run over 150 golf events," Slucker said of his experience, which has included running mini tournaments for the PGA. Slucker also noted that the charity-focused division of IMPACT365 has helped nonprofit organizations raise close to $50 million in the 17 years it's been in business.
Photo: Ron Slucker, founder and president of IMPACT365.
Following are three popular group golf tournament formats Slucker believes will keep everyone on the course engaged.
We also asked him to rate each format based on the following criteria:
Speed
Great Golfers
Casual Golfers
Fun Factor
Scramble
The Scramble allows for good golfers and poor golfers to all have a fun day together on the course. This format has the entire team driving the ball from the tee box, and then the group takes the best ball out of all four and all hit from that spot, and then again.
The group moves together as a team, and when they all get on the green, they all putt together from the same spot.
"The Scramble is easiest team type of format you can play," Slucker advised. "The other beautiful part of the Scramble is there are no handicaps involved. Believe it or not, most recreational golfers don't have handicaps. So if a non-golfer or recreational golfer is invited to an event and wants to play, they don't have to produce a handicap and this format is friendly to all golfers with any handicaps. No one wants to be embarrassed on the golf course and this format allows everyone to participate. Everyone gets to putt, so there's also a social aspect of a Scramble."

Shamble
The Shamble is where all the golfers tee off from the tee box and then all play their own ball from the best spot after the tee-off, and then they play their own ball from there.
The benefits of this are:
Everyone will pretty much be teeing off from the fairway from their second shot, so it speeds up play.
It allows all golfers to feel what it's like to play from the middle of the fairway because the odds are that's where the best drive will land, and it helps with each individual's score because a good drive down the fairway is probably the hardest part of golfing.
"It's the format that we probably play the most," Slucker said. "It's a little slower than a Scramble, but way faster than everyone paying their own ball. Instead of a poor golfer shooting a double or triple bogey, they'll have a few opportunities for par or bogey. Good golfers love this format as they pretty much get to play their own ball while poor golfers can capitalize on the good golfers' skill."

Best Ball
In Best Ball, all members of each team play their own ball on each hole. Either pick one or two people of the foursome and note their best scores. If the scores for a hole are a 4, 6, 7 and 8, the 4 and the 6 will be added together for a combined score of 10 (if it was a two-person best ball). Under this format, groups can either select the best score or the top two best scores. A lot of casual tournaments use the Best Ball format.
[Related: How Golf Events Are Evolving: Meetings Today LIVE! 2019]
"Let's say you're going to a real exclusive golf destination or club," Slucker said. "Your better or avid golfers are going to want to play real round of golf, but the casual golfers don't want to negatively affect everyone's scores, so you can pick either one or two golfers on every hole, and that's your team score. The lowest score among all team members serves as the best score, so sometimes it's one player and sometimes it's two.
"The benefit is you can use handicaps," he added, "so a scratch golfer can be playing a 22-handicap golfer and it can still be a very fun competition when they're playing each other."

Awards Ceremony and Prize Ideas for Group Golf Tournaments
And when the group's day on the links is over, an awards ceremony that gathers all the participants together to hoist a drink and have a laugh over the day's high and low points is always a good idea.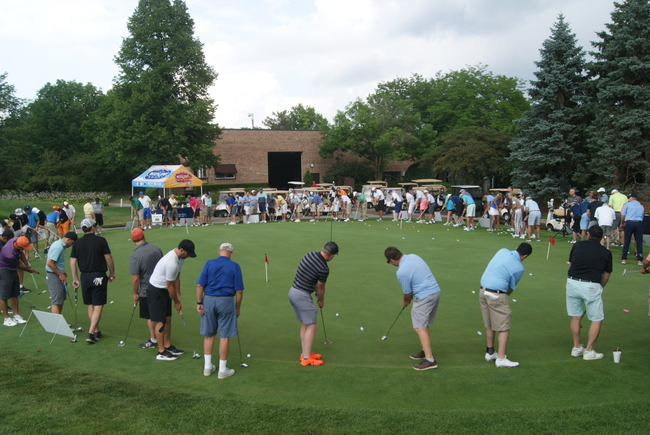 Photo: Impact365's golf programs utilize a number of tournament formats.
Following are Slucker's recommendations for both traditional and non-traditional ideas for awarding prizes during the match, and for the awards ceremony after.
Traditional Awards Ceremony and Prize Ideas
Hole-in-One Contest
Purchase HIO [Hole in One] insurance for as little as $2 a golfer. You will receive $10,000 coverage for one hole and ancillary prizes on all other par 3s. Most HIO insurance providers will provide 18x24 hole signs that can be branded. Everyone loves a chance to win a great prize for a HIO.
Closest to the Pin 
This is a proxy marker competition. A proxy marker is a clipboard mounted on a peg that is stuck in the ground, and to which a notepad or sheet of paper is affixed. Each team will note their information as they pass through. For Closest to the Pin, whomever is closest to the pin on the approach to the green wins a prize. (At Impact365, we usually do two of these per round.)
Long Drive Competition
This is a proxy marker competition. Whomever hits the longest drive on the fairway wins a prize. (Have separate competitions for male and female competitors.)
Straight Drive Competition
This is a proxy marker competition. Whomever hits the straightest drive on the fairway wins a prize.
Beat the Professional on a Par 3
Hire a golf professional and have them host a hole. The professional tees off first, and if you beat the professional you are entered into a raffle to win a great prize. Golfers love to interact with golf professionals and some professionals give a golf tip at their hole.
Non-Traditional Prize Ideas For Group Golf Outings
Colored Ball Competition 
Every foursome receives one colored golf ball. The ball is rotated between golfers on every hole, meaning each golfer in a foursome will be responsible for the golf ball for four or five holes. The golfer plays the entire hole with the colored golf ball with the goal of not losing ball. Teams that do not lose the colored ball are entered into a team raffle prize.
Demo Driver Competition on a Par 5
A golf course with knowledgeable staff member supplies a golf bag filled with a few different demonstration drivers showcasing the latest technology. Golfers tee off with a demonstration driver and one lucky winner will win a new driver (through a competition or raffle).
Flatbed Truck
Bring in a flat-bed truck and have golfers tee off from a higher platform.
Long-drive Specialist
There are long-drive competition golfers that can consistently hit the ball over 350 yards. Hire one for a fee and put them out on a par 5 to interact with all golfers and allow their shot to count for the team competition.
Tennis Racquet
On a short par 3 or par 4, golfers tee off with a tennis racket rather than a golf club. Hokey, but fun.
Read next: Topgolf: A Hole-In-One Alternative for Group Golf Outings