How Food Choices Affect Meetings Productivity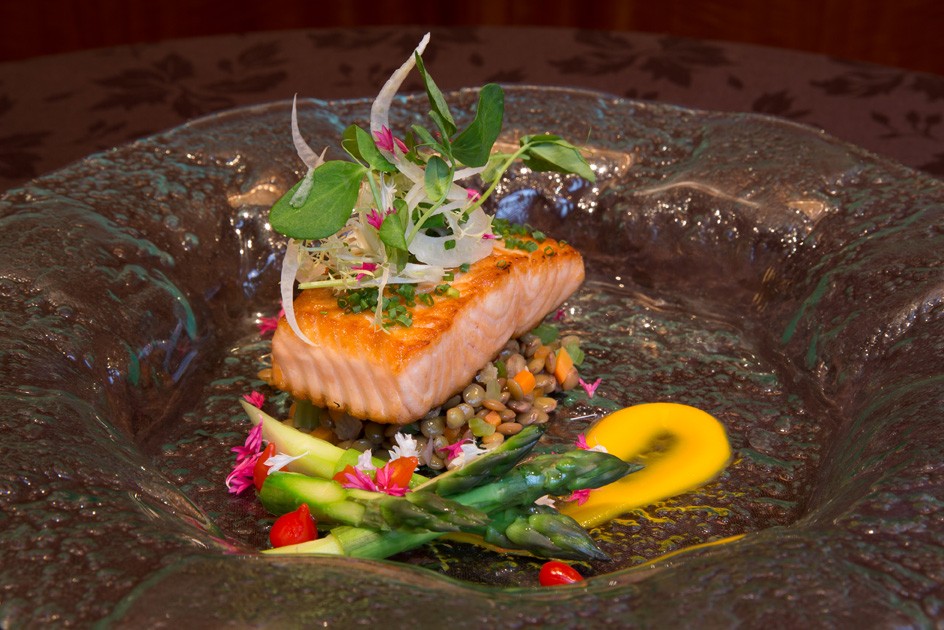 We've all hit the afternoon slump. Staying awake in a meeting after lunch seems impossible. Your mind wanders and the next thing you know, your meeting is over and you have no idea what was discussed.
Not only does this happen in offices around the world, it happens in convention and meeting spaces as well. Attendees are in a new city, dealing with time changes, late-night events and networking opportunities. Keeping them focused is a priority, and planners are reevaluating menu options and schedules to avoid that autopilot mindset.
The foundation for staying focused begins with what goes into your body, especially when you're in an unfamiliar environment.
Since 2012, Delos—a pioneer in wellness real estate covering residential, commercial and hospitality verticals—has partnered with MGM Resorts International (MGMRI) to create healthy environments for leisure and business travelers.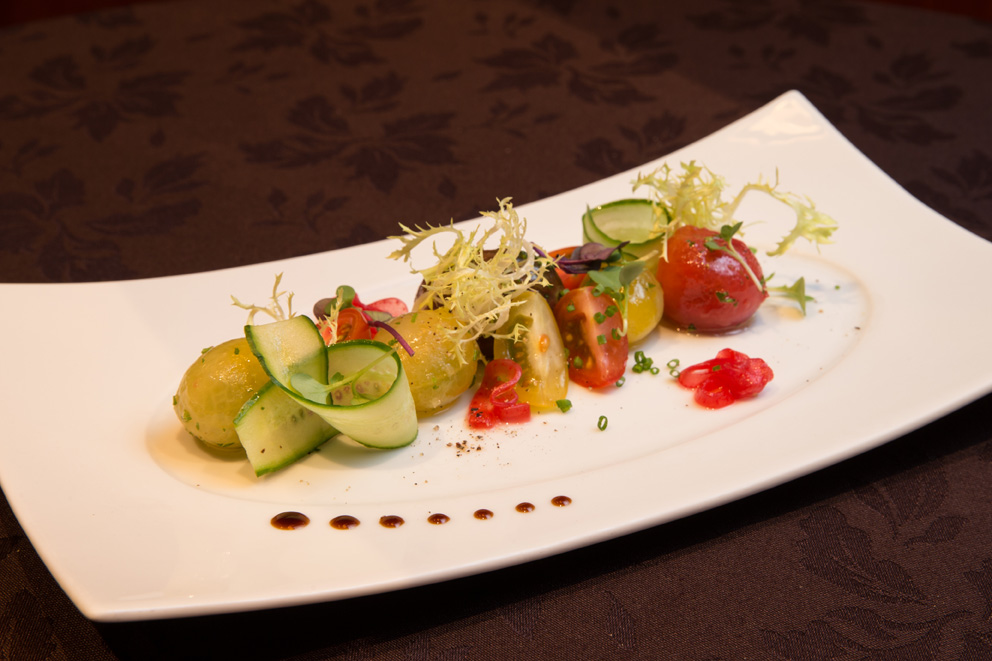 Photo: MGM Grand, Stay Well Meetings, Summer Heirloom Tomato Salad
Focused on creating a 360-degree wellness experience, Delos has implemented science-backed nutrition recommendations across its Stay Well Meetings program, helping to ensure MGMRI properties offer well-rounded menus to fit a variety of lifestyles. All menu options include healthy fat, gluten-free and plant-based selections while avoiding processed or synthetic foods.
With nourishment as the foundation of the Stay Well Meetings program at MGM Resorts, menu items are approved by leading registered dietitians at Cleveland Clinic Wellness and are designated by their Go! Healthy seal.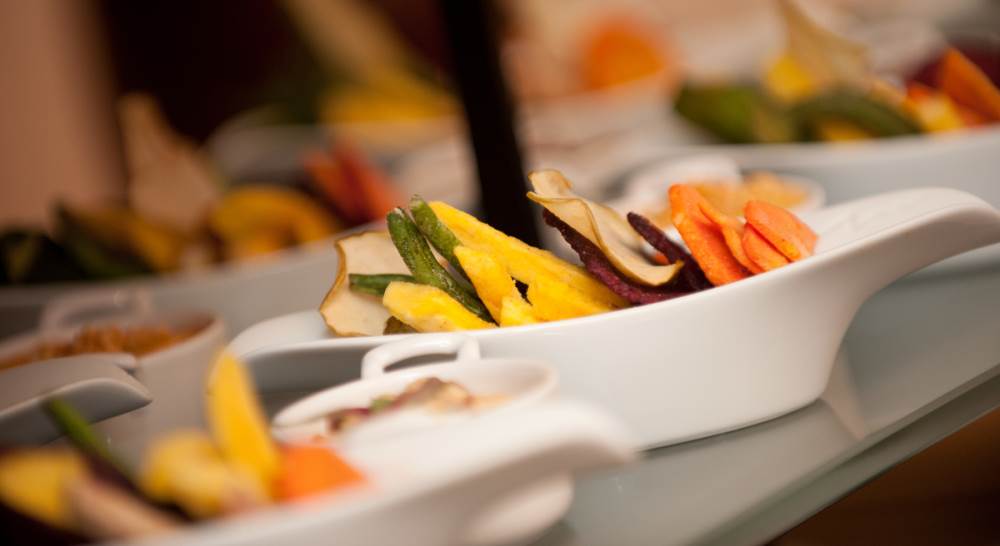 Keep Attendees Hydrated!
Hydration is also vital to keeping your audience engaged, especially when attendees are traveling and on their feet. Stay Well Meetings at MGM Resorts offers hydration stations as well as fruit-infused water stations, strategically placed throughout the venue to encourage hydration.
Staying healthy on the road is a challenge, and it's not cheap, either. In the past, planners could get away with serving a less expensive continental breakfast option but are now encouraged by attendees to provide healthier options like avocado toast stations, eggs and overnight oats, which are often more costly.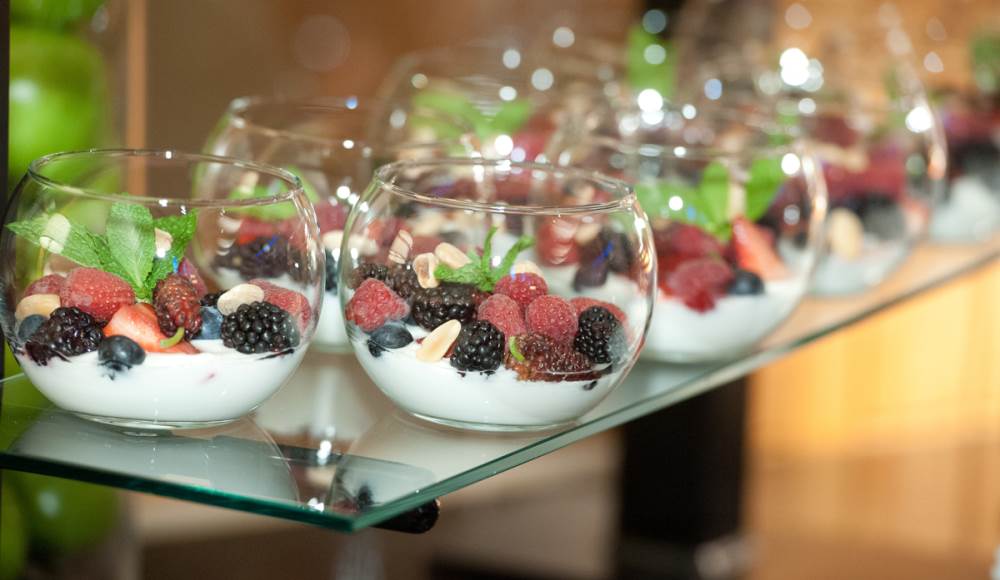 The most cost-effective way to address a group's nutritional needs is to work with your MGM Resorts catering partner before opening registration. Together, our team can advise of proper catering strategies based on the hotel's culinary offerings and guest demographic. Not only will this save money, but the partnership also streamlines how nutritional requests are collected at registration to set both parties up for success.
Remember, attendees are what they eat. Fueling them with the right foods means sustained mental energy throughout the day, leading to an engaged and excited audience.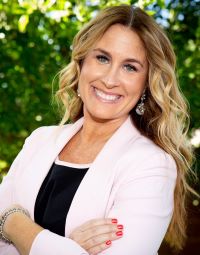 Stephanie Glanzer is vice president of sales operations and services for MGM Resorts International. She is a recognized sales leader in the hospitality and meetings industry with over 20 years of experience, focusing on team development, producing results and guest service, and is responsible for ensuring effectiveness and consistency in the total sales operation for MGM Resorts International.
Read next: How Physical Environments Impact Learning in Meeting Spaces