The Rise of Plant-Based Alternatives on Event Menus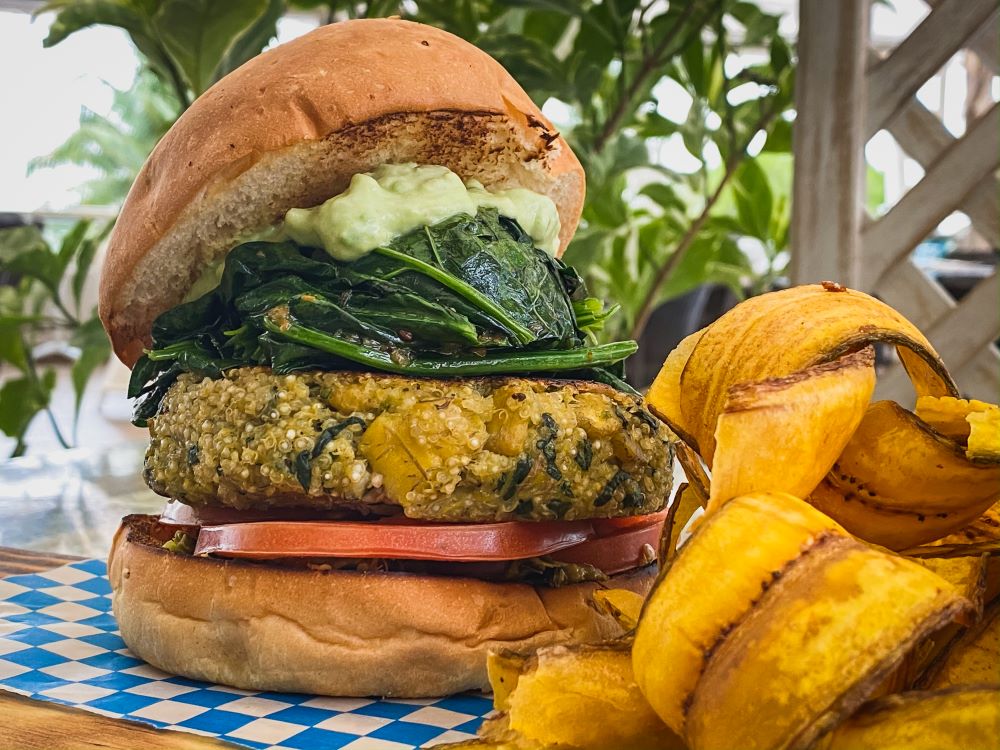 Meeting planners and event organizers have been monitoring the plant-based alternatives trend for a few years, but it's really taken off recently.
Chefs at prominent meetings and events properties are noticing a consistent uptick in vegan and plant-based alternatives requests from attendees.
"When I began my career at the Hilton Orlando, our overall percentage of alternate meals, due to dietary restriction and/or allergens, during event functions sat somewhere around 3% to 5% of the total guarantee," said the hotel's executive sous chef, Vincent Cani. "Over the past nine years we have seen this number rise to somewhere around 10% to15%. Plant-based, vegan meals in particular lead the charge followed by gluten- and dairy-free meals."
Other chefs report seeing similar request increases. Matthew Brennan, executive chef at The Vinoy Renaissance St. Petersburg Resort & Golf Club, says that his most seasoned event managers are seeing a 5% to 10% increase in plant-based meals year-over-year.
[On Topic: Chef Gerardo Rivera Reveals Top FB Trends 2020]
"It is much more uncommon for an event to take place without one special meal being requested, which is the opposite of 10 years ago," he noted.
With this shift, chefs are working to integrate plant-based meals into their regular event menu offerings. But with that comes challenges, like imagining equally flavorful and diverse dishes as meat-friendly counterparts—and being able to make those changes in bulk.

Photo: The Vinoy takes the shrimp out of ceviche and uses hearts of palm instead, with summer fruits, veggies and edible flowers. (Made by Executive Chef Matthew Brennan); Credit: The Vinoy Renaissance St. Petersburg Resort & Spa 
Why Plant Diets Are Trending—and Why They're Not Going Away
More people are switching to plant-based diets for a variety of reasons:
Health benefits: Less meat can reduce the risk of heart disease, stroke and high cholesterol. Additionally, whole foods and plant-based ingredients are high in essential vitamins and minerals.
Reducing carbon footprints: Meat and animal products significantly contribute to greenhouse gas emissions. Some people looking to reduce their carbon footprint will turn to a plant-based approach.
Animal welfare: For moral reasons, individuals may choose to follow a strict vegan diet, which eliminates all animal products that include meat, dairy and eggs.
All of these factors tell chefs that this choice of diet isn't a fad.
"This is a lifestyle," Cani said. "People want to know where their food is coming from. Local footprints, as well are organics, have created an awareness of how food processing has affected us in many ways, in a sense reverting our culture back to its localized agricultural roots, and a sense of 'gathering.'"
[Related: Food Choices Affect Meetings Productivity]
Cani predicts that we will see more plant-based options, eateries as well as grocery stores focused on the movement in the near future, which extends to meeting and event food and beverage services.
"We're seeing a spike in requests from our guests spanning the pre-planning phase to on-property requests to post-stay feedback," added Panama Jack Cancun chef Carlos Chimal, noting that this shift has his team embracing the challenge in a field that thrives on constant creativity. "We're constantly reinventing ourselves so it was only natural to take this into account."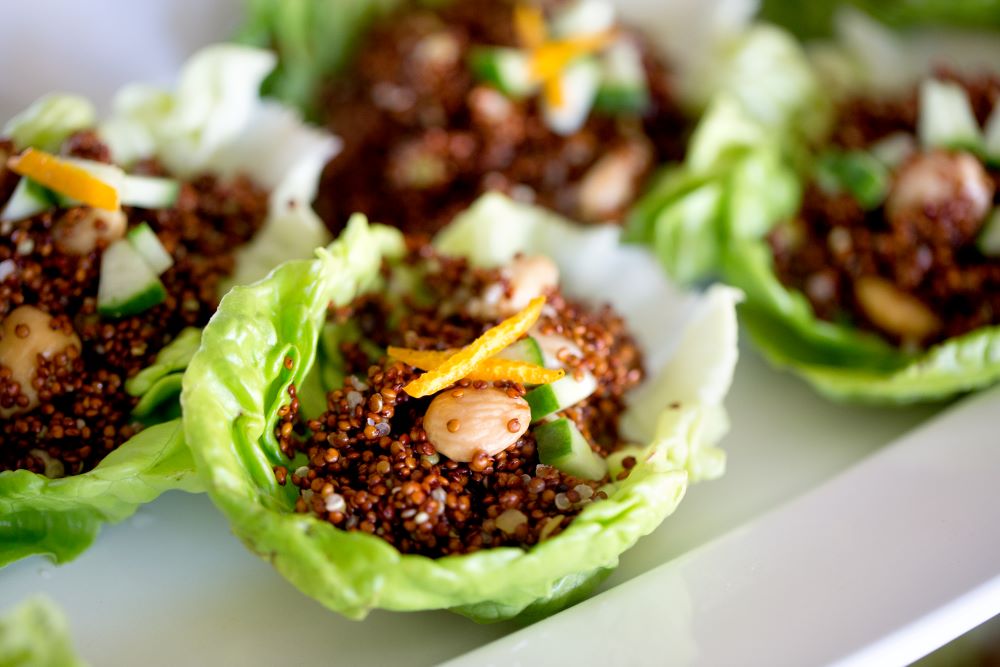 Photo: These toasted quinoa lettuce cups with hot house cucumber, marcona almond and mustard soy vinaigrette are a tasty alternative to Keeneland's duck version. (Made by Executive Chef Marc Therrien); Credit: Keeneland 
Innovative Plant-Based Alternatives for Attendees
With new products, an increase in plant-based diet requests and an effort to take advantage of local produce, it's easier than ever for chefs at major hotels to experiment with recipes and swap meat dishes for flavorful, plant-based alternatives.
Additionally, as chefs play around with new flavors, they are working on the presentation of these new dishes, too, giving plant-based alternatives a just-as-appealing look as traditional meat dishes.
"When conceptualizing our signature Superfoods Burger, our goal was not to simply replicate a beef patty but to create a healthy, protein-packed alternative using local ingredients like plantains and sweet potatoes that present nicely and taste even better," Chimal said.
Other examples of tasty swaps include:
Instead of beef tacos, try pumpkin tacos with cumin-spiced pumpkin topped with tomatoes, onions and cilantro at Hilton Orlando.
Instead of shrimp ceviche, try hearts of palm with summer fruits, veggies and edible flowers at The Vinoy Renaissance St. Petersburg.
Instead of beef sliders, try a heme slider, which mimics the consistency, texture and flavor of a patty combined with miso and lentils with a carrot-based ketchup at Westin Cape Coral Resort at Marina Village.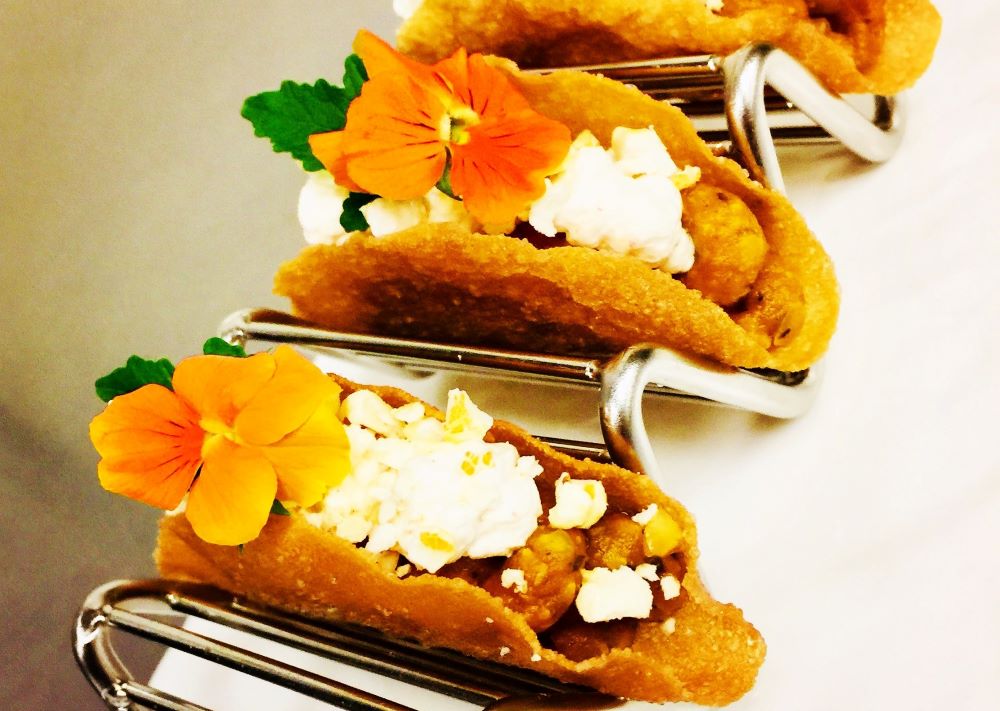 Photo: Pumpkin gets spiced with cumin and topped with tomatoes, onions and cilantro for a flavorful plant-based option to traditional beef tacos. (Made by Executive Sous Chef Vincent Cani at Hilton Orlando); Credit: Hilton Orlando 
Key Tips for Adding Extra Flavor to Plant-Based Dishes
Westin Cape Coral Resort chef Chriss Menassa knows how tricky it can be to find flavorful, complex plant-based dishes.
"I lived the vegan lifestyle for almost a year and know firsthand how sometimes plant-based dishes skip out on flavor. There's only so much rice you can eat," she said. "Soon, I discovered that there's a plethora of items out there that could satisfy the inner carnivore in me that could be mouthwatering with the right amount of oils and vinegars.
"Today, we incorporate as many plant-based ingredients as possible in everyday dishes, and I challenge my chefs to create and serve vegan specials daily."
Experimenting with plant-based meals at home, or want to know what ingredients can make or break a recipe? Executive Chef Marc Therrien at Keeneland in Lexington, Kentucky, offered a few key tips:
When creating plant-based dishes, use fragrant vegetable broth instead of plain water to get the most flavor out of items such as dry beans and lentils.
You can dehydrate vegetables and fruit such as mushrooms, kale, chard, tomatoes and citrus and make powders for adding more flavor into plant-based recipes.
Not into table salt? Citrus makes a great flavor enhancer.
For meeting planners who know they will need to request plant-based alternatives from the chefs they are working with for an event, Hilton Orlando's Cani recommends partnering with the food and beverage team well ahead of time to see what they can offer.
"Partnership is the key to success when working with meeting planners," he said. "Gathering as much information ahead of time allows for proper planning. If we can get this information ahead of time, our food and beverage team [will] work diligently to ensure each and every attendee has the same food experience as anyone without a dietary restriction would have. We do not sacrifice quality, taste, texture or temperature when it comes to meeting these needs."
Read Next: Future Event Menu Foods Ingredients