Coastal Mexico Destinations Set to Reopen; Bridge Gap with Virtual Experiences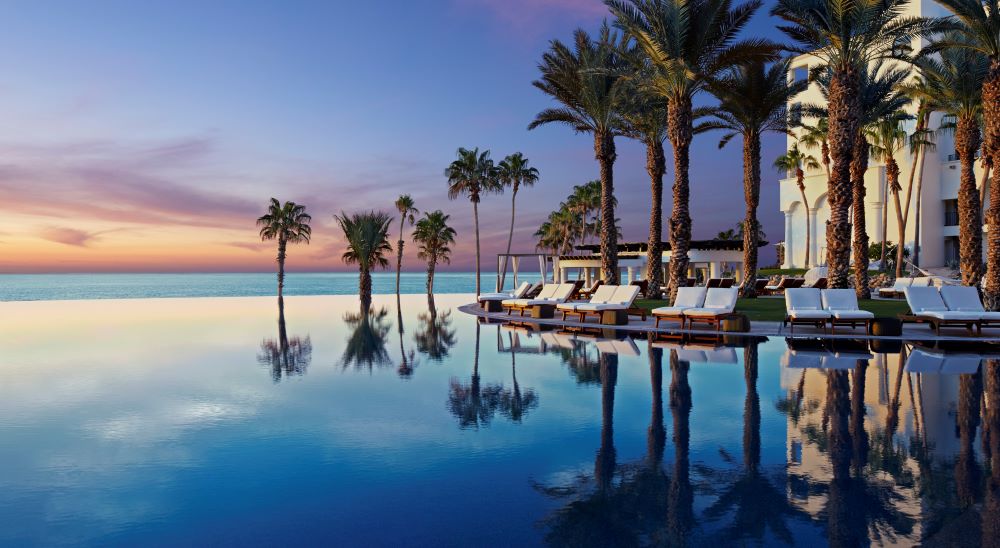 There's an old saying that says when life gives you lemons, make lemonade.
Well, life has delivered a truckload of lemons to everyone in the global travel and hospitality industry in the form of the COVID-19 pandemic. Some, however, wasted no time firing up their juicers.
One prime example is the hospitality and tourism community in Los Cabos, Mexico, whose luxurious resorts are blessed by the dry climate and sugar-white sands of the southern tip of the Baja Peninsula.
When the hotels shut down and the planes stopped flying, some of the major tourism concerns of Los Cabos went digital in order to keep their brand—luxe experiences and the warm, inviting spirit of Mexican hospitality—front and center in the minds of consumers unable to travel.
[Related: Work Hard, Play Hard: Bleisure Adventures on Mexico's Coast]
After the mutual agreement to shut down the destination—like so many other destinations throughout the world—the tourism leaders of Los Cabos sat down to figure out how to weather the coronavirus storm.
"It is a destination that is very united," said Rodrigo Esponda, managing director of the Los Cabos Tourism Board. "It was taken collectively—restaurants, hotel developer associations, the government. We met and collectively decided this was the best to do for the destination in order to be ready sooner than other destinations."
Esponda said that the tourism leaders decided to keep workers on the payroll, also in order to be able to ramp up quickly when travel resumes.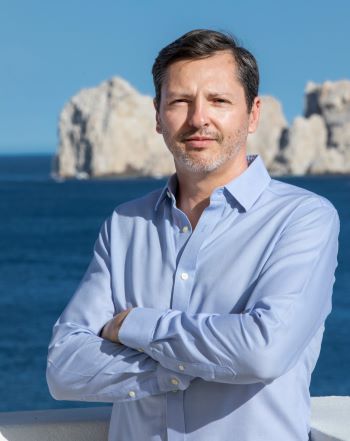 "The destination has always been very resilient. This is not the first crisis we've been through, but this is very different," Esponda said in reference to 2014's Hurricane Odile, which is estimated to have caused more than $1.2 billion in damage to the destination. "We need to have everyone still remember the destination and the uniqueness the destination has, so we've partnered with the hotels to showcase all of the different activities in the destination, such as cooking classes to concerts people can watch and virtual tours of the properties."
(Photo: Rodriogo Esponda; Credit: Los Cabos Tourism Board)
The result is an ambitious online offering of Los Cabos experiences erstwhile travelers and attendees can immerse themselves in while sequestered at home.
Virtual Los Cabos Experiences
Following are three virtual experiences created by top Los Cabos resorts that will make coronavirus shut-ins pine for the time when they can visit coastal Mexico once again.
Grand Velas Los Cabos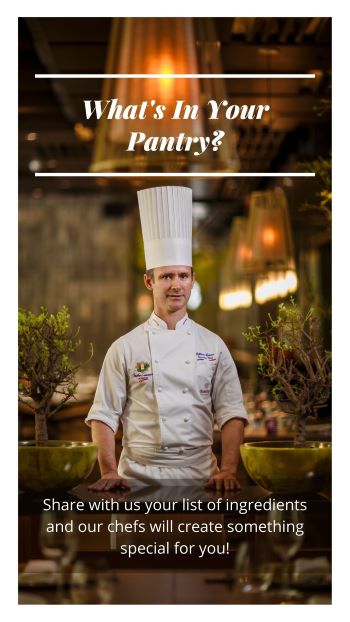 Daily #bettertogether livestreams on Facebook and Instagram invite people to engage in activities, learn travel tips and take classes, among other features.
Examples include a remote Vinyasa Yoga class that is followed by a tutorial in Mexican breakfast sandwich making.
(What's In Your Pantry? courtesy of Grand Velas Los Cabos)
Hilton Los Cabos Beach & Golf Resort 
The Hilton is offering the #HiltonLosCabosAtHome series on its @hiltonloscabos Instagram page.
The series includes easy recipes people can try at home as well as arts and crafts projects from its Kids Club and even rudimentary Spanish lessons so visitors can learn essential words and phrases that will make their real trip all the more enjoyable when they do travel.
Hard Rock Hotel Los Cabos
This all-inclusive resort launched a fitness class led by its in-house trainer as well as a "Can't Stop the Music Virtual Concert Series" that features up-and-coming artists. The experiences are available on Instagram at #HRHLosCabos and #HardRockHotelsAtHome.

Courtesy of Hard Rock Hotel Los Cabos
Los Cabos Tourism Board
Los Cabos Tourism Board, in partnership with the Mexican Interdisciplinary Musical Therapy Institute, launched an "Online Sound Meditation Program" with a natural sounds playlist to help travelers to cope with high levels of stress and anxiety. Visit https://stratosfera.com.mx/musictherapy/ to sample the sounds.
Esponda said that the destination at publication time was also working on a meditation experience as well as a music therapy offering, all great options at a time when people are stressed out about the pandemic.
"The objective is to sell the destination; to make people reconnect with the experiences through the technology and the platforms we have," Esponda said. "People have been inside their home for four or five weeks, so now everyone is very much open to getting some sort of stimulus on what's happening out there, and to reconnect with places. Even though the situation has been stressful, we enjoy promoting Los Cabos. All of this has given us an opportunity to promote the core elements of what the destination offers."
When Will Los Cabos and Cancun Reopen?
At the time of publication, it seemed the world was growing restless from its prolonged pandemic slumber and eager to get back to business, with meetings and other large gatherings being the biggest challenge on the trip back to normalcy.
Another major coastal Mexico destination, the state of Quintana Roo's Cancun, announced it is targeting early June to reopen hotels and welcome regular air service from international destinations.
According to the Quintana Roo Tourism Promotion Council (CPTQ), airline operations will begin early in the month and at publication time the destination's tourism authority was preparing a marketing campaign to promote travel to the region.
"Some of the airlines, through virtual meetings, that have announced they are resuming their operations at the Cancun International Airport are Air Canada, Air Transat, Delta Air Lines, Copa Airlines, Air Europa, Sunwing, Southwest and Aeromexico," said Dario Flota Ocampo, director of the CPTQ, in announcing the development. Ocampo noted the airlines will begin serving the area in early June.
Ocampo said Quintana Roo's recovery strategy will first focus on reestablishing direct air connectivity to the international airports at Cancun, Cozumel and Chetumal. The effort will also emphasize reinforcing state health and hygiene protocols in the areas most frequented by tourists.

Image: Mexico COVID; Credit: SUTD Data-Driven Innovation Lab
To justify the move to reopen the destination, the CPTQ cited statistics from SUTD Data-Driven Innovation Lab, a website that offers predictive modeling of COVID-19 developments, which predicted a downward trajectory for COVID-19 cases in Mexico starting May 4, with coronavirus cases becoming 97 percent depleted around June 12.
While representatives of Puerto Vallarta told Meetings Today that it is gauging how Cancun—the largest Mexican travel destination—is faring in its post-shutdown ramp-up, Esponda said Los Cabos at publication time was also eying early June as a possible time frame to resume business.
"We're targeting to be open June 1," Esponda said. "We're taking it very, very seriously, because we want to be in the best shape possible, as this will be an opportunity for the destination to be at the highest level of standards. We need to align our protocols and internal guidelines to the highest standard of service, such as social distancing, different requirements for food and service, without sacrificing the reason people come to the destination."
[On topic: 3 Sweet Mexican Dessert/Beverage Recipes]
Esponda added that he expects many of the meetings that were scheduled for April and May and were cancelled will try to rebook in late 2020 or early 2021, and many may offer hybrid components for attendees who still may be wary of traveling.
"The hotels and tourism providers have given all of us the flexibility to do that, but you have to be flexible in the terms of the meeting planners and organizations," he said. "We have to acknowledge that this is going to be a very challenging process moving forward. We have to care about what the corporations and meeting planners are going to need, from the financial aspect to the core element of what organizations want when they're organizing an event.
"There are probably more hybrid events—some will be able to come and some will be connected remotely," Esponda added, "but with the core elements, the destination needs to show empathy to people organizing an incentive meeting or a congress."
Connect Info
Quintana Roo Tourism Promotion Council 
Los Cabos Tourism Board |  800.746.2226
Read next: Chef Gerardo Rivera Reveals Top F&B Trends for 2020