In Washington, D.C., Hospitality and DC Central Kitchen Show How Food Can Change the World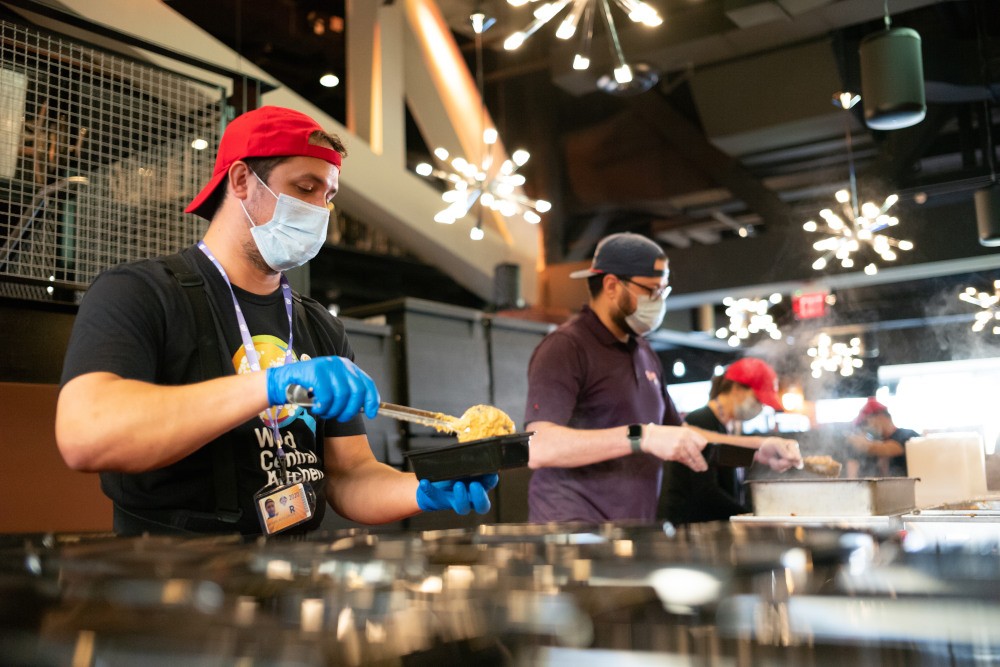 As a young hotshot nightclub manager in Washington, D.C., Robert Egger lived the high life. His orbit dramatically shifted in 1989 when the Georgetown church where Egger was to wed his fiancé Claudia asked the couple to help feed the poor through its outreach program.
Egger recognized that simply handing out meals would never break homelessness, incarceration, addiction and other cycles of futility. In an epiphany, he reimagined food as the means to self-empowerment.
Supplied with discarded food from D.C.'s restaurants, hotels and caterers, his "community kitchen" would train at-risk people in the culinary arts as the pathway to employment, self-sufficiency and upward mobility.
For years, even the homeless were not convinced. Egger was undaunted, though, and today, DC Central Kitchen, or DCCK, is globally recognized and widely replicated as the model of the business-driven "social enterprise."
To date, DCCK has converted some 33 million pounds of otherwise wasted food into 39 million meals. Nearly 2,000 men and women have returned to health and dignity as graduates of DCCK's flagship Culinary Job Training program, with a historic job placement rate of nearly 90%. Pioneering programs include Healthy School Food, which prepares more than 1 million nutritious meals for D.C. schoolchildren each year, and Healthy Corners, which supplies fresh vegetables and fruits to more than 50 neighborhood corner stores in D.C.'s most underserved neighborhoods.  

Photo: DC Central Kitchen CEO Mike Curtin; Credit: DC Central Kitchen
Supported by like-purposed allies from across the D.C. culinary, hospitality and events scene, these and other high impact ventures are the means to DCCK's end goal. 
"We are in business to put ourselves out of business'" said Mike Curtin, who took over as CEO in 2007 and has since dramatically expanded DCCK's reach. "The point is to get people to where they no longer need our help."
That fight may be gaining traction as DCCK and its D.C. partners find an even higher purpose during the COVID-19 pandemic.
Dark Clouds, Silver Linings
"We are responding to the present crises in ways that I could never have imagined," Curtin said. "With job training temporarily suspended, we are now focusing on getting food into the community where it is needed most."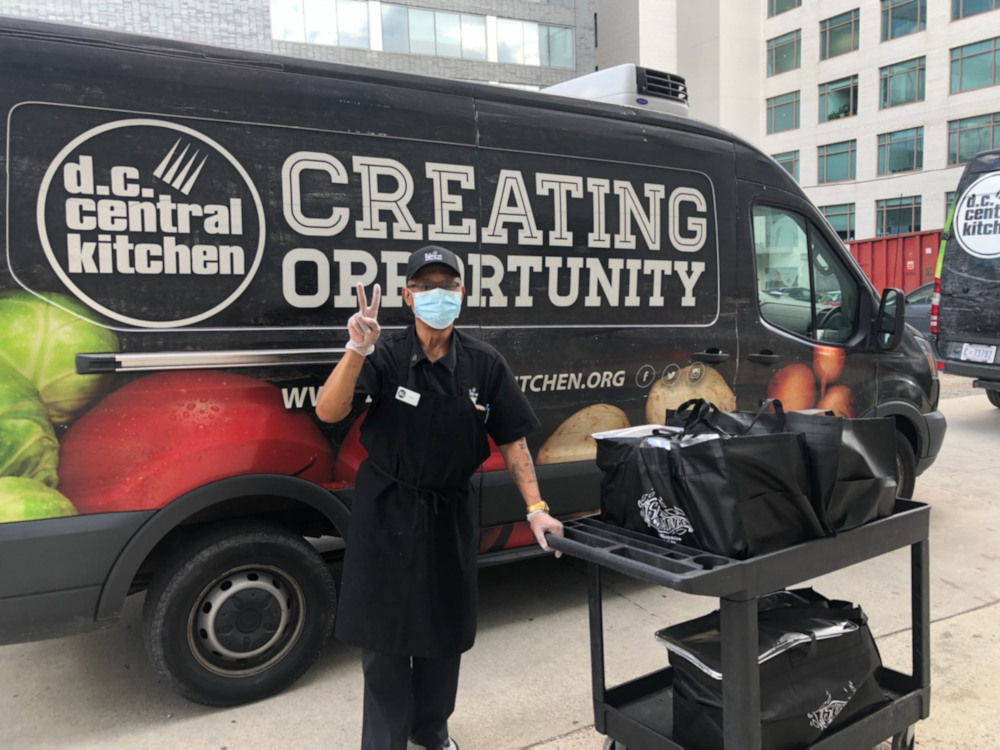 Photo: COVID-19 meal distribution; Credit: DC Central Kitchen
As of mid-June, DCCK's team of more than 130 full-time staff had produced and delivered more than 856,000 healthy meals to 80 sites around D.C.
Event cancellations have benefited DCCK's supply chain, such as the vendor who donated thousands of pounds of carrots and celery sticks intended for D.C. sports bars during March Madness. DCCK has also increased purchasing from farms and food hubs across the Mid-Atlantic, South and Northeast, many family- and minority-owned, that have lost business from shuttered restaurants and hotels. 
"Philanthropy in the pandemic has been stunning and humbling," Curtin said. "One woman who last donated $50 some 13 years ago contributed $75,000."
He emphasized, however, that money is no more of a solution than handing out food.
"Poverty is expensive and only creates mounting debt. As Dr. Martin Luther King, Jr. said, 'Philanthropy is commendable. But it must not cause the philanthropist to overlook the circumstances of economic injustice, which make philanthropy necessary,'" Curtin offered. "For 31 years now, DCCK has sought to break the cycle by creating a sustainable system based on liberation, opportunity and economic inclusion."
In the present turbulence, more people are listening to DCCK's message.
"The consequences of the pandemic have laid bare the fragility of our food system and economy," Curtin explained. "For the first time in two generations, the population at large is experiencing food and financial insecurity. More pointedly, many people are lacking or losing control in their lives, including where, when and how they buy food."
From this unfamiliar and unsettling awakening, Curtin is hoping for broader appreciation of the context for DCCK's mission.
"For too many people, having a job is not enough," he said. "The larger system of employment must do more to support self-realization and self-sufficiency."
Chefs to the Rescue
DCCK's network includes globally renowned Spanish-American chef José Andrés. After first wowing D.C. diners in 1993 with his tapas and other small plate wonders, his D.C.-based ThinkFoodGroup has sought "To Change the World Through the Power of Food."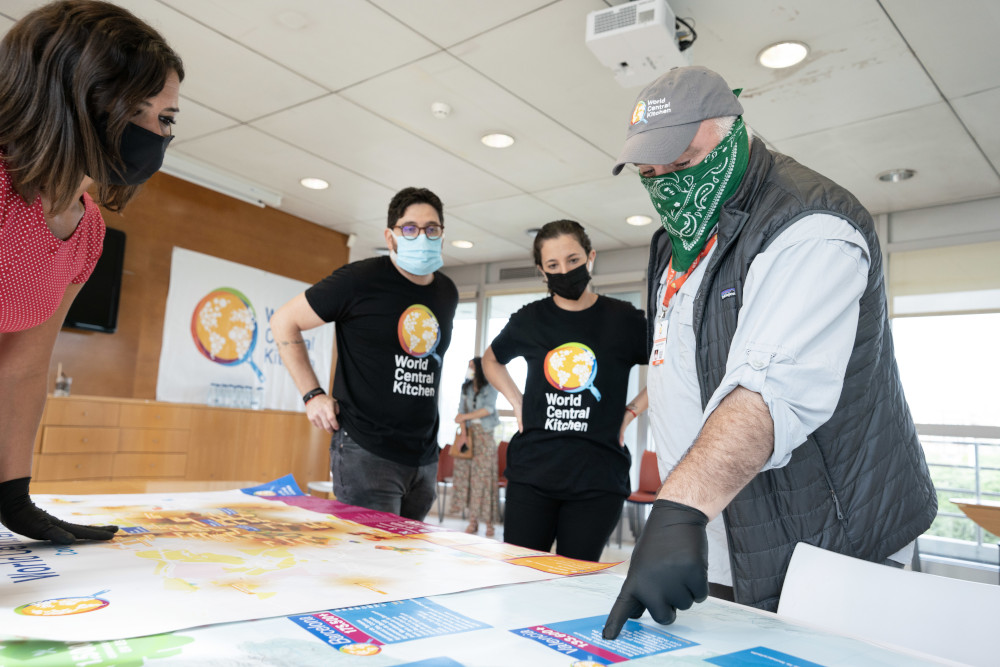 Photo: Jose Andres in Spain; Credit: World Central Kitchen
Signature initiatives include the DCCK-inspired World Central Kitchen. Founded in 2010 by Andrés and his wife Patricia to create "smart solutions" for hunger and poverty worldwide, WCK now commands the frontline of crisis relief.
Since September 2017, WCK "Chef Relief Teams" have supplied more than 16 million meals to disaster zones around the globe. Andrés routinely leads these rapid, high-efficiency deployments, which mobilize local chefs and resources to feed survivors. Culinary training and programs like "Plow to Plate" help create food security and resiliency for the future. 
[Related: 20 Meetings Trendsetters Who Stepped Up When Their Industry Needed Them Most]
"José, who serves as chairman emeritus for our board, has championed DCCK for more than two decades," Curtin said. "From hiring our graduates to hosting our signature fundraising event Capital Food Fight, his support is consummate."
Marriott International is another loyal hospitality ally. Early on, the hometown hotelier used its corporate power and legal expertise to help pass the Bill Emerson Good Samaritan Act of 1996, which minimized the liability of food donation and redistribution.
"That allowed us and the community kitchen model to flourish," Curtin said. "Marriott also employs many DCCK graduates, and just expanded its annual grant funding to three years. They are a great friend."
Founded in 1986 by brothers Eric and Mark Michael, Occasions Caterers, which set the standard for environmental responsibility in catering as the nation's first Certified Green Restaurant Caterer, is also committed to ending hunger. Among DCCK's first donors, the firm then became a hiring partner and consultant on DCCK's revenue-generating social enterprises.
"Another COVID-19 response for us is high demand for fresh produce," Curtin noted. "Thanks to expanded storage, refrigeration and logistics support from Eric and Mark, we are able to distribute 5,000 bags of fresh fruits and vegetables to 20 high-need locations around D.C. each week."
Other major partners include Kimpton Hotels and Restaurants (see below) and EventsDC, the District's official convention and sports authority.
DCCK's extensive support network also includes groups.
The Power of Perseverance
Housed in the basement of the Federal City Shelter, DCCK has long offered tours and hands-on volunteer opportunities such as offsite meal preparation and food donation drives. Planners can also source high-quality meals through DCCK's Fresh Start Catering program. With DCCK now in final negotiations for a new 35,000-square-foot headquarters located between The Wharf and Navy Yard, groups could see elevated participation opportunities. 
"Our mission includes encouraging businesses to think and act more like nonprofits and social enterprises," Curtin said. "As one avenue to that end, we foresee using the new space for enhanced engagement with corporate event attendees in town, such as lunches, seminars or events led by our graduates."
From a storytelling and face-to-face engagement perspective, DCCK has the ultimate brand ambassadors.
At Curtin's invitation, I attended the tearful, joyful celebration of DCCK's 98th graduating class in 2015. The 17 men and women graduates first shared their background stories at the shelter, before receiving their diplomas at the Naval Heritage Center.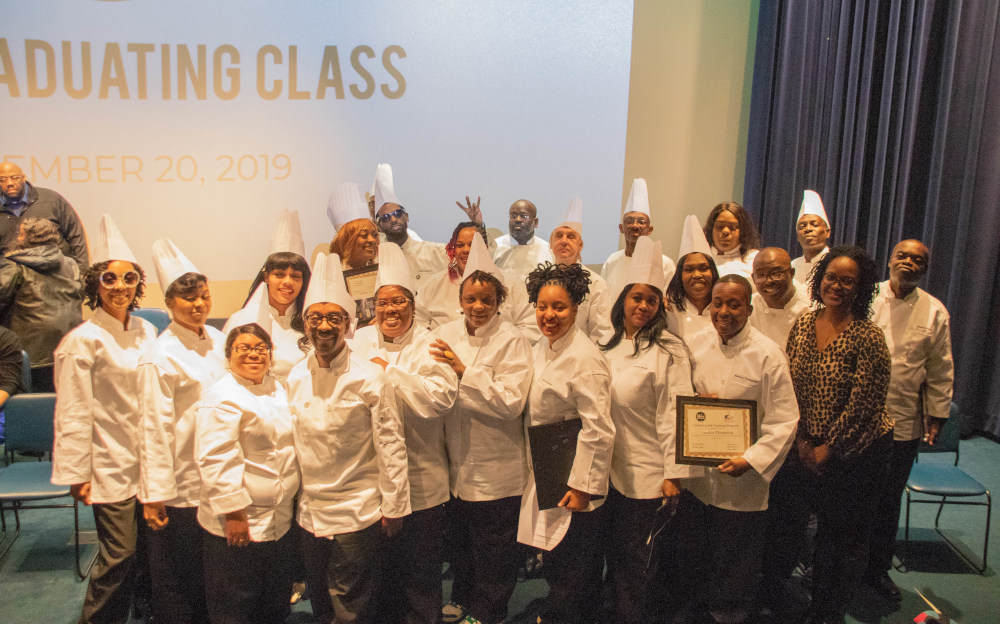 Photo: DC Central Kitchen class graduation, Dec 2019; Credit: DC Central Kitchen
With Andrés (who received an honorary degree at the 100th ceremony), Marriott executives and other dignitaries joining family and friends at the venue, their gospel-style processional to the stage in their chef's whites was moving beyond words.  
It's been a tough slog," Curtin said. "But we work by relentless incrementalism, and every day we're seeing change and opening minds."
Destination DC
202.789.7000
At Kimpton, Food Philanthropy and Creative Pivots Are the Way Ahead
In 2001, Kimpton Hotels & Restaurants made its East Coast debut in D.C. with Hotel Topaz near Dupont Circle. The arrival of founder Bill Kimpton's industry-shifting boutique brand, launched 20 years earlier in San Francisco, was a breath of fresh air for D.C.'s mostly bland hospitality scene.
Today, with four D.C. properties and one each in Alexandria, Virginia, and Baltimore, the area remains one of Kimpton's largest markets.
The excitement then as now included Kimpton's pioneering model of giving the restaurants and bars within his hotels their own localized identity and neighborhood vibe. Aligned with the company's brand pillar of creating "heartfelt human connections" with its guests, the strategy is a major ingredient in Kimpton's appeal to leisure and business customers, groups included.
"We've always prided ourselves on bringing chef-driven culinary and beverage experiences out of the restaurant and into our clients' meetings and events," said Suzanne Halperin, Chicago-based vice president of catering and banquet brand operations for all 66-plus and counting Kimpton properties in the Americas. "There's no Kimpton in a box. Our award-winning chefs and bartenders collaborate thoughtfully with the planner to uniquely personalize their entire program. Each hotel also offers interactive cooking classes, cocktail demonstrations and other activities as part of special packages to further engage groups and create memorable experiences."
Creative customization is also the answer to suspended or adjusted operations across the Kimpton network because of COVID-19.
"We are looking at mobilizing spaces that we normally would not use for meetings and events, such as our full restaurants, outdoor spaces or our spacious Presidential suites," Halperin said. "We're also taking a sustainable approach to our new protocol of delivering high-quality single-use and pre-packaged meals in eco-friendly packaging."
Food also figures prominently in Kimpton's philanthropy.
Along with The Trevor Project, the leading national provider of crisis intervention and suicide prevention services for LGBTQ youth, major partners include No Kid Hungry. Launched in 2010 by D.C. nonprofit Share Our Strength, this national campaign is devoted to ending childhood hunger in the United States.
"We have always believed and shared in their mission to ensure that every child in the United States has access to healthy food where they live, learn and play," Halperin said. "This May, Kimpton donated $20,000 to assist in their efforts to find new ways to feed kids during the pandemic and beyond."
DC Central Kitchen (see above) is another major ally in the nation's capital.
"Kimpton has been a fantastic partner throughout the years," said CEO Mike Curtin. "Most notably, they are a recurring participant in our signature annual fundraising event, Capital Food Fight, sending chefs from some of their most popular D.C. hotel restaurants to prepare tastings for guests. These same chefs also support our Culinary Job Training program with cooking demonstrations and hands-on lessons for students. They have also hosted other fundraisers for us at their D.C. hotels, waiving rental fees and offering complimentary or discounted food and drink for our guests."
Serial Capital Food Fight participants include Executive Chef Kyoo Eom of Dirty Habit, the restaurant adjacent to D.C.'s Kimpton Hotel Monaco.
"Many employees have also volunteered at DC Central Kitchen as part of the Kimpton Cares outreach program," Halperin added. "This summer, we are expanding the partnership to Nashville, where José Andrés's World Central Kitchen is using the Henley restaurant at the Kimpton Aertson Hotel as a satellite kitchen to distribute meals to local food-insecure communities."
Read Next: Inspiring Stories from the Meetings Industry During the Coronavirus Crisis