Flexibility and Safety on Display at Marriott Connect With Confidence Event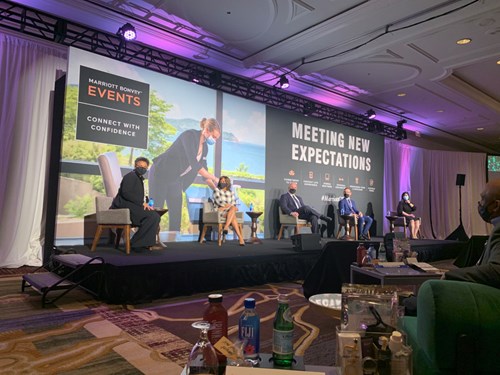 On November 9, Marriott International invited industry professionals to  The Ritz-Carlton, Tysons Corner—located in northern Virginia not far from Marriott's Bethesda headquarters—for Connect with Confidence, a hybrid event where planners got a look at the global hotel giant's latest COVID-19-related protocols and hybrid meeting capabilities.
With about 45 in-person attendees, many of them planners, and more than 200 virtual attendees, the event also seemed to be a way for Marriott to test the waters.
After two general sessions and a lunch break, attendees were asked the following questions during a feedback session: How are you feeling? What did you like and not like about this event? What is your biggest barrier right now? How can we help?
My First Hotel Stay in Months
Connect with Confidence was my first time attending an industry event in person this year, as well as the first time staying in a hotel since March. I arrived the night before with accommodations arranged at the Ritz for a one-night stay.
For those who haven't experienced a hotel stay yet during this pandemic and are curious, here are some quick notes.
I was advised to download the Marriott Bonvoy app ahead of time so that I could access its Mobile Key feature, which allows you to enter your room when it's ready just by using your phone—thereby avoiding the need to stop by the front desk. The app also allows you to make requests during your stay, such as room service, with just a phone.
Signage was apparent everywhere, from floor stickers near the front desk to encourage social distancing to signs indicating elevator capacities.
Every employee had a mask on, as did other guests when they were on elevators or walking around. I only saw guests take off masks when they were seated at one of the hotel's restaurants.
The experience within the hotel room was mostly unchanged. The one noticeable thing was that the TV remotes were placed in plastic bags that needed to be removed to use. Marriott is using electrostatic sprayers to sanitize all of its guest rooms. Guests have the option to opt out of housekeeping services during their stay. Or, in the case of luxury properties like the Ritz, they have the option to request only one housekeeping service a day (instead of both the standard day service and the evening turndown service).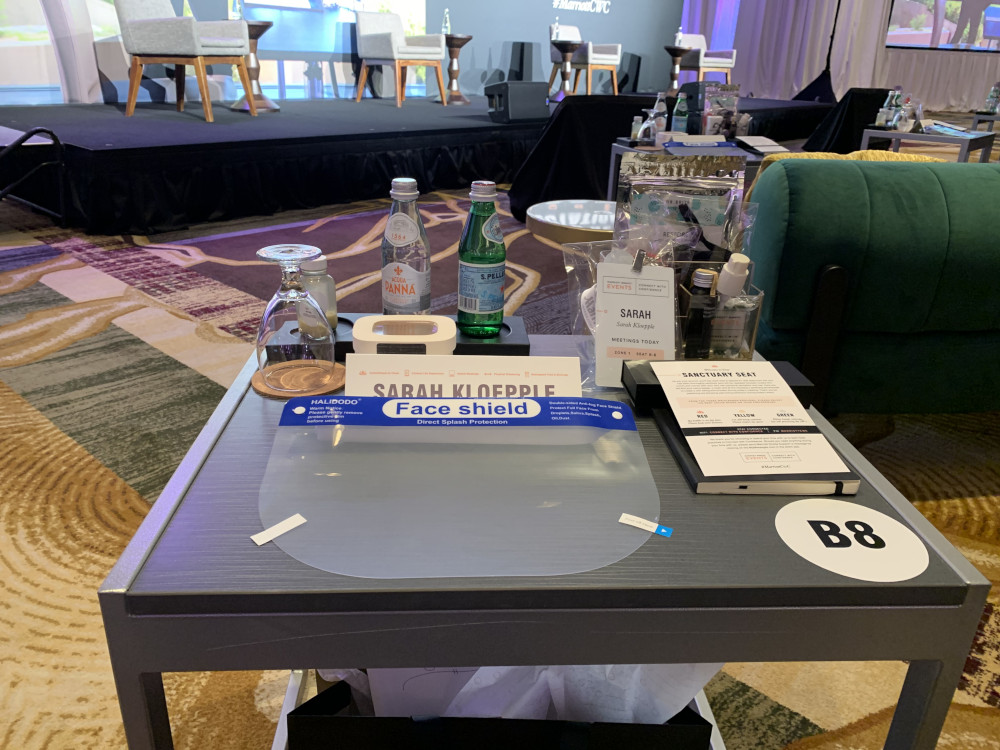 Panel Discussions
A week or so before I arrived at Connect with Confidence, event organizers sent out a link to download the app MeetingPlay, where in-person attendees could see virtually what the ballroom layout would look like—and we could then select our seats. I thought this was a great, convenient feature and an efficient way to prepare in-person attendees.
MeetingPlay was also the provider of the event's virtual experience, and its team built a multiple-camera view so that virtual attendees could watch the show from multiple angles, such as switching their seats from left, right and center. In-person attendees could also use the MeetingPlay app to network and answer polls and surveys, with their results shared live toward the end of the event.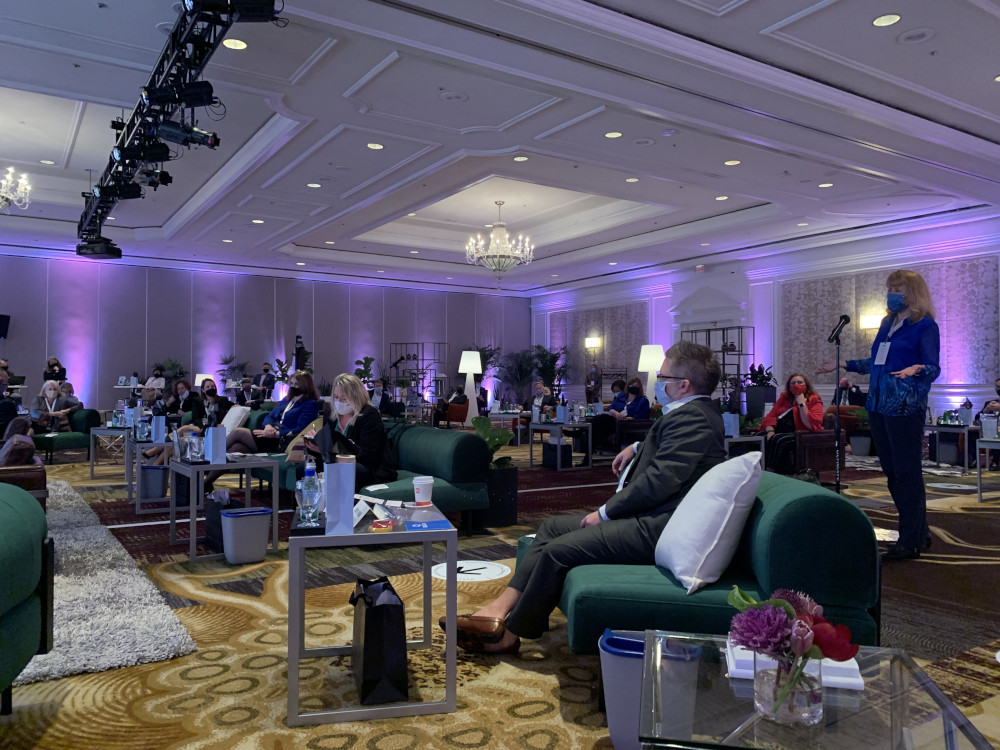 Before heading into the ballroom, I was temperature screened and instructed on the proper way to enter and get to my seat, with floor signage meant to help mitigate foot traffic flow. The socially distanced design of the ballroom, by Center Circle Creative, was a standout part of the experience, with beautiful velvet and leather lounge furniture from CORT and AFR.
During the first general session, Marriott sales and marketing executives took the stage in a panel-like format to discuss things like hybrid meetings and how to make them cost effective, the importance of contract flexibility, force majeure and onsite COVID-19 testing.
"We want to get meetings back, and that requires extreme flexibility," said Tammy Routh, Marriott senior vice president of global sales. "It's customization that's so critically important. You can count on us to work with you."
Routh also unveiled one of Marriott's newest programs: Work Anywhere, allowing potential guests to rent a room for the day (the "Day Pass") or overnight (the "Stay Pass," with early check-in and late check-out) at a Marriott property as a change of scenery from what might be a typical work-from-home setting.
Work Anywhere "enables you to get out of your home and be very productive," Routh said, whether it's having more reliable Wi-Fi or just a disruption-free room for an on-camera task. The program also offers the bleisure-type "Play Pass" for families. Routh also mentioned that Marriott could work with association planners to offer these passes to their members.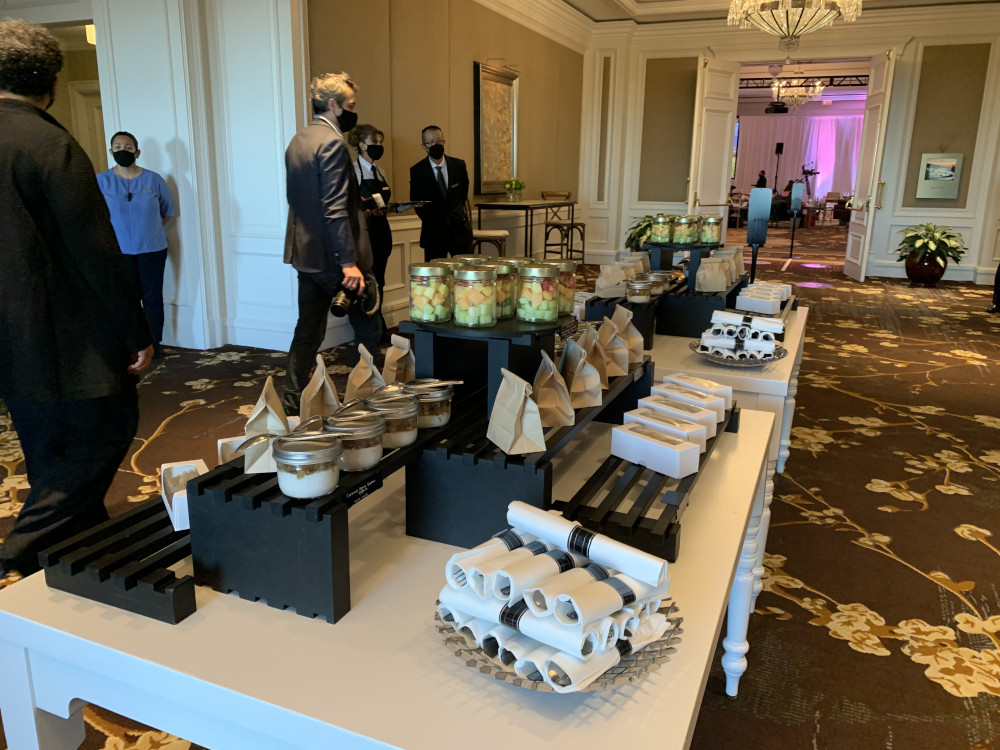 During the second general session, Marriott's Erika Alexander, chief lodging service officer for the Americas, moderated a panel with The Ritz Carlton, Tysons Corner General Manager, Tod Morrow, and its executive assistant manager and cleanliness champion, Jessie Malpica. Also on stage were Bethesda Marriott General Manager Bonnie Caravaglia and Marriott's vice president of F&B experience, Dana Pellicano.
Morrow and Caravaglia discussed how their properties have changed amid the pandemic and how they are working with planners to navigate the uncertainty of events. Morrow said for short-term business, his hotel is using letters of intent and not contracts.
"We're taking the risk because we understand the position planners are in," he said.
Valuable Feedback
Probably the most engaging portion of the event was one of the final agenda items: a feedback session during which audience members could take to the mic to express their concerns, pain points and how they felt during Connect with Confidence. (Based on a show of hands during the start of the day,  this was the first in-person event since March for many other attendees.)
Planners encouraged Marriott executives to really empower their local sales reps to work with planners on flexible terms and keeping them aware of their options.

Working to create a risk-free food and beverage component continues to be tricky. In-person attendees, myself included, commended the Ritz's F&B team on the fun, creative to-go items made available for breakfast and during a coffee break. But during the feedback session, at least two attendees admitted they felt uncomfortable at lunch sitting at tables with others without masks.
Lunch was held in another ballroom, and attendees could choose tables that allowed four people, three, two or one. I chose a table for four, as I was eager to chat (at a safe distance) with other attendees.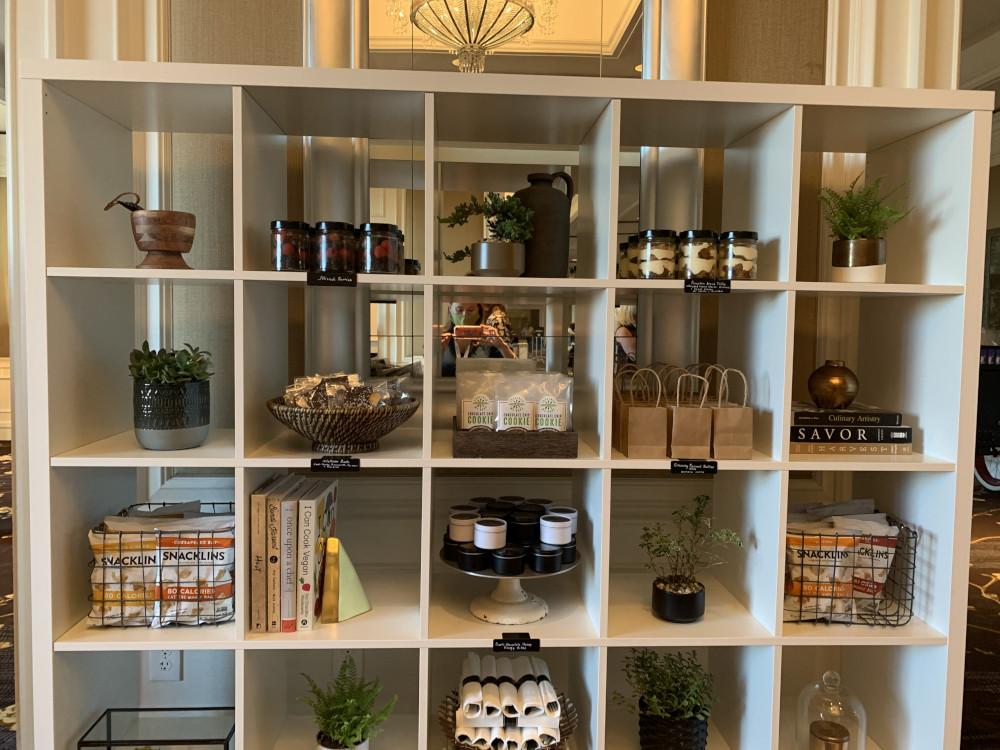 Overall, many in-person attendees were happy with the Connect with Confidence event. One even revealed that, as her first in-person event in a long time, this was a great way for her to experience what her future attendees might be thinking and feeling during one of her next in-person programs.
And Marriott executives showed their gratitude at many times throughout the event, for everyone's comments, constructive feedback and for joining them both virtually and at the Ritz.
Routh summed up what many of us in the room surely felt: "Do you know how good it feels to see people in our ballrooms again?"
Read Next: Back to Business Experiential Forum With ALHI: One Editor's Experience With Face-to-Face Meetings