Beach Meetings Venues Think Outside the Box to Stage Safe, and Stunning, Events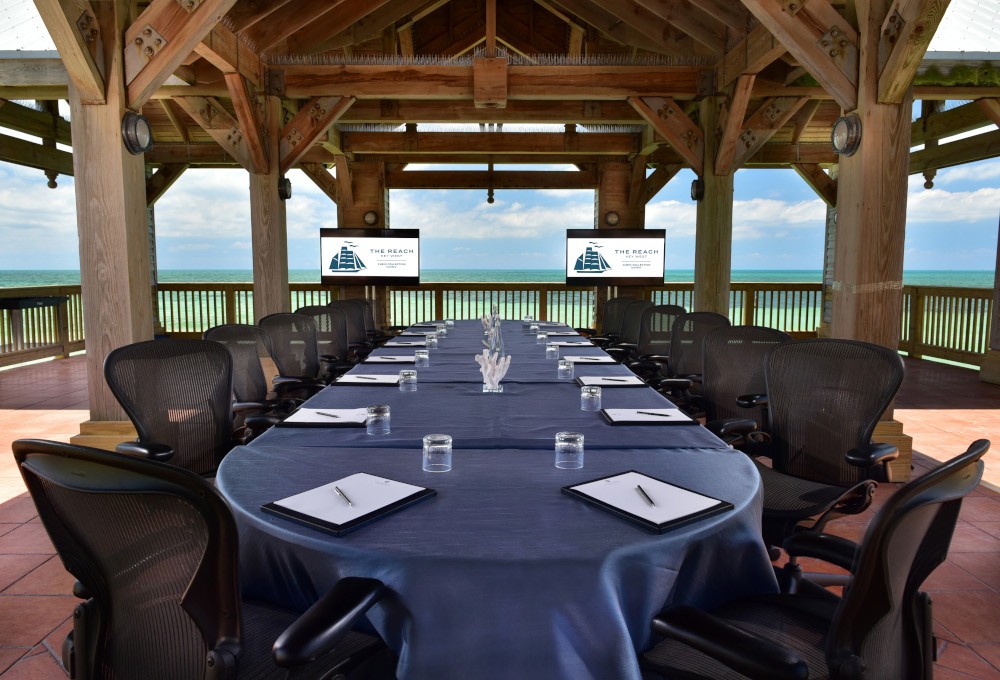 Private gazebo at The Reach Key West, Curio Collection by Hilton
As trends surveys point toward the return to in-person meetings in the back half of 2021, resorts with beach access might be at a bigger advantage than ever before, as planners seek outdoor venues to get their attendees in fresh air where the air circulation is better and ocean views boost spirits.
Here is a sampling of such properties that have successfully hosted in-person groups recently, and how they kept programs creative and fun without sacrificing safety and attendee wellbeing. 
JW Marriott Marco Island Resort & Spa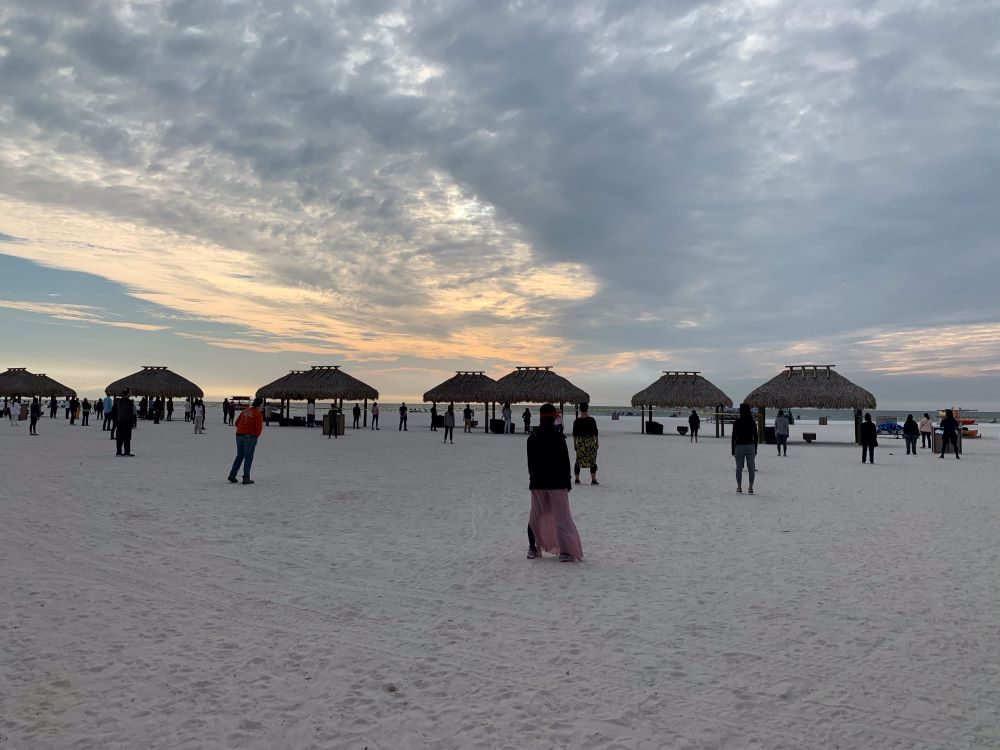 Picture a morning meditation with over 1,000 people on the beach at sunrise, with each person spaced 10 feet apart, and you'll have conjured the very scene at JW Marriott Marco Island Resort & Spa in October 2020 when the property pulled off a spiritual retreat for about 1,100 attendees.
Such a feat was possible thanks to the resort's 10 acres of white-sand beaches along Florida's Gulf Coast.
Sergio Meza, the resort's director of events, said that the group had been coming to the resort for their retreats for years, and when they said they wanted to move forward during the pandemic, Meza and his team had to completely change their approach to host the event in a safe manner. Not only did the retreat have sunrise and sundown meditation sessions on the beach, but the daytime hours were also packed with general sessions and meals that needed to be modified.
"I worked very closely with the meeting planners [on logistics]," Meza said. "We broke down the group into eight, with 130 people in each and color-coded each group [with wristbands]." 
Once the large group was broken down into smaller chunks, managing interactions and keeping groups in their color from activity to activity was easier. Other measures the resort took included:
Social distancing layouts in general sessions with assigned seating and chairs staggered at least six feet apart.
Mandatory mask wearing and daily temperature checks.
Assigned seating for mealtimes, with groups staying with their color and separated in different locations around the resort (some would eat in outdoor spaces, some on the beach, some in the ballroom, etc).
Meals served by attended buffets or individually packaged.
When escorted out to the beach for meditations, groups were filed out by group color to minimize contact with others.
The end result? 
"It was so successful that they came back in January for a second time, and they are coming later this spring for a third time," Meza said. "And again in November, and January of next year."
When asked if his team learned anything imperative to the success of the returning retreats later this year, Meza emphasized that communication and transparency with not only the meeting attendees, but also the leisure guests at the resort, is key to a positive experience that is as safe as possible. 
Casa Marina Key West, A Waldorf Astoria Resort & The Reach Key West, Curio Collection by Hilton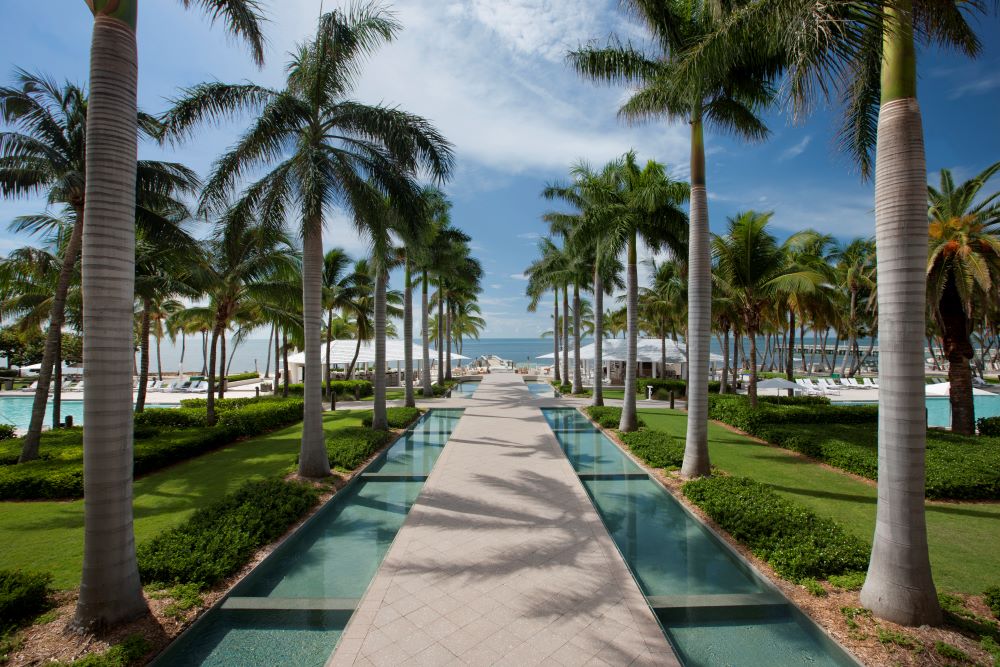 These two resorts that sit next door to one another on Key West benefit from prime beachfront access—they are the only resorts on Key West that sit on a private, natural sand beach.
"Groups visiting both resorts are overall feeling safer and more comfortable outside. With the resorts' unique beachfront settings, we are seeing events frequently set up outdoors to overlook the ocean," noted Andrew Rosuck, director of sales and marketing for Casa Marina Key West, A Waldorf Astoria Resort, and The Reach Key West, Curio Collection by Hilton.
With Key West being a tropical vacation magnet, Rosuck said that the resorts attract many incentive groups. Additionally, in the past year he has seen a rise in micro events at the resorts—and noticing attendees tacking on vacation days with family before and after small gatherings.
"Over the past year, the majority of our groups are certainly considered 'micro-meetings,' with about 20 guests on average. Fortunately, both resorts boast unique spaces that allow groups of 20 to occupy a space that would traditionally fit 40. 
"With some groups recently becoming fully vaccinated, we have seen an increased demand, and May is projected to be a busy month of meetings. We are starting to see a return of larger groups as well, some of them over 100 attendees," Rosuck said. 
The Reach, which was recently renovated, has unique spaces for beach meetings, including the new 3,024-square-foot Palms Lawn, which overlooks the resort's private natural sand beach. Small meetings can also use a boardroom setup within the resort's private gazebo jutting off over the ocean.
For groups that enjoy a dose of history mixed with luxury, the 311-room Casa Marina celebrates its centennial this year and is listed on the National Register of Historic Places. In addition to meetings on its beachfront outdoor spaces, Rosuck said that he is seeing groups take advantage of the hotel's hybrid offerings with Encore (formerly PSAV) as well.
Hilton Sandestin Beach Golf Resort & Spa
Located on the shores of South Walton's white-sand beaches in northwest Florida, Hilton Sandestin Beach Golf Resort & Spa has always considered its beachfront location an advantage for events, but in the wake of pandemic recovery, it will be even more key to bringing group business in than before.
"This April, we are hosting a sunset buffet overlooking the Gulf of Mexico for 113 people," explained Maggie Weaver, director of marketing for the resort. "This event will allow plenty of outdoor space and seating so everyone can enjoy a safe gathering." The event is set to take place on the resort's pool deck, overlooking the beach and ocean.
And while the event, at the time of writing, has yet to take place, Weaver said she's already receiving positive feedback from the meeting planner regarding the efforts the hotel is making to keep the event as safe an experience as possible.
"We implemented a number of COVID-19 event protocols upon reopening our resort back in May of 2020, from updating our beverage service to include touchless dispensers to adjusting meeting sets that ensure ample space between all guests," she said. "We've thought about every detail and how it will impact our events. These, along with guidelines provided by Hilton's EventReady with CleanStay, help ensure the safety of our guests and our team members."
DoubleTree Resort by Hilton Myrtle Beach Oceanfront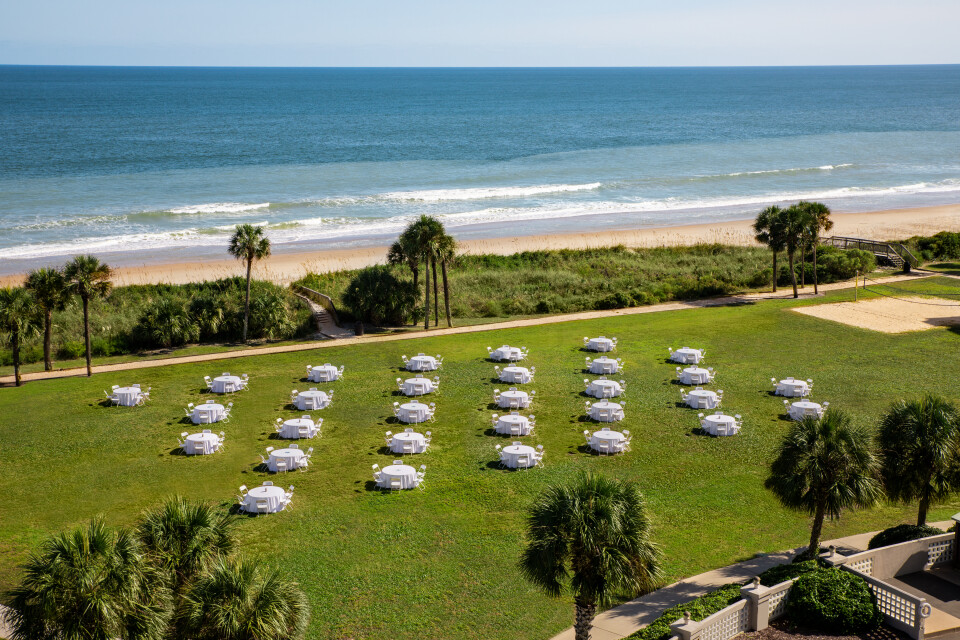 Set across 27 acres next to Myrtle Beach State Park, the DoubleTree Resort by Hilton Hotel Myrtle Beach Oceanfront provides a scenic coastal escape ideal for groups and hotel buyouts. The resort has 452 oceanfront rooms and suites, all complete with ocean views and private balconies.
These beachfront views and expansive outdoor spaces prove advantageous for memorable outdoor experiences. 
"We just closed on a group for July 2021 who selected our resort specifically for its outdoor space and plans to organize teambuilding and food and beverage events outdoors," said Stephen Williams, director of sales and marketing for the resort. "We are also seeing strong demand for our unique exhibit hall where the walls can be removed to make it an open-air, covered pavilion." 
Previously, the resort held a unique outdoor concert event over Halloween weekend in 2020. Cliff Hanger Productions came to the resort with a pitch for a socially distanced concert, with the goal to help bring back the music industry. With an oceanfront backdrop, the event was executed following all of Hilton's protocols for meetings and events, and the hotel and group also worked with local officials to ensure the event followed all CDC and local/state protocols. 
This was no ordinary concert event, however. Some unique attributes included:
Cliff Hanger Productions hired a third party to market their package, which included two nights of overnight accommodations in an ocean view guest room and access to view two days of "Electric Funk Concerts." Rooms were marketed based on which concert the guest wanted to view as there was a concert happening in front of each of the hotel's buildings that guests could watch from their balcony. No more than four guests were allowed per balcony.
The group offered remote check-in outside of the hotel. Attendees drove into the resort and reached a check-in where they were directed to which building they would be staying in and received their room keys, rules and resort information. The group also fenced in the entire resort to ensure no local traffic.  
Mini pods were set up in front of each stage for those in one building who wanted to view the concerts at the other stage—these pods were socially distanced and event staff monitored the pods to ensure no gatherings were happening.
[Related: 5 Top Tips for the Best Beach Events]
Kingston Resorts, Myrtle Beach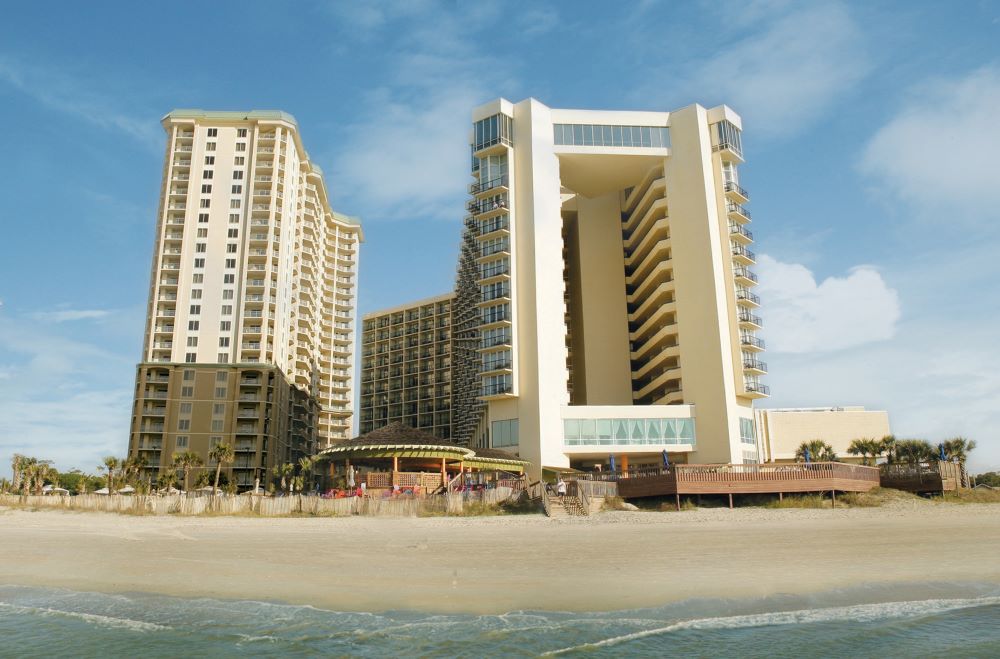 Comprised of newly renovated Hilton Myrtle Beach Resort and Embassy Suites by Hilton Myrtle Beach Oceanfront Resort, the Kingston Resorts Complex located along the city's famed Grand Strand is a big meetings hub on the East Coast for groups craving ocean views.
"We're seeing meeting planners taking advantage of our open outdoor spaces around the resort and available at The Landing," said Melissa Salem, director of sales for Kingston Resorts. 
The Landing houses both the spa and fitness center, plus an outdoor venue with a spacious lawn area that can accommodate seated events. The venue also offers golf simulators, a putting green and an outdoor bar, which are all ideal for teambuilding days or large social events. 
"We are also seeing an uptick in groups participating in outdoor teambuilding events that utilize our volleyball, tennis, pickleball and putting greens to allow attendees to be outside and help with social distancing," she said. 
Salem added that groups having a socially distanced meeting indoors have been utilizing the lawn areas for meals and coffee breaks. 
"Our Beachcomber's venue, which is oceanfront, open-air and covered, has been popular for receptions in the evening, too," she said.
Like all of Hilton's properties, both resorts host events backed by EventReady with CleanStay, the brand's meetings and events-specific program that ups cleanliness standards and also provides guidance for redesigned meeting layouts, hybrid meetings, F&B options and more in the COVID-19 era.
Sandestin Golf & Beach Resort, Miramar Beach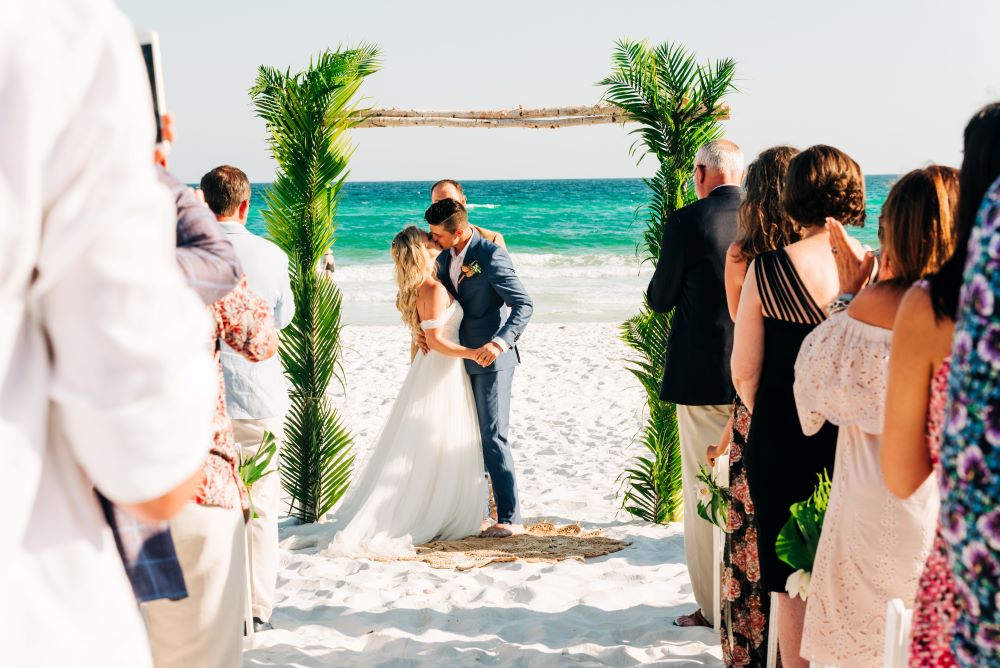 On South Walton's Emerald Coast, the Sandestin Golf & Beach Resort's collection of rentals and hotels is a popular spot for social and corporate groups, with its abundance of space, including two conference centers, Hotel Effie meeting rooms and a variety of outdoor spaces. 
Throughout 2020, much of the resort's groups cancelled or postponed gatherings—a common theme across the globe. The resort's largest group sector that plans events on the beachfront—weddings—was hit especially hard.
"Originally scheduled for May, a dream beach wedding was pushed to September and our goal was to alleviate panic and ensure that we could still make her dreams come true, safely," said Melissa Watson, director of marketing and communications for the resort. "We worked with the bride on dropping the total number of guests, amended the layout to allow space for social distancing, provided ample hand sanitizer and staff were required to also social distance while wearing masks and gloves."
And if planning a beach wedding during a pandemic wasn't already difficult, the September event was thrown another complication when inclement weather threatened the original setup. 
"The event had to be moved inside and we had to get creative," Watson explained. "Thankfully, our experienced team planned ahead for this potential change. Layouts were adjusted to still provide a safe but still dreamy ceremony and reception. Instead of a buffet, dinner was safely served by the staff and a gorgeous bay sunset was enjoyed by guests from inside of our Bayview Room and outside on its covered porch."
Having a backup plan is a must when organizing outdoor beach events, a process Watson's team knows well. "Plan Bs are never fun but having them in place helps us tackle challenges from pandemics to a little rain. Over the years we have learned that with the ever-changing climate (literally and figuratively) that at the end of the day, there is always a solution," she said. "With the 'new normal' right around the corner, we will take our practices and adjust accordingly to continue making dream meetings come true!"
Read this next: 18 Showstopping Outdoor Venues in Florida