Tap These Exotic Animal Reserves for a Wild Offsite Event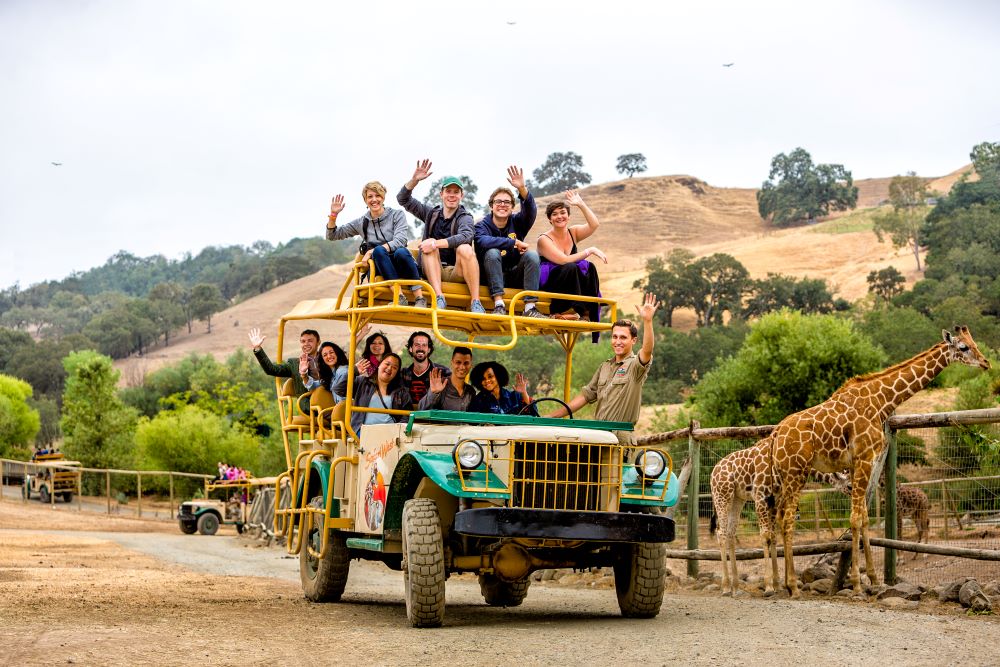 Group safari drive with Safari West. Credit: Ray Mabry
We've all felt a bit caged up during the COVID-19 pandemic, yearning to roam free with our friends and colleagues. And while the last year may have tamed our social networking, there are indeed places to gather that bring an air of the wild to the proceedings as in-person meetings resume.
While exotic animal attractions may have suffered some bad publicity during the Tiger King craze at the start of the pandemic, there are a number of highly responsible venues throughout the U.S. that protect and rehabilitate these rare animals responsibly, and also open up their gates for private events and group tours.
Following are two truly standout operations on each coast of the U.S., and a list of additional group event options in other regions of the country.
Safari West, Santa Rosa, California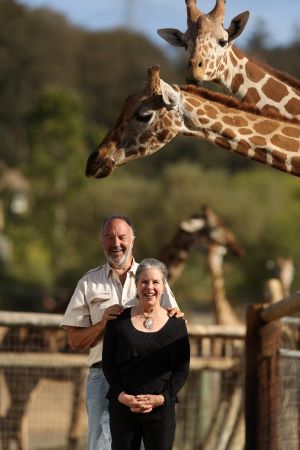 After purchasing 400 acres in California's Sonoma County in 1989, Peter Lang—the son of famed Hollywood director and producer Otto Lang—filled the space with a menagerie of exotic wildlife. And following his marriage to wife Nancy, an avian biologist and longtime curator at the San Francisco Zoo, the two transformed the private expanse into a wildlife preserve and conservation breeding facility, opening up Safari West to educational field trips in 1992 that drawed students from throughout the Sonoma Wine Country to marvel at the exotic animals.
The pair opened the park to the public in 1993 and have since grown to offer overnight "glamping" accommodations in 30 luxurious safari tents as well as private event facilities and guided tours.
Dubbed the "Sonoma Serengeti," Safari West boasts more than 900 animals representing 90 species, including giraffes, zebras, rhinoceros and the adorable visitor-favorite lemurs.
"The core of the guest experience at Safari West is the safari tour—especially for our friends that want to celebrate togetherness and get reconnected to each other," said Aphrodite Caserta, director of marketing and communications for Safari West. "It will always be awe-inspiring to get up close and personal to a giraffe or rhinoceros, but it's something else entirely to encounter them away from crowds of other people, living naturalistic lifestyles in large, mixed-species enclosures. Rather than simply walking from one habitat to the next, we board a truck with our guests and go out exploring together."
Caserta, who has represented Safari West for more than two decades, believes the venue's knowledgeable guides really make tour experiences unique.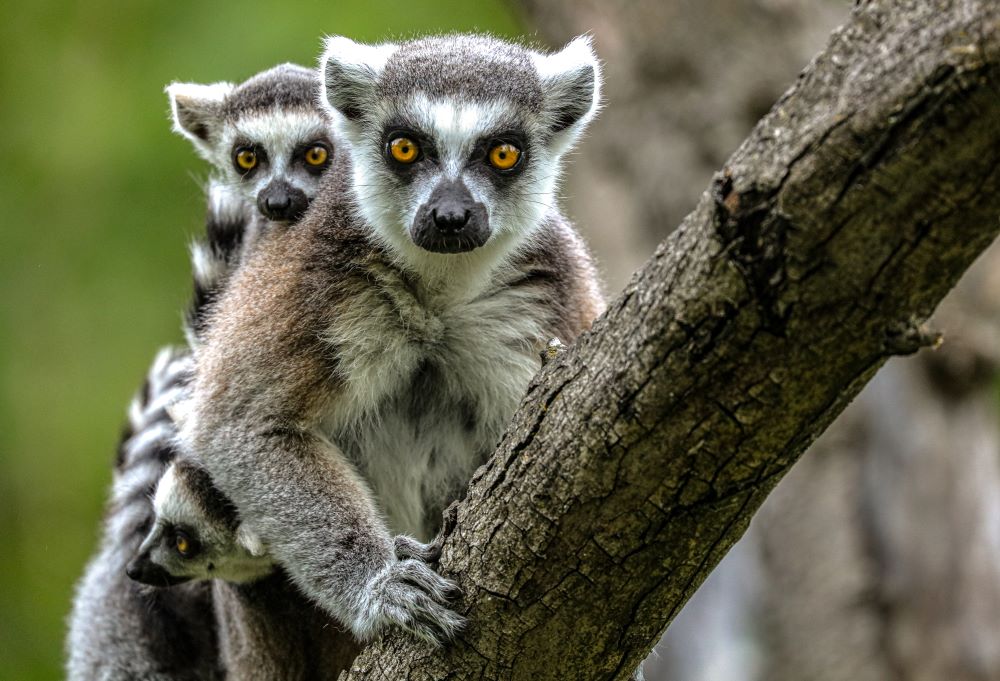 "For example, sometimes when face-to-face with a giraffe, the conversation focuses on the obvious—long necks, huge hearts and blood pressure," she said. "Other times, we catch them napping, chewing cud, play-fighting or even giving birth. These kinds of discussions with the visiting public don't happen at any other facility I'm aware of. Our guides can speak knowledgeably—and sometimes amusingly—about virtually every species, and go in search of the animals while never being certain what they'll find. Four hundred acres is a lot of space and the animals like to roam."
Group tour options at Safari West include the following:
Private Safari Tour: A 30- to 45-minute walking portion plus a two-hour exploration aboard safari vehicles. 
Winos & Rhinos: A tour in which the driving portion includes a break to sample local wines and carefully paired fruits, nuts and artisan cheeses.
Royal Winos & Rhinos: The Royal treatment ups the Winos & Rhinos tour by pairing wines with appetizers such as crab cakes, filet mignon sliders, salmon on toast points and an assortment of artisan cheeses.
Brews & Buffalo Tour: This version substitutes local-vintage wines with craft beer paired with various appetizers while out on the driving tour. 
Private Twilight Safari Tour & Chef's Dinner: Safari West's most exclusive offering features a late afternoon driving tour that ends with a private dining experience at locations that can include the Watusi Lake overlook and the balcony at Treetops Aviary. 
NGALA Wildlife Preserve
Located in Naples, Florida, the 42-acre NGALA Wildlife Preserve is also a privately owned facility, and only open for private events that are booked in advance.
"We are a working wildlife preserve; however we are NOT open to the public," emphasized Tanya Jobin, spokesperson for NGALA. "Therefore, the only way a guest is able to experience our facility and interact with our amazing animals is through private events. Because of this, our clients are able to deliver a once-in-a-lifetime type of experience to their guests that is exclusive and memorable."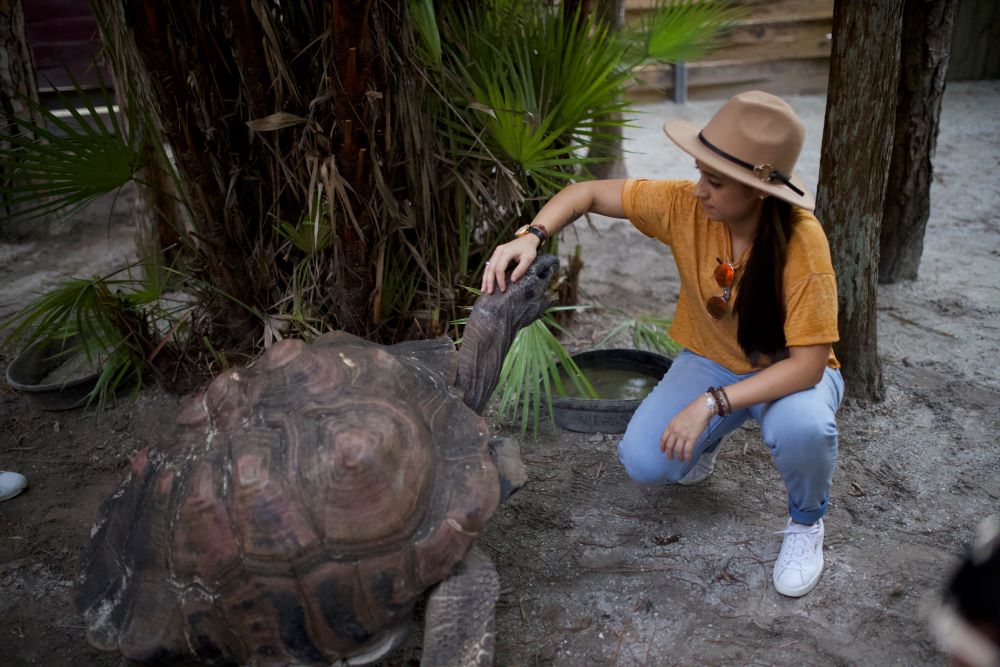 [Related: Donovan Smith Shares Stories of Perseverance and Survival in Running NGALA Wildlife Preserve]
Indeed, the term "group buyout" is a bit misleading at NGALA, as there is nothing other than a buyout that is available because the facility never hosts more than one group at a time, regardless of size. The private event experience is also very top-shelf at NGALA, which frequently lures groups from Naples-area luxury hotels such as the JW Marriott, The Ritz-Carlton, Hyatt Regency Coconut Point, Naples Grand Beach Resort and others.
"Unlike a zoo, NGALA's event venue is private, upscale and unique in design," Jobin said. "Our grand tented architecture, tropical gardens and rare animal encounters transport guests to an elegant, safari-style state of mind where they can connect with nature and each other. Our 'Living Art Animal Encounters' provide guests up-close interactions with rare and exotic animals in an environment that is authentic and natural, and our food is comparable to any fine dining restaurant in the area."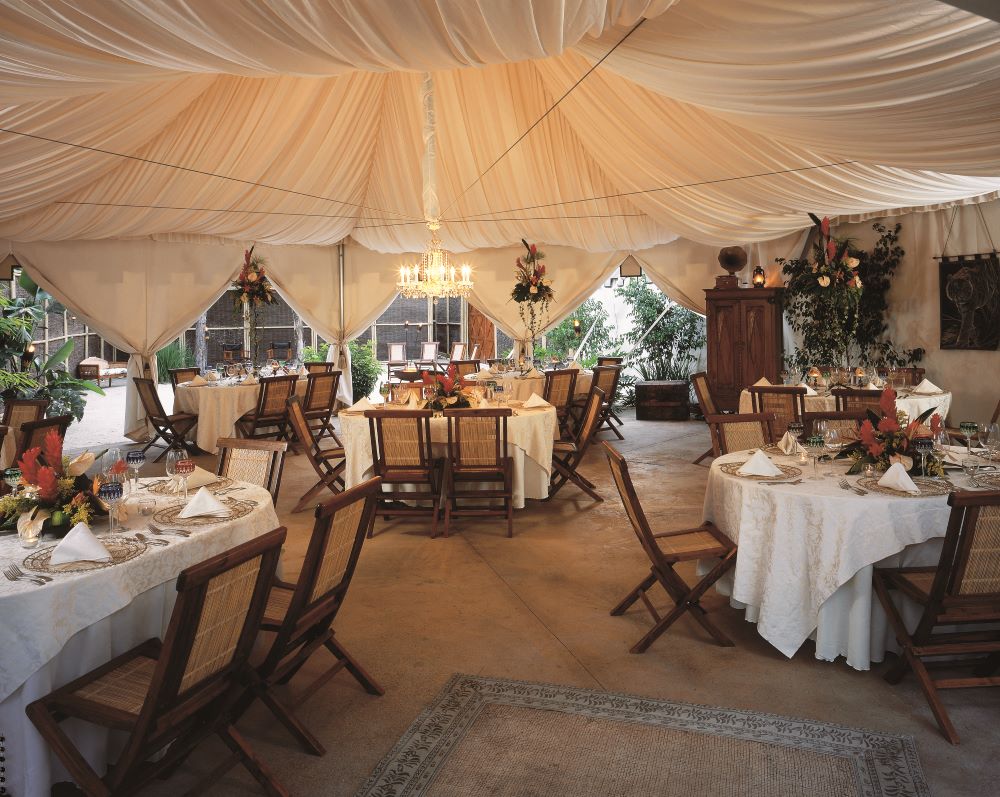 NGALA, which translates to "place of the lion" in Swahili, offers a variety of special event packages, including a luxurious dinner reception package that includes use of the NGALA Event Venue for three hours, with components that include all public safety and event setup fees, and also the following:
Elegant main tent set-up with chiffon liners
Adjacent hex tents
Outdoor reception boma's (African-style outbuildings)
Crystal-cut chandeliers
Fire pits
Authentic decor
Event staff
Theatrical lighting enhancements
Sound system with background music
A standard bar package with top-shelf liquor
Two "living art" animal displays (actual live animals)
Plated, buffet or food station options
"Our 'Living Art Animal Interactions' are probably the biggest reason a group would visit NGALA," Jobin said. "To be able to enjoy cocktails and hors d'oeuvres while interacting with a giraffe or petting a white rhinoceros in a casual, upscale environment is unique and amazing. We have several different types of animal options to choose from, as well as other entertainment enhancements, including live musical performances, Kobake dancers, Drum Cafe teambuilding events, cigar rollers, etc."
More Association Zoos and Aquariums for Private Events
While Tiger King may have won the pandemic lockdown entertainment sweepstakes, one can make the argument it's certainly not a model for responsible animal-sanctuary-focused event venues.
Groups who want a guidepost to facilities that meet the highest standards for animal safety and wellbeing can consider the following Association of Zoos & Aquariums venues in the U.S. that cater to private events with humanely treated exotic animals as the main attraction.
Read this next: This 'Dreamscape' May Represent the Future of In-Person Events