Meetings Today LIVE! Forges In-Person Connections in Las Vegas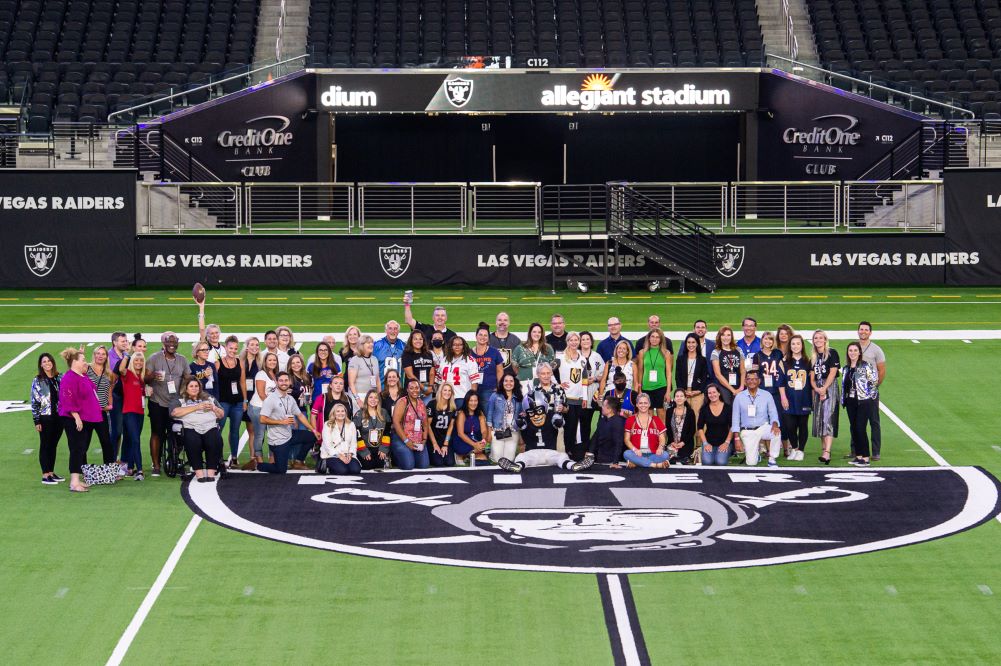 Meetings Today LIVE! West 2021 attendees on the field at Allegiant Stadium. Credit: Allegiant Stadium
Meetings Today LIVE! West in Las Vegas brought together 63 meeting industry professionals—planners and suppliers—facilitating 638 one-on-one meetings at The Venetian Resort Las Vegas from July 18-21. 
Following nearly 16 months of virtual meetings, meeting professionals in attendance found the face-to-face networking invaluable.
"This is my first time at a Meetings Today show, and what I love most about this show is I've met people I have never met before," said Dina Worthen, senior sales manager for Visit Colorado Springs. "It's exposure to some brand-new contacts…it's extremely valuable."
Meeting and event planners also valued the many in-person interactions with their supplier counterparts.
"I have met so many wonderful suppliers," said Jennifer Sociewicz, event planner for Deutsch Family Wine & Spirits, who was also attending a Meetings Today LIVE! event for the first time. "I've had real-time connections with each individual, one-on-one and in social settings, which is the perfect networking opportunity."
Throughout the event, attendees also earned CEU credits via engaging education sessions from MPI and Goodman Speaker Management, conducted a site tour at venue Green Valley Ranch Resort Spa & Casino, enjoyed a high-end dining experience at CAESARS FORUM, and explored new entrants to the Vegas offsite venue scene, AREA15 and Allegiant Stadium.
[Related: 4 New Tech and Design Standouts on the Las Vegas Meetings Scene]
What's New at Host Hotel The Venetian Resort Las Vegas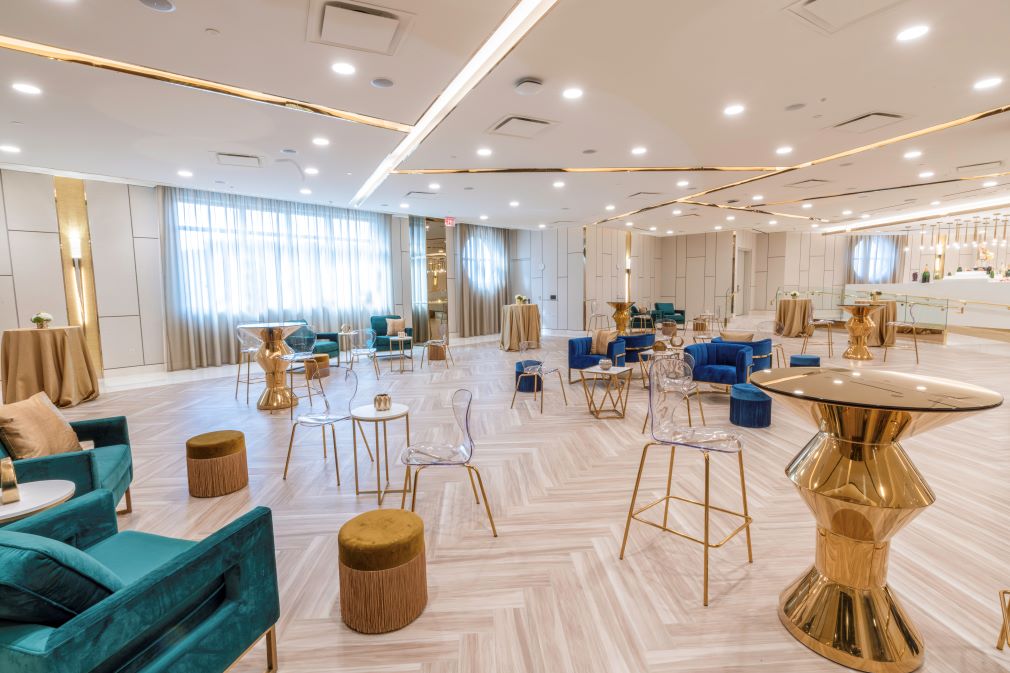 Meetings Today LIVE! West kicked things off with a reception at The Venetian's newest meeting venue, Stella Studio. Specifically designed for small- to medium-sized meetings, the 8,000-square-foot multifunctional space provides a sleek, modern, neutral canvas that can be easily transformed and decorated to an event's needs. 
"It's a turnkey opportunity," said Sean Morris, executive director of sales for The Venetian. "It's very intimate. It's great for board meetings, for executives or for opening receptions for small groups."
Tucked away at the resort's Palazzo Tower with a private entrance—situated in the refreshed space of an exclusive nightclub—the venue has a dedicated kitchen and bar, private restrooms, and natural light.
Other new enhancements at The Venetian include a redesign of its pool deck, with the addition of 10 premium poolside cabanas, which feature private plunge pools with daybeds and chaise lounges; a revamped menu; and new alfresco dining areas. The pool deck is available for buyouts for events and receptions.
[Watch: What's New at The Venetian? A Conversation With Sean Morris]
Site Tour of Green Valley Ranch 
Although the many resorts on The Strip are perennial meeting favorites, Meetings Today LIVE! also toured a venue tucked 20 minutes from the buzz of Vegas in Henderson, Nevada, for groups that want access to the city's many entertainment amenities but crave a relaxed environment for daytime business.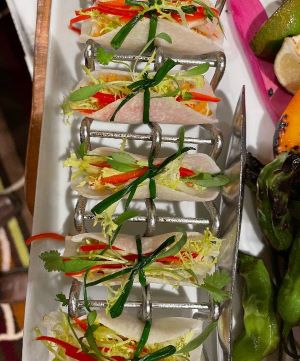 The AAA Four-Diamond, 495-room Green Valley Ranch Resort Spa & Casino sits on 40 acres and has 69,000 square feet of meeting space, including two ballrooms, 12 breakouts and executive boardrooms, accommodating groups ranging from 50 to 5,000 attendees. An award-winning spa and casino floor is also offered onsite.
The resort treated Meetings Today LIVE! attendees to a backyard-style lunch, with upscale finger food like lobster corn dogs, bacon-wrapped seared scallops and a live action liquid nitrogen station with all the sundae fixings.
Following lunch, the group packed goodie bags and wrote encouraging notes for children at St. Jude's Ranch for Children. The ranch helps kids who are victims of abuse and neglect, and homeless youth, and has been serving Nevada for 50 years.
"It goes a long way to help cheer a young person who is going through some tough times," said Dr. Christina Vela, chief executive director at St. Jude's Ranch. "Our goal is to increase hope and healing for some of the most abused and neglected children of our community."
St. Jude's Ranch has a 40-acre campus in Boulder City, Nevada, which is a short 25-minute drive from the Las Vegas Strip and commonly partners with meeting and convention groups for CSR activities.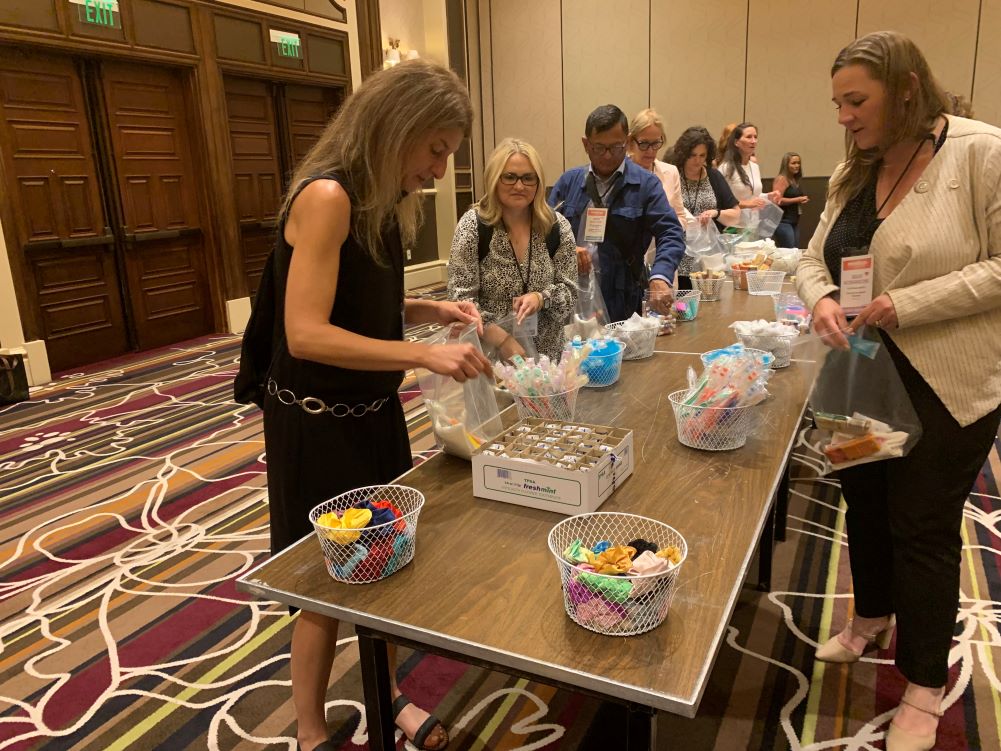 "We can host ice cream socials so visitors can interact with our kids," Vela said. "We are open every single day of the year, so things like sorting donations or landscaping—there's always an opportunity for people to help us."
Vela noted that the ranch has a meeting room on campus that can accommodate up to 75 people for groups that want to meet onsite and use the rest of their day to give back to the youth community.
[Learn More About Our Upcoming Meetings Today LIVE! Events]
High-End Dining at CAESARS FORUM
A trip to Las Vegas in 2021 isn't complete without a tour of one if its newest venues, CAESARS FORUM. The 300,000-square-foot conference center is home to the two largest pillarless ballrooms in the world, and recently hosted MPI's World Education Congress (WEC).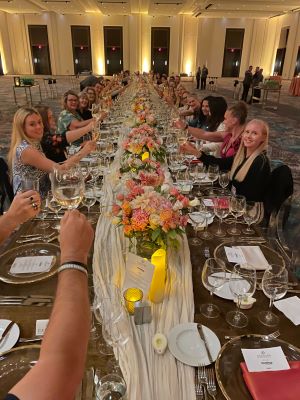 Caesars Entertainment hosted Meetings Today LIVE! at the FORUM for a four-course fine dining experience, showcasing the facility's ability to produce high-quality food for a crowd. 
Prior to dinner, Meetings Today staff ventured to the kitchens to chat with Eric Vaughn, the director of culinary operations at CAESARS FORUM, about what it takes it put on a restaurant-quality experience for meeting attendees.
"You have to get the winds where you can with your time—that's the most difficult thing about it," he said. But he emphasized that shortcuts aren't an option in the FORUM kitchens, if the food quality suffers. "We have found that it takes us longer than it used to because we are trying to make this stuff extraordinarily better than every other banquet place that's out there." 
The difference was certainly noticeable to Meetings Today LIVE! attendees. Treated to a violinist playing today's greatest hits while feasting on dishes like fois gras, summer greens, Wagyu beef and mille-feuille—a layered raspberry and vanilla pastry—attendees ate well and networked in style at one long dinner table with lavish floral centerpieces and wine pairings.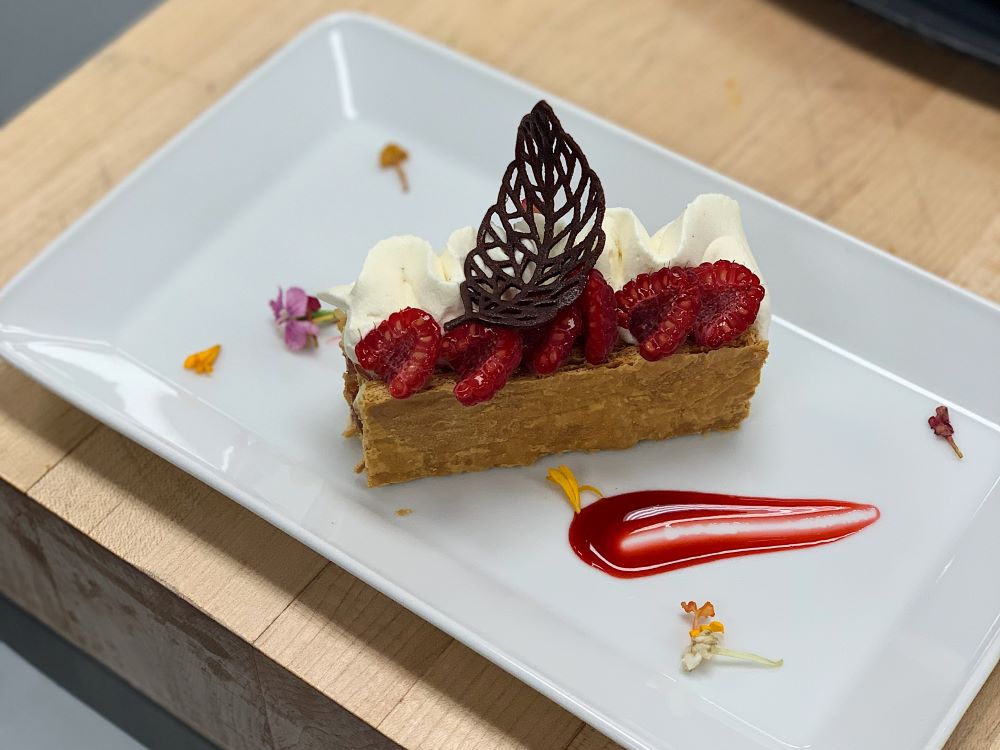 Following dinner, attendees got to see Las Vegas' sparkling lights from a different vantage point atop the High Roller, a Ferris wheel that sits behind the FORUM's large outdoor plaza. The 30-minute ride in one of the wheel's pods is a must-try activity for groups. 
Offsite Venues That Wow: AREA15 and Allegiant Stadium
Las Vegas recently debuted a number of wow-worthy offsite venues, and Meetings Today LIVE! spent one day exploring two of the most buzzworthy: AREA15 and Allegiant Stadium.
Up first was AREA15, an immersive retail and entertainment complex about a mile off The Strip. The experiential venue's vibe is hard to put in words, with futuristic art installations, indoor ziplines and more.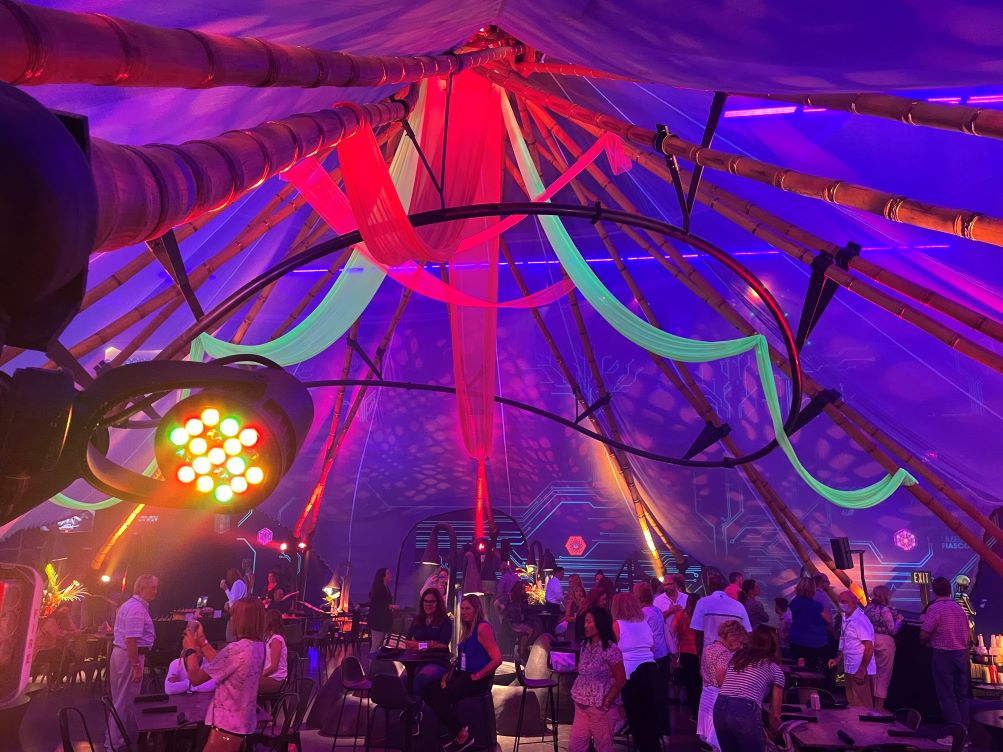 Following a lunch at the venue's Sanctuary space, attendees entered art collective Meow Wolf's Omega Mart experience for a teambuilding scavenger hunt while interacting with art works that comment on consumer culture. The facility is available for buyouts and events.
Allegiant Stadium was up next. The new home of the Las Vegas Raiders has a private events team that can organize events on the field, dinners in the Raiders locker room, buyouts of the Coors Light Landing that overlooks the field with an impressive view of the Las Vegas Strip as the backdrop, and more.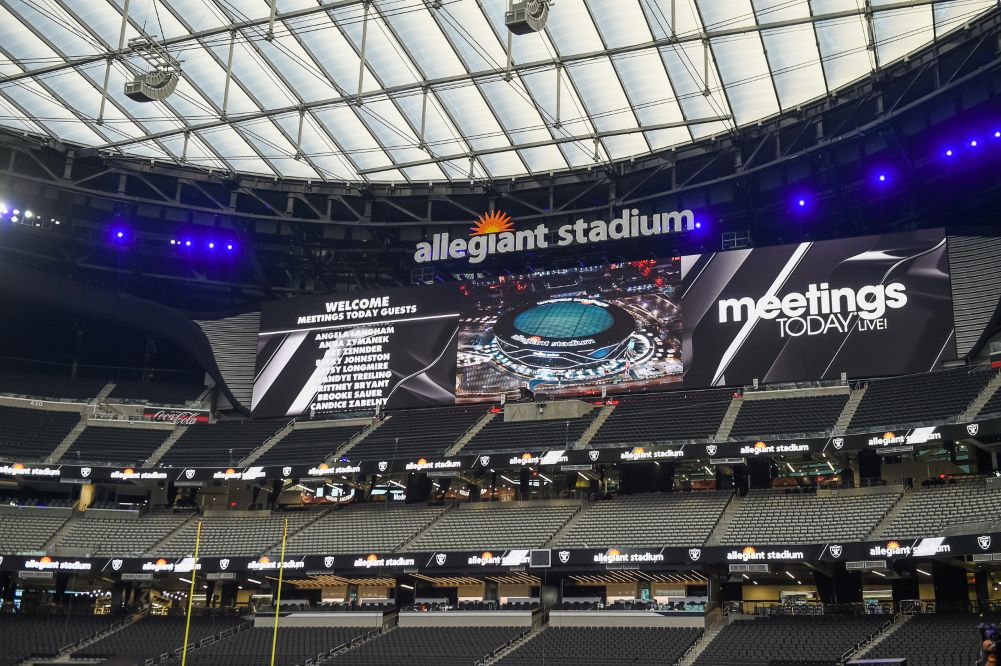 Meetings Today LIVE! attendees toured all of these activations and then some, even having a chance to take some photos with Raider Rusher, the team's mascot, and try their skills at throwing and kicking the football on the field.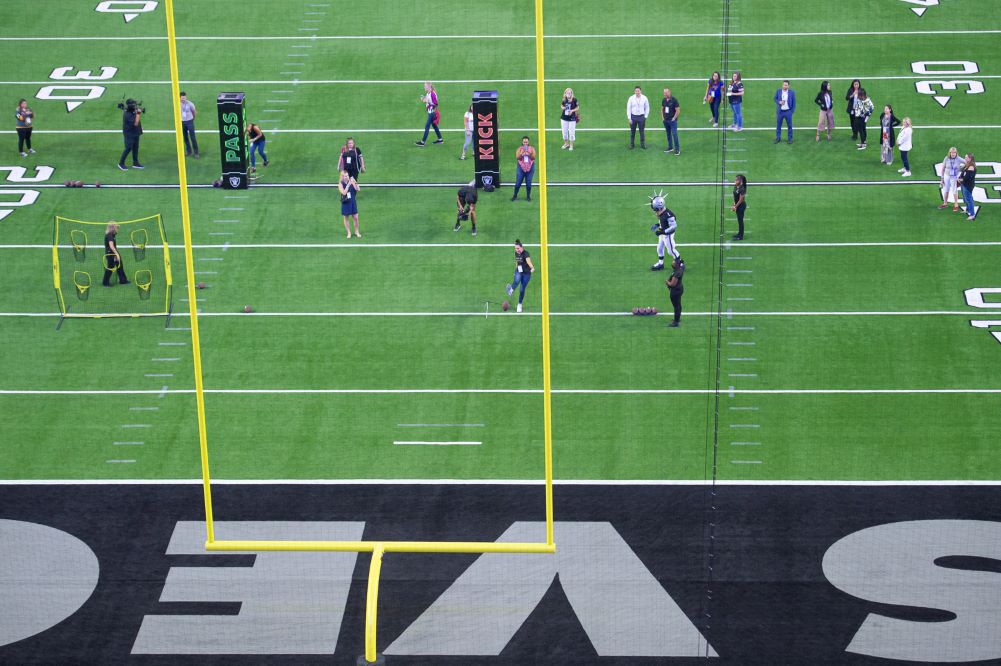 [Learn More About Allegiant Stadium's Hosting Capabilities]
"We were thrilled to provide meeting planners with the opportunity to experience the wide variety of event spaces and one of a kind moments that Allegiant Stadium can offer. The Stadium tour impactfully showcased our numerous clubs and event spaces such as the Field and Coors Light Landing which features a view of the iconic Las Vegas strip," said Samantha Johnson, VP of sales and marketing for Allegiant Stadium. "The activations such as Rusher (mascot), custom take-home Locker Room name plates, and Punt, Pass, Kick experience created a buzz and energy throughout the entirety of the event.
"I hope that the planners walked away with a memorable experience and the understanding that Allegiant Stadium hosts impactful events for all group sizes."
Takeaways from Education Sessions
Earning CEU credits is a hallmark of Meetings Today LIVE! events, and during the Las Vegas program, attendees had the opportunity to earn two. Day one featured MPI Academy Director Jessie States, who presented "Fast Forward: Future-Ready Skills for Event Profs."
"We are at this very impactful moment in the history of meetings," States said as she kicked off her session. "We need to identify and make sure as an industry that we recognize the changes that are happening."
Planners walked away with tools and skills to cultivate as the industry works through the pandemic.
After a year of stress, isolation and working remotely, wellness is proving to be a more important topic than ever before. Sponsored by Goodman Speaker Management, Laura Putnam, founder and CEO of Motion Infusion, delivered her keynote "Me at My Best," imparting her expertise on personal and professional wellbeing to attendees.
"We have little-to-no control over our circumstances, but we can control how we respond to those circumstances," she said, encouraging attendees to leverage their strengths in the workplace; providing strategies to aid with physical, mental and emotional wellbeing; and more.
A Winning Event
After a busy few days, attendees left Las Vegas with a wealth of knowledge on the destination's latest venues, new connections for business and key resources for conducting in-person meetings moving forward. 
"My career has been predicated on face-to-face meetings for 18-20 years. So, coming out of the pandemic, it's great to see the industry rebounding and Meetings Today among the leaders helping us getting back," said Mark Freeman, meetings manager for Meetings Alliances.
Thanks to the sponsors of Meetings Today LIVE! West for their partnership on this event.
Interested in participating in a Meetings Today LIVE! event? Join us in Louisville September 12-15! Inquire now.
See All the Highlights