Iconic Texas Filming Destinations That Add Box Office Appeal to Meetings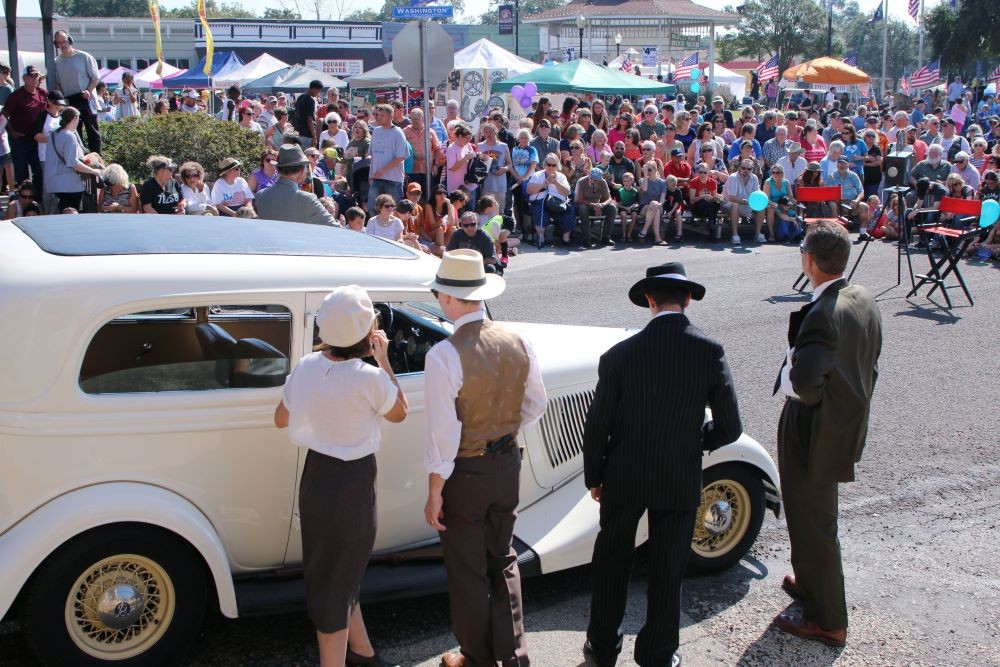 Bonnie & Clyde Days Actors. Image courtesy of Nite Life Magazine
Created in 1971 to support development of the Lone Star State film industry, the Texas Film Commission (TFC) celebrated its 50th anniversary this May. 
"Texas has developed into such a vibrant destination for production across all media that the promise and potential recognized 50 years ago has been more than realized," said Gov. Greg Abbott, commemorating the occasion.
To date, the TFC has certified more than 150 Texas communities state-wide as "Film Friendly" under a dedicated program that connects industry professionals with production-ready local resources for film and other media projects. The TFC's curated set of self-guided Texas Film Trails celebrates Texas locales that have supported local filmmaking.
Dating to 1910, Texas' rich filmography includes 4,500-plus productions. Made in San Antonio, the 1927 silent film WINGS received the very first Academy Award for Best Picture (then "Outstanding Picture") at the inaugural Oscars gala in 1929. 
Texas-based productions, frequently starring home-grown talent, have been regulars on the award circuit ever since. 
Based on a semi-autobiographical novel from late legendary Texas writer Larry McMurtry, The Last Picture Show (1971), centered in his hometown of Archer City, launched the careers of Cybil Shepard, Jeff Bridges, Randy Quaid and Cloris Leachman. The film garnered eight Oscar nominations, with Leachman among the two winners. Earlier, in 1963, Paul Newman starred in another McMurtry-based classic, Hud, which won three Oscars. Taken from McMurtry's Pulitzer Prize-winning novel, the 1989 mini-series Lonesome Dove, starring Robert Duvall and Tommy Lee Jones is considered a landmark television event. 
Looking to capture your attendees' imagination? Here is your call sheet for agenda-boosting, conversation-starting filming destinations guaranteed to add box office appeal to your Texas program.
Movie Scenes in West Texas
Three-plus hours southeast of El Paso in far West Texas, Marfa—population 1,800—punches high above its size on the silver screen with numerous projects over time.
Epics include Giant (1956), the sweeping tale of Texas cattle-ranching and oil starring Elizabeth Taylor, James Dean, Rock Hudson and Dennis Hopper. Opened in 1930 as a cattleman's ranch, 40-room Hotel Paisano was headquarters for the stars and the 150-strong cast and crew throughout the film's arduous production. Group rentals today include the 100-capacity ballroom, Central Courtyard and Sun Porch.
Half a century later, Joel and Ethan Coen highlighted the vast high desert of surrounding Presidio County and Big Bend National Park in No Country for Old Men (2007). With Texas-born Tommy Lee Jones and Woody Harrelson among the featured players, the movie won four Oscars. Scenes for another unflinching Oscar-winner, There Will Be Blood, were filmed that same year in Marfa. Daniel Day-Lewis took Best Actor honors, with another golden gong for Best Cinematography.
Marfa is a hotbed for groups willing to make the journey, with boutique hotels, unique venues, rich arts and culture—and wide-open spaces—among the draws.
Austin Film Locations
Following the "virtual adventure" of 2021, the globally acclaimed South by Southwest Conference & Festivals (SXSW) is scheduled to welcome in-person attendees back to Austin in March 2022. 
Dedicated to "helping creative people achieve their goals," the nine-day event includes the SXSW Film Festival. Providing filmmakers with a dream showcase for their feature-length, short, episodic or XR ("Extended Reality") projects, the festival utilizes a range of group-capable venues. These include the Austin Convention Center, historic siblings the Paramount and State Theaters, the Rollins Theater at The Long Center for the Performing Arts, and Alamo Drafthouse Cinema.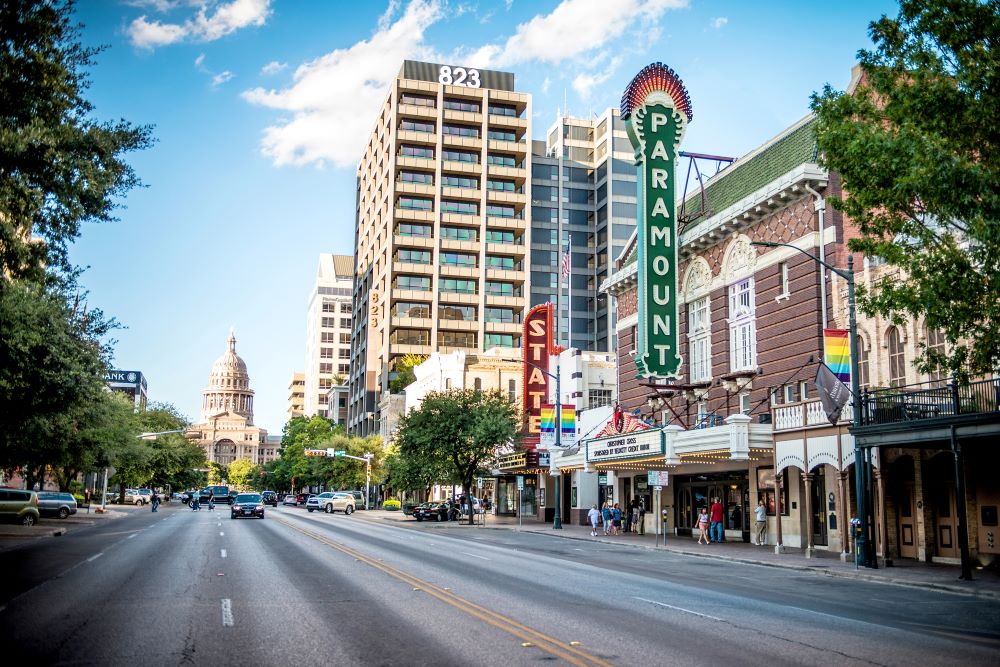 Austin, where SXSW began in 1987, has its own marquee place in the movies. The Sandra Bullock comedy Miss Congeniality (2000) was filmed mostly here, including scenes at historic group haunt the Driskill Hotel. Part of Ninth Street was transformed into an old western town for the 2010 remake of the John Wayne classic True Grit. The Coen brothers' celebrated 1984 crime drama Blood Simple was filmed around Austin.
Born in Uvalde, Texas, about 90 minutes west of San Antonio, Matthew McConaughey rose to fame in Houston-born director Richard Linklater's 1997 cult classic Dazed and Confused. Delivered outside Austin's drive-in Top Notch Burgers, his improvised line "Alright, alright, alright!" became an instant catchphrase.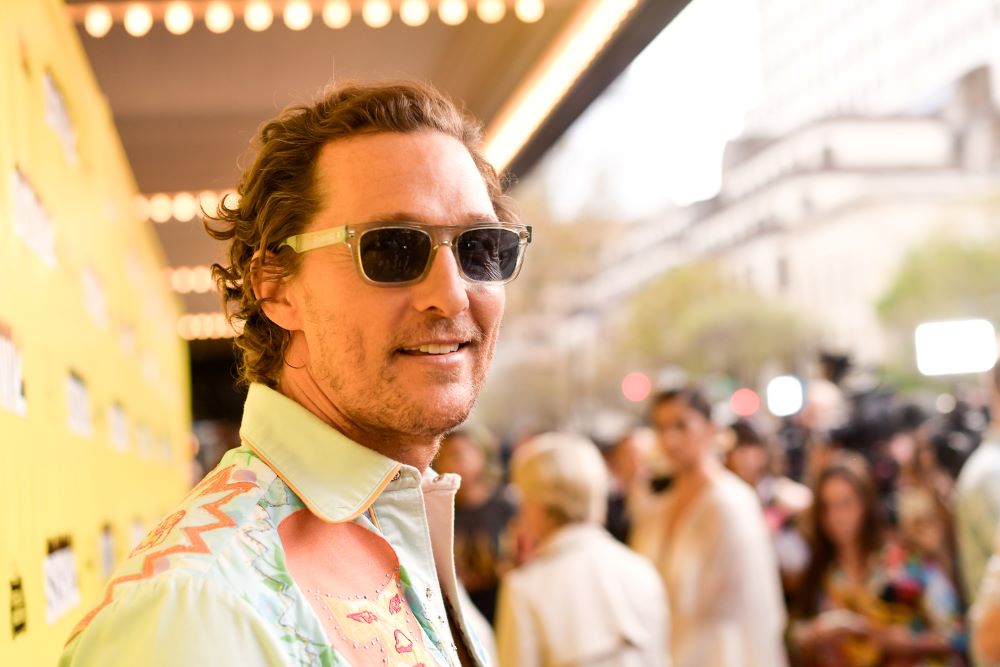 Linklater, with his own TFC film trail, used other famed Austin venues such as the Paramount Theater and iconic music venue the Continental Club in other features including Slacker (1991), The Newtown Boys (1998), Waking Life (2001) and his highly acclaimed Boyhood (2014).
Movies in Houston, Dallas and San Antonio Metros
For Boyhood, which he filmed over 12 years with the same cast, Linklater used hometown locations including the Cockrell Butterfly Center at the Houston Museum of Natural Science; Minute Maid Stadium, home of the Houston Astros; and historic Miller Outdoor Theatre in Hermann Park.
The Hyatt Regency Houston's then futuristic atrium appears in Logan's Run, the 1976 sci-fi cult classic featuring Corpus Christi-born Farrah Fawcett-Majors. Metroplex locations include the Fort Worth Water Gardens and mega-trade show venue the Dallas Market Center.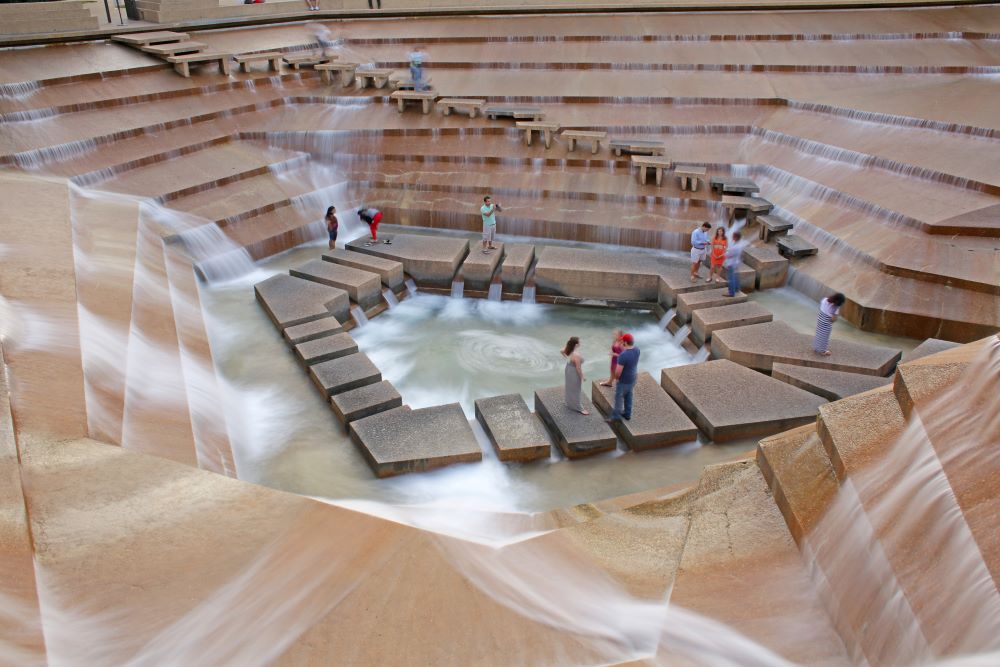 With its massive dance floor and mechanical bull, the original Gilley's Texas, located in the refinery hub of Pasadena, southeast of Houston, gained worldwide fame as the principal stage for star-crossed lovers "Bud" (John Travolta) and "Sissy" (Debra Winger) in Urban Cowboy (1980). Demolished in 2005, the venue's honky-tonk spirit lives on at versatile group-capable Gilley's Dallas.
Star turns from Faye Dunaway and Warren Beatty in Bonnie & Clyde (1967) are complemented by scenic Dallas-area locales. Pilot Point, an hour north of Dallas, stages the Bonnie & Clyde Days festival each October in commemoration of the robbery scene filmed at the former Farmers & Merchants Bank Building.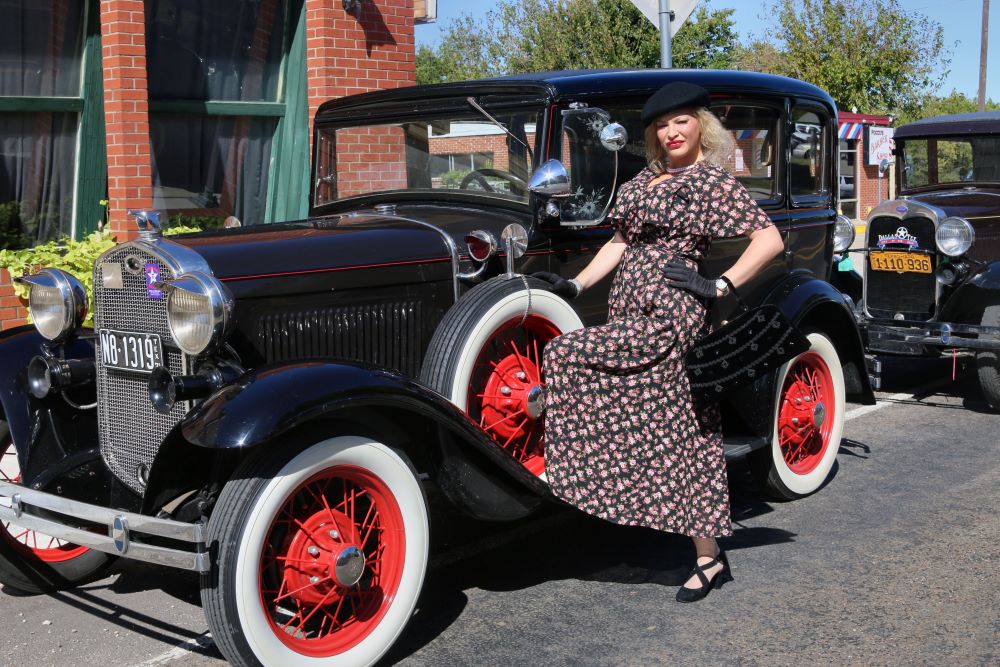 Also seen in the film, Waxahachie, south of Dallas, is a popular filming destination. Home to the most historic structures in Texas, including the much-photographed Romanesque Revival-style Ellis County Courthouse, "Gingerbread City" had a notable hot streak when Tender Mercies (1983), Places in the Heart (1984) and The Trip to Bountiful (1985) earned Oscars for Robert Duvall, Sally Field and Geraldine Page, respectively. 
San Antonio's diverse screen credits include the Steve McQueen-Ali McGraw heist caper The Getaway (1972); Steven Spielberg-directed Sugarland Express (1974); Tim Burton's first feature, Pee-wee's Big Adventure (1985); Spy Kids (2001), directed by San Antonio native Robert Rodriguez; and Selena (1997), with then-unknown Jennifer Lopez playing Texas-born Tejano star Selena Quintanilla.
[Related: What to Do and Where to Meet in Houston]
Texas Sites in Famous TV Shows
From 1978 to 1991, the exploits of the feuding Ewing clan galvanized TV audiences around the world. Featuring late Fort Worth-born actor Larry Hagman as oil baron J.R. Ewing, Dallas shaped international perception of Big D and Texas. Groups can tap into the show's enduring 10-gallon appeal at its principal filming location, Southfork Ranch.
Offering 63,000 square feet of space for 10 to 10,000 attendees on 357 acres of groomed ranchland outside of Plano, Southfork is the definitive set piece for meetings, functions, concerts, tours and off-agenda fun such as trail rides and chuckwagon dinners. Unique venues include the Longhorn Ballroom, featured in many Dallas bar scenes.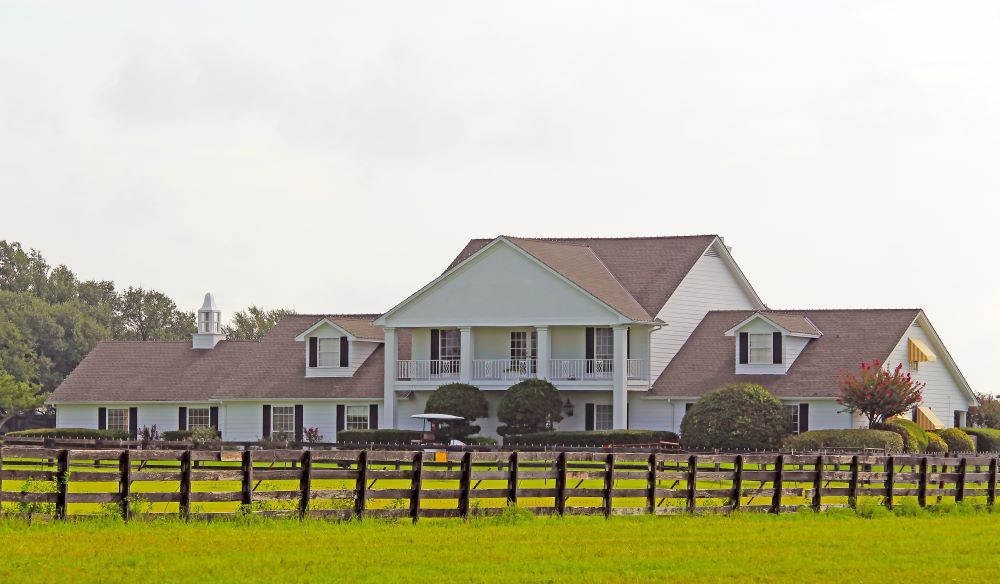 Spun-off from AMC's long-running zombie fest The Walking Dead, Fear the Walking Dead is another hit series filmed in Texas. Locations include group-capable Dell Diamond in Round Rock, the "Sports Capital of Texas," which stood in for an abandoned baseball stadium in one episode. 
Based on the 1988 Permian High School Panthers football team from Odessa, Texas, Friday Night Lights (2004) was filmed around Austin and later became a hit television series.
Read this next: 9 Famous Filming Locations You Can Host an Event at in Real Life