Anaheim Sets Its Convention Dial to 11 as New Luxury Properties Open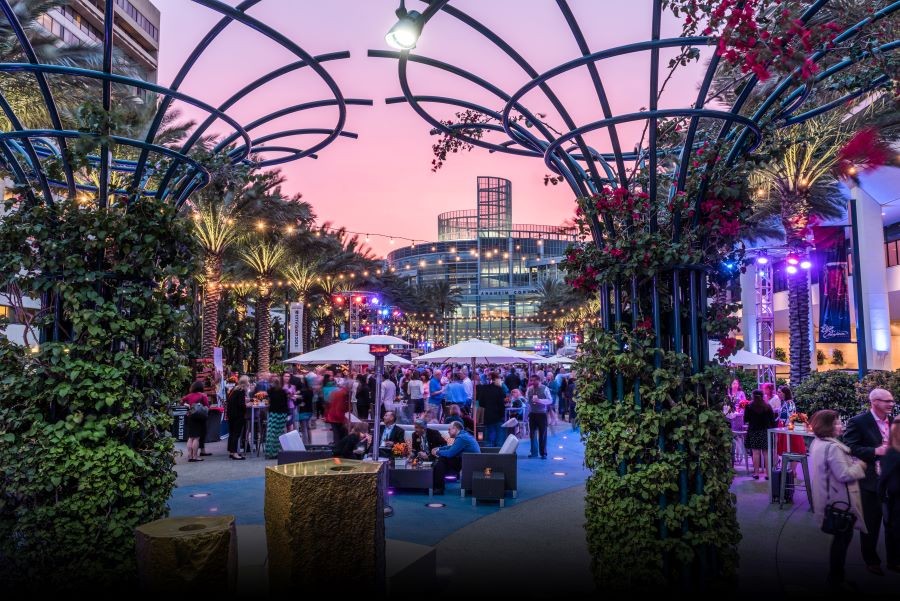 Anaheim's Grand Plaza events area.
Although it boasts the largest exhibit facility on the West Coast, with more than 1 million square feet at the ready and the 100,000-square-foot ACC North addition added in 2017, Anaheim until recently didn't offer enough guest rooms at the top end of the luxury scale to satisfy certain groups.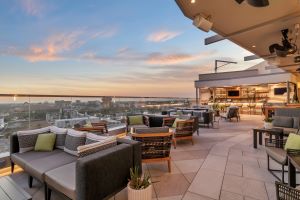 All that has changed in the last year, however, with the addition of two new AAA Four Diamond properties: JW Marriott, Anaheim Resort and The Westin Anaheim Resort. A brand-new Radisson Blu Anaheim also opened in November 2020 a half-mile from the convention center.
"Since the pandemic, we've had a lot of upgrades to the destination," said Junior Tauvaa, chief sales officer for Visit Anaheim. "Four-diamond hotels are one of the areas we've lacked, especially around the convention center, and now we have two. This allows us to really go after those corporate groups—but also those associations that have been a staple for us—for VIPs and corporate board meetings around the convention center." 
Tauvaa added that each of the new properties offer rooftop event space—as does the convention center's ACC North facility—that are perfect for taking in the eminently agreeable Southern California climate, with the free bonus of the nightly Disneyland fireworks spectacular to punctuate the proceedings. Another great rooftop spot is the new The FIFTH Rooftop Restaurant & Bar, located in Grand Legacy at The Park. 
"The weather in Southern California is something that is an advantage over other destinations," Tauvaa added, "and to be able to see the fireworks every night from Disney is a great experience." 
Add to that the destination's nearby 42 miles of Pacific Ocean coastline and Disneyland, with its jaw-dropping special events capability and draw for pre and post stays, will always remain some of Anaheim's key attributes. 
The new hotel product is just the beginning of the major developments that will put Anaheim in prime position to lure any type or size of group. 
Standout developments include:  
The $3 billion, 95-acre ocV!BE sports and entertainment district, with plans that include two new hotels, a 6,000-capacity concert venue, restaurants and a public plaza, all positioned around the Honda Center and planned for a 2024 opening. 
A master plan to develop 150 acres of land around Angel Stadium to include homes, office space, retail and restaurants, as well as possibly two hotels with nearly 1,000 guest rooms combined. 
"Any one of these developments would be something that would be exciting for us, but the owners and developers have really doubled down to provide things that will make us very successful in the future—to make us a premier destination," Tauvaa said. 
Connect 
714.765.2800 
Getting There 
Anaheim is located in Southern California, about 30 miles south of Los Angeles. Attendees can fly into John Wayne Airport-Orange County Airport (11 miles away); Long Beach Airport (14 miles away); Ontario International Airport (24 miles away); or LAX (29 miles away). 
4 Fantastic Offsites 
Anaheim Packing District 
This one-stop events shop in the heart of Anaheim seems made for turnkey events, and features the historic Anaheim Packing House, MAKE Building, Farmers Park, Packard Building and Center Street Promenade. The district boasts cuisine from throughout the world in a variety of venues, which can be booked for private events via individual merchants.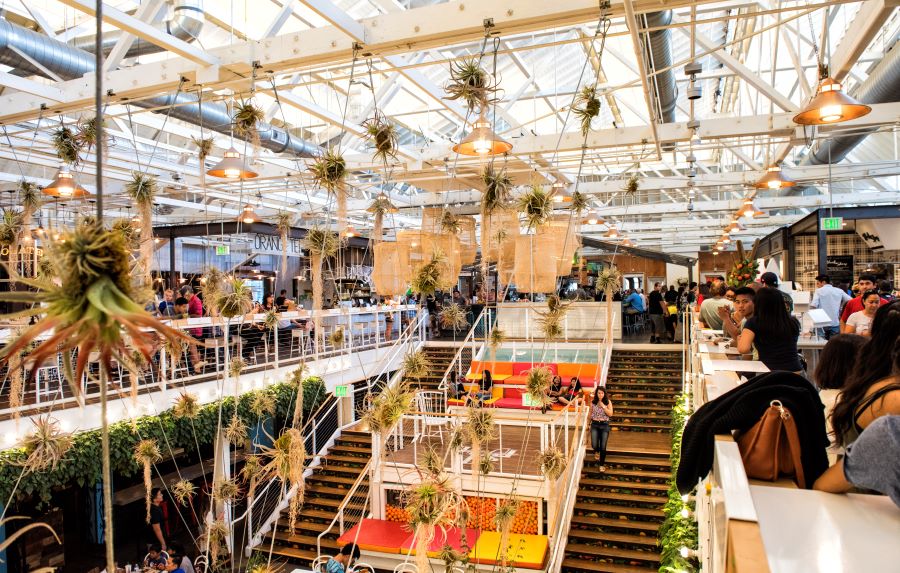 House of Blues  
This tried-and-true entertainment and events platform near Anaheim Convention Center features a full-service event production team that can make virtually any vision a reality. The venue offers five events rooms, including the plush Foundation room that can accommodate up to 175 for a reception and 70 for a banquet. A full-venue buyout can host up to 3,300 guests. 
Grand Plaza 
This 36,000-square-foot outdoor events feature of the Anaheim Convention Center, which itself offers a total of 200,000 square feet of outdoor space, is set between the Anaheim Hilton and Sheraton Park Hotel at the Anaheim Resort. Groups can bring in a variety of food trucks to feed attendees, as well as stage entertainment and light up the expanse for nighttime events under two rows of palm trees.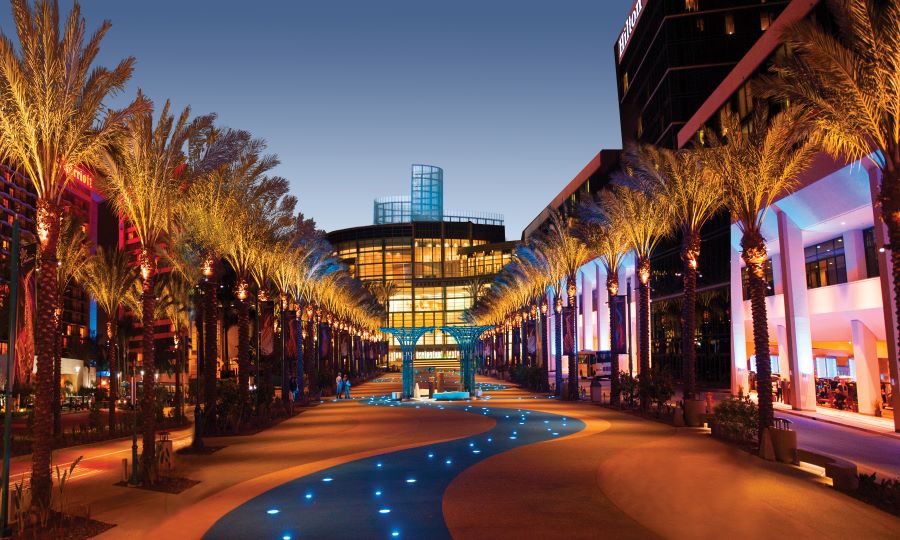 Secret Butterfly Garden (JW Marriott Anaheim Resort) 
One of two new AAA Four Diamond hotels, the JW Marriott, Anaheim Resort also boasts an interactive Secret Butterfly Garden where attendees can immerse themselves in an augmented reality experience during an event, or at their leisure when staying at the hotel. Guests use their smart phones to interact with sculptures via a dedicated app, with experiences that include a performative meditation and planting a "fantastical tree."