'Schitt's Creek' Star and Co-Creator Dan Levy to Speak at PCMA's Convening Leaders 2022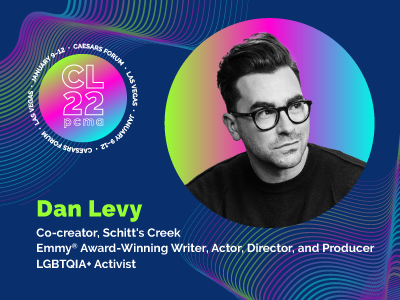 Ew, David! More like: Yay, David! PCMA announced that Dan Levy, who played David Rose on the beloved Emmy Award-winning comedy Schitt's Creek (he also co-created the show with his father, Eugene Levy), will take the stage at Convening Leaders 2022. 
Along with acting, Levy, an Emmy Award winner himself, is also a writer, director and producer. He'll participate in a moderated Q&A during CL22's opening session on Monday, January 10. PCMA's announcement said that Levy, as an LGBTQIA+ activist, will "share his personal journey and how to use creativity as an outlet to overcome obstacles, boost confidence and pursue one's dream." 
"For two years we have been reflecting on our purpose and what matters to all of us in a changed world," said Sherrif Karamat, PCMA president and CEO, in a statement to Meetings Today. "At Convening Leaders 2022, Dan Levy will help us launch a movement to inspire our audiences to rebuild those years of lost human connections, inclusivity and innovation. Our audiences need us more than ever. This is our time."  
CL22 will take place in Las Vegas January 9-12 at CAESARS FORUM and will focus on helping people, brands, communities and organizations activate through business events what matters for their audiences. After a two-year, pandemic-caused hiatus, PCMA said CL22 will deliver four "content areas"—workplace, audience, business and purpose—with key insights, lessons learned and actions to implement strategies. 
Interested in attending? Register here. 
Listen Next: A Look Inside the New CAESARS FORUM and Its First Event