A Look Inside the New CAESARS FORUM and Its First Event
In this Meetings Today podcast, Danielle LeBreck sits down with Caesars Entertainment and ConferenceDirect, who collaborated together to design ConferenceDirect's annual partner meeting at the new CAESARS FORUM in Las Vegas. Listen or read their transcript to learn about their hybrid approach, how F&B was modified and more. Listen now.
Read the transcript:
Danielle LeBreck: Welcome to the Meetings Today Podcast. I'm Danielle LeBreck. This week I traveled to Las Vegas to tour the new CAESARS FORUM, which hosted the hybrid ConferenceDirect annual partner meeting, which was the first event ever in this facility. For this episode, I interviewed some folks at Caesars and ConferenceDirect who collaborated together to design this meeting.
A disclaimer about the audio: When conducting this interview, all participants, including myself, were distanced and masked, following the safety protocols of the FORUM and as recommended by the CDC. If we sound a little muffled at times, that's why.
If you'd like to follow along with the written transcript, you can read while you listen at MeetingsToday.com/Podcasts. Here's the interview…
---
[Start Transcript]
Danielle: I am here today with Don Ross, vice president of meeting operations for Caesars Entertainment, and some folks from ConferenceDirect, Mary Sanchez-Quigg, vice president of global accounts and marketing and virtual events specialist, and J.J. Wills, senior vice president, marketing programs and business development. So, thank you for joining me, everyone.
J.J. Wills: Thank you for having me.
Danielle: We're in the Unity Boardroom at the brand-new CAESARS FORUM in Las Vegas. What brings us here today is that the FORUM is hosting its first conference ever, the ConferenceDirect annual partner meeting.
As many of our listeners may know, CAESARS FORUM was supposed to have its grand opening in March and, unfortunately, that timing coincided with the coronavirus pandemic in the United States, which very quickly shut down and meetings and conventions basically came to a stop. But this facility is beautiful and is starting back up this week with hosting people.
So, to start us off, Don, can you just reintroduce us to the CAESARS FORUM and tell us a little bit about this venue, now that I can host some meetings under the guidelines that the governor of Nevada has set?
Don Ross: Absolutely and thank you for being here. CAESARS FORUM, as you said, was supposed to open in the middle of March, and unfortunately, the day before opening we were shut down. But we have two of the largest ballrooms in the world--they're 110,000 square foot each pillarless--and two junior ballrooms as we call them, which are 40,000 square foot each.
We also have the plaza outside, which is 100,000 square feet, and it's really nice to be on one level and all the glass windows allow for us to really take advantage of the natural beauty of the desert. The challenge certainly was to close this thing down right before opening, and we just are honored that we were able to partner with J.J and Mary and their team to host the ConferenceDirect APM.
I mean, what a perfect group for us to showcase our new jewel in the desert to great partners of Caesars Entertainment and of meetings industry, and we're just thrilled to have them here in Las Vegas.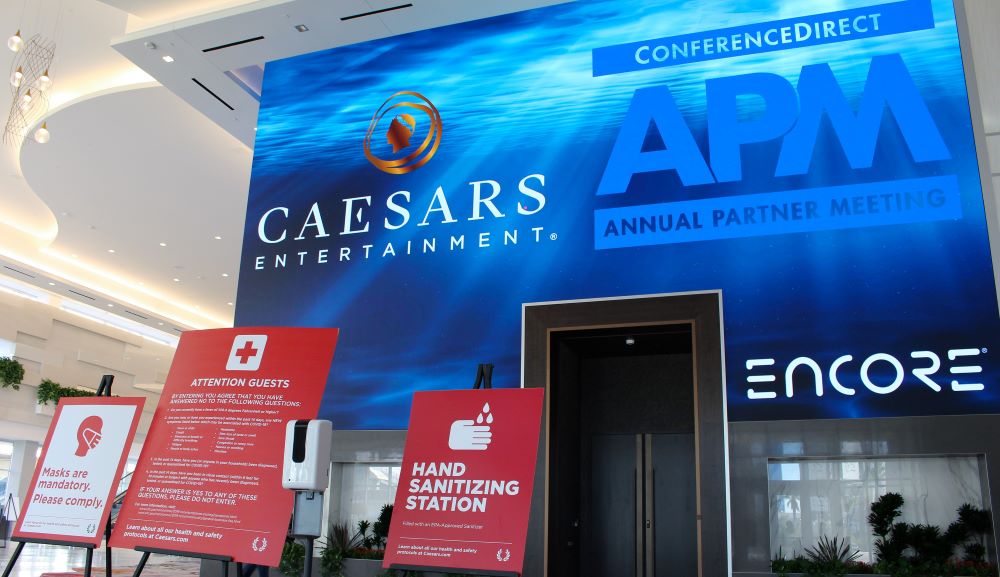 Danielle: I'll go to Mary and J.J. next. Tell me a little bit about how first, maybe, ConferenceDirect has navigated this year, and how you guys decided that the FORUM was the right venue for this conference, which I do believe has a hybrid component. So, there are people here in person, and there are people participating virtually.
Mary Sanchez-Quigg: Sure, thank you. Well, we partnered with Caesars Entertainment more than two years ago, to confirm dates to hold our event here. We were very excited to be one of the first groups in the new space. We didn't know we would end up being the very first. But it's an amazing venue, and of course, we wanted our associates to see it and experience it so they can pass that along to their customers.
We were supposed to be here in May, and we pushed the dates to August. And I think we all thought, oh, surely by August we'll be back to meetings. And then we pushed the dates to October, where we are now. And even then, 30 days ago, we were waiting for the governor to change the rules so that we could in fact meet.
We're thrilled to be here. We're so glad that it all worked out—the stars aligned. Normally, we have over 900 people at this event. And this year, we have a total of about 350 participating. About 130 of those are here in Las Vegas.
Danielle: Tell me a little bit about the agenda for this conference for in-person attendees. How does it look different than maybe the typical annual partner meeting?
Mary: Well, beyond size, is an obvious component. We have had to rethink every aspect of this meeting, from the communication to our attendees and our partners who attend, to the actual setup of every meeting space.
The awards dinner, our awards luncheon, our reception—things that would have come second nature to us, and we've been doing for the last 20 years, was actually turned on its side, upside down.
We've had to consider very carefully how we were going to navigate every aspect of this meeting communicated to the attendee, both in the physical in-person setting and the virtual setting—those who are watching and participating from their home offices.
So, it was a very time-consuming process, a very collaborative process with everyone at Caesars—they have been tremendous partners. I can't imagine doing this in this format with anyone else.
I've always said people here in Las Vegas, in the hospitality industry, are the consummate professionals, and they've demonstrated that every step of the way this year.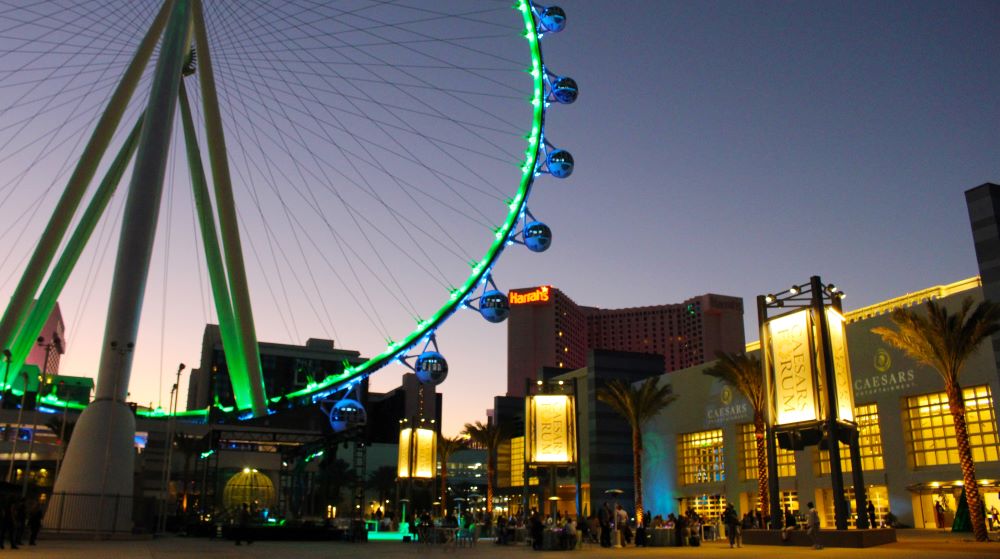 Danielle: Yeah. Don, can you talk about how you've worked with these guys, and for future meetings that come here and that might be under the social distancing restrictions? What are some things that you guys have done to elevate the safety here?
Don: Well, I think that's the key, I think Mary hit on it, and the communication has been key, and partnering with one another and learning from one another. Then learning from us of what the capability of the building is, us learning from them what they want to accomplish, and putting our minds together and really digging deep to make sure that we could do it.
And with always safety in mind for not only the attendees, the staff, all of our people that are here working, so I think it's been a great opportunity for our team to learn from them, and vice versa. It's even more exciting to have all their partners here and their associates here, who can take home a little bit of what we've done, and talk to their customers about how to do a meeting safe, both here in Las Vegas or anywhere.
That's the goal that we all want in the hospitality business--to get back to work. And I think that this has been--collaboration has been said a lot--over the last few months, and it's been a learning process for everybody. I think everybody's come to bat. And really, that's been our focus. We've been successful at it.
Danielle: I know that you have mentioned your virtual attendees; a lot of professionals in the industry are saying this hybrid model is probably going to be something that'll be around for a while.
I know this building, being brand new, probably has good infrastructure for virtual meetings, or meetings that need to be a little more technologically advanced, than perhaps in the past. Can you talk about that a little bit and what this venue has to offer?
Don: Well, one of the things we have to offer us just so much space, that we've been able to really spread out, if you would, and provide that social distancing that we need.
Certainly all the capabilities as far as technology and things are here, and partnering with Encore Productions, who is our AV partner, to provide first-person flawless events, and being able to I mean, it's been... I think our industry will change—face-to-face will always happen, but I think we'll be able to connect with more people virtually.
I think that's something the industry is going to grow, and international guests that can't make it for a short meeting can be connected to a live event. I think the learning that we are doing here today will just help us and our customers in the future to reach out to more people.
Danielle: Mary and J.J., can you talk a little bit about how your virtual attendees are participating over these next few days?
Mary: Sure. So, the virtual attendees are able to watch, live, our general sessions, as well as our awards dinner, which took place last night. And then we have a tradeshow component. And, so normally, we have a free-flowing, sort of traditional, tradeshow, and we've done appointments this year for the first time.
Part of that was to control the flow and the capacity, but the other part was so that we could incorporate the virtual attendees, so anyone could be meeting with anyone. So, we might have someone who is here in Las Vegas that does an appointment with someone in Las Vegas, and then their next appointment could be with someone virtual, and vice versa.
We have associates who are at home, and they're logging in and having appointments with other virtual attendees. It's been pretty fascinating, and something to consider is the attendee journey for them.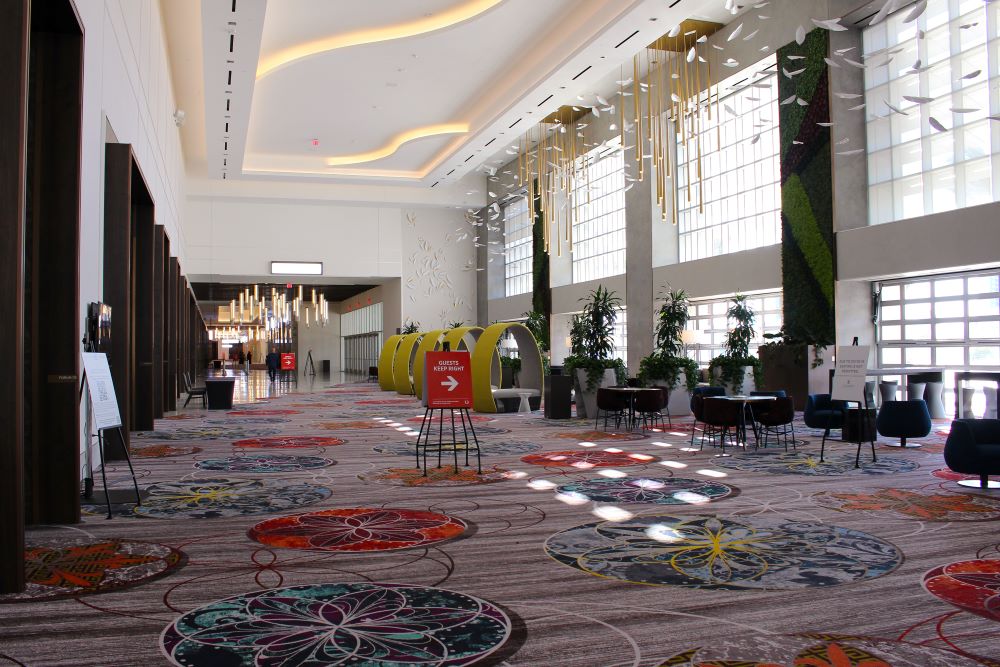 Danielle: Exactly. The attendee journey for someone sitting in their home who's not here is definitely different than the person who's here experiencing things onsite.
Mary: Absolutely. Totally different. And just to go back to your previous comment about the brand-new space and the technology capabilities—today, for those of us that were sitting in the tradeshow and had virtual appointments, with partners that were not here, the technology really showcased the fact that you have the pipeline for the bandwidth to accommodate so many people connecting with each other in a virtual environment, and still go flawlessly, is critical.
That's the only way hybrid meetings in the future will be able to move forward. I can see, just as virtual meetings have evolved from March to now, we're going to see that evolution occur in the hybrid space very soon.
What we were accepting of quality and engagement wise, in April, May, June, is not going to be what we're willing to accept come December, January, even into the future, especially in a hybrid environment.
Danielle: Right. So yeah, having that technology infrastructure is really important.
Mary: It's critical.
Danielle: Yeah. Another benefit that I think the Forum has, and maybe, Don, you can talk a little bit more about this… I know you guys are utilizing the space tomorrow, I believe, but the outdoor plaza is a huge outdoor space.
Especially right now, there's a bit of a higher comfort level with outdoor meetings. There's a lot of room to spread out, there's the fresh air. Can you talk a little bit about that? I know for Vegas to anywhere where you can get a space that big where you can meet outside is pretty critical.
Don: Traditionally, in many cities, and especially Las Vegas, the only outdoor space we've had are the pool decks. So, we fight to try to get the pool deck closed early enough that we can do a reception.
Well, here, we can use it for breaks, we can use it for lunch, we can use it for sessions. So, it's really been a big selling point for us and something that we've really focused on. We've got these windows that raise up and seamlessly, guests can walk right out of their general session and go right out onto our plaza. That's a big point, a selling point for us.
Yes, tomorrow night, we're going to use it for entertainment, for a reception, and we've learned to do new types of receptions. So, we're doing a plated reception, with servers offering drink service, but that's what we're doing.
It's something that we feel we can accomplish. It's safe, we can showcase our food. One of the things we really wanted to showcase here at the Forum, is we've always said that customers don't want to jeopardize quality for scale.
Well, we've built this huge facility. And although we're not hosting a huge event, our focus has been and will be to provide a restaurant-quality food and beverage experience. We feel that the way we've set up our kitchens, and our physical plan, and the team that we've put together with both the equipment and the culinary talents, training of our staff, that we're able to provide that.
So, we're really excited to showcase the plaza tomorrow night, and more of our food that we've been providing for over the last couple days.
Danielle: Yeah, I'm excited to see that setup. It's also interesting to see as meetings move forward. Even today, I saw how food and beverage is served. I know you guys probably put a lot of thought into that. Can you talk a little bit about that and how you guys set that up?
Mary: Sure. Well, we collaborated with Don's team and, for example, in our trade show, instead of a traditional break setting where people would walk up and grab snacks and drinks, they had attendants walking the tradeshow floor with a cart and serving food and beverage options, snack boxes and drinks at the tables to avoid that congregating.
It's so hard. We're so excited to all be together. And we're an industry of people who love spending time together and like really genuinely like each other. So, there's a tendency to want to gather and hug and be together.
So, planning it out so that it's still a really great quality experience, but we avoid those types of situations, was really important.
For indoor meals, we also did tables for one, and I think Don thought we were a little crazy. But everyone had a 30-inch cocktail round, and they're set six feet apart. We had a beautiful three-course dinner last night and a three-course lunch today. And you're just at your own table.
You can still talk to the people at the tables around you. But it's just a way to make sure that that we're being safe and still having that quality experience.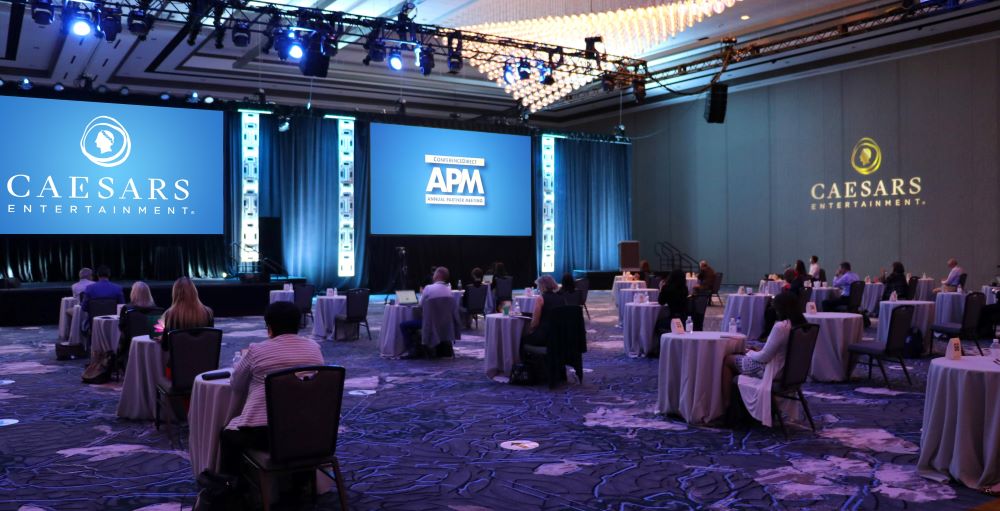 Don: I think looking at it now, it was a great setup. You could tell that the people were comfortable. I mean, I think that was something that was very important to Mary and J.J., and their team that they wanted to get as many of their associates here and partners.
They wanted to assure that they weren't putting anybody into harm's way. And they wanted them to be comfortable. I think we've been able to provide that with that setup. I think it's a great setup.
Mary: Yes. I thought that we, as leaders in the industry, need to demonstrate that we can meet. We can meet safely, but it cannot look like it did previously for the time being. And therefore, things and setups that were normal and well established within the industry, we're basically turned on its head.
The table-for-one concept took a little bit of getting used to when we first introduced it. But if I'm looking at it from an attendee perspective, I did feel safe walking into that room. I felt like the organizers took the time to realize that the attendees' comfort level has to be at the forefront of the entire planning experience. I think we've demonstrated that to date.
Obviously, it's anecdotal right now, based on the feedback we're receiving in the hallways, but it's been positive. They are excited to be here. They're excited to go back. They've been taking pictures and saying, "I can't wait to show my customers how it's been done."
Don: And the importance of assigning seats.
Mary: Exactly.
Don: So, people understand that nobody else would have gone to that chair or that table. So, they don't have to worry that somebody might have sat down and changed their mind and gone somewhere else. I think that's a big key of making people feel comfortable and relaxed.
That's what we've been trying to accomplish with other customers to ask them listen, you can do rounds of four, but pre-assigned seating, and have the customers if they're going to a break to put their name. Well, they did this for the meetings and the meal. So, people know, this is my little spot.
I can feel comfortable that nobody else has gone there. And the communication has been just critical. They've taken care of their associates, partners. Everybody knows exactly what's going on. And there's really no question.
The meetings industry is a lot of professional people, and people are here to do business and to learn. So, it's a lot easier to ask people nicely to put on a mask, and people are following the protocol. And that makes our job a lot easier as well.
Danielle: Yeah, a lot of creative solutions on display. Meeting professionals are creative problem solvers. So, it's great to see some of that on display this week.
Don: As we scale up, I think we could continue what we're doing and do this until people are comfortable and we can all relax at some point and take off a mask. But it's not that bad of a deal to wear a mask to be able to sit in a room and to be with people that you want to learn from and you want to do business with.
And you want to go home and know that you're not going to bring anything back to your families.
Mary: Totally agree. One thing, and I'm not sure if this was a question you're going to ask later, but just to see the excitement in the eyes of your staff has absolutely made my heart full this week.
They are coming up to me and saying, "Thank you, thank you so much for being here." And it is so wonderful to see a ballroom with people in it. And that literally has just... I'm so grateful for that
Don: We are too. We talked about that earlier today. It was so hard to put up this great team together and then, right when we were supposed to open, send everybody home.
And the excitement, last week, when we called people and say we're back, and we brought them in, and we had them all tested. We did COVID training first, and then finished up our normal training for this meeting, and they just want to do anything they can to excite people. We even said it, you don't see the smile, but you see it in the eyes.
Mary: We may be the face and the voice of the industry. They are the heart. They are the muscle. And they are the driving force of this industry. And it is with sincere pleasure that I've done this this week.
Don: Thank you.
Danielle: Well, I think that is a wonderful note to end on. So, thank you guys so much for meeting with me today, taking time out of your schedule to talk a little bit about this conference.
I wish you all luck as it continues this week and excited to see some more of the setups. So, thank you.
Don: Thank you.
Mary: Thank you.
Danielle: Thanks for tuning in to the Meetings Today podcast. If you want to learn more about the new CAESARS FORUM and how the team at ConferenceDirect ran their annual partner meeting, you can find related articles from this event along with photos on meetingstoday.com.
Check out our website too, for the latest news in Las Vegas and destinations all over the world. If you enjoyed this episode, subscribe to the Meetings Today podcast on Apple, Spotify or wherever you listen to your favorite podcasts. Thanks.
[End Transcript]
Listen now: Australia Next: New Properties and Incentive News From Australia's Crystalbrook Collection