Marriott CRN Chefs Share Recipes You Can Try on Thanksgiving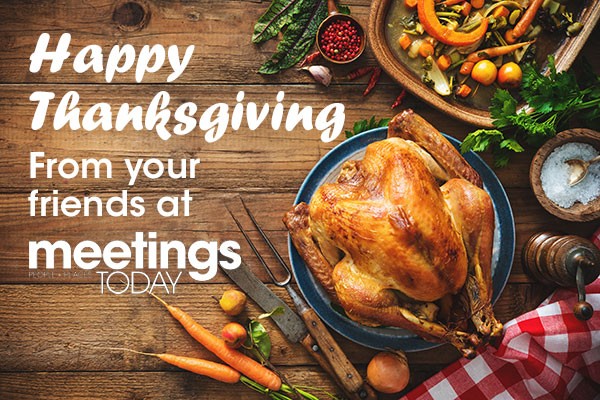 The holidays are upon us, and, of course, that means tons and tons of glorious food!
To get everyone in a proper, "feast-ive" mood, Meetings Today touched base with four chefs from Marriott Conference & Resort Network—a collection of more than 100 top properties from the global hotel giant that focus on large meetings and conventions—to secure a few dishes that are sure to make you a hit at the holiday dinner table.
Happy Thanksgiving from Meetings Today, and we hope you enjoy some of these tasty treats!
[Related: Top Chefs Share Their Moms' Love With These 18 Inspiring Recipes]
Andrew Arndt, Marriott Newport Beach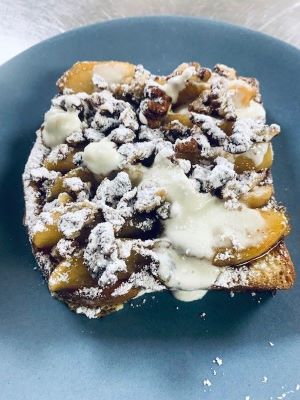 Cinnamon Poached Apple  & Candied Walnut French Toast With  Buttermilk Syrup
"I'm always trying to find ways of making breakfast sexy—everyone does avocado toast!— and this dish really hits with fall flavors. This dish looks light but has a ton of depth."
Servings: 4
Ingredients: Buttermilk syrup
1 ½ cup, sugar
¾ cup, unsalted butter 
¾ cup, butter milk 
1 ½ tbsp., corn syrup
1 ½ tsp., baking soda
1 ½ tsp., vanilla extract 
¾ tsp., kosher salt 
Instructions: 
Combine butter, sugar, buttermilk and corn syrup and cook over high heat for 3 minutes while stirring. It should thicken.
Remove from heat, add baking soda, whisk until it bubbles up, and add salt and pepper.
Store in air-tight container.
Ingredients: Glazed walnuts
8 cups, sugar
4 cups, water
2 qts., walnut halves
1 tbsp. Kosher salt
Instructions: 
Combine water and sugar into a saucepot and bring to a simmer.
Add the walnuts and let simmer for 2 hours.
Remove into a metal container and cool the nuts in the syrup.
Once the nuts are cooled, strain those from the liquid for 15 minutes in a China cap.
In a 300-degree fryer, place the walnuts and fry until dark and glassy. Be sure not to overcook the nuts as they will burn.
Cool the nuts in a sheet tray with a wire rack. Be sure to separate them as quickly as possible.
Ingredients: French toast 
1 cup, milk 
2 eggs 
1 tbsp., cinnamon 
1 tbsp., ground allspice 
¼ slices of brioche
Instructions: 
Mix all ingredients with whisk.
Final instructions:
Poach/peel/cool apples; reserve and slice.
Cut brioche into 1/4 slice.
Put oil/butter in large pan and cook over medium heat.
Soak bread in cream/egg mixture 15 seconds on each side and flip over to absorb evenly.
Heat sliced apples in oven till warm.
Place bread in pan and cook till brown on each side.
Remove and place on paper towel to absorb any extra oil. 
Add apples, sliced in shingles, to top of toast.
Top with candied walnuts.
Finish with ample amount of powdered sugar.
Place on plate with side of warm buttermilk syrup 
Garnish with edible borage or nasturtiums.
[More Top Chefs: Meetings Today Top Chefs]
Mitchell Cooper, Sheraton Maui Resort and Spa
Ube Mochi Pancakes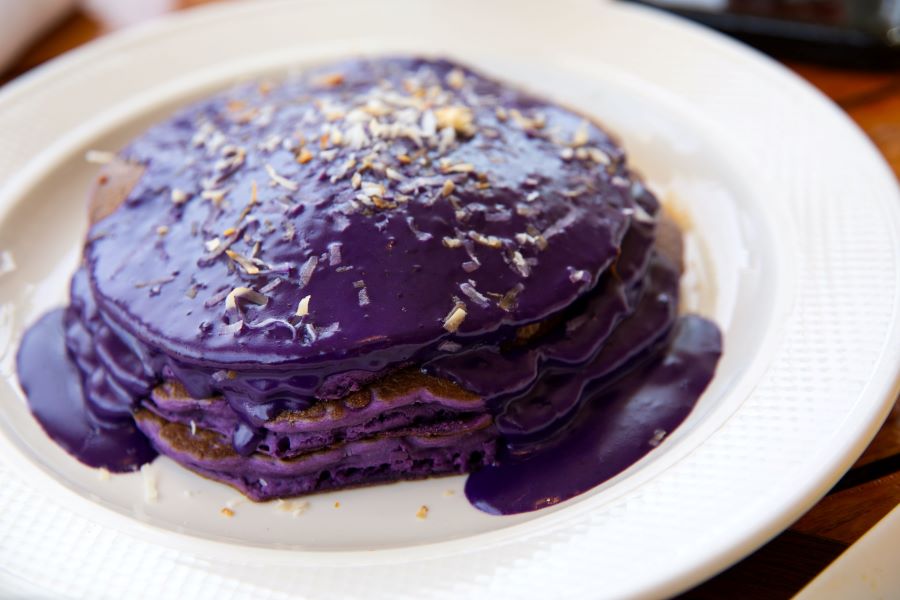 "Maui has a very large Filipino population and ube is a purple yam from the Philippines. Purple yams have been very trendy the last few years, especially in Hawaii. We wanted to have a few trendy and fun recipes on our breakfast menu that were eye-catching and would spark conversation. This is one of those items and it is gluten-free!"
Servings: 6
Ingredients: Sweet potato milk base
2 ½  cup whole milk
1 cup steamed purple yams/sweet potatoes
Ingredients: Batter (it will be thick when complete)
3 cups milk and sweet potato mixture
4 cups Mochiko rice flour (sweet rice flour)
3/4  tsp. salt
4 tsp. baking powder
2 tsp. vanilla extract
4 tbsp. granulated Sugar
4 each whole eggs
4 tbsp. melted butter
(As needed) ube extract (to help with color)
Ingredients: Ube cream
1 can condensed milk
3 cups whole milk
Equal parts cornstarch and water to make a slurry
Ingredients: Garnish
Instructions:
Steam the yams and chill.
Cube the chilled yams and blend with whole milk in a blender. You may need to add a bit more milk to make a smooth puree, but when mixing batter only use 3 cups of this base.
Whisk sugar and melted butter and then add eggs and mix well.
Whisk in 3 cups of the sweet potato/milk puree, and vanilla extract.
Lastly, add the Mochiko flour and baking powder. Mix until a thick batter forms.
Stir in Ube extract to achieve the desired purple color.
Set batter in the fridge and make the ube cream sauce.
in a sauce pot, mix 1 can condensed milk and 3 cups of whole milk.  
Bring to a boil and thicken with a cornstarch slurry.
Allow to sit and cool and you can begin cooking your pancake batter on the griddle.
Final instructions:
1. Make the sweet potato milk base
1. Make the pancake batter
2. Make the sauce
3. Use a spoon or ice cream scoop to drop the batter on to the griddle 
4. Plate up and serve the pancakes topped with the sauce and toasted coconut
[More Recipes: Meetings Today Recipes]
Daniel Craig, Westin Harbour Castle Hotel
Roasted Mushroom Veloute
"This is one the first recipes chef Dan introduced early in his career, and given its popularity, it is one he has introduced at every venue he has worked since."
Servings: 4
Ingredients:
2 tbsp. butter, diced; Kosher salt
1 lb. white button mushrooms, cleaned and sliced
¼ lb. shiitake mushrooms, stemmed removed and sliced
¼ lb. oyster mushrooms, stemmed removed and sliced
½ cup white onion, sliced thin 
2 cloves of garlic, minced 
3 tbsp. gluten-free soy sauce (regular soy sauce will work)
½ cup of 35% cream
4 cups of vegetable or chicken stock
½ teaspoon of chopped fresh thyme
1 tablespoon of truffle oil 
Flaky salt (Optional)
Pinch of black pepper  (Optional)
Instructions:                
Put the butter into a large pot over medium-high heat and allow it to brown. It will start to foam and slightly smoke. At this point place the mushrooms into the butter and start to roast for 2 -3 minutes. Do not agitate too much or they will release all their moisture and they will steam.
Once all the moisture is gone, reduce heat to medium and then add the chopped onions and garlic and cook gently for 3-5 minutes to develop flavor.
Add in the soy sauce and cook for 1 minute. Then add the cream, chopped thyme and the stock and bring to a simmer for 10 minutes.
At this point get the seasoning correct with salt and  pepper.
Let cool slightly for 5 minutes and then blend with a high-quality blender until velvety smooth.
Note: You can garnish this soup with any type of cheese or croutons;  chopped chives, wild rice or sautéed mushrooms will work as well. For pure luxury you could use fresh truffles from a specialty grocer.              
Note: You can use any type of mushrooms that you like or can find at the grocery store to make this delicious, simple soup. Perfect on a chilly fall or winter day.

Melissa Sallman, JW Marriott Orlando Bonnet Creek
Wood-Fired Bread Pudding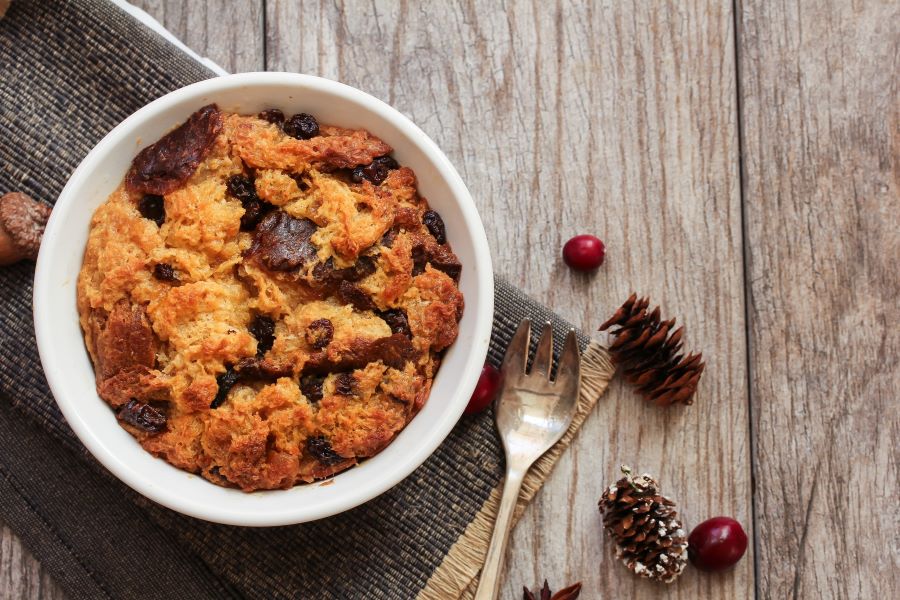 "This wood-fired bread pudding is served in our signature restaurant Sear+Sea Woodfire Grill. It is prepared over an open fire and makes for a great showcase dessert for the Festive Season."
Servings: 6
Ingredients: Bread pudding
4 cups croissants, large (preferable 1-2 days old). Diced.
24 oz. buttermilk
24 oz. heavy cream
9 oz. granulated sugar
9 oz. egg yolks
2 tbsp. vanilla
3.5 oz. chocolate chips
5 oz. mini marshmallows
2 tbsp. whole butter
Instructions:
In an 8-inch square baking dish, prepare the pan by coating the bottom and sides with the butter. 
Place the diced croissants into a large mixing bowl.
Whisk together the buttermilk, heavy cream, egg yolks, sugar and vanilla until well blended. 
Pour liquid over the croissants, gently folding the mixture to allow the liquid to mix with the croissants.
Place the mixture into the prepared pan and top with the chocolate and marshmallows.
Cover the pan with aluminum foil and bake in the 320F oven for 30-40 minutes. Remove the foil for the last 10 minutes to allow the bread pudding to brown.
Allow the bread pudding to set for 5 minutes before serving.
Note: This can be prepared in advance and warmed in individual portions,
Serving method:
Portion the warm bread into serving dishes.
Top with a scoop of vanilla bean ice cream and warmed chocolate sauce.
Read Next: Don't Forget These 9 F&B Priorities as We Resume In-Person Meetings